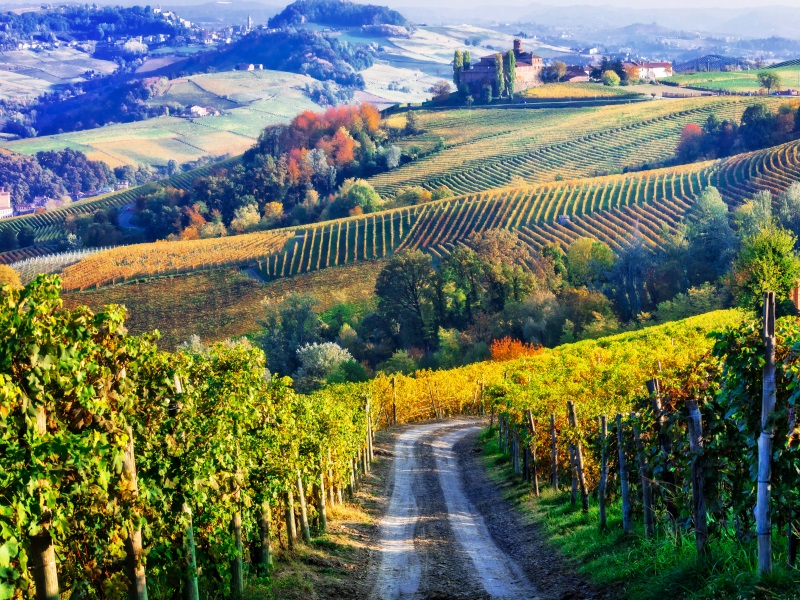 One of the most spectacular regions in Italy, Piedmont is a treasure trove of highlights.
Close to the border of sophisticated France and Alpine Switzerland, the region shares some traits with both of its neighbours, most notably its fantastic climate and hilly, sometimes mountainous, terrain.
The terrain is such an important aspect of this beautiful part of Italy that Piedmont actually means 'Foot of the mountain'.
We take a look at just some of the region's most scenic, and most popular highlights that are worth experiencing whilst visiting 'Bel Paese', the beautiful country.
Here are six notable highlights worth experiencing.
Click on any of the featured images to view a 'bellissimo' range of holiday accommodation.
1. Asti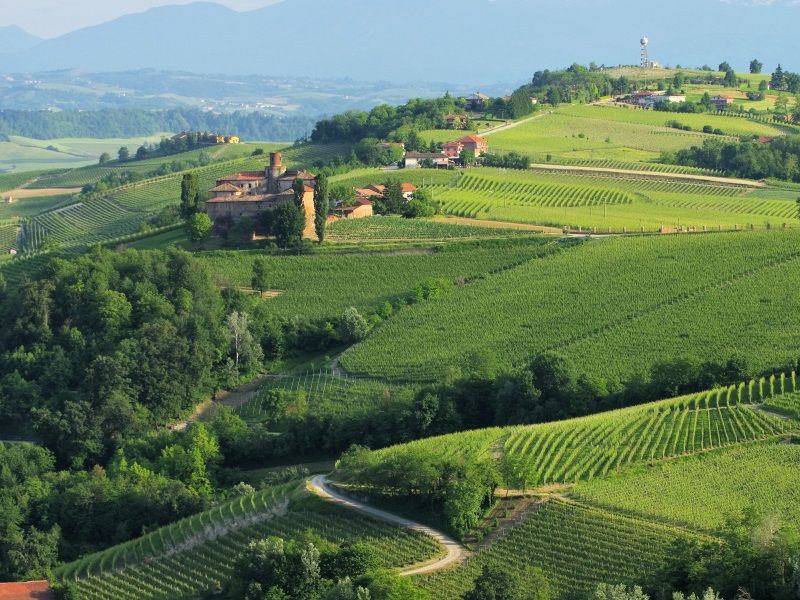 The historic city of Asti, lies close to Liguria, another of Italy's great regions home to the famous Cinque Terre, is known for its hilly terrain and was once a former capital city before Italy was formally established as a country.
Just over 30 miles from the more famous Turin, Asti offers the chance to enjoy some spectacular scenery that have graced the cover of many a holiday brochure over the years.
Whilst in town, allocate yourself some time in your very organised itinerary (we envy you), to explore the city's streets.
The focal point of the town, the square, known as Piazza Medici is lined with some rather grand looking Italian buildings that put some of Scotland's historic cities to shame.
Towering high above you, Torre Troyana is the main landmark in the city, providing a great reference point to look out for if your wanders leave you a little lost (happens to everyone).
Soaring over 40 metres above the Town Square, Torre Troyana deceives the eye.
The tower appears far younger than its 800 years suggest.
To put this into context, it is believed that around the time the Tower was completed, the first Maori people arrived on the shores of New Zealand.
2. Lake Orta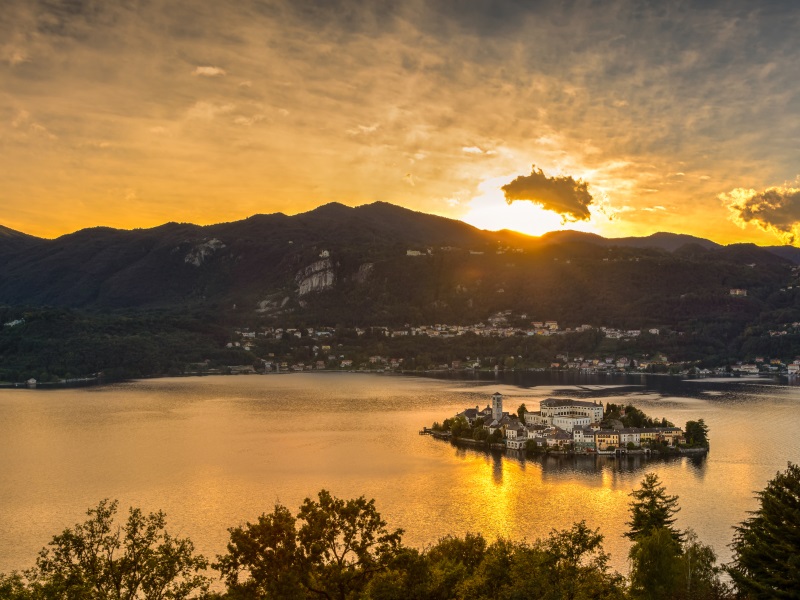 Lying west of its more famous neighbour Maggiore, Lake Orta is nearly as iconic as lakes come, albeit its fame doesn't come close to the grand Italian jewel Lake Garda.
Sometimes referred to as one of Italy's best kept secrets, the secret is definitely out now.
You may have seen images of the lakes most iconic spot, the famed Isola San Giulio, home to some ancient buildings including Basilica di San Giulio.
The island, named after a Saint that lived locally, is stranded way out in a central and prominent position on this vast lake.
Bit of Trivia – Despite its size, Lake Orta doesn't even make the Top 5 of Italy's largest lakes.
3. Lake Maggiore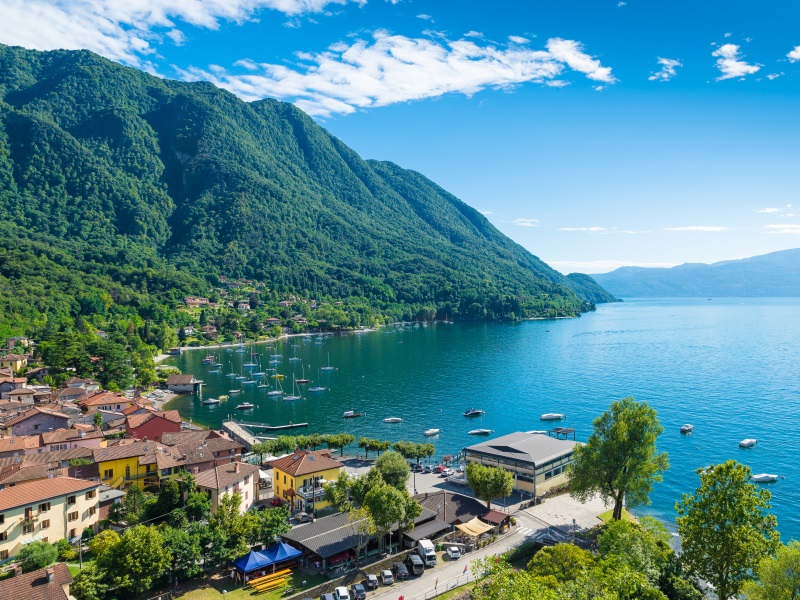 Found close to the Alps, Lake Maggiore is one of the greatest lakes in Italy.
The lake is actually shared between different Italian regions and Switzerland, who all have vied for a piece of this beautiful landscape.
Take time to navigate your way around the lake and take in some fantastic villages that historically have relied upon the lake.
Straying across to the Switzerland part of the lake, the Verzsca River is a very cool river indeed.
Over thousands, perhaps millions of years, the river has slowly carved its way down over 30 metres, creating a very narrow canyon.
As you approach the river, you hear it long before you reach one of the cliff-edges.
This is one of the more scenic spots not necessarily on the shores of Maggiore that we recommend visiting.
4. Borromean Islands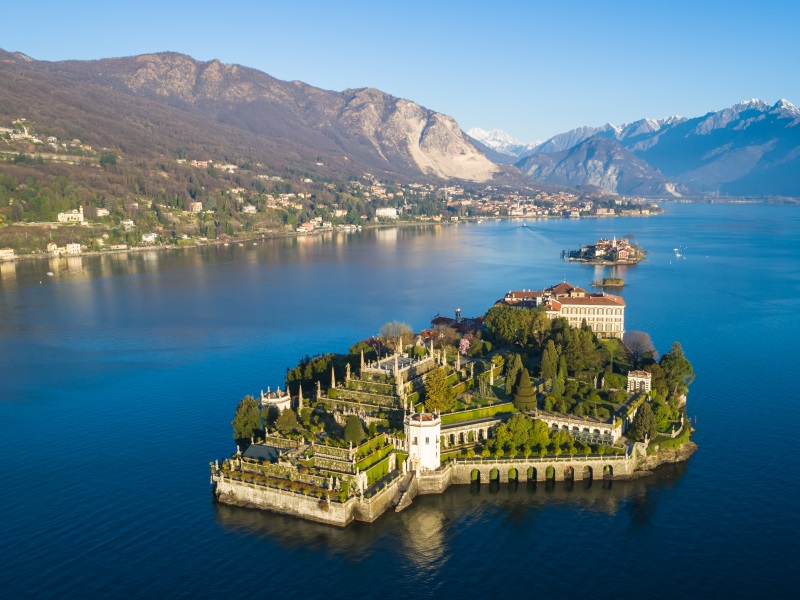 Yes, we are cheating slightly with this one.
However, as an attraction, there is enough available to holidaymakers to ensure that the Borromean Islands merit a place all on their own on this Piedmont-focused list.
Visited by notable figures including members of the British Royal Family, the Borromean Islands, also once a favourite leisure spot with historic Italian Royalty, are a fantastic Italian highlight worth experiencing.
Travel across by boat, the Borromean Islands are actually an archipelago, or group, of islands.
The main attractions are the islands of Madre and Bella, often referred to as the 'Two Sisters'.
A landscaper's delight, both of the islands are home to lovely gardens that may turn a few green-fingered travellers sour with jealousy.
Fear not, when you are away, treat the holiday as a fact-finding mission, and collect some useful local tips and ideas for when you return home.
That way, you can have your own little piece of Italy back home.
A place to relax and plan your next holiday.
In a nod to our neighbours down south, Isla Madre hosts an English Garden.
Also on the island you will find an old Villa, dating back to around the 18th century.
Some of the smaller islands, most notably San Giovanni, are off limits.
Don't be tempted to try and wade across however delightful these islands appear!
Enthusiastic Bird Watchers you have been warned.
There are a variety of different pheasants on these islands, each patrolling their territories, with increasing by day, ambition.
5. Turin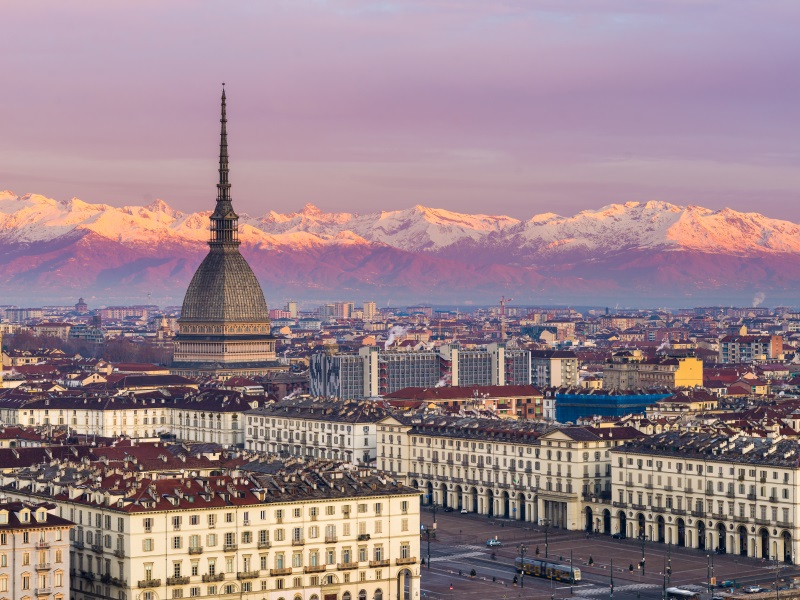 When in Piedmont, a visit to its capital, Turin, is a must.
Turin is a culturally important city, known for its football and importance to in the history of the Italian car industry.
A city renowned for its food and some old, some new, buildings, Turin was once one of Italy's industrial hearts.
Deservedly one of the culinary capitals of the world, 'petrol heads' will find their eyes somehow taken away from the delicious food when they realise how close to the Museo Nazionale dell'Automobile they are.
This museum boasts a fantastic selection of vintage cars from some of the greats including Ferrari.
Elsewhere, Turin's stunning architecture may also catch your eye.
Be sure to stop by the prominent Mole Antonelliana, a local landmark that towers above the rather neat and ordered looking skyline.
Rebelling against the trend, the imposing building may trigger flashbacks amongst some of you to the 2006 Winter Olympics.
The building was featured prominently during Olympic coverage that year, even featuring in the logo and is today the National Museum of Cinema.
6. Gran Paradiso National Park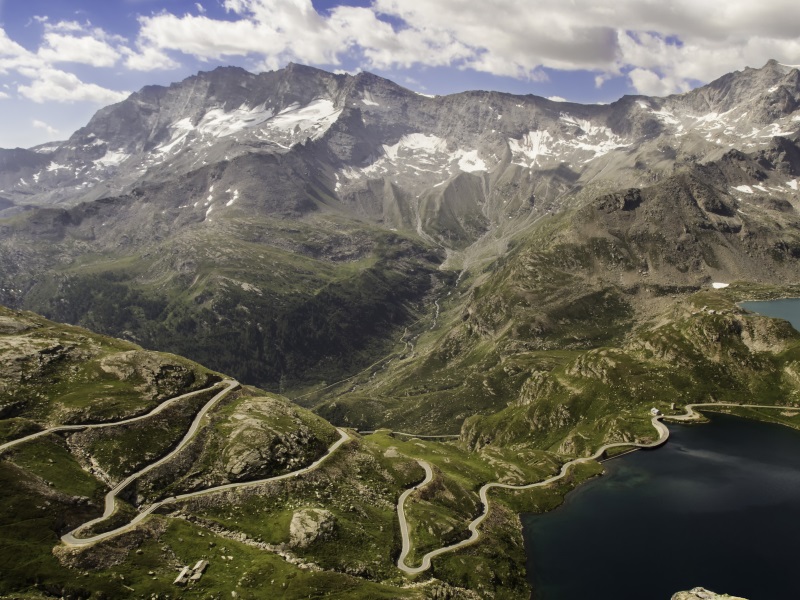 Featured this past Autumn when we shone the spotlight on some fantastic National Parks around Europe, Gran Paradiso National Park and its wonderful terrain made it to pole position.
Why first you ask? As one of the greatest National Parks many people have never heard of, we felt it was important to highlight the beauty and fantastic range of walking trails available to budding walkers around the world.
Taking its name from the mountain that calls the Park home, Gran Paradiso National Park can be explored on your own or with the help of local guides.
Related – 5 Great National Parks in Europe
The very pre-historic and noble looking Alpine Ibex's that roam the Park will stand out immediately as you scan this landscape either through your camera lens or the first, perfect camera, your (hopefully) trusty eyes.
Conservation efforts have ensured that the Ibex, suited to this challenging environment, have prospered in the Park.
Visit Piedmont
View a fantastic range of accommodation found throughout Piedmont here.
Have any travel tips when visiting this beautiful region in Italy?
We would love to hear from you.
Similar Features
8 'Belissimo' Italian coastal towns
5 'Fantastico' towns in Lake Garda to visit
5 Great National Parks in Europe
Let us know if you've visited any of these destinations before or if you have any recommendations to add to our list!
---
Follow us on Facebook or on Instagram @DCThomsonTravel. Got a travel suggestion or story you want to share, email us at holidayenquiries@dcttravel.co.uk.