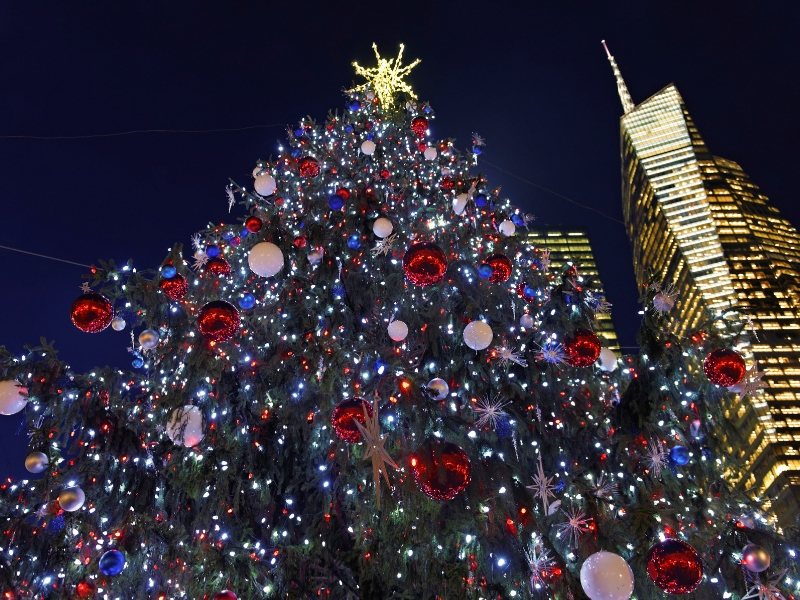 Sleigh bells ring, choirs sing and the lights of New York City are set to bling in the lead up to the most wonderful time of year – Christmas.
As the festive season takes hold, we are all reminded of this iconic city in the movies we watch – Home Alone 2 anyone?
The songs we listen to – Fairy tale of New York and the snow-draped landscapes of winter pictures – Central Park, so it only seemed right that one of our colleagues was there to capture the magic of this year's festive season.
Over the next few days our colleague will be showcasing some of their adventures in the city.
From a well-known breakfast scene to their five-star hotel accommodation, you are sure to get in the festive spirit!
You can even keep an eye out on our Facebook page for some more exciting videos from their travels.
So what is there to do in New York in the run up to Christmas I hear you ask?
Well here's 7 Must Do's to get you off to a good start.
1. Saks, Fifth Avenue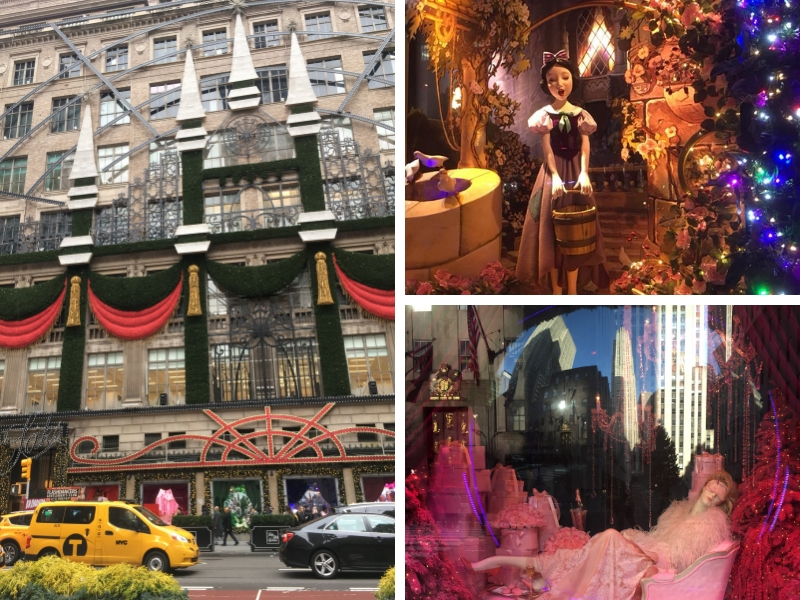 If it's lights, dramatic music and a quick show to watch then a visit to Saks, Fifth Avenue is a must.
Don't worry, you don't need to spend money here!
The light show is a staple in New York and every year, Saks chooses a theme and sets about designing their festive window displays and songs choice around this.
Last year they commemorated Snow White turning 80 and this year they paid tribute to New York's fine art scene's – theatre, aptly naming their light show – Theatre of Dreams.
The colourful display of lights synchronised with the music – there's no business like show business, lasts for just under four minutes and you can't help become mesmerised by it.
Fifth Avenue, Rockefeller Center and the corners of 49th and 50th Street all come to a halt as spectators from all over the world gaze at the enchanting displays and colours.
Here is where Christmas comes to life, as even after the show, you'll hear Christmas songs being projected over the speaker system.
If you weren't in the mood for Christmas before-hand, you'll definitely be hard pushed not to be humming along and feeling the season start to take hold as you walk around the starlit streets of the city.
2. Bryant Park Christmas Market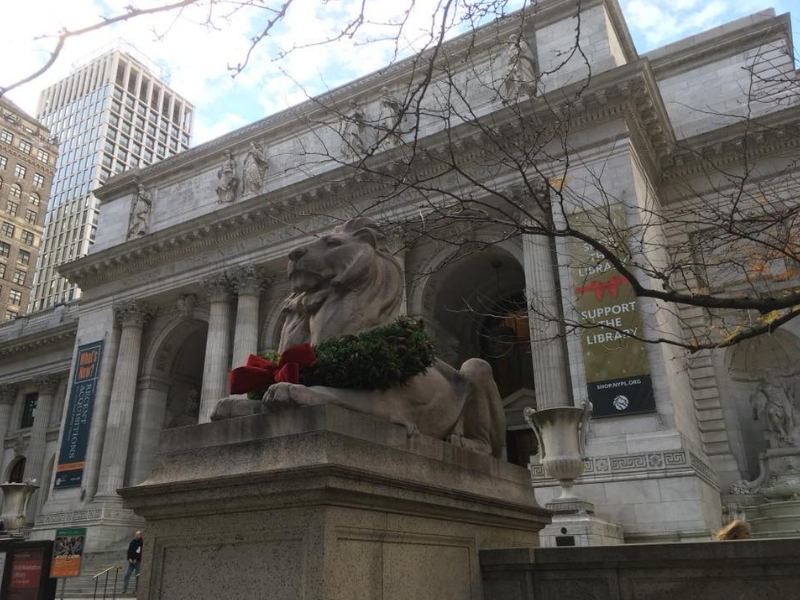 Like back home, shopping local in New York is very important. You get the chance to find unique and one of a kind gifts as well as meet the people who make them.
That's why we had to visit Bryant Park. Every year, this charming little park, located behind the New York Public Library, (between 40th & 42nd & Fifth & Sixth Avenue) is transformed into a magnificent winter village.
Here sellers from all over the city set up stalls to showcase the best of what the locals have to offer.
From wooden carvery, rare books, artists, jewellers and candle-makers, there's bound to be a gift to suit everyone here.
You can even sample local delicacies like waffles, hot chocolate and of course not forgetting the New York Pretzel and Hot Dog.
What's great is many of the sellers will take the time to speak to you and tell you how they make the items, which makes the buying experience more pleasurable.
Who says you have to think big department stores at Christmas…?
3. Macy's Department Store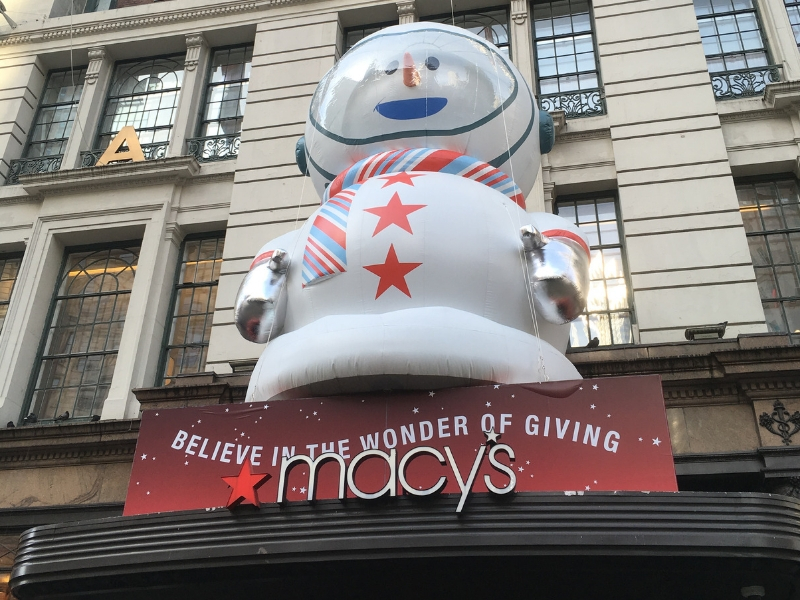 Speaking of department stores, you can't get any more iconic than Macy's.
The Macy's flagship store is located on Herald Square or more commonly known as 34th Street.
If you're in New York at Thanksgiving be sure to check out the infamous Macy's Thanksgiving Day parade.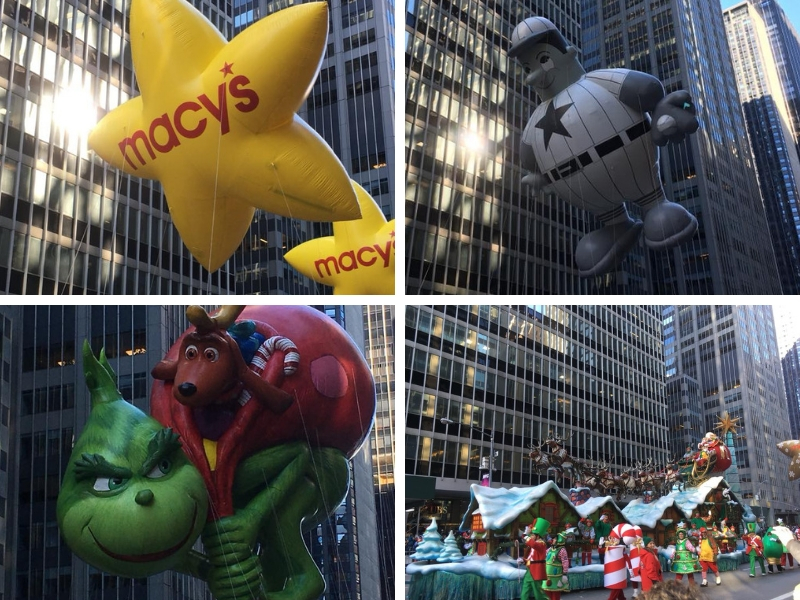 The parade isn't to be missed but be sure to wrap up and arrive early to catch the best views of the performers and the floats as they pass you by.
Inside Macy's, you'll be spoilt for choice with a range of home ware, clothing, beauty and much more spread across 11 floors. Yes they really have that many!
This is shopaholic's heaven, especially on Black Friday when you are sure to get some amazing bargains.
Pro-Tip – If you are shopping for Black Friday, head to Macy's on Thanksgiving night about 9.30/10pm.
Macy's is open from 6pm Thanksgiving right through to the following night so shoppers can get their fix of the best deals.
Heading out later at 10pm to shop does seem a little odd but you'll find it less busy and you can beat the queues and thousands of shoppers who wait to Black Friday morning.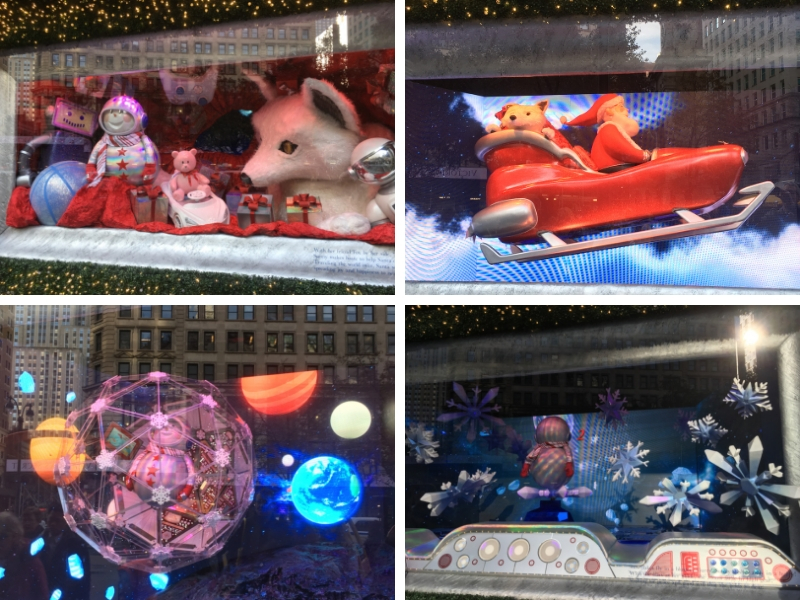 If you decide to arrive in the morning as its opening, take in the magnificent animated window displays as you walk around the outside of the shop. Inside the staff welcome you in with an applause and if you're lucky a small dance.
When it comes to Christmas, make sure you check out the Christmas decorations on offer and if you have small children a trip to meet Santa in Santa Land is a must, just make sure you reserve you slot in advance to avoid disappointment.
Who knows you may even spot a miracle on 34th street too!
4. Rockefeller Center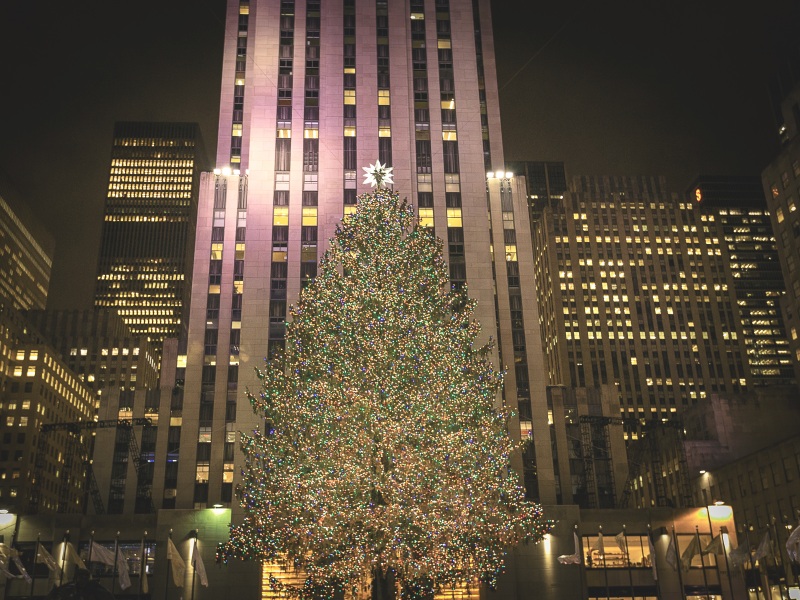 There are so many Christmas Trees around New York but none more famous than the one located at the Rockefeller Center.
Think Home Alone 2 or Elf and you'll know the Christmas tree we mean.
Every year visitors from all over the world travel to watch the lighting ceremony and capture the magic of the festive period.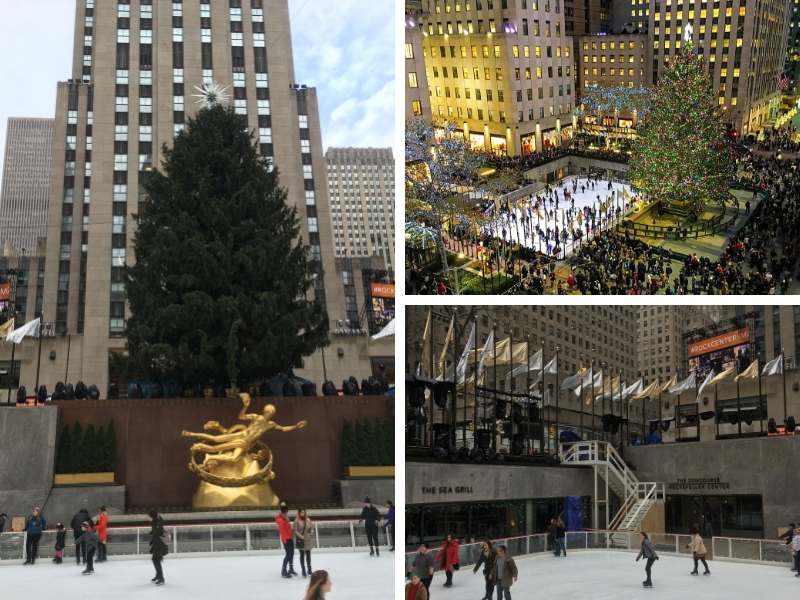 Under the tree sits the iconic ice rink where many a tourist and even the locals get into the spirit and show off their skating skills.
Pro-Tip – Lines do get busy early afternoon and evening so be sure to head there early or later at night to avoid a jam-packed skate.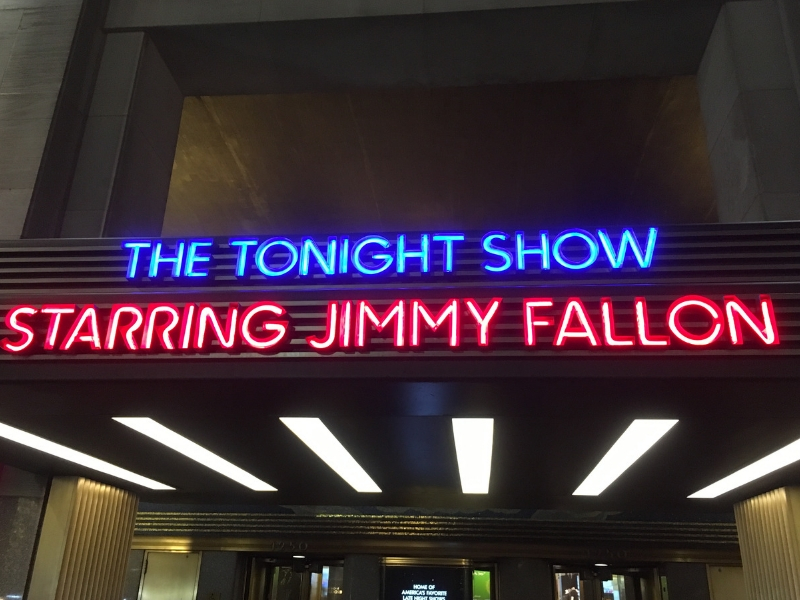 The great thing about the Rockefeller Center is there's a lot to do.
From tucking into some good food, enjoying a hot chocolate, taking a tour of the NBC Studios (including the set of Saturday Night Live & The Tonight Show with Jimmy Fallon) as well as an array of shops, you can easily spend a few hours here.
If it's a view you're after, then we highly recommend the Top of the Rock Observation Deck.
Here you will witness spectacular views across the city of Central Park and The Empire State Building. This is one sight not to be missed.
5. Central Park Ice Skating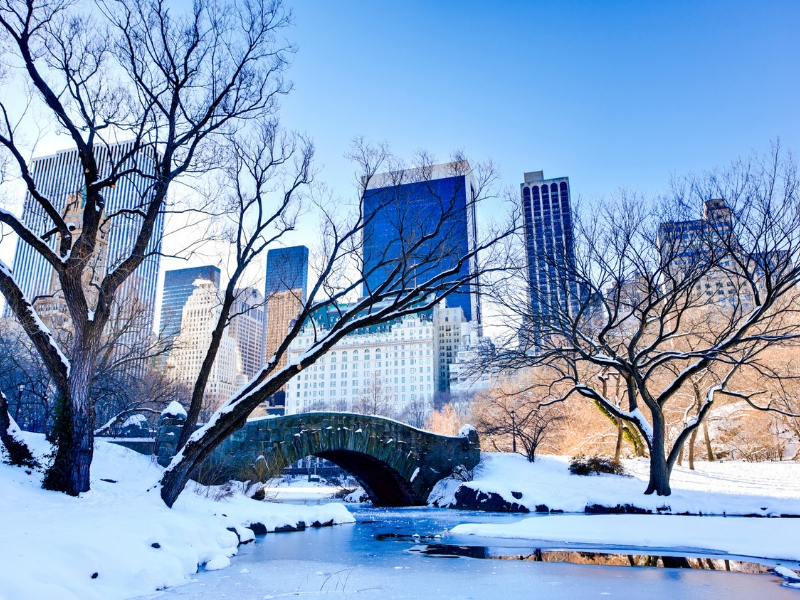 Who knew a walk around the park on a sunny winter day could tick all the boxes?
Here you can escape the shops, the people and busy queues and simply relax and watch the world go by.
You'll see the famous Gapstow Bridge, which has been in many winter wonderland images, the magical Carousel and of course a walk in Central Park wouldn't be complete without a skate on the Wollman Rink.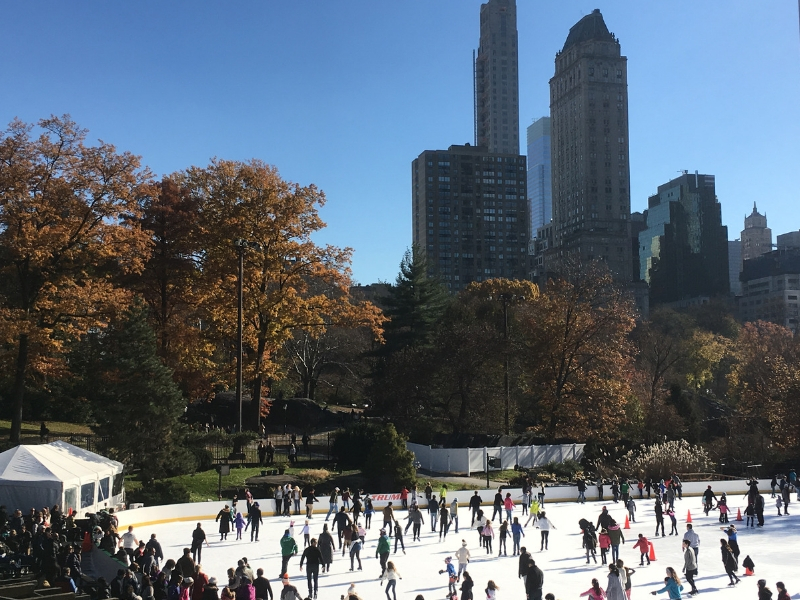 Located near Central Park Zoo on the east side, Wollman Rink offers visitors a chance to skate against the backdrop of the New York skyline, including the iconic Plaza Hotel.
Whether you're a beginner or a pro, there's just something special about skating in Central Park at Christmas.
It's sure to get you skating into the Christmas Mood.
Pro-Tip – Have a designated photographer to capture all those spectacular photos as you're not allowed your phone on the ice.
6. The Rockettes Christmas Spectacular Show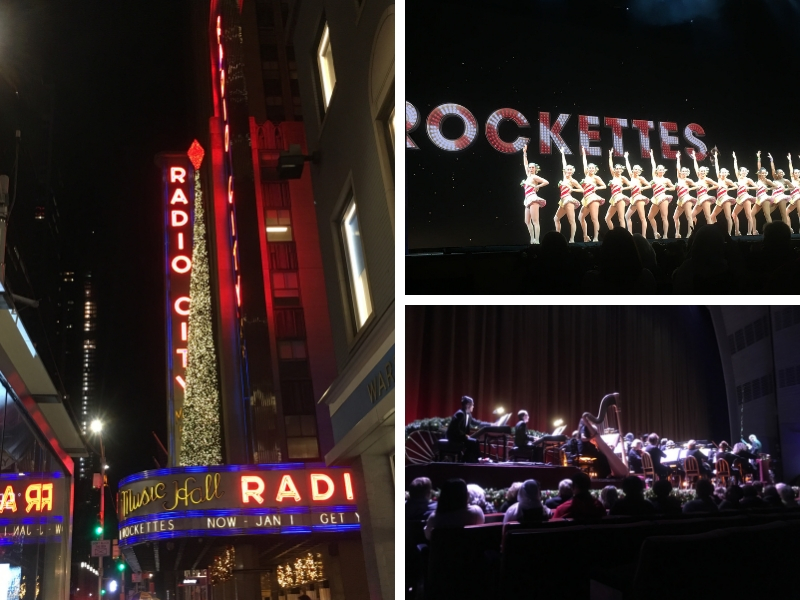 Calling all musical fans and non-musical fans, if there's one show not to be missed this season it's the Rockettes Christmas Spectacular Show at Radio City.
Fun for all the family, the Rockettes have been part of the New York Christmas scene since 21 December 1933 and it's easy to see why.
With over 140 performers, you'll witness great dance routines, original music and classic Christmas songs you can't help hum along too.
You'll also be taken on a tour of New York on Santa's sleigh – oh yes, Santa is the star of the show – so remember to behave or you'll end up on the naughty list.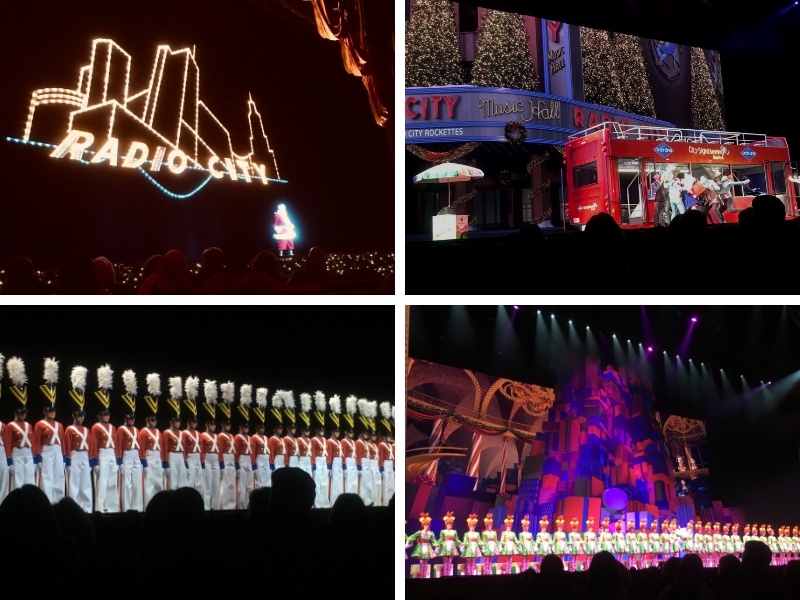 You'll also be wowed by a giant teddy bear prima ballerina, toy soldiers and of course a trip to Santa's workshop in the North Pole.
The Rockettes truly make Christmas special with this spectacular tradition.
7. Broadway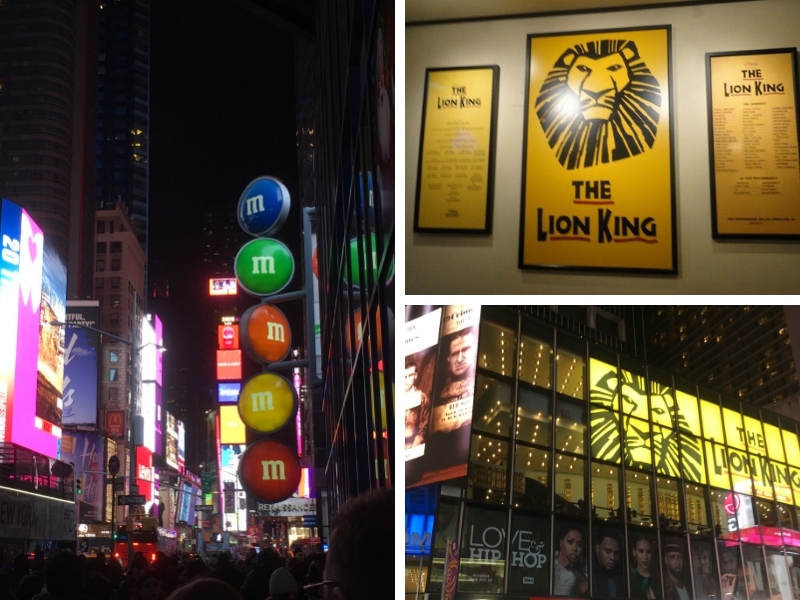 Located moments from Times Square, you can't come all the way to New York and not see a performance on Broadway.
Whether you are a fan of musicals, The Lion King, Hamilton and Wicked come to mind or prefer plays with a few celebrity faces, there's something for everyone here.
What's great about this time of year is famous TV and movie actors as well as musicians have a gap in their schedule and many decide to show their live acting skills off in a variety of different plays including Bryan Cranston, Paddy Considine and Daniel Radcliffe.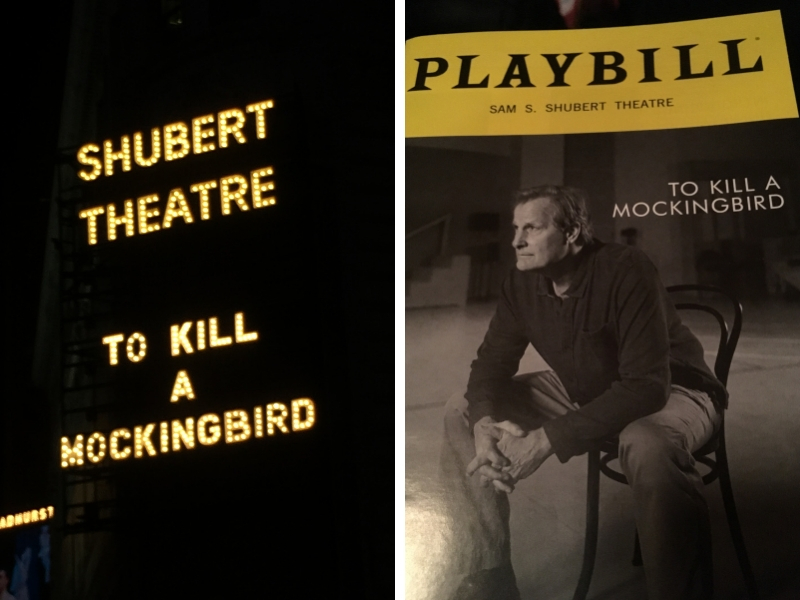 We were lucky to attend two such Broadway plays. The first saw Jeff Daniels take on the role of Atticus Finch in To Kill a Mockingbird at the Shubert Theatre.
Adapted by screenwriter Aaron Sorkin, (known for The West Wing, Moneyball, Social Network and Steve Jobs) the play is based on the 1960 novel by the same novels written by Harper Lee.
The adaptation captures the integrity of Atticus Finch perfectly.
Dealing with dark subjects the play still manages to show sincerity, warmth and humour through each actor on stage especially through the eyes of Scout (Jean Louise Finch) played by Celia Keenan-Bolger .
If you are lucky enough to be in New York between now and July 2019 (note not all actors are guaranteed to be performing until then) we would highly recommend seeing this.
It will not disappoint.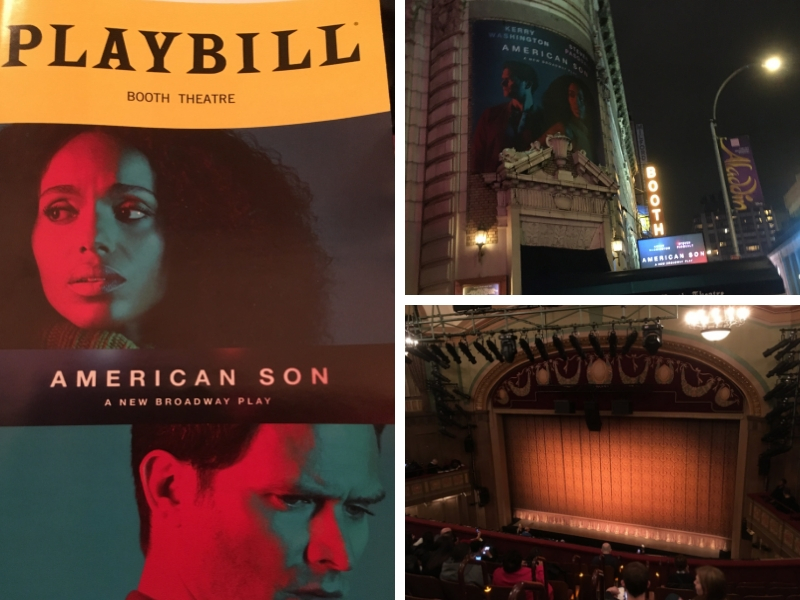 The second play we were lucky enough to see was that of American Son at the Booth Theatre. The play tells a story of America as a nation through a family dealing with relationships, loss, identity and love.
With such a small cast – only four actors, (Kerry Washington from the hit TV programme Scandal), Steven Pasquale (from The Good Wife), Jeremy Jordan and Eugene Lee, the ninety minutes fly by as you are not only gripped by the story, but by the performances as well.
As the final curtain falls you feel your mind has been challenged on a subject at the heart of America today as well as walk away deeply moved from what you have just seen.
With a limited run until 27 January 2019, be sure to book tickets if you're visiting soon.
Looking for a holiday to New York
No matter when you visit New York, you'll find there is an abundance of things to do. Going at Christmas is just that much more magical.
Planning a festive trip, why not browse a range of New York accommodation here.
Been to New York?
Have you visited the Big Apple at Christmas? Let us know via either Facebook or email.
Similar Features
8 Great winter holiday destinations you should 'snow'
7 Things to do in Berlin this Winter