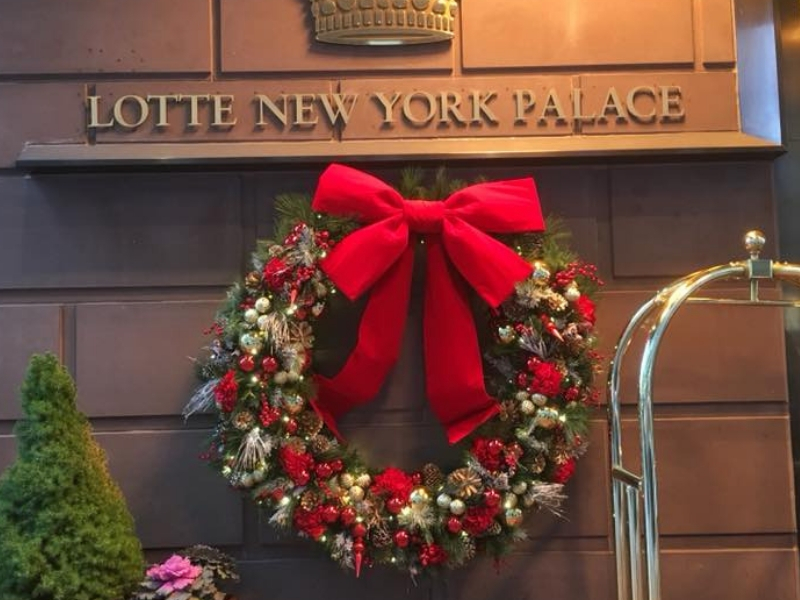 Continuing our colleagues trip to New York this Christmas season, we take a look at their five star hotel – Towers at the Lotte New York Palace.
New York is a popular destination with many travellers as there's so much to see and do.
With so many hotels and locations to choose from – Times Square, Fifth Avenue, Grand Central to name just a few, the Lotte New York Palace is not just a hotel, it's an experience.
History at the Lotte New York Palace Hotel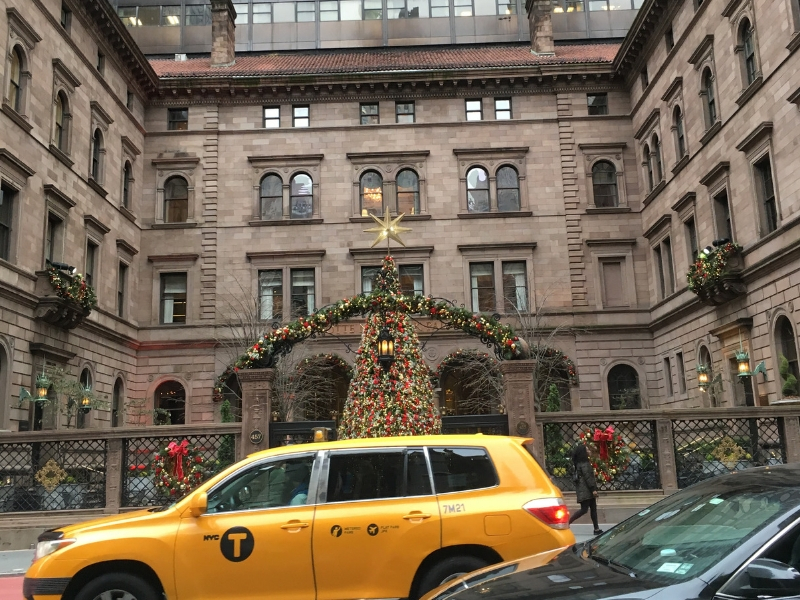 Located at the corner of 50th Street and Madison Avenue, the Lotte New York Palace Hotel is one of Midtown's most historic and iconic landmarks. 
Dating back to 1882, Henry Villard commissioned six brown townhouses to be built around a courtyard on Madison Avenue.
These townhouses are now known as the Villard Houses and in Spring 1974, Harry Helmsley acquired them and added on a 55 story hotel that would extend on it.
The hotel consists of 2 different hotel options – The Palace and The Towers.
The Palace has a timeless, elegant design and consists of 766 Palace guest rooms and suites. 
The Towers still have that timeless design but it adds a personal touch that defines the hotel.
Luxury awaits as well as some of the most breath-taking views of New York as all 176 rooms in the Towers are located on the last 14 floors of the hotel.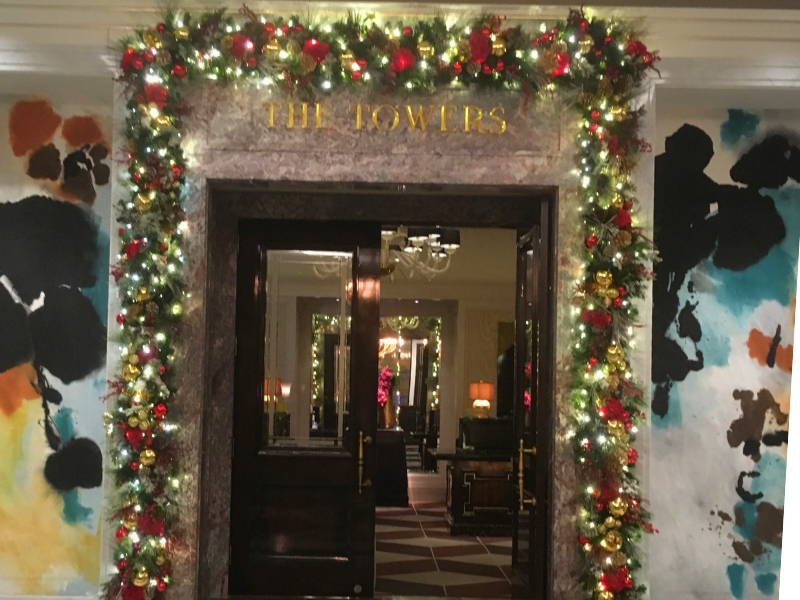 When staying at the Towers, you'll also have a separate check-in and concierge, free Wi-Fi, signature toiletries, and of course complimentary champagne in the afternoon. What more can you ask for?
So what are the Rooms like?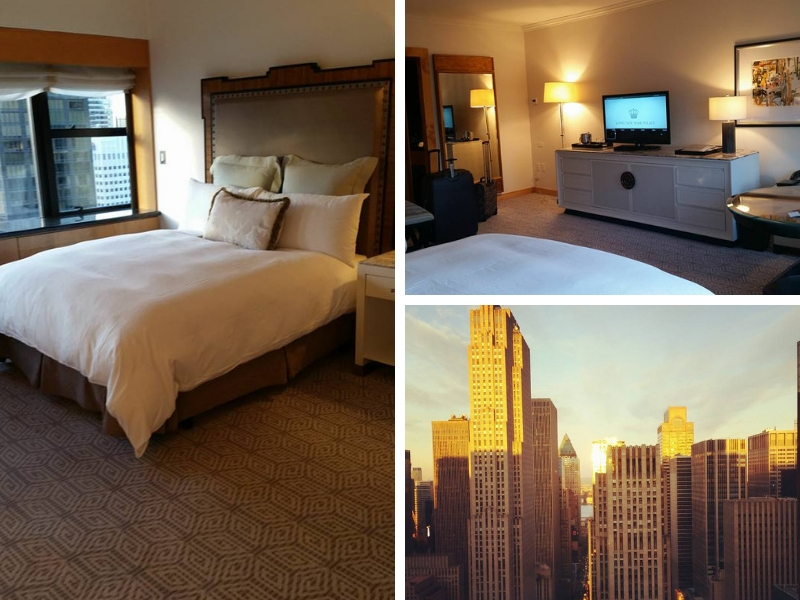 Staying in New York, especially Manhattan can be a little expensive. 
When staying in New York, the most common groan travellers say is the size of their hotel room. 
When it comes to building in New York, there is very limited space so room sizes aren't always ideal compared to what you may find in other cities.
However no matter if you are staying in The Palace or The Towers, your room size is more than comfortable.
The Towers Luxury room our colleague stayed in, offered 465 square feet, which meant there was plenty of room for shopping bags, especially over the Black Friday weekend.
You'll also find a large spacious bathroom with Molton Brown toiletries, a large walk-in closet, a comfortable King or two Queen beds and a large table to sit down with your morning coffee as you look out across the city.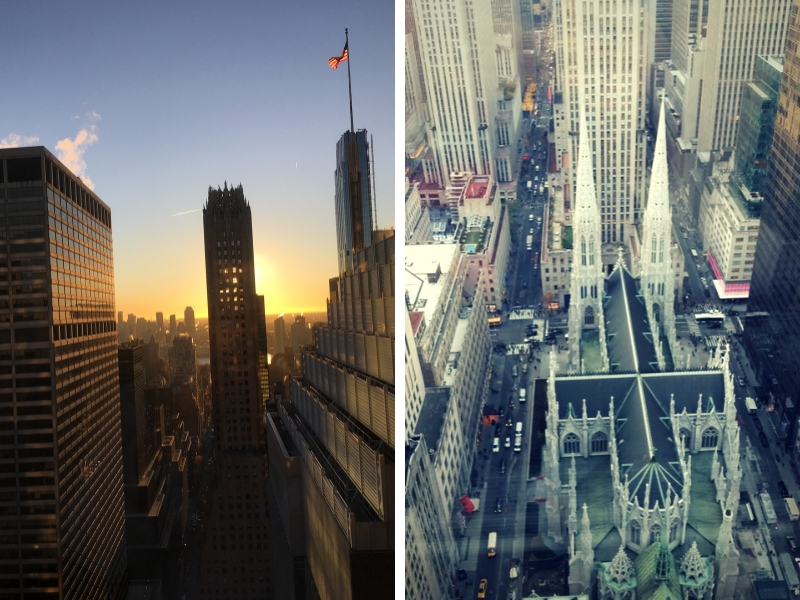 Depending on which side your room is on (East or West), you will be treated to spectacular views of St Patrick's Cathedral as well the as Rockefeller Center or the Hudson River and the Chrysler Building.
There really isn't a bad view in the Towers, especially over the Christmas season when more lights bring the city to life.
Pro-Tip – Rather than order room service, save yourself some money and head down to the Pomme Palais, (known as the jewel box bakery) located in the hotel lobby.
Here you can pick up your morning cup of tea or coffee along with fresh bagels, croissants and muffins and have your own breakfast high up above the New York skyline for a fraction of the cost.
The Pomme Palais is open until 6pm most nights and has a beautiful selection of cakes and sweets on offer. We can highly recommend the eclairs and the cheesecake!
Are the staff friendly?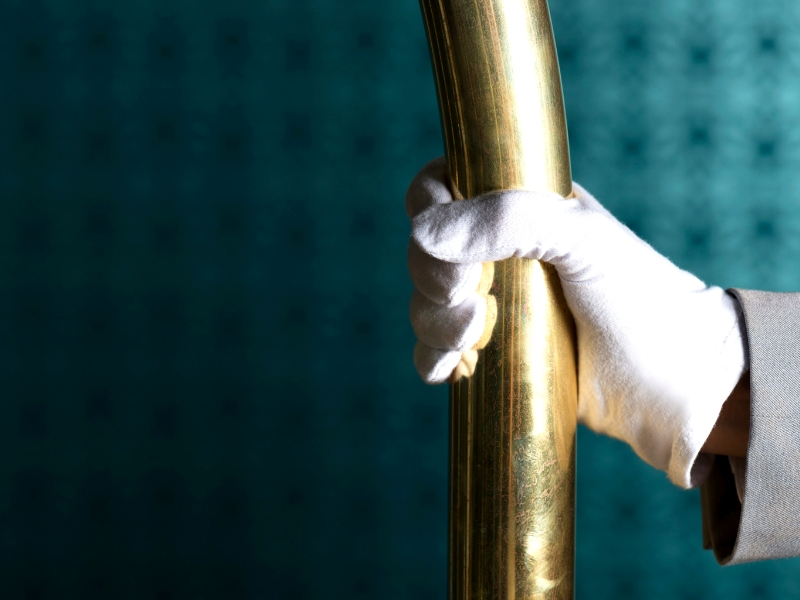 They say people make places and that is definitely true about the staff at the Lotte New York Palace.
From the moment you step out your iconic New York Yellow Taxi, the staff are there to help you enjoy your stay.
From helping with your bags, to offering advice on local restaurants and shows nearby, they go out their way to make sure everything is taken care of.
Especially when it comes to Christmas Shopping. 
If you read our last New York article, you'll remember it mentioned shopping at Macy's from 10pm, Thanksgiving night to avoid the Black Friday rush. 
Well this sound advice came from the hotel staff and our colleague couldn't be more thankful for it.
The staff are also keen to show off the hotel too.
You may recognise the hotel from a couple of well-known television shows. It featured prominently in Gossip Girl and most recently Marvel's Daredevil Season 3.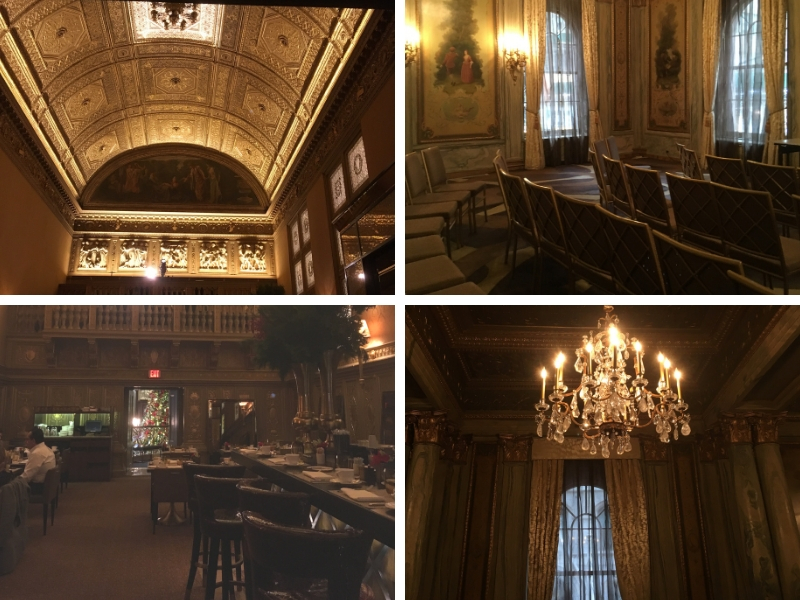 Our colleague was lucky to be given a tour of the Villard Restaurant and part of the Villard Houses where filming for Gossip Girl took place.
The Lobby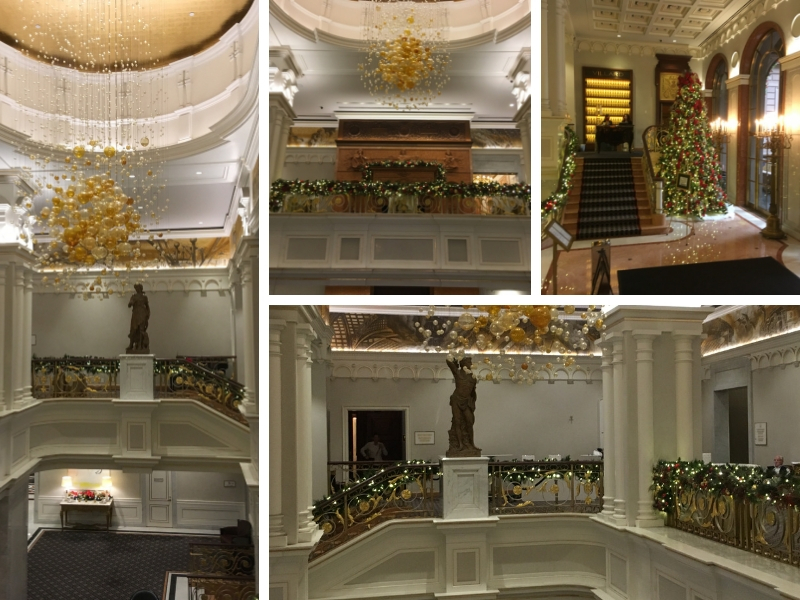 There's something special about walking into the Lobby of this hotel during the Christmas season. 
Beautifully decorated trees, wreaths and holiday music all combine to bring a touch of festive charm that stays with you even after you leave the hotel.
The lobby also offers access to the Hotel's other bars and cafes – Tavern on 51, Pomme Palais, Villard Restaurant and Rarities. 
There's also plenty of seating in the lobby and lounge area, which makes for a great rest stop or just a place to sit to watch the world go by.
The pièce de résistance though is the Lobby's grand staircase.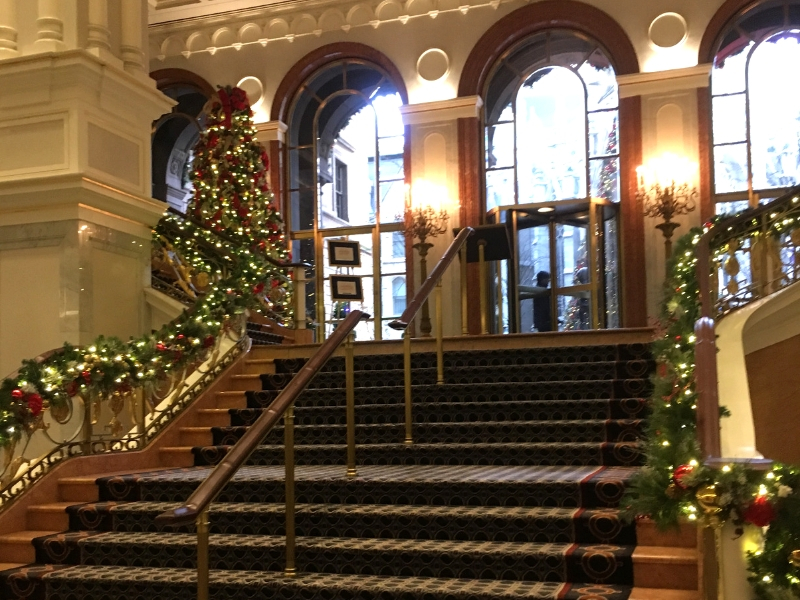 Beautifully decorated using a white and gold palette, the lobby is a must-see even if you're not staying at the hotel. 
The golden chandelier that hangs above reflects the light perfectly and creates a warm and enchanting environment as you walk in from the cold. 
The staircase also leads out to the hotel's courtyard on Madison Avenue.
The Courtyard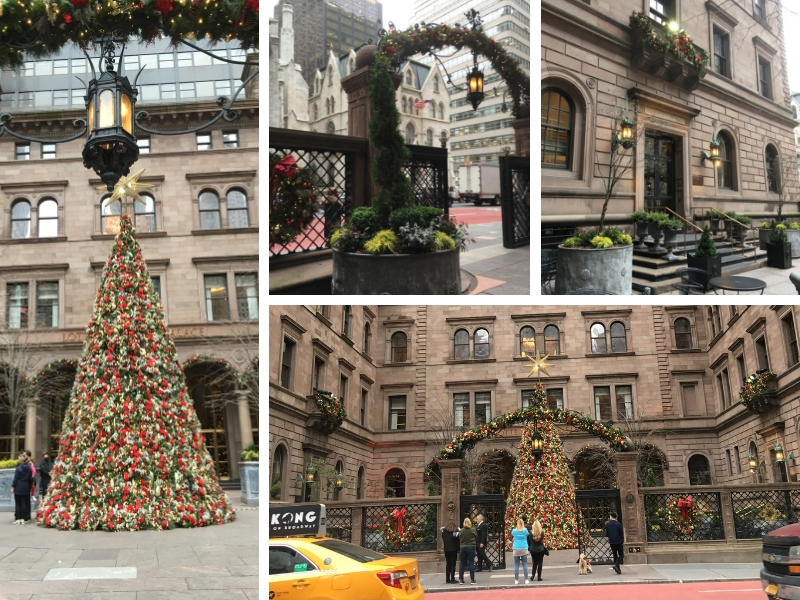 Probably the most recognisable part of the hotel, the courtyard is where you'll find the hotel's famous Christmas tree.
Beautifully lit, tourists walking past can't help but stop and admire it, as well as take a few holiday snaps.
The tree has a timeless quality to it also and with the magnificent Villard Mansion surrounding it, you can't help think this is a hidden gem tucked away in the heart of New York City.
Looking for a holiday to New York
Planning a trip to New York soon, why not stay at the Lotte New York Palace – click here to find out more.
Been to New York?
Have you visited the Lotte New York Palace at Christmas? Let us know via either Facebook or email.