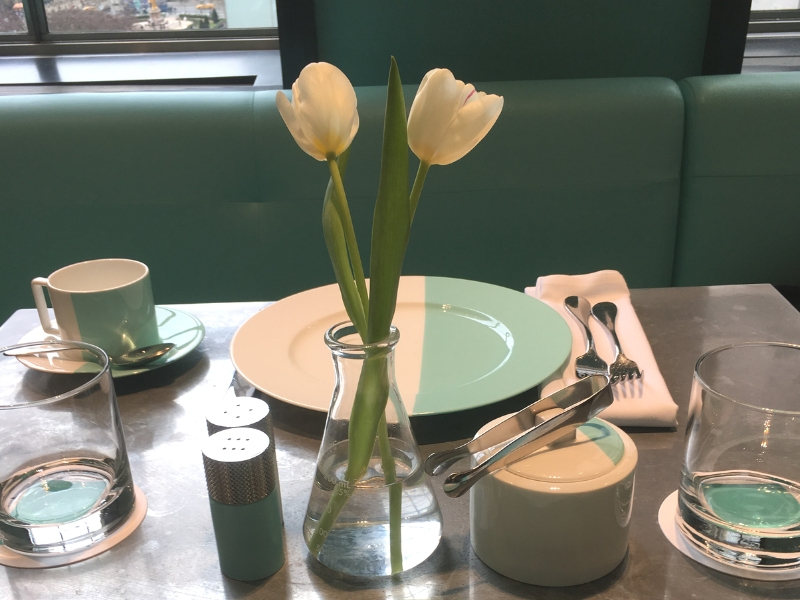 Holly Golightly once said that jumping in a cab and going to Tiffany's in New York, calmed her right down and made her feel great again.
When I watched the iconic scene from Breakfast at Tiffany's of Audrey Hepburn's character eating the croissant and holding a cup of coffee outside of Tiffany's, I could only dream of experiencing the beauty and calming effect Tiffany's has over breakfast.
Who knew that day would come on a recent visit to New York.
Back in 2017, the Tiffany's flagship store, located on Fifth Avenue turned their fourth floor into a haven for luxurious home and accessory gifts. Nestled within this floor is the iconic Tiffany jewel, the Blue Box Cafe.
Since then, travellers from all over the world have come to catch a glimpse and experience the charm of Breakfast at Tiffany's for themselves.
The Blue Box Cafe

So what was it like I hear you ask? Better than I could ever imagine.
Classic, elegant and minimalist in design, the cafe along with the fourth floor has been stripped back to the core of the Tiffany theme; the iconic Tiffany blue set against a white background.
This shift to lighter colours has given Tiffany's a chance to attract a new, younger audience as well as showcase their home and accessory collection, which is reasonably priced.
There's something kind of magical about the elevator doors opening and walking through the floor to the cafe's entrance. Even with my reservation confirmation in hand, I still had this feeling that it wasn't quite real. That was until they ticked my name of their list.
As you enter the cafe, you can't help but look around and marvel at the crystal sparkling in the display cases and the neat little tables dotted around the cafe space.
Here the minimalist colour scheme continues throughout from the Tiffany blue chairs to the dining wear, it really had that wow factor.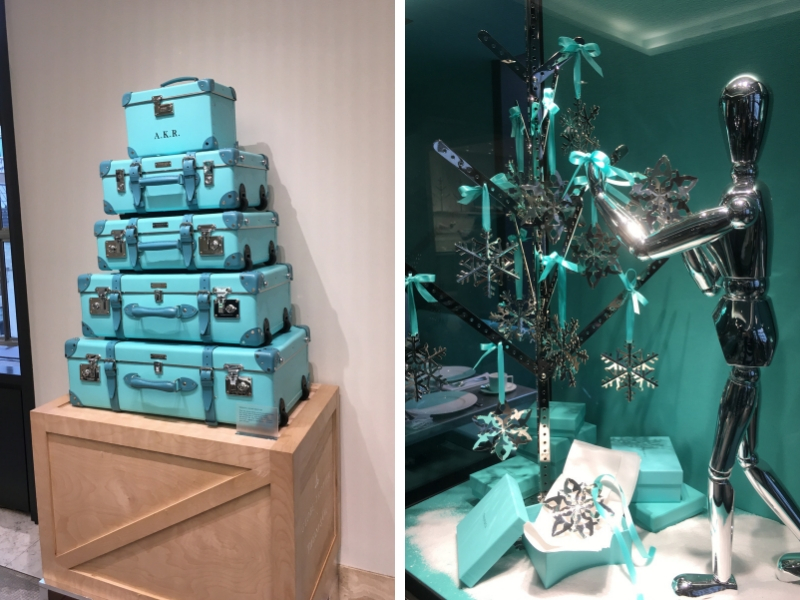 The plates, the tea cups and my personal favourite the salt and pepper shakers all shout Tiffany and somehow it isn't over powering. There's definitely a calm about sitting and experiencing a meal here.
Breakfast at Tiffany's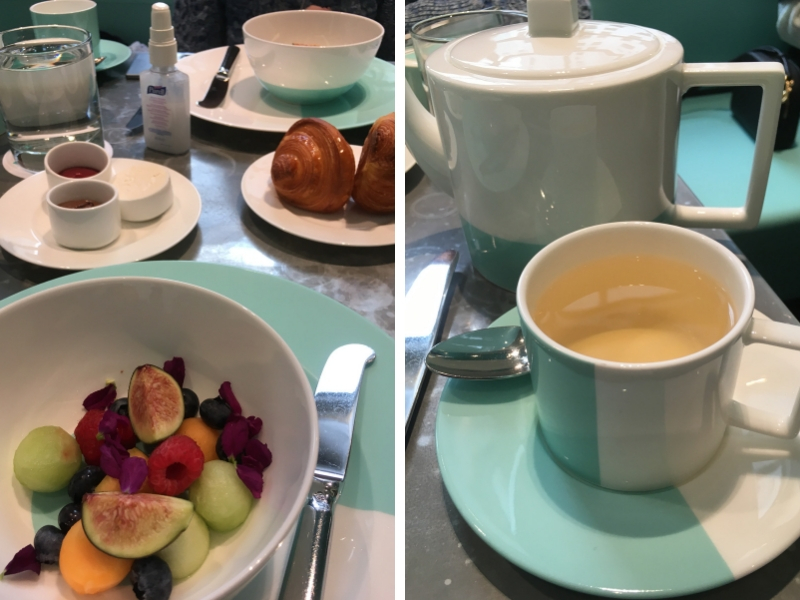 With my first impressions still lingering, I opted to take a look at the menu and see how much of a hole in my purse this experience would set me back.
Eating in New York isn't always cheap but I was actually surprised at how much you were getting for the price.
Included in your breakfast is a pre-breakfast of seasonal fruit and berries, a warm croissant with three spreads to choose from; Nutella (my personal favourite), honey butter and cherry-cranberry jam.
The honey is sourced right there in the city atop one of the rooftops and is utterly delicious.
You also have the choice of Bellocq teas including the Tiffany blend, Breakfast tea, Chinese Green tea and other Organic Herbal teas.
Served in a delicate china bone teapot, I opted for the Cloud and Mist tea which is an organic Chinese Green tea with fragrant notes of emerald leaves and a subtle floral finish.
It didn't disappoint and was a great accompaniment to my breakfast.
If tea isn't your morning hot drink of choice, then there is also a selection of coffees to help revive you in the morning.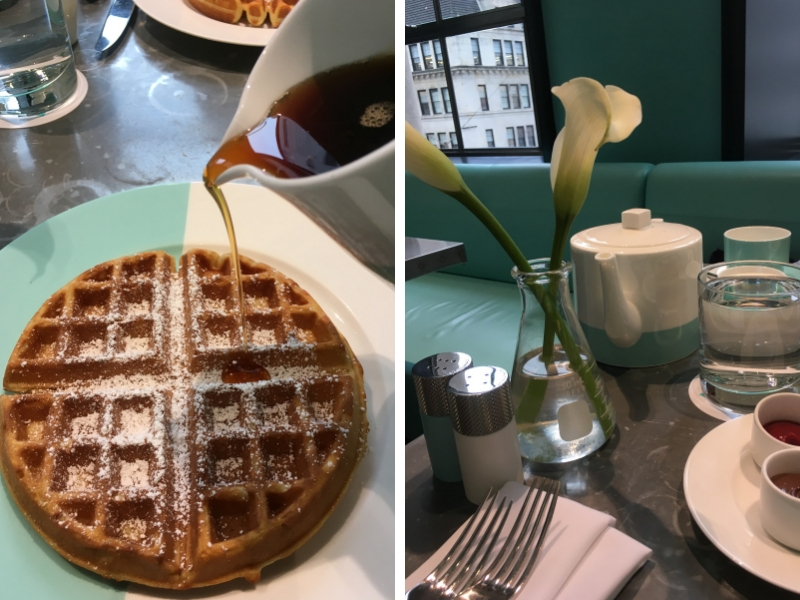 The main breakfast options on offer cater to most diets and if you do have a special dietary requirement, the staff are on hand to ensure your diet needs are met.
As I was on holiday, I decided to treat myself to the buttermilk waffle served with poached fruit of the season and Catskills maple syrup.
The verdict on these… irresistible, delectable and just the right portion size. The perfect blend of sweetness and fluffiness that left me struggling to finish every morsel.
Breakfast cost $32pp (approx. £24.70 each) and although that can seem a lot, when you look at what's included and the experience you are getting, it's safe to say the price is definitely worth it.
Other Meals at the Blue Box Café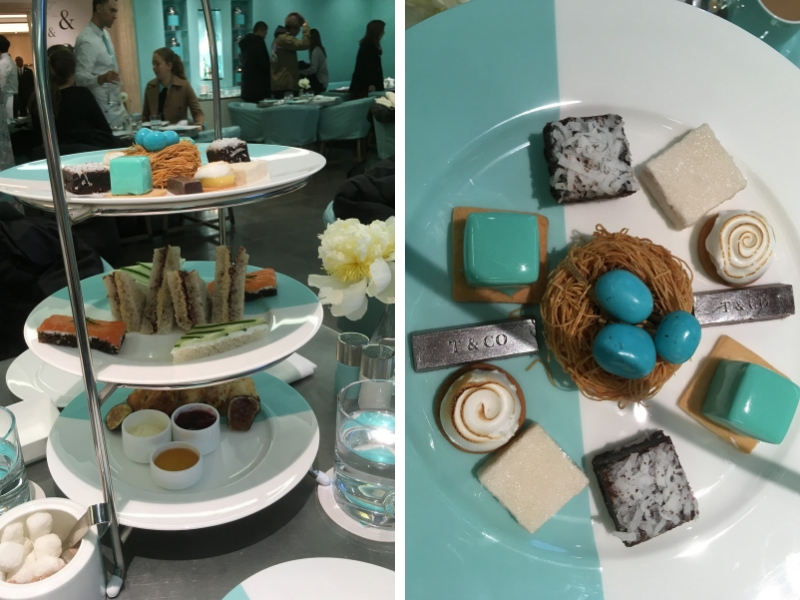 It's not just breakfast you can enjoy here, you also have the option of a two-course lunch priced at $42pp or the pièce de résistance, Tiffany's Afternoon Tea.
The Tiffany's Afternoon Tea may seem a little steep in terms of cost, $52, however so much is included.
On the bottom layer you have a choice of sweet and savoury scones served with winter fruit preserves, clotted cream and honey.
The second layer is where you can choose from a selection of light finger sandwiches which are presented in that refined Tiffany's way.
Lastly, the top layer is what makes this Afternoon Tea so special, it's the sweet tier. Here beautifully crafted, intricate cakes are carefully placed around the plate. Making for a tough decision in which one to try first.
You'll have one of each of the following cakes, a Tiffany's Bird's Nest – this is caramel made into a nest with 3 little turquoise eggs filled with delicious chocolate, the Blue Box Petit Four, Coconut Brownie, Key Lime Tart, a Chocolate Ingot (designed to look like the iconic Tiffany's silver bar) and a Lemon Jelly square.
Paired with our choice of tea or coffee, this afternoon tea is well worth the price tag.
Just to look at the afternoon tea makes your taste buds call out, if I wasn't so full from breakfast, I would have happily asked to try the afternoon tea too!
The ingredients for all of the meals on offer are sourced regionally and made to the highest quality. With each new season, comes new ingredients so no matter what time of year you visit, there's sure to be something new on the menu to try.
Be sure to reserve your Breakfast at Tiffany's experience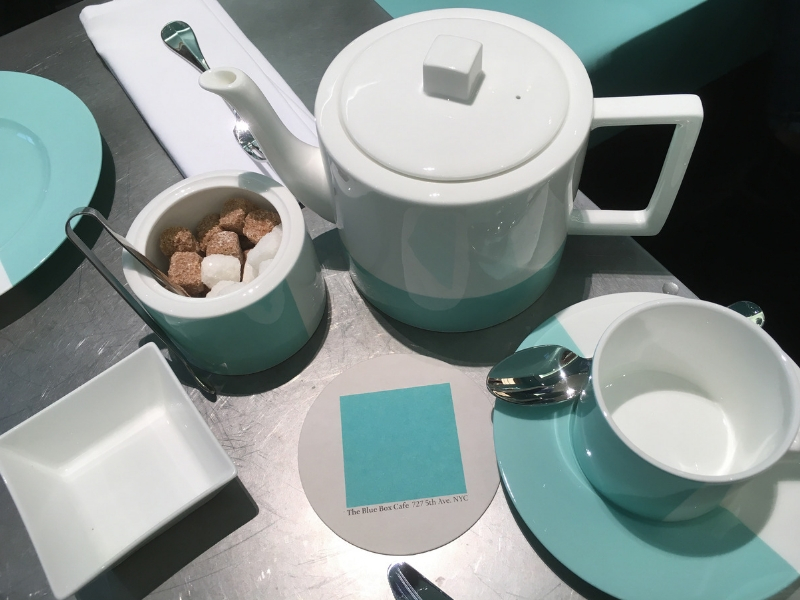 The great thing about the Tiffany's Breakfast is that it is served all day so no matter what time you decide to visit you'll have the chance to experience it.
Unfortunately, you can't just turn up to the Blue Box Cafe, you need a reservation and they can be hard to get if you're not quick.
Using the Resy app or online through the Tiffany's website, you'll find that reservations are released thirty days prior and within minutes they are likely to become unavailable, with so many people trying to book this experience for themselves.
If you do miss out, set up a reminder on the app for the days you would like to go and the times you would like and you will get a notification of any cancellations.
Again be quick as soon as that notification is sent to you, click book and secure your table.
Overall Verdict
On my travels there have been many breakfasts' but none have compared to the experience of enjoying a Tiffany breakfast.
There's definitely a lot to be said about my Breakfast at Tiffany's but I think I'll let Holly Golightly lead this one – 'I'm just crazy about Tiffany's!'
Have you had Breakfast at Tiffany's?
Let us know by leaving us a comment on facebook.