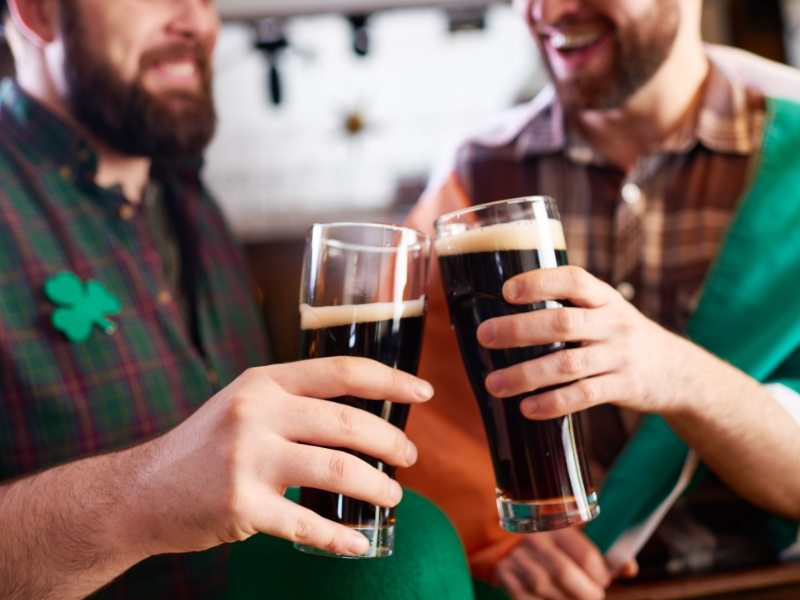 On the 17 March of each year, many people across the world celebrate the Irish saint, St Patrick.
It is believed that Saint Patrick's Day is celebrated in more countries across the world than any other national festival and it's easy to see why.
With so many Irish settlers relocating to other parts of the world, the traditions and culture has become a staple in their new hometowns.
From parades, festivals, dances and wearing green attire including the shamrock, you can't help get into the spirit and take part in the merriments for yourself.
We take a look at five of the best places to enjoy the celebrations this year, starting off with Dublin.
1. Dublin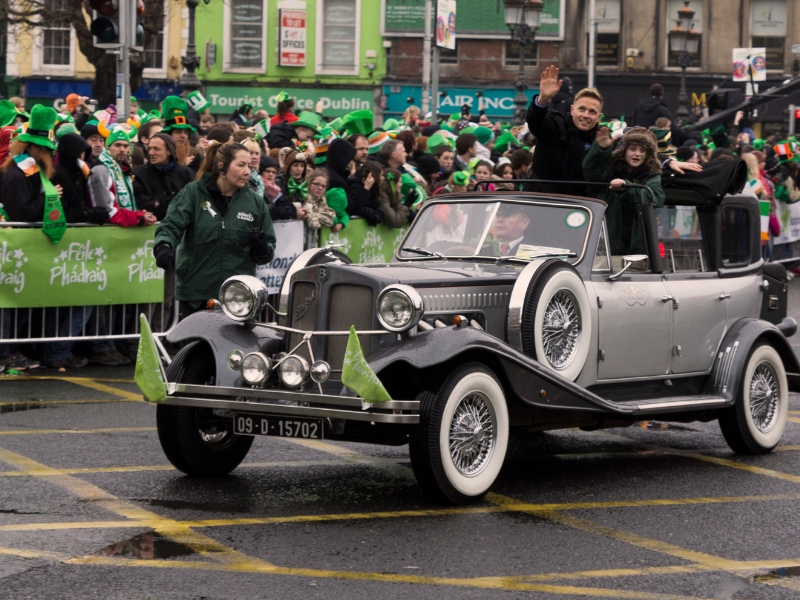 There's no party like an Irish one and when it comes to celebrating St Patrick's Day, where better to enjoy the festivities than Dublin?
Across five great days (Thursday 14-18 March 2019), the St Patrick's Day Festival includes a variety of tours, events and even a Guinness Supper to relish.
The St Patrick's Day Parade will take place on Sunday 17 March and carries a theme of storytelling this year. Street theatre and pageant companies will come kitted out aiming to impress the spectators who will line up along the route.
Starting at Parnell Square North, the parade works its way down to the cross section of Kevin Street and Waxford Street, where it will end.
Looking for the best viewing spots, you can book a spot at one of the grandstands along the route. These stands offer tiered seating to ensure you get unobstructed views of the parade as it passes by. Accessible areas are also available and information on these can be found here.
2. New York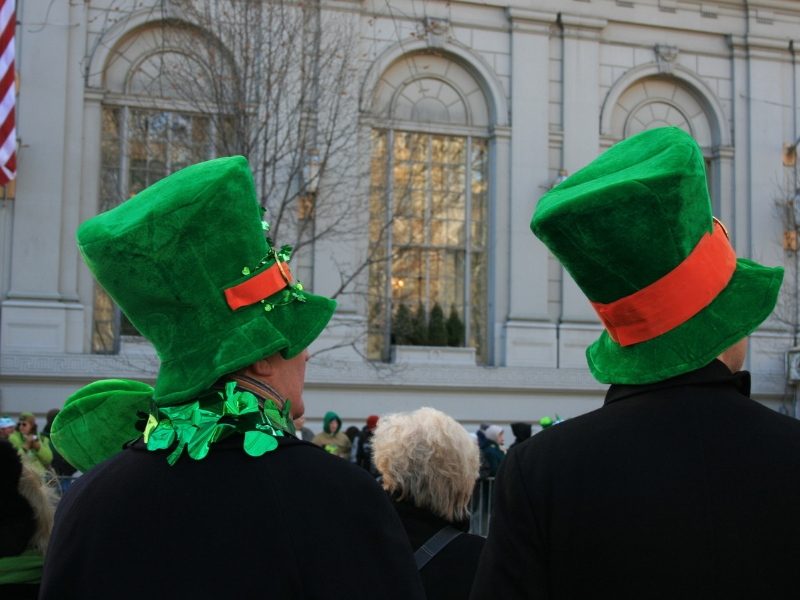 America has a long history with the patron saint of Ireland. It is believed that as far back as 1762, the Irish soldiers serving in the English army in America, took to the streets of New York and held the first St Patrick's Day Parade.
By 1848, the St Patrick's Day Parade became an official annual event in the city and since then millions of people gather in New York to watch this 5-hour spectacle.
So whereabouts in the city can you see the Parade I hear you ask? The Parade route starts at East 44th Street and Fifth Avenue and ends on East 70th Street.
It is said that up to 150,000 people take part and the sight of so many people marching along Fifth Avenue is not to be missed.
Unlike the Macy's Thanksgiving Day Parade, this one enforces a strict no float rule. However don't be put off by that, you'll instead be treated to an array of pipers, marching bands, dancers and so much more.
It's worth noting that the weather can turn rather chilly so be sure to wrap up in a few layers to keep you warm during the procession.
After the Parade, you will be spoilt for choice in terms of which bar to go to for a pint of Guinness. As of 2017, there were at least 120 Irish Pubs to choose from in Manhattan alone, so be sure to check out the reviews and head to the pub or two of your choice.
Fun Fact: The Empire State Building is lit up in green amidst the celebrations.
3. Chicago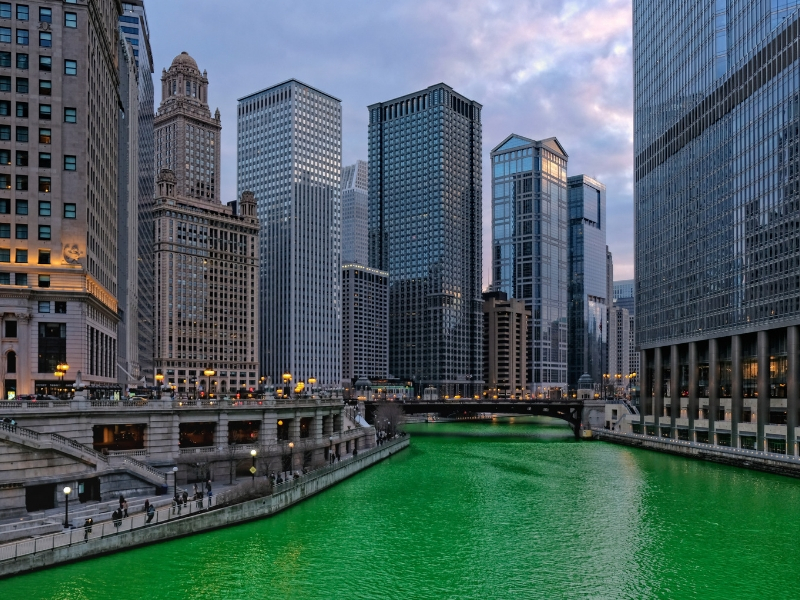 The city of Chicago is going green this year for St Patrick's Day.
From 11 March until 17 March, the iconic monuments and buildings in the streets of Chicago will be lit up in green. These include the Civic Opera House, Wrigley Building, United Centre and much more.
One thing that makes Chicago different from its counterpart in New York is that the city dyes their river green. Yes, you read that right, the Chicago River changes to an emerald green in celebration of St Patrick's Day.
It is worth noting, that the river dyeing ceremony doesn't actually take place on St Patrick's Day. It is usually done on the Saturday before; this year it will be held on Saturday 16 March at 9am.
It takes approximately forty-five minutes to turn the whole river green and it stays that way for only five hours, so be sure to be there early to see the emerald green waters take over the Chicago River.
There are also many parades to see in the city too. If you are about for the river dyeing ceremony, you can also see the 2019 Chicago St Patrick's Day Parade from noon.
It begins at the corner of Balbo and Columbus and continues north where it finishes on Monroe Street.
Looking for a good spot to watch the parade? Then head to the viewing gallery by the Buckingham Fountain early and secure yourself the best spot.
On St Patrick's Day itself, you can watch the well-known South Side Irish Parade.
4. Boston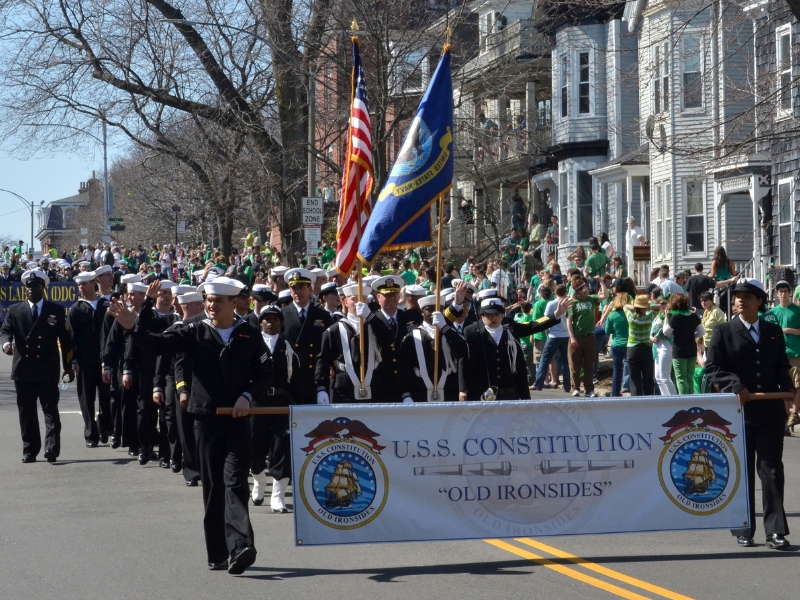 Unlike New York's festivities, Boston celebrates St Patrick's Day with colourful floats. These vibrant floats are part of the South Boston St Patrick's Day Parade which starts at 1pm on West Broadway and follows the route on to Dorchester Street where the parade will end at Dorchester Avenue.
The parade is just the start of the celebrations, each year Dropkick Murphy's do a string of shows at the House of Blues. Fans travel from all over the world to experience the rollicking event which has become an annual event in the House of Blues' calendar.
Of course with a number of Irish bars in the neighbourhood too, you'll be spoilt for choice on where to continue the celebrations.
If you are looking to step back in time and discover Boston's Irish roots, then we recommend doing the Irish Heritage Trail. The trail consists of twenty points of interest including Rose Kennedy Garden, Boston City Hall and Fenway Park.
Staying in Boston after St Patrick's Day, then the Irish Film Festival is definitely worth attending.
5. London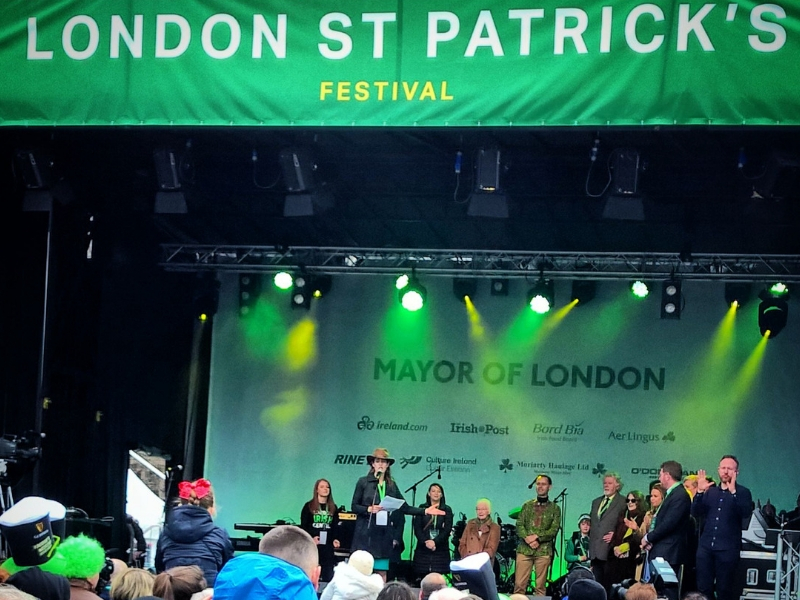 Closer to home, we take a look at the celebrations in London this St Patrick's Day.
The city of London has created a festival in honour of the Irish saint. Now in its seventieth year, the festival begins on Friday 15 March and ends on Sunday 17 March 2019 with different events being held across the city.
The main parade kicks off on Sunday 17 March at 12pm and includes decorative floats, marching band, Irish dancers and much more. The parade starts at Green Park, making its way down Piccadilly, ending at Trafalgar Square.
When you get to Trafalgar Square, this is where the festivities really begin. From 12-6pm, you will get to sample the best of the Irish performances, culture, music and food. What's not to love?
Are you celebrating St Patrick's Day?
Let us know where and how you are celebrating by leaving us a comment on our Facebook page.
Similar Posts
Happy President's Day – 5 Presidents and their States
Burns Night: 4 famous Robert Burns statues
6 Supreme USA experiences you would be a Turkey to miss out on!
---
Follow us on Facebook or on Instagram @DCThomsonTravel. Got a travel suggestion or story you want to share, email us at holidayenquiries@dcttravel.co.uk.