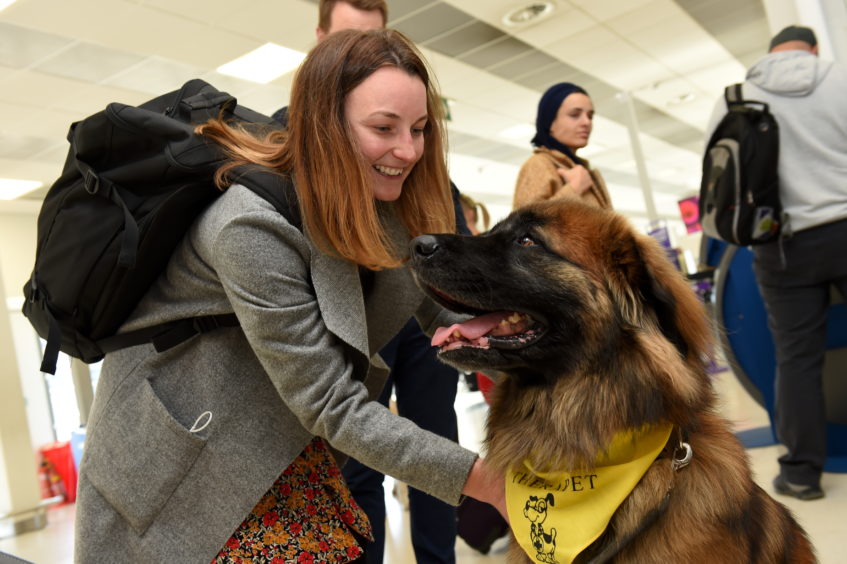 The UK's first airport therapy dog team is set to launch at Aberdeen Airport.
As reported by the Evening Express, the 'Canine Crew' will be visiting the terminal on a regular basis to help settle the nerves of anxious flyers visiting the airport.
The therapy dogs (totalling 14 therapets) will officially start on May 4.
Already used in nursing homes, schools, prisons, and universities where dogs have been shown to help the wellbeing and mental health of individuals, Therapet in Aberdeenshire is managed by Canine Concern Scotland Trust.
Dogs coming in all different shapes and sizes will visit the airport with their handlers on a regular basis.
Aberdeen International Airport Duty Manager Fraser Bain said: "We're excited to be the first airport in the UK to offer this service to passengers. As well as benefitting our visitors, we also recognise the benefit to the mental health and wellbeing of our staff."
"The Canine Crew is made up of a variety of dogs, with a mixture of brilliant traits and personalities and we cannot wait to see the reaction of our passengers."
Some of the Canine Crew visiting the airport will include Breagh the Golden Retriever with owner Diane Wood and Enzo the Red Labrador with owner Clair Petrie.
We're taking the lead on a PAW-some UK first. Meet the Canine Crew, our airport therapy dog team made up of 14 dogs guaranteed to make passengers smile. Anxious traveller? Get your trip off to the best possible start with our crew!

Meet the whole crew: https://t.co/UzYD8ej0Uw pic.twitter.com/EJF12JWzEd

— Aberdeen Airport ✈ (@ABZ_Airport) April 29, 2019
Aberdeenshire north representative for Canine Concern Scotland Trust, Diane Wood said she was absolutely delighted for the dogs to take their first shift.
She added: "To be the first airport in the UK, we are so proud to be involved. We have a fantastic team of 14 dogs in all different shapes and sizes."
"I think it is going to be of massive benefit to the airport and its passengers. If you're a bit stressed out about flying you can come and sit and stroke the dogs."
"The dogs lower blood pressure and lower tension. Anybody that is anxious can speak to the dogs, just look for the canine crew."
"All these dogs are used to working in nursing homes, in schools, prisons and severely dog-phobic children."
"They are exceptionally well-behaved and very calm dogs."
"If they are calm they are going to calm other people."
Share your thoughts
Leave us a comment on facebook.
Similar Features
British holidaymakers favour non-EU destinations
Arizona: World-famous Horseshoe bend now has parking charges
How much do five-star hotels cost around the world?
---
Follow us on Facebook or on Instagram @DCThomsonTravel. Got a travel suggestion or story you want to share, email us at holidayenquiries@dcttravel.co.uk.