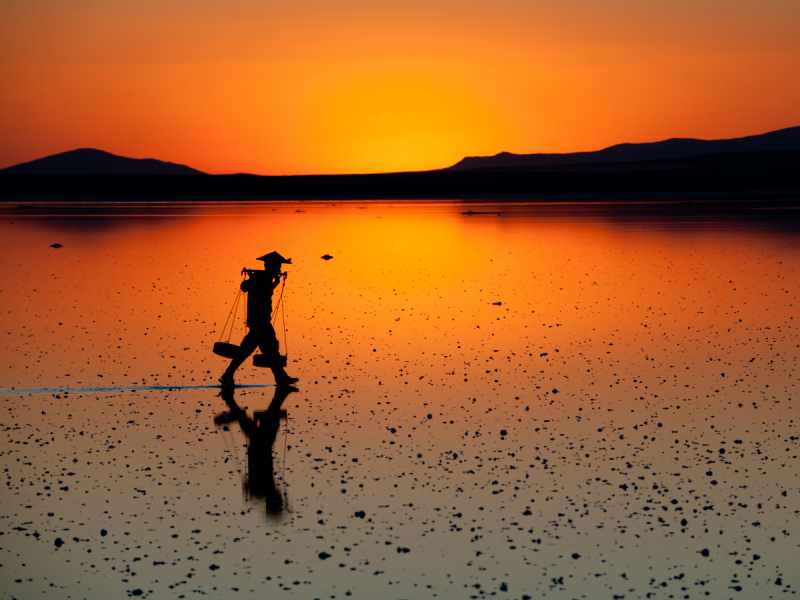 Have you ever considered Vietnam as a solo travel destination?
Celebrating a special solo departure touring popular Asian destinations Vietnam and Cambodia, we take inspiration from this wonderfully crafted itinerary, highlighting key reasons why you should consider this special once-in-a-lifetime solo departure exploring a special part of the Asian continent.
Historical Sights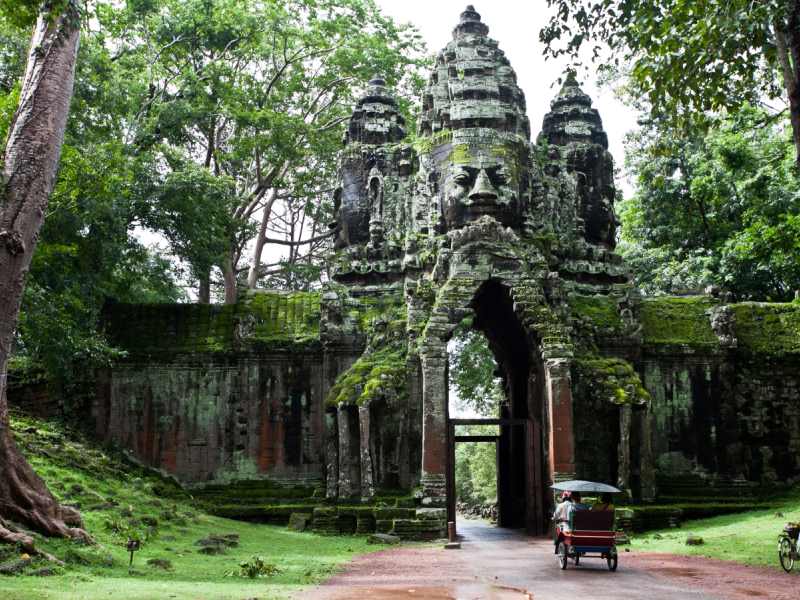 Deeply historic, Vietnam and Cambodia are known for both their natural and man-made landmarks that attract tourists from around the world all searching for their own unique experience whilst visiting some of the top trending destinations in Asia.
Famous sights around both countries range from hugely important religious complexes to remaining symbols of the terrible Vietnam War conflict that dominated global headlines for a 30-year period stretching from the late 1940s through to 1975.
Famously, the United States became heavily involved in the war for a long period.
Both Cambodia and particularly Vietnam still bear scars of the conflict with some of the key tourist attractions consisting of former battle sites and military complexes.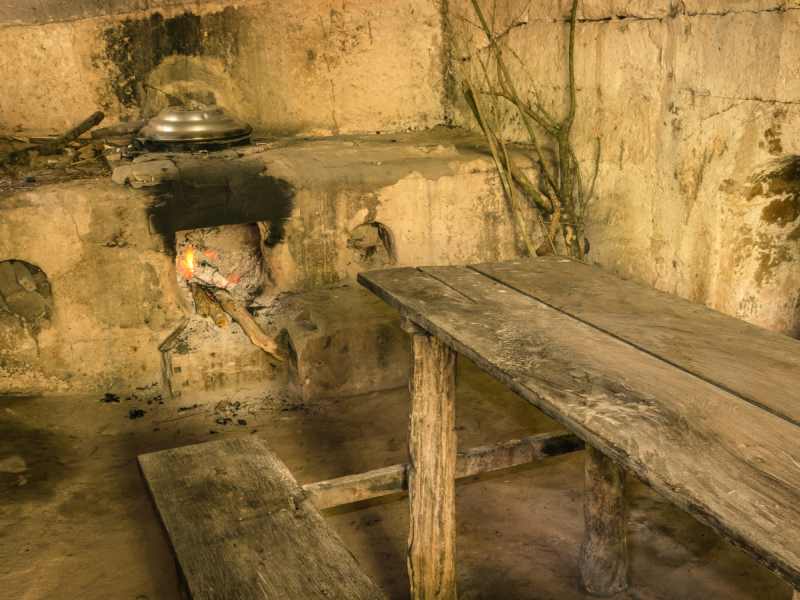 A fascinating feat of engineering, the Cu Chi Tunnels, once occupied by North Vietnamese forces, is a startling reminder of the war.
Dug at points several meters into the landscape, this vast tunnel network and many like it dotted around Vietnam and surrounding Cambodia acted as mini, self-sufficient villages for military personnel.
Offering protection and a place to rest and plan, these tunnels can be found in Ho Chi Minh City.
Today, you can tour these tunnels, stepping underground, where you will get a small sense of how personnel once lived and moved around these maze-like tunnels.
Other important man-made landmarks across both countries include the historic sights of Phom Penh, Hue, and the world-renowned ruins of Angkor Wat.
The capital of Cambodia, Phnom Penh rests close to where the vast Mekong Delta and Tonle Sap river meet.
The city is home to a number of notable landmarks, none more so than the grand Royal Palace.
Browse Holiday – Vietnam & Cambodia for Solo Travellers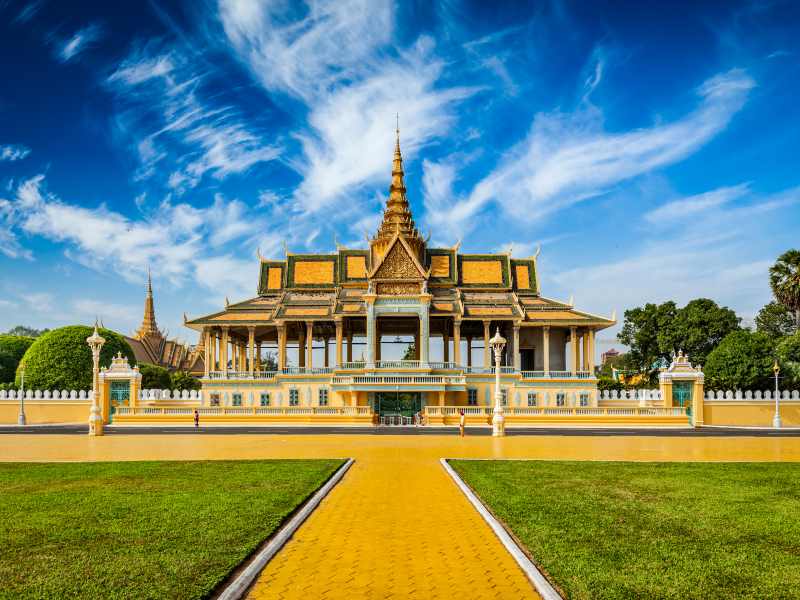 Dating back to the 19th century, the Royal Palace is actually a collection of different buildings.
The official royal residence of the King of Cambodia, the Palace is a stunning building.
Another notable sight in the city is the hilltop temple Wat Phnom, one of the tallest religious structures in the city.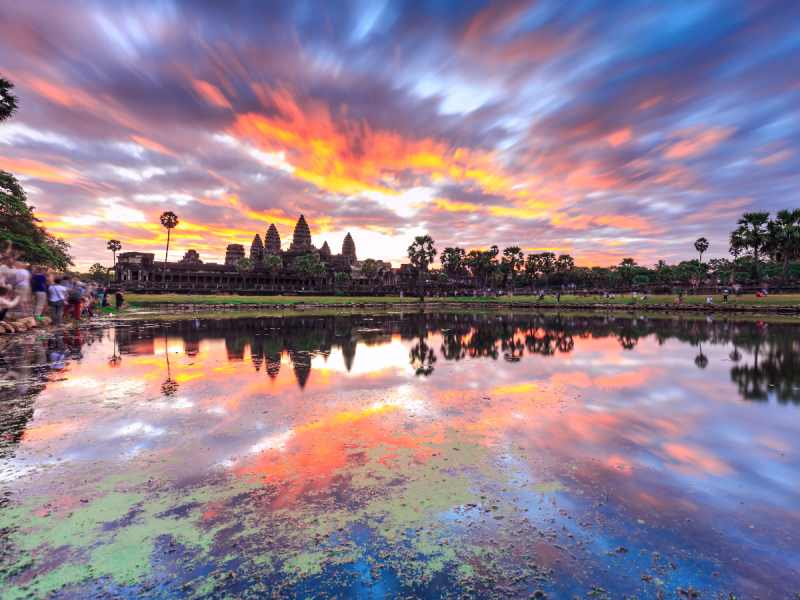 Tremendously important, Angkor is one of the great monuments of the world.
Stepping out into nature, this vast network of buildings is one of the greatest and largest religious sites on the planet.
Resting in Cambodia, this once Hindu temple was converted into a place of worship for Buddhists in the 11th century.
Consistently featured amongst traveller bucket-lists from all over the world, experiencing Angkor Wat in person really is one of the great holiday experiences sure to live long in the memory.
Wonderfully detailed, the complex is home to a number of intricate features, some of which are better preserved than others.
As visitors wander around the complex, they are more often than not drawn to the countless carvings that can be spotted adorning large stretches of wall.
The construction of this tremendous complex can be traced back to the important mountain of Phnom Kulen where huge blocks of sandstone were excavated for use throughout the complex.
At points, the forest once cut back to accommodate Angkor, has slowly but surely started to claim back portions of land.
Bit of Trivia – Angkor Wat covers an area of around 500 acres.
Huge trees can be seen around the area that have managed to rise out of stone, attaching roots to the walls of the complex.
A key example of the once-ruling Khmer architecture, Angkor Wat provides key insight into Cambodia's long past.
Browse Holiday – Vietnam & Cambodia for Solo Travellers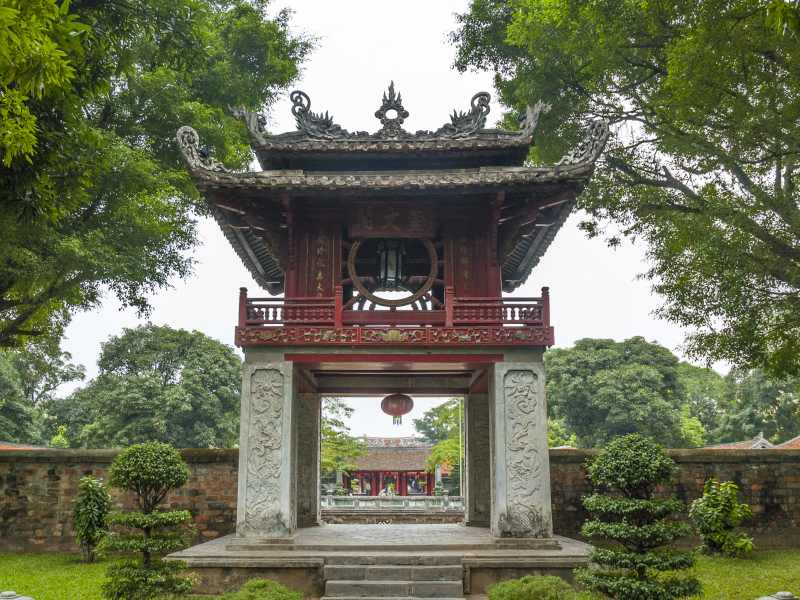 The Vietnamese capital, Hanoi is not without its fair share of iconic man-made landmarks.
Ranging from the historic and notable works of architecture like the Temple of Literature (pictured above) to ancient One Pillar Pagoda, this city is also famously the final resting place of Ho Chi Minh.
Once the leader of the country, Ho Chi Minh was laid to rest in a purpose-built mausoleum bearing his name.
Known by the Vietnamese people as 'Uncle Ho', the leader's mausoleum is one of the country's most important and popular attractions.
Modelled on the former Russian leader Vladimir Lenin's mausoleum, Ho Chi Minh's resting place is a striking piece of architecture and memorable experience should you decide to visit this Vietnamese landmark.
Dating back to the 11th century, the memorable Temple of Literature is one of the city's great cultural hubs.
Site of Vietnam's first national university, the Temple is one of the most picturesque historical sights in Vietnam and a prime example of traditional Vietnamese architecture.
You can wander around the temple and get up close to the key architectural features that make this one of the great landmarks of Asia.
As well as being home to lovely structures, lovely gardens can also be found here that you can explore thanks to a series of walkways.
Browse Holiday – Vietnam & Cambodia for Solo Travellers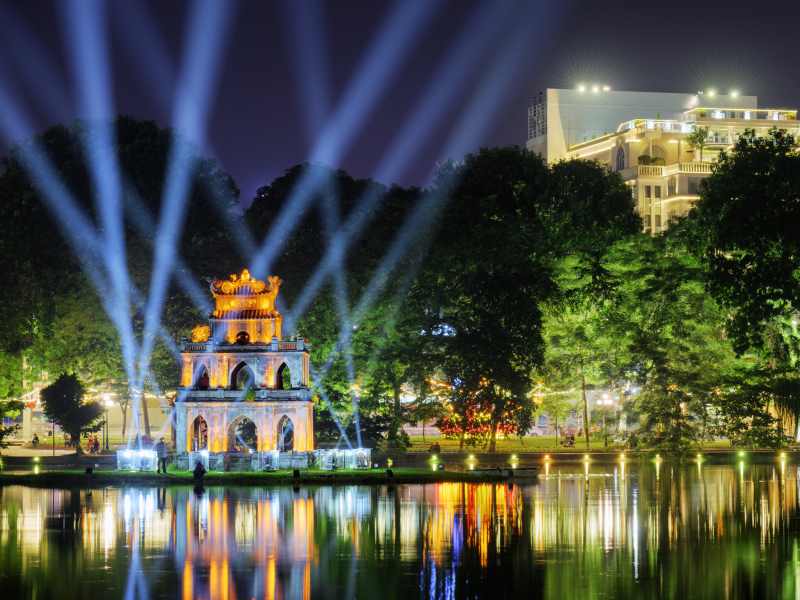 Elsewhere in the city, Hoan Kiem Lake is a magical city highlight.
A freshwater lake, Hoan Kiem lies in the heart of Hanoi. Most notably, an island can be spotted lying close to the middle of the lake, home to the world famous Turtle Tower.
You can admire the tower from nearby walkway Huc Bridge – painted brightly red.
The Lake is a magnificent Hanoi sight, particularly if you pay a visit at night where the shoreline is lit up to great effect.
Browse Holiday – Vietnam & Cambodia for Solo Travellers
Jaw-dropping scenery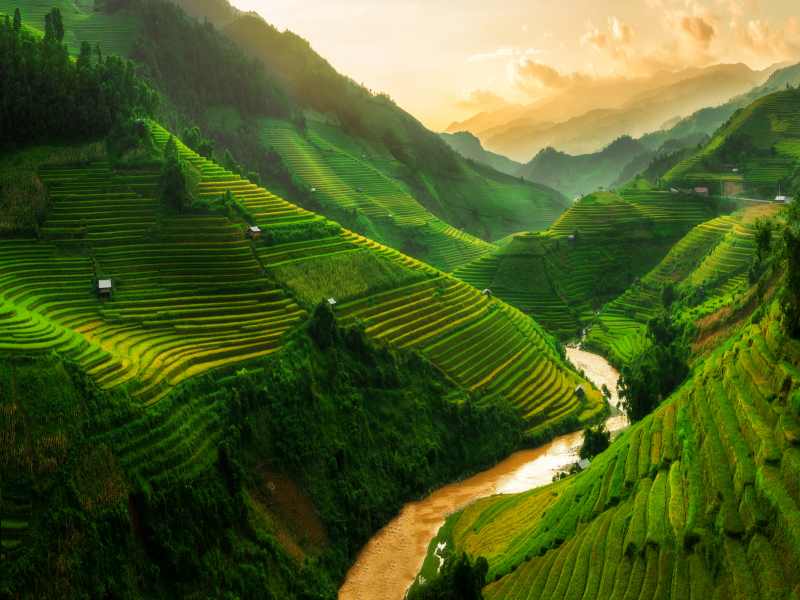 Renowned for their natural beauty, experiencing some of both Vietnam and Cambodia's most popular natural sights is a must whilst holidaying in this part of the world.
Stepping out into Vietnam's countryside, you will be greeted by huge stretches of mountainous greenery.
Huge, terraced rice fields often follow the hilly landscape, rising high above as you explore this beautiful part of the world.
Passing rice fields, you will gain an insight into the traditional farming methods still employed to this day by locals.
Farmers throughout the country tend to rice fields and use Buffaloes to help cultivate their crop, all whilst wearing traditional farming ensemble including conical hats.
Browse Holiday – Vietnam & Cambodia for Solo Travellers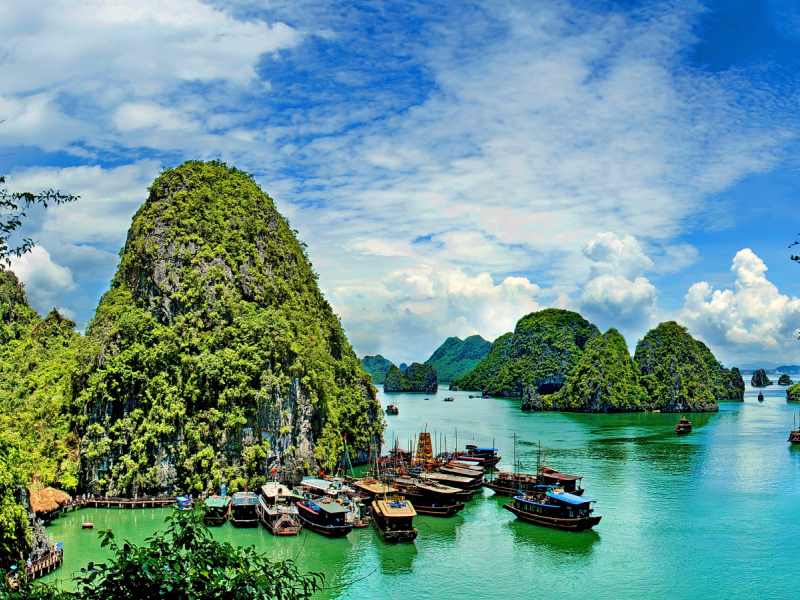 A must-experience, a visit to Ha Long Bay where you can take to the water on a traditional junk boat is one of the most memorable experiences available to tourists in the entire Asian continent.
Famed for its lovely, emerald-blue waters, Ha Long Bay is in many ways a symbol of the country.
One of the world's greatest natural sights, the Bay is home to hundreds, if not thousands, of islands ranging in all kinds of shape and size.
Another famous UNESCO-listed destination, the Bay is a spectacular place to experience.
Thanks to its relatively calm waters the Bay is a popular snorkelling and scuba-diving spot.
On land, you can often spot fellow explorers setting off on hikes on some of the bigger limestone rock islands.
Travelling from Hanoi, you will pass through immensely scenic countryside before arriving at the mouth of the Gulf of Tonkin where the Bay can be found.
Calmly and leisurely exploring this jaw-dropping area on board a Chinese Junk boat will include visits to the some of the Bay's most well-known grottoes and caves.
Steeped in local legend and folklore, the Bay is said to have been created by a Dragon countless ages ago.
Afforded plenty of time to fully experience this great natural wonder, this is one of the key moments included in this memorable itinerary.
Browse Holiday – Vietnam & Cambodia for Solo Travellers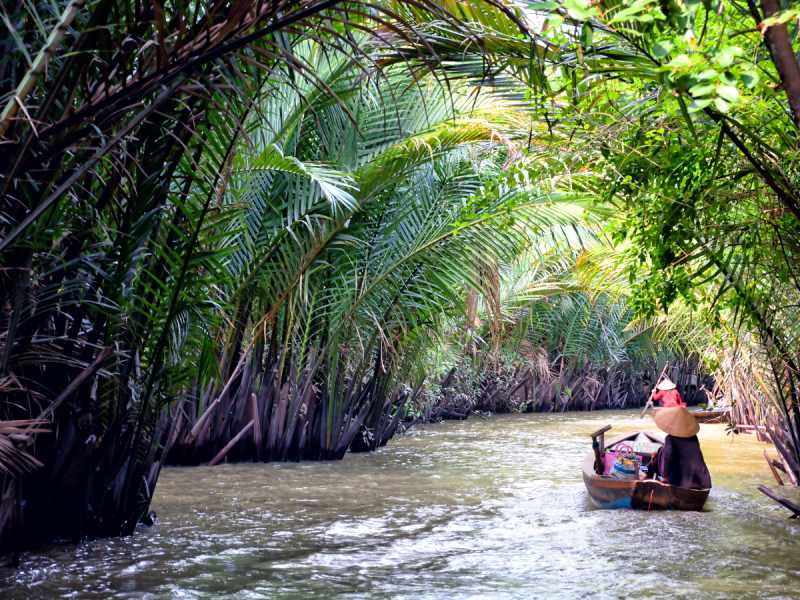 One of the largest river networks on the planet, the massive Mekong Delta is a beautiful part of the world.
Nestled amongst countless waterways, you will encounter a number of villages that rely on both the Mekong and small islands dotted around the waterways as their primary source for food.
On the water, traditional fishing methods are still practised, updated slightly thanks to changing technology that has trickled in from the cities.
On land, tropical fruit seems to prosper in the humid climate. You will find different types of exotic fruit including coconuts.
A memorable experience, your visit to the Mekong's maze of canals will come to end with an included meal where you can sample a speciality in the region – Deep fried Elephant Ear Fish!
The great Mekong Delta is one of the great holiday experiences unique to this magnificent part of the world.
Browse Holiday – Vietnam & Cambodia for Solo Travellers
Meet like-minded fellow travellers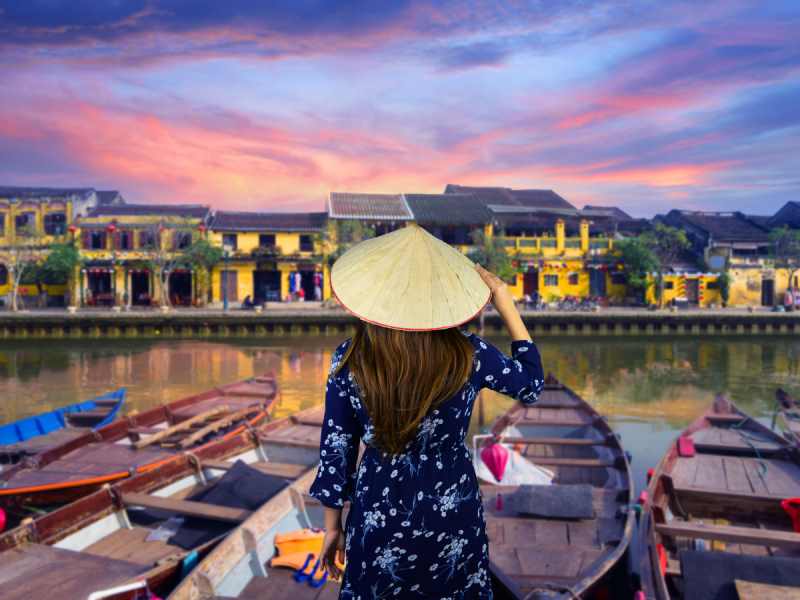 Opting to join an exclusively for solo travellers departure provides the chance to meet fellow like-minded travellers who may share the same interests and crucially have included similar experiences on their holiday-must bucket list.
Travelling around the world to these great Asian destinations, this featured solo itinerary is carefully constructed, showcasing the best of both countries while also allocating plenty of free time should you have some outstanding experiences you would like to try or are simply looking for a crucial degree of flexibility.
A welcome dinner is included on the second night (spent in Hanoi), providing you with the first great opportunity to try some wonderful local dishes and also meet fellow holidaymakers you will be travelling with during the escorted portions of this excellent holiday.
This is the perfect time to meet and get to know fellow solo travellers and share travel plans beyond the packed and exciting included itinerary.
Visit Vietnam & Cambodia
Click to browse full holiday details, including current price and available dates, here.
Have you visited either Vietnam or Cambodia?
Let us know by leaving us a comment on facebook.
Similar Features
11 Astounding Asia destinations
11 Roaring great wildlife spots around the planet
Solo Travel: 5 'bellissimo' Italian holidays
---
Follow us on Facebook or on Instagram @DCThomsonTravel. Got a travel suggestion or story you want to share, email us at holidayenquiries@dcttravel.co.uk.