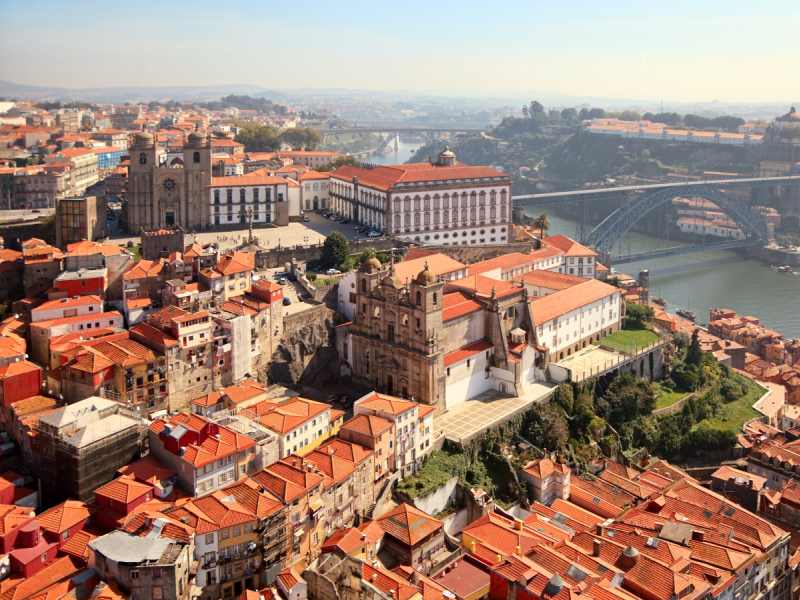 Continuing our solo travel celebration, we turn our attention to the grand architecture of Portugal and look at 5 key designs to watch out for during a 10-day cultural adventure that includes a visit to the country's popular capital Porto.
Join us as we start with a look at the capital's most iconic landmark, a true feat of engineering and symbol of Portugal.
1. Dom Luís I Bridge, Porto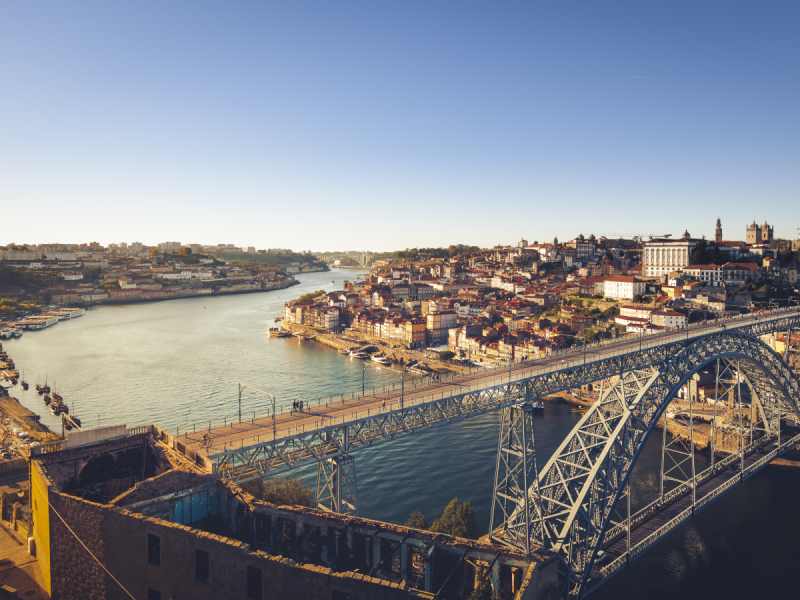 Porto's most magnificent and well-known landmark and a symbol of the city, the great Dom Luís I Bridge is a double-decker bridge that spans a popular river cruise waterway, the Douro River.
Stretched over a distance of over 150 metres, the bridge is a feat of engineering with its double-decked design capturing the imagination of countless visitors wandering around this great capital.
First constructed in the 19th century, the bridge has seen changes in recent years but retains many of its original, classic features.
Browse Holiday – Grand Designs of Portugal – Solo Holiday
2. Santa Luzia Basilica, Viana do Castelo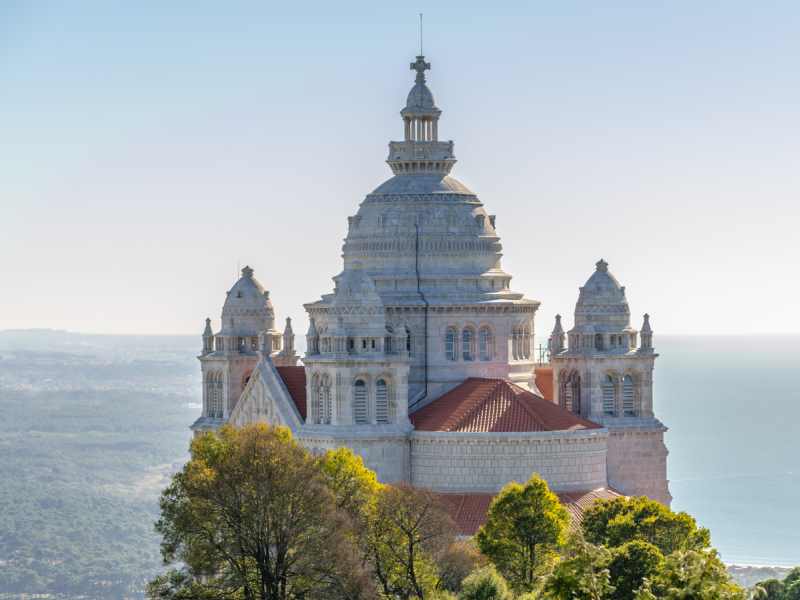 Hidden away, from a distance, by surrounding trees, the magical Santa Luzia Basilica dates back to the late 1950s.
Designed by the Portuguese architect Miguel Ventura Terra, this huge cathedral rests on top of a mountain.
You can reach the cathedral by either walking up the hill or taking a funicular. Either option will be memorable.
The views here present the opportunity to admire Viana do Castelo below, where the orange-tiled roofs of many buildings catch the sunlight gloriously.
Browse Holiday – Grand Designs of Portugal – Solo Holiday
3. Duke's Palace, Vila Vicosa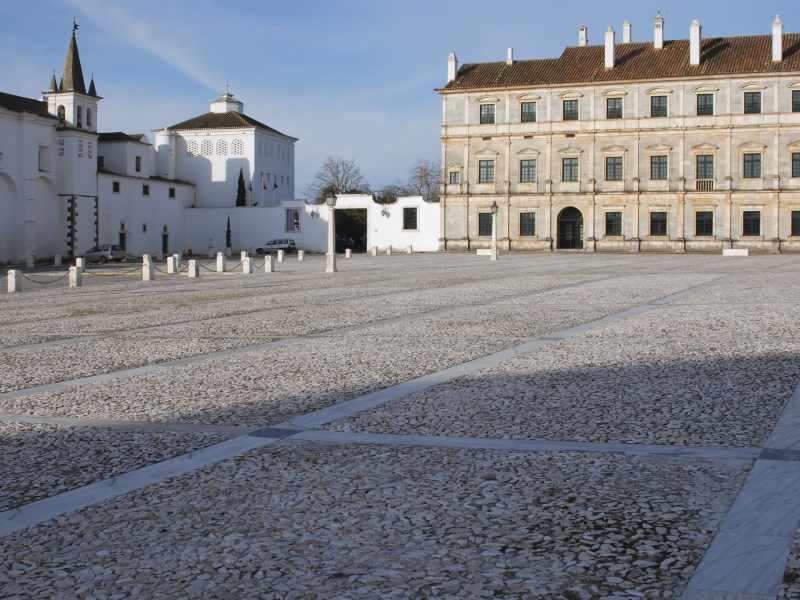 A wonderful highlight, Paco Ducal de Vila Vicosa Duchal Palace or Duke's Palace is a grand piece of architectural history charting back to the 16th century.
Different extensions have been added to this grand Palace over the years but those with a keen eye may be able to spot the different period additions to the first original palatial building.
The building's design is heavily influenced by the Renaissance period and famously has a façade that stretches 110 metres in length.
An included visit to this once key noble house of Portugal takes you on a journey exploring one of the great designs of Portugal's past.
Browse Holiday – Grand Designs of Portugal – Solo Holiday
4. Castle of Arraiolos, Arraiolos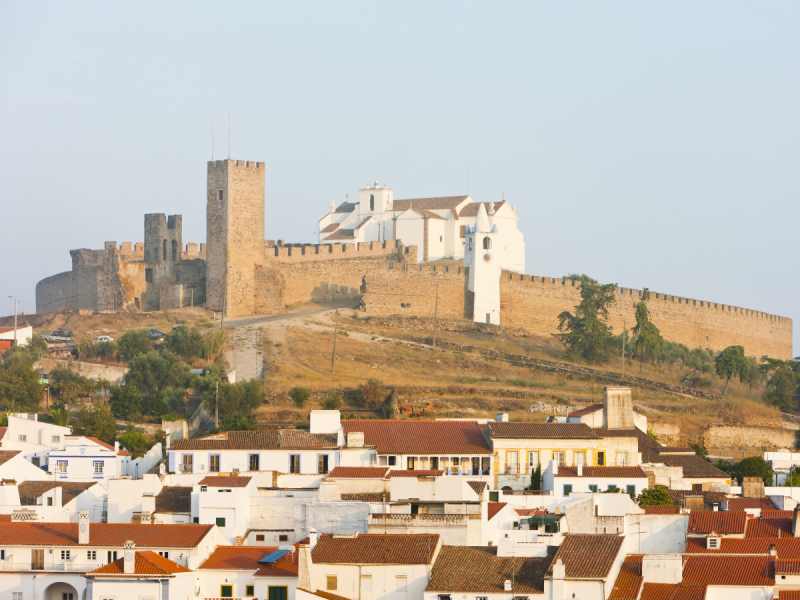 Dating back to Moorish times, the former hilltop fortress that once protected Arraiolos is a medieval gem slightly hidden away in Portugal's beautiful countryside.
This grand medieval design is a wonderful, circular work of architecture.
The Castle of Arraiolos is rightfully a Portuguese national monument.
To reach the castle, there is no way to avoid the walk up to the hilltop perched position that once provided 360-degrees of the surrounding countryside.
Following the mark-out path, you will eventually reach a rather menacing-looking gate with huge turrets on either side of the entrance.
A trip to this landmark piece of history is one of the key moments during this exploration of Portugal's grand designs.
Browse Holiday – Grand Designs of Portugal – Solo Holiday
5. The lovely canals of Aveiro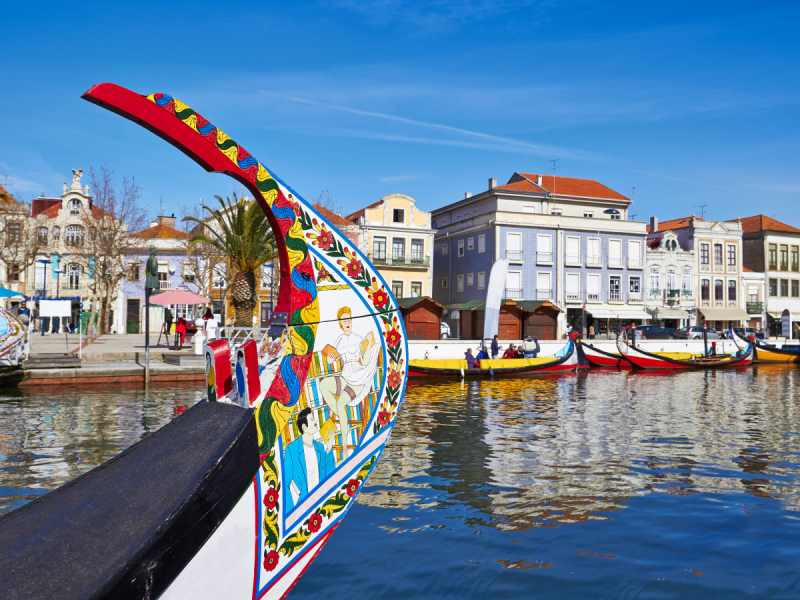 On Portugal's west coast, the city of Aveiro is lovingly nicknamed the 'Venice of Portugal'.
A network of canals run throughout the city that even has its own version of memorable gondolas.
Following the canals will take you past some of the city's most striking buildings.
Take to the water and you can relax away the day.
On the city's coastline, the striking Lighthouse of Praia da Barra is a key landmark worth visiting if you have the time.
Decorated with red and white stripes, this a standout landmark found along Aveiro's pleasant coastline, complete with beaches home to huge sand dunes.
Visit Portugal
Browse a our essential solo 'Grand Designs of Portugal' holiday here.
Have you visited any of the featured Grand Designs?
Let us know by leaving us a comment on facebook.
Similar Features
Amsterdam Solo River Cruise – 5 highlights
6 Memorable solo river cruises for 2019
Time to grab your boots! 10 'Maravilloso' Spanish walking holidays
---
Follow us on Facebook or on Instagram @DCThomsonTravel. Got a travel suggestion or story you want to share, email us at holidayenquiries@dcttravel.co.uk.