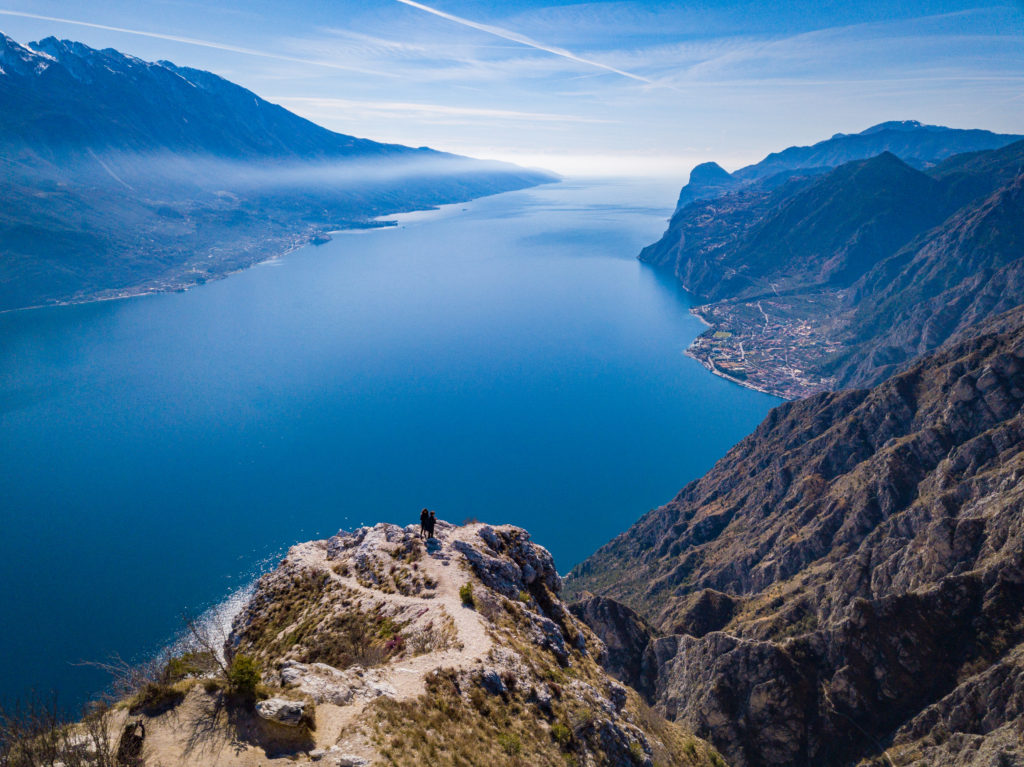 The beauty of Lake Garda attracts millions of holidaymakers each year.
A true Italian icon, the scenic lake and surrounding countryside offers a wealth of memorable experiences.
Staying in any of the available resorts, a number of essential attractions and activities cater to different tastes.
Whether taking to the surrounding hills, enjoying the resorts, or admiring some of most important historical locations in the area, here are 7 essential things to do whilst staying in Lake Garda.
Updated – June 2020!
1. Cycling around the hills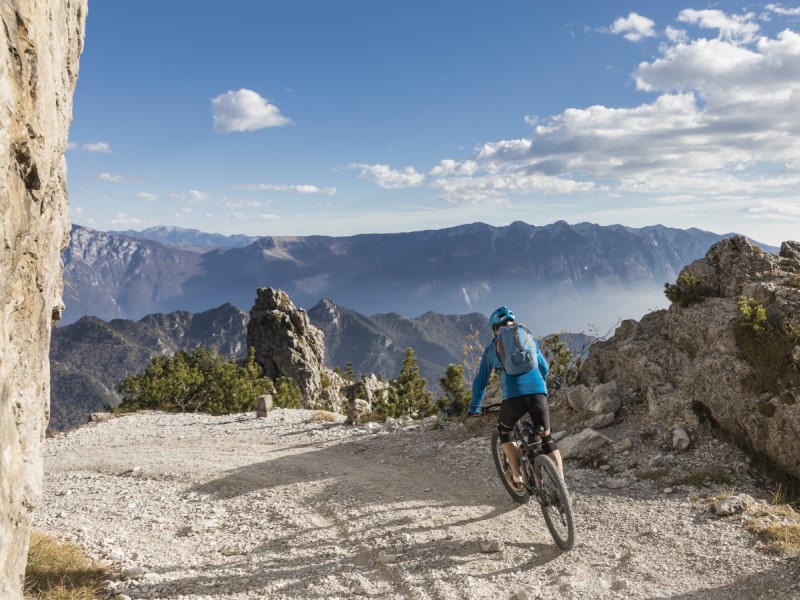 Cycling around the hills surrounding Lake Garda is definitely a pursuit to consider whilst exploring the famous great lake.
An extremely pleasant way of getting around with the extra bonus of adding a bit of exercise to your holiday to help burn off the local delicious cuisine available in the area, this a great wellness activity.
Various cycling trails are available catering to different levels of experience, each offering their own charm and memorable holiday moments you will cherish forever.
Bikes can be hired locally from a number of locations across different resorts around the beautiful Italian jewel.
Take to any number of beautiful cycling paths and you will be rewarded with lovely views of the lake, the mountains, and from key vantage points you can gaze down at the resorts resting along the waterfront.
View all Lake Garda holidays here.
2. Visit Desenzano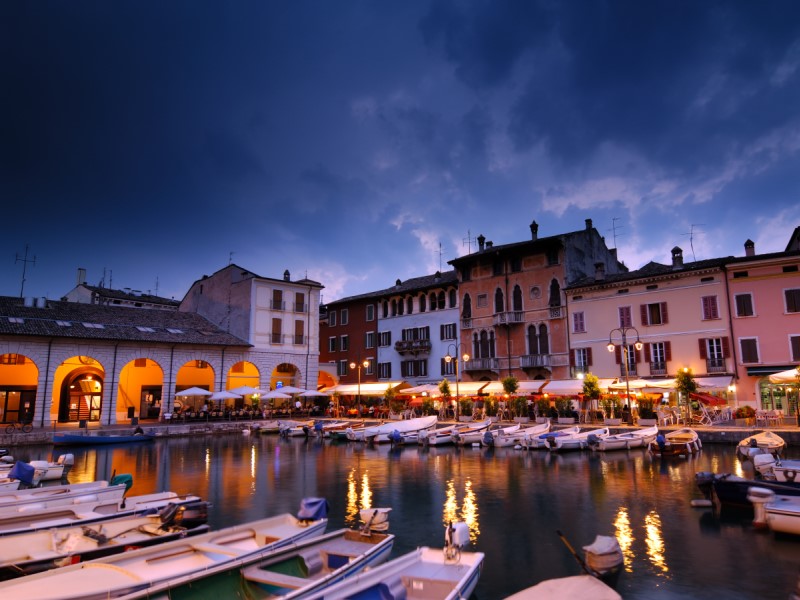 The old and grand resort town of Desenzano del Garda can be found on the southern shore of Lake Garda.
In the town, guests often find their feet leading them to Castello di Desenzano and to the remains of an ancient Roman Villa.
Over a jaw-dropping 1000 years old, the ancient Roman landmark was first constructed to offer a safe haven for residents from violent visitors.
The journey up to the castle requires that visitors weave their way through Densenzano's Old Town up a hill to the castle.
Elsewhere in the resort town, Desenzano's Roman Villa, today an archaeological museum, is a major local attraction.
A step back in time, this once lavish Roman Villa was first built during the 1st century.
Carefully excavated, magnificent features of the villa are on display, particularly amazing, detailed remains of huge mosaic floors.
Forming a core part of the museum, you can browse a carefully preserved collection of historic artefacts found in the immediate area unearthed during the excavation process that first took place in the early 1920s.
View all Lake Garda holidays here.
3. Definitely make time for lunch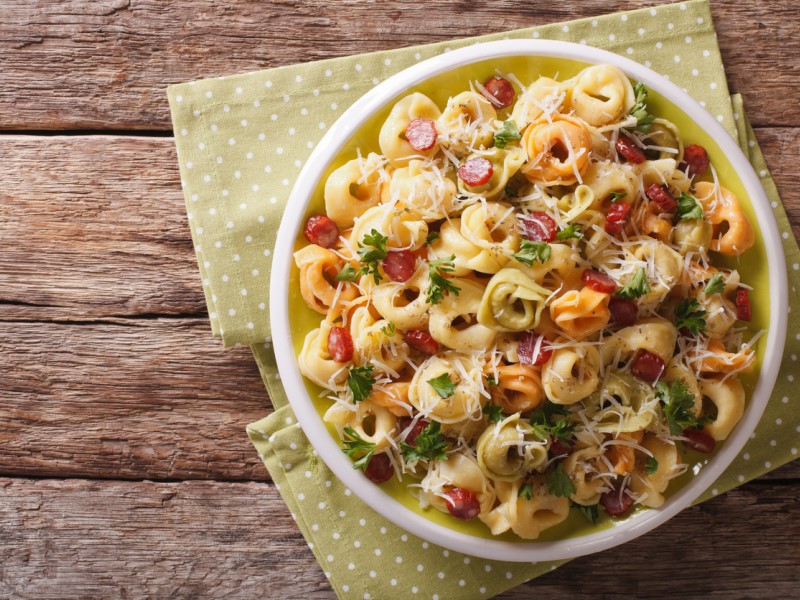 Delicious Italian cuisine is a key draw for tourists visiting the country and the food on offer in and around Lake Garda certainly does not disappoint!
The region is renowned for a number of tantalising Italian dishes including Yota, Tortellini (pictured) and a lovely dish that may kindle memories of home for some UK holidaymakers – Frico (chips and cheese).
Whether you are looking to indulge yourself with an exquisite fine dining experience, searching for some delicious regional dishes spread through word of mouth amongst fellow travellers you meet during your Italian odyssey, or simply hoping to grab a spot of lunch, the restaurants within Garda's resorts will inevitably tantalise your taste buds.
View all Lake Garda holidays here.
4. Take in the views at iconic Scaligera Castle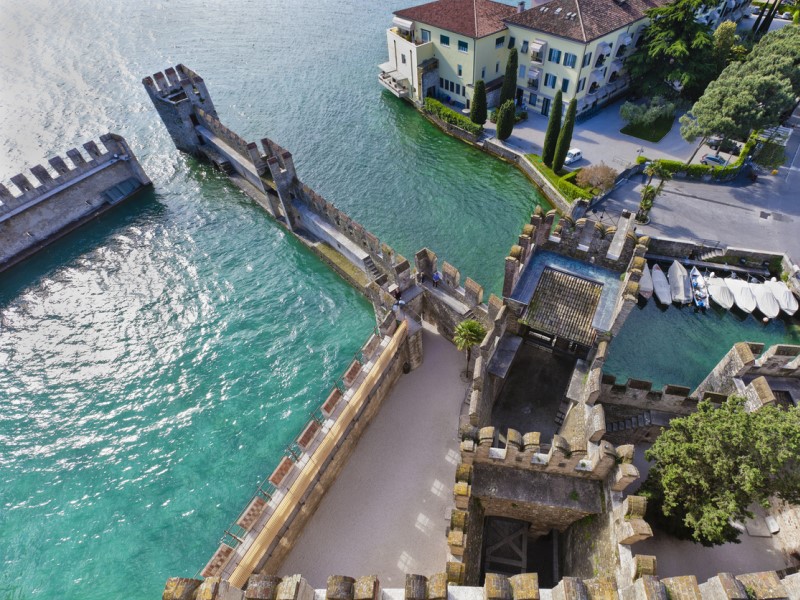 A key attraction within the popular resort of Sirmione, Scaliger Castle is a 'Bellissimo' Italian attraction.
First built back in the 13th century, this iconic fortress rests right on the waterline of Lake Garda.
Spectacularly well-preserved, the castle and adjoining man-made harbour was once a crucial lookout point used to protect the harbour.
Complete with three small towers, the castle's defining feature – the High Tower – rises well over an amazing 40 metres.
Castle visitors prepared for the challenge can actually walk steps leading them right up to the top of the tower and gaze out for miles around.
A lovely vantage point, you can plan out your next plan of attack during your Italian odyssey whilst enjoying one of the most photographed spots in all of 'the beautiful country'.
View all Lake Garda holidays here.
5. Try the walking trails of Monte Baldo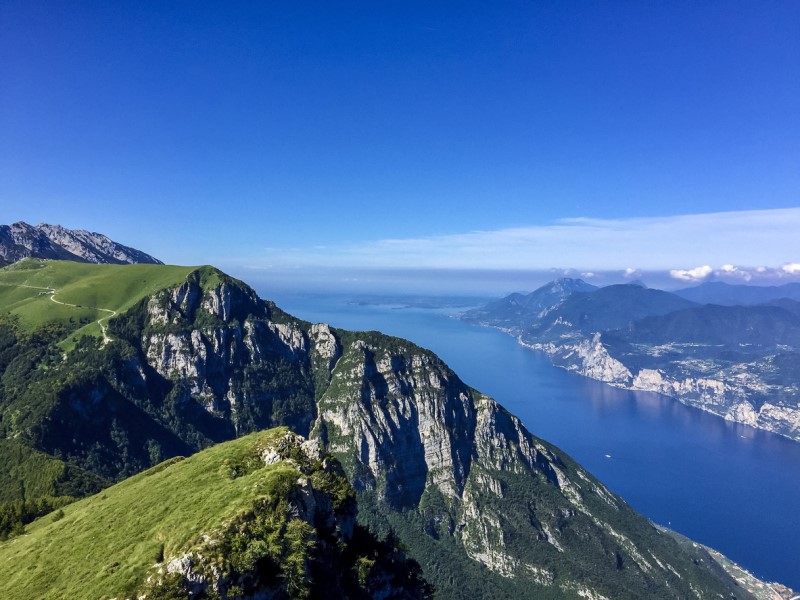 As well as offering lovely cycling spots, the countryside, particular rising up into the Monte Baldo mountain range (part of the Italian Alps), is ideal for exploring on foot.
One of the most popular walking/hiking areas in Italy, the views here as you follow any of the trails are truly special.
Offering a chance to relax and enjoy different perspectives of the lake and the resort of Malcesine below, a memorable cable car journey is a popular option amongst holidaymakers.
Connecting Malcesine with a wondrous mountaintop viewing tops, this cable car journey takes passengers up the side of the mountain.
On arrival, you can gaze down on the deep blue waters of stunning Lake Garda, an experience that firmly sets the cable car journey out as one of the quintessential Lake Garda experiences.
View all Lake Garda holidays here.
6. Visit Walled Peschiera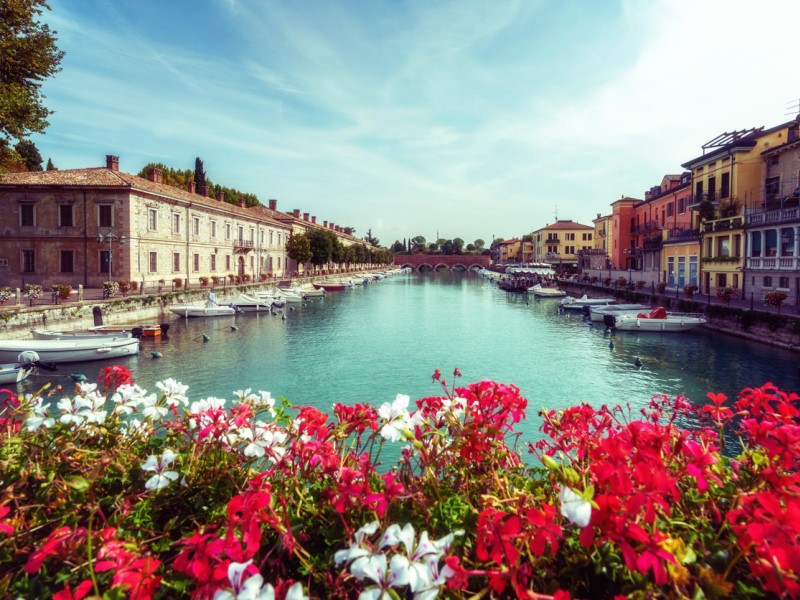 Easily reached starting from both the shores of Lake Garda and the popular holiday spot Verona, Peschiera is beautiful historical Italian old town.
A carefully designed huge fortress, Peschiera is protected by lovely aqua blue waterways crossed by a number of bridges.
Once part of a lost, important Venetian Empire with Venice as its capital city, Peschiera, recognised as a UNESCO-listed Heritage Site, has seen many rulers take residence in the town, including the former Austrian Empire.
A fascinating place to experience on foot, Peschiera is also handily placed for holidaymakers looking to visit both a local Theme Park and Aquarium in search of thrills and underwater wonder.
View all Lake Garda holidays here.
7. Enjoy the resorts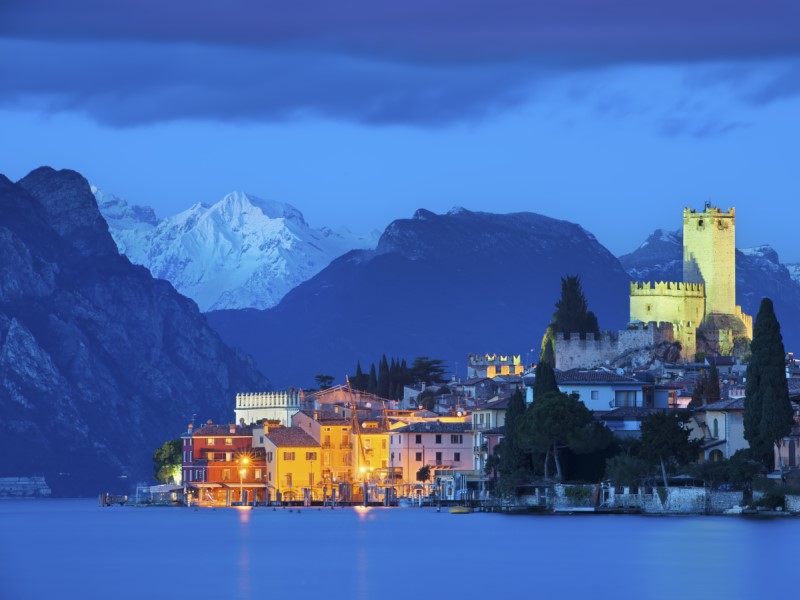 Each of the resorts on the dazzling shores of Lake Garda offers their own special charm and character.
Limone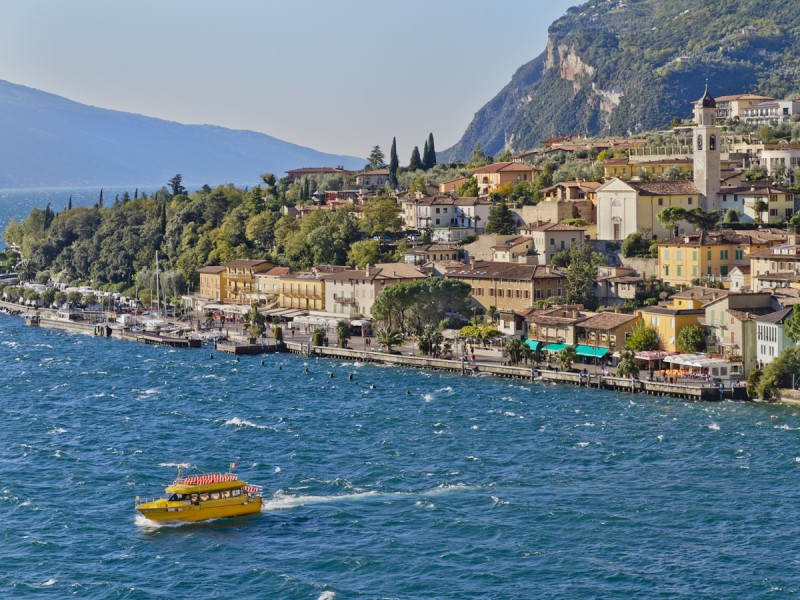 One of Italy's most popular resorts, Limone, surrounded by mountainous wonder, is a great place to visit, enjoy and remember for a lifetime.
Malcesine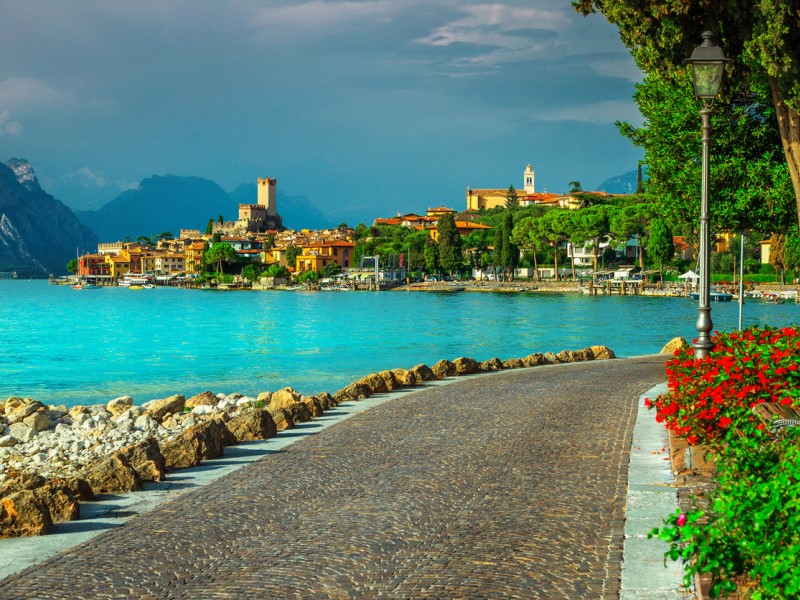 Resting on Garda's eastern coast, the resort of Malcesine is certainly one of the region's most popular amongst holidaymakers.
Home to the previously highlighted Scaliger Castle, another key historical landmark in the resort is the mountainside church Sanctuary of Madonna Della Corona.
Clinging to the mountainside, the Sanctuary is tucked right up against a sheer cliff.
Standing outside the church, you can look out across and admire the surrounding landscape.
As with many of the main resorts, a ferry service is available at Malcesine crossing the lake providing convenient links to different shore side points of interest.
Torbole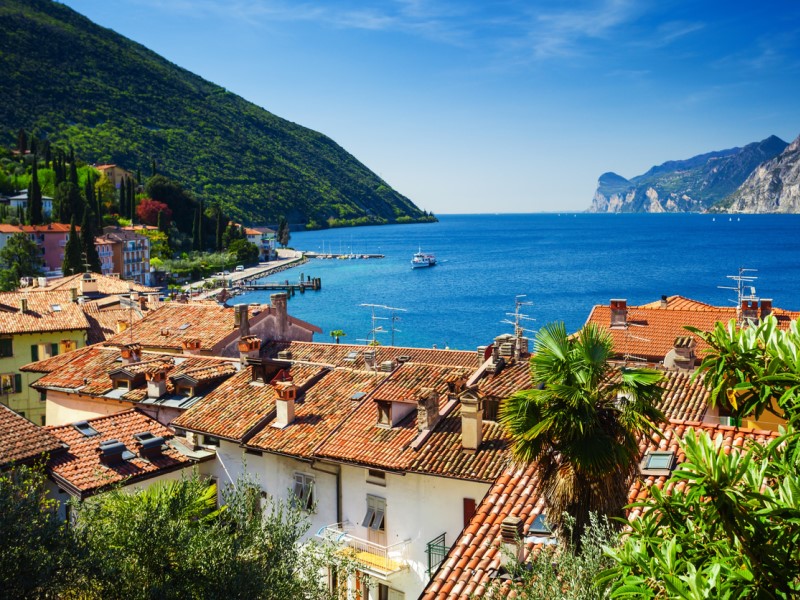 Tucked away on Garda's north shore, Torbole is a sailing and surfing haven.
Visitors from around the world venture to Torbole to enjoy the lake, the generous climate and harbour front.
A great selection of watersports activities is available here, catering to visitors seeking a little adrenaline rush.
Equally enjoyable and calmer activities in and around Torbole include a selection of scenic walking trails.
Riva del Garda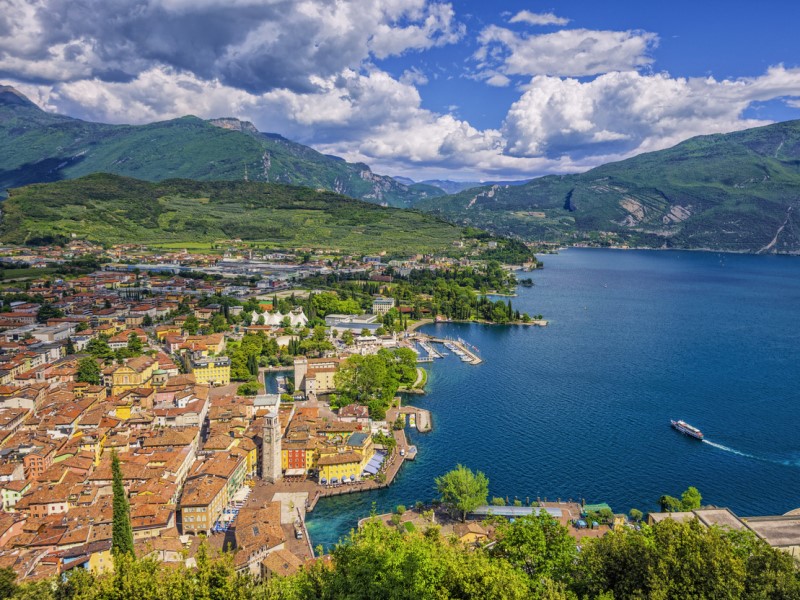 Within walking distance, holidaymakers often opt to try out the famed Ponale Road, a great hiking route that clings to the mountainside following the banks along the lake.
A deeply historic route, the Ponale Road once connected Lake Garda to nearby Lake Vedro and Vedro Valley, a great gem of a lake worth experiencing.
8. Explore the Dolomites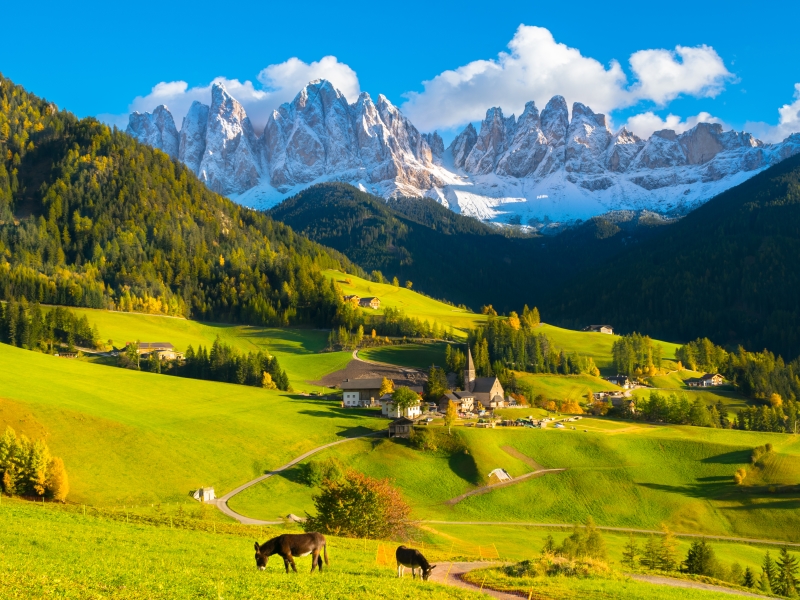 Within the convenient reach of popular resorts dotted along the banks of Garda, a fantastic adventure awaits for readers opting to travel to the iconic Dolomites mountain range, spending time in Bolzano, capital of the Sud Tyrol.
Boarding a cable car travelling up to an altitude of 1,000 metres above sea level, readers can explore a stunning collection of landscapes dominated by the famous peaks off into the distance.
Surrounded by lush greenery, the scenery in this part of the world will truly leave a lasting impression.
Visit Lake Garda
View all Lake Garda holidays here.
Similar Features
Lake Como – 8 Best Things to do around the famous Italian Lake
---
Follow us on Facebook or on Instagram @DCThomsonTravel. Got a travel suggestion or story you want to share, email us at holidayenquiries@dcttravel.co.uk.