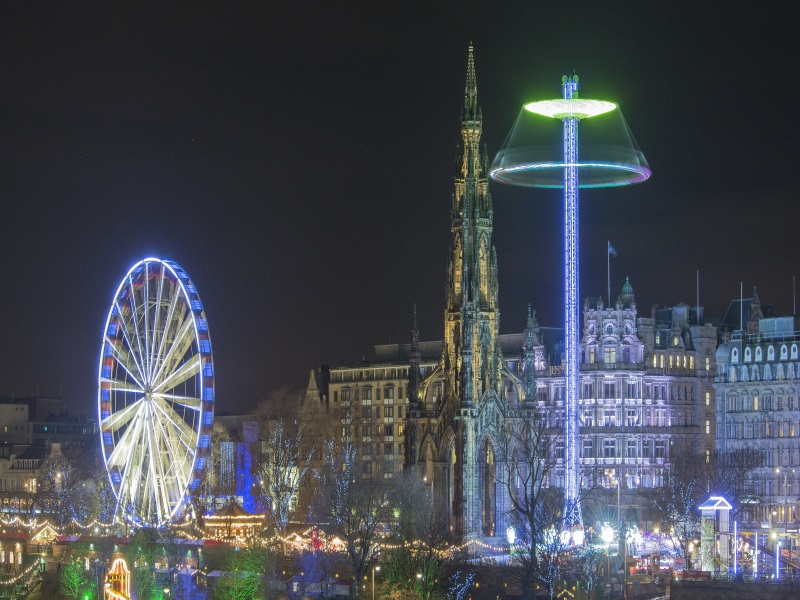 While it might be a little early to be thinking about Christmas, it's never too early to be thinking about your next getaway, particularly, why Edinburgh should be your weekend break in the winter months.
Offering a calmer atmosphere than the Fringe, Christmas in Edinburgh definitely feels like the most wonderful time of the year.
The bustling city is decked out in festive joy, and with a whirlwind of attractions right in the heart of town, the capital is one of the best places to explore for fresh adventures.
From the Christmas Market to the Castle, there's something for everybody during the festive season as the city sparkles with events.
Edinburgh Christmas Market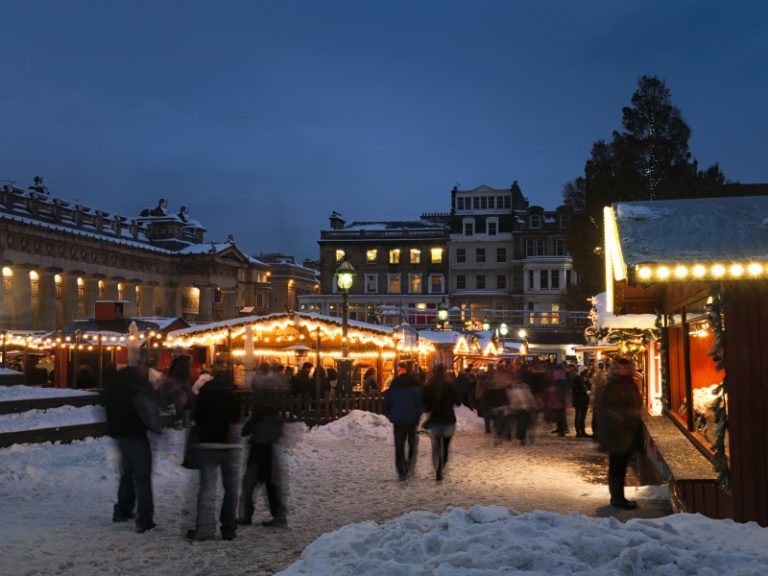 Situated just below the mound, the annual market is hosted in Princes Street Gardens and features a wide range of treats and activities.
Visiting when the area is a buzzing with excitement is a treat, as traders and craftspeople descend on the area to sell handmade and unique goods.
Lined with cosy chalet stalls selling unique wares and tasty treats, it's a great spot to do a bit of present shopping.
If you've finished your Christmas shopping, there's plenty more to keep you entertained. This winter wonderland also includes a fairground to satisfy your inner daredevil.
Related Holiday – Edinburgh Christmas Market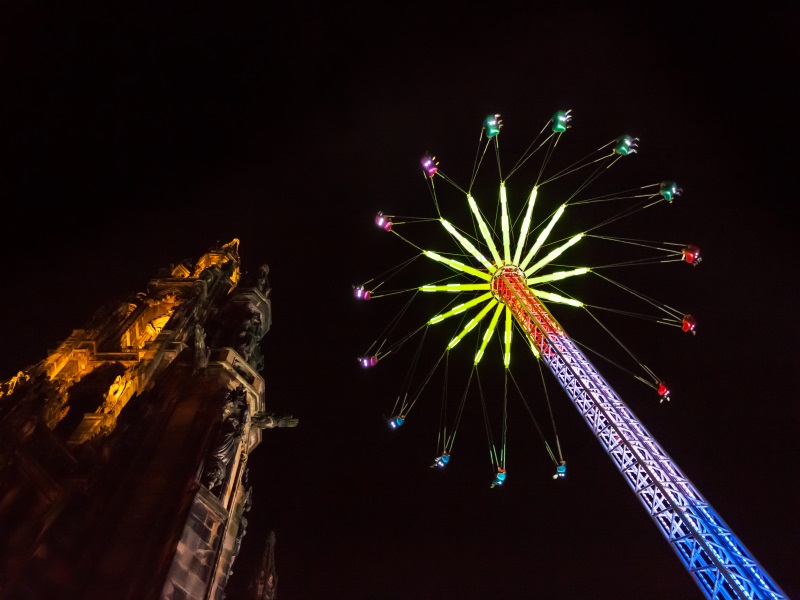 With two of the most iconic rides, the Big Wheel and the High Flyer, taking residence beside the Scott Monument, you're guaranteed a thrill as you spin and twirl to the top and see Edinburgh like you never have before.
Even if the rides aren't your style, you can keep your feet firmly on the ground and enjoy a more refined experience, sipping mulled wine or warm cider.
The market's incredible food stands offer a variety of hearty food options to keep you fed and warm in the cold, from crepes to bratwursts.
Related Holiday – Edinburgh Christmas Market 
Santa Land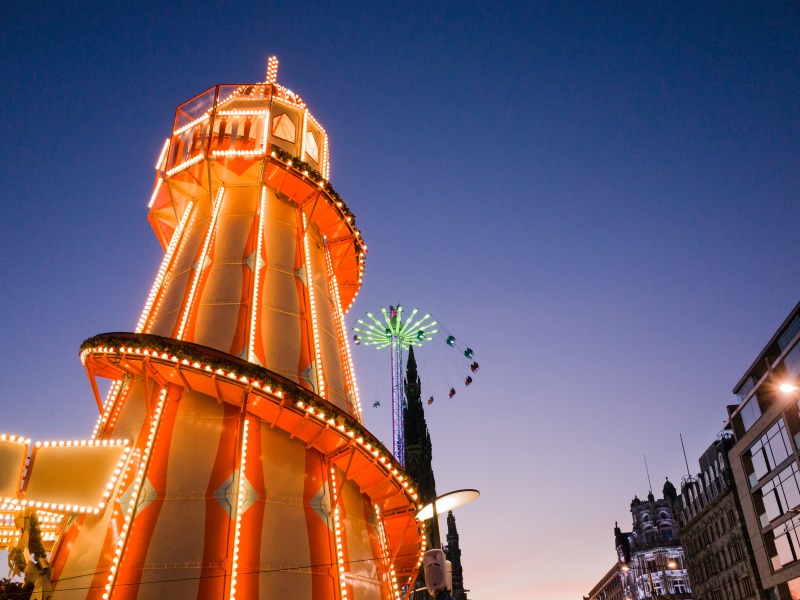 Kids can join the fun – even if they're not tall enough to ride – and visit the magnificent Santa Land.
The child friendly area is host to a number of fun rides and challenges, featuring a Christmas Tree Maze, fun rides for the whole family and a traditional helter skelter.
The maze will challenge you to keep your cool as children forage ahead fearlessly, and you try not to lose anyone underfoot.
St Andrew Square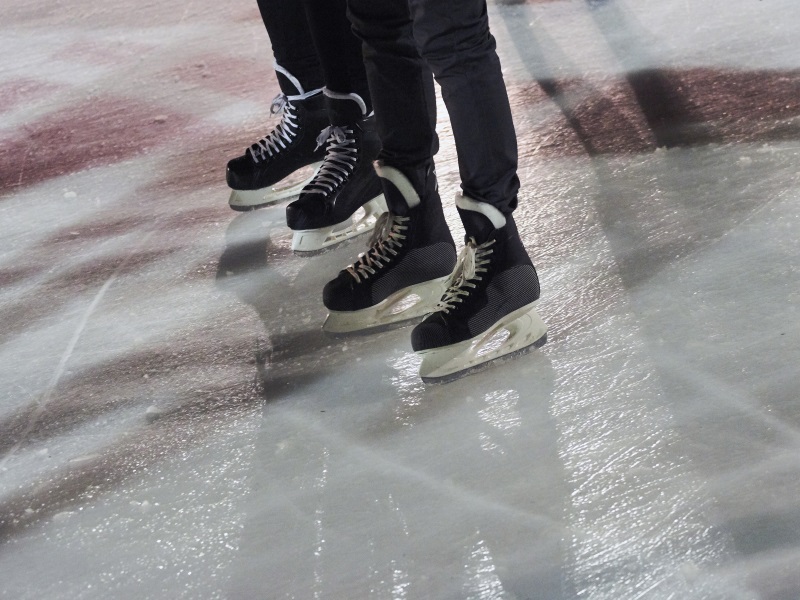 For a more gentle sense of adventure, take a spin around the outdoor ice rink.
The spectacular rink runs in an oval around St Andrew Square, offering a very different skating experience.
Rent a pair of skates and start circling around the Melville Monument. The rink is surrounded by a bar, to keep you warm in winter, and more fairground rides tempting you to go around for one more spin.
St Andrew Square is conveniently surrounded by other shops and eateries, so there is always somewhere to shelter from the cold.
Harvey Nichols is a particular standout, and is the perfect spot for some afternoon tea and gift shopping.
Related Holiday – Edinburgh Christmas Market 
Edinburgh Castle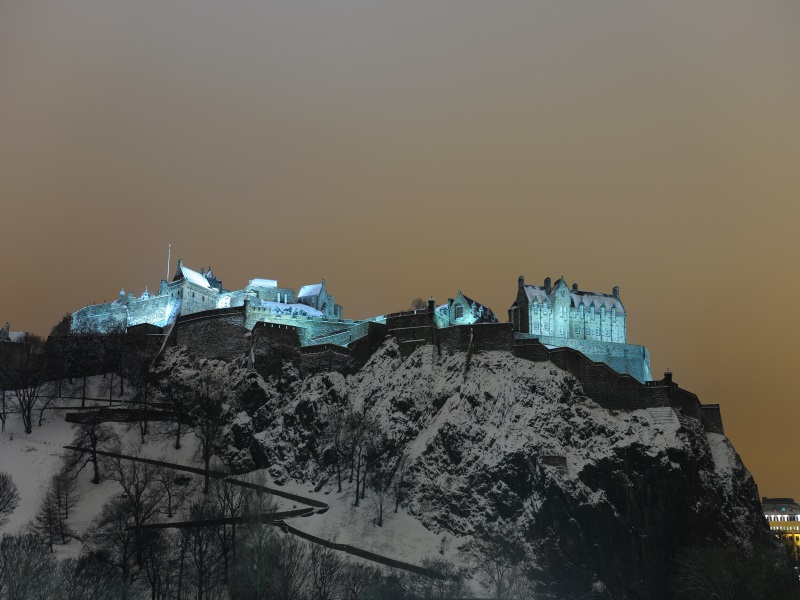 Or if you've had enough of the rides and ice skating, why not wander up to the Castle?
You can expect wonder as this year during the festive season the defender of the nation becomes the 'Castle of Light'.
Read More –  14 Essential experiences in the Auld Reekie – Edinburgh
This mystical transformation is set to stun, as the castle is illuminated with art light displays.
The beaming show is set to help the castle glow, by letting the walls tell tales of its history, which is bound to dazzle guests.
Or if you're stopping by while it's still daylight, the castle retains it's historical appeal, with multiple options for exploration.
After you've toured the past, you can sit and enjoy a tea break at one of the two on-site cafes.
Both The Redcoat Cafe and The Tea Room are set to impress with their tasty treats. Offering a great place to refuel, the cafes each have their own unique appeal.
And if absolutely none of this takes your fancy that's okay! There's plenty more to do in Edinburgh, from ghost tours to shopping, but it truly is the perfect place for a short break.
Experience Edinburgh this approaching festive season
Browse our Edinburgh Christmas Markets holiday here.
Similar Features
14 Essential experiences in the Auld Reekie – Edinburgh
4 of Scotland's incredible World Heritage Sites
Lonely Planet's 10 best travel experiences in the UK revealed
---
Follow us on Facebook or on Instagram @DCThomsonTravel. Got a travel suggestion or story you want to share, email us at holidayenquiries@dcttravel.co.uk.