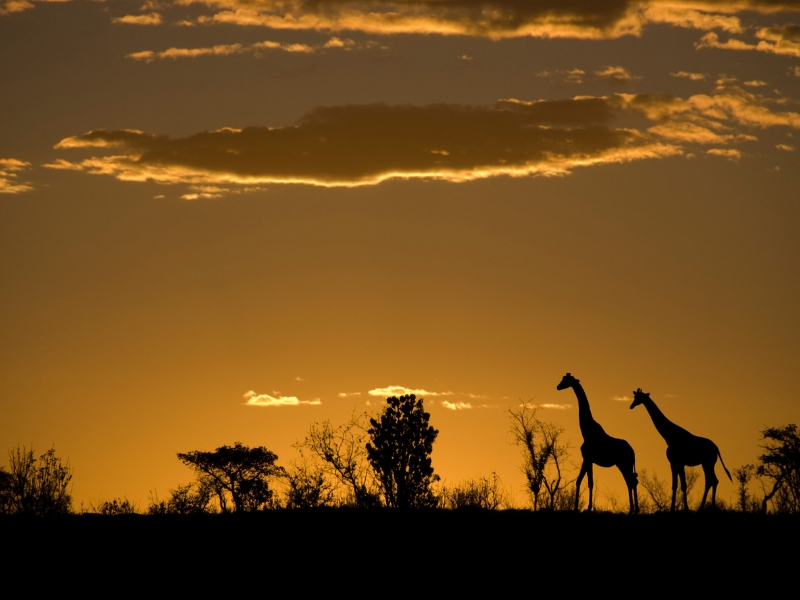 Today mark's National Wildlife Day, a chance to take a closer look at the wildlife around us as well as look at the wildlife we may encounter on holiday.
There's something magical about going on holiday and getting a chance to explore nature at its best.
Whether it's talking a stroll around a National Park or enjoying a tour of the countryside, a destination filled with wildlife exploration is one to pop on your bucket list.
To celebrate National Wildlife Day we take a look to the south, in particular South Africa and highlight 5 wildlife experiences and animals you may encounter.
1. Blyde River Canyon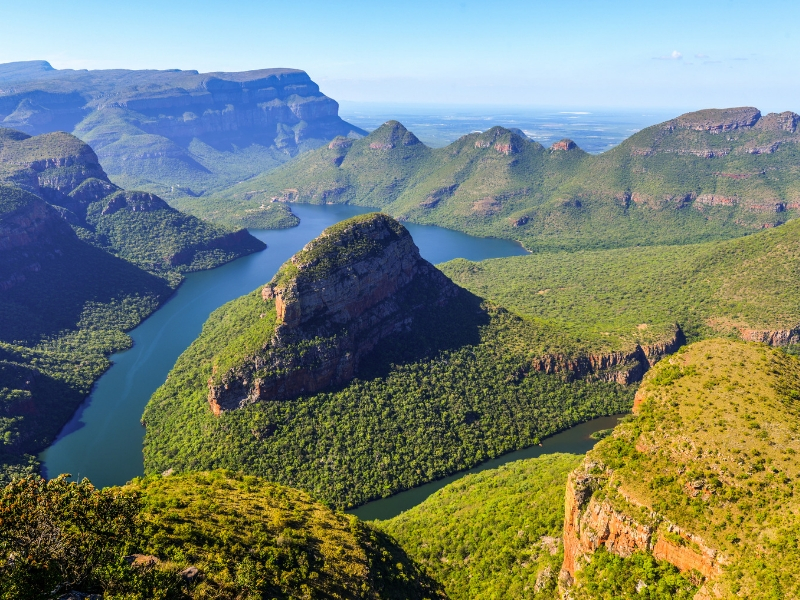 Part of the Panorama route, Blyde River Canyon offers visitors scenic panoramic views and breath-taking waterfalls.
The canyon is said to be known as one of the largest green canyons in the world measuring 25 km in length.
Rich in bio-diversity Blyde River Canyon supports more than 1000 flora species, some of which can only be found in this region alone due to them being rare or endangered, making a tour here something to marvel at.
It is also part of the Blyde River Canyon Nature Reserve. Here visitors can witness many different wildlife species such as hippos, crocodiles, monkeys and a large diversity of birdlife.
One bird in particular is extremely rare.
Taita Falcon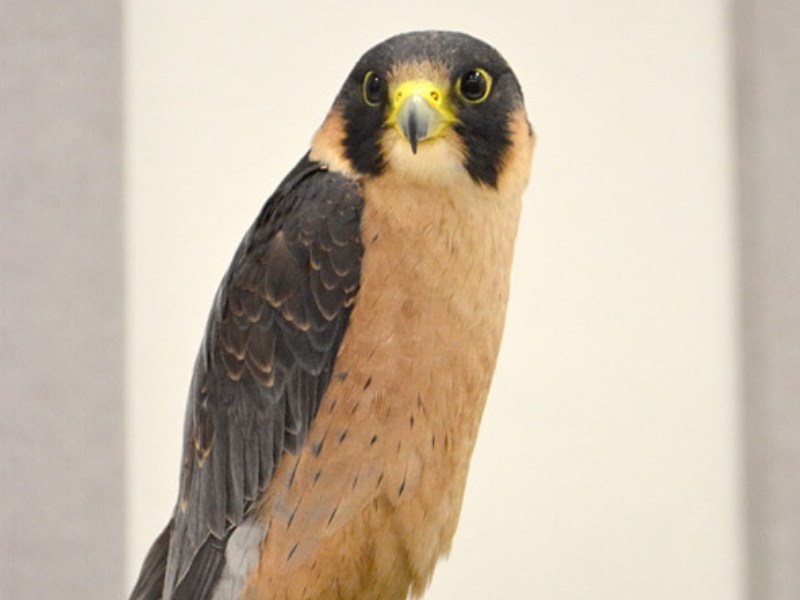 The Taita Falcon can only be found in a few places around the world and Blyde Canyon Nature Reserve is one of them.
To spot one of these extraordinary birds is a sight you'll treasure forever.
Related Holiday – South Africa Escorted Tour
2. Kruger National Park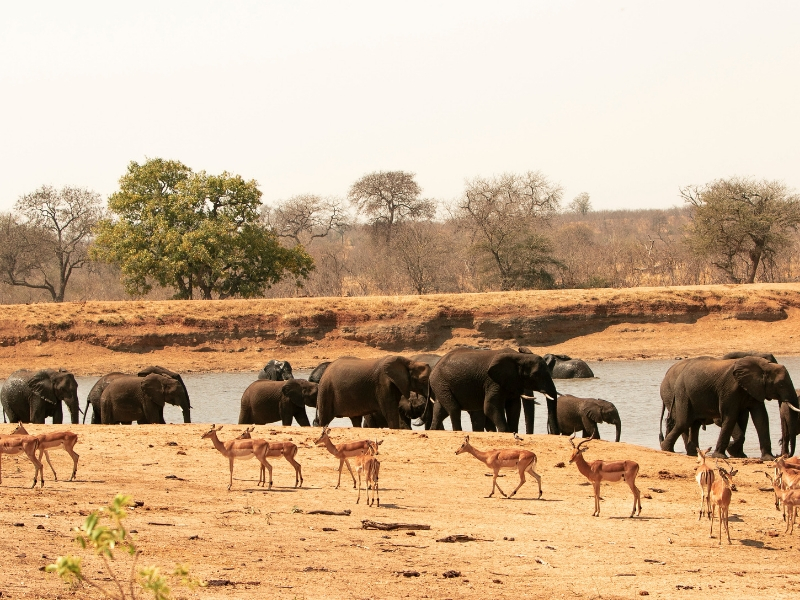 If it's a safari experience you are after, then a visit to Kruger National Park is well worth your time. In 1926, Kruger became South Africa's first ever national park. One of the largest of its kind in the world, the park measures 360 km long by 65 km wide.
Since then the park has grown from strength to strength, increasing in popularity amongst tourists over the years.
It has also seen a rise in its wildlife population, in particular it's Black Rhinoceros' and Elephants.
From Cheetahs, Buffalo, Leopards and Zebras, all of South Africa's iconic wildlife can be found here. There is said to be over 130 mammals as well as over 500 birds calling Kruger National Park home.
The main attraction on a tour here though is of course the Lions.
Lions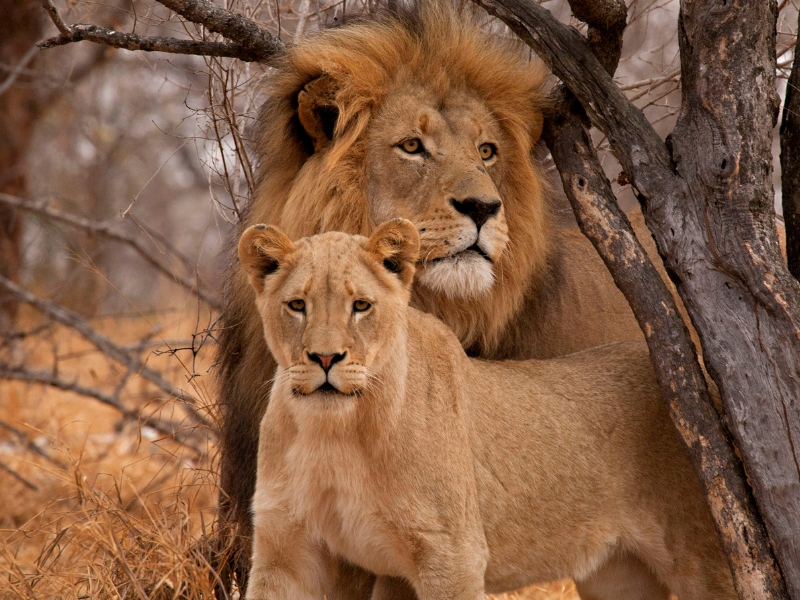 There's nothing quite like the sun rising over the park and taking a game drive to discover Kruger's most iconic mammal, the majestic Lion.
With an estimated population of 1600 Lions, spread across different areas of the park, spotting a pride of Lions is one of the highlights of a game drive.
Related Holiday – South Africa Escorted Tour
3. Eswatini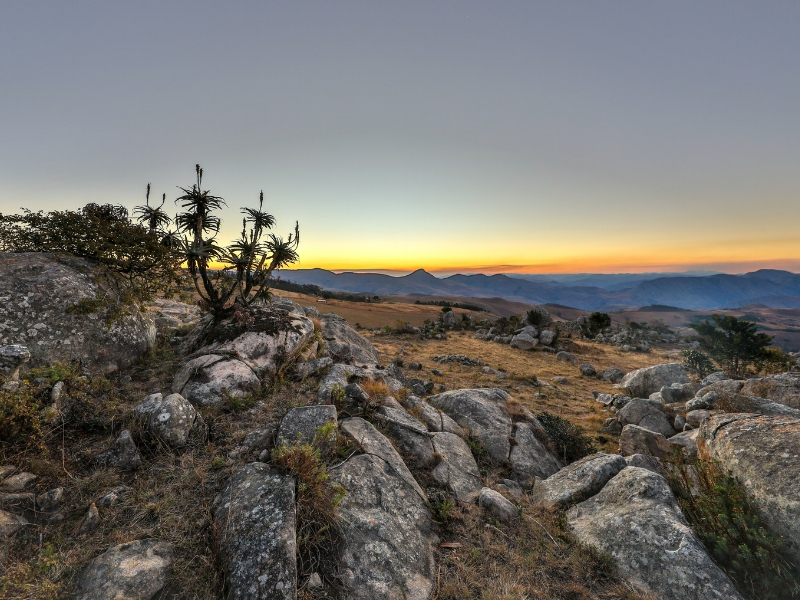 Eswatini (formerly known as Swaziland) is a beautiful country famed for its history but it is also home to some wonderful wildlife.
Along a scenic drive you are bound to spot the local birdlife, some of the known species include Ostriches, Flamingos, Guinea Fowl and the rare Pink-throated Twinspot.
When it comes to rare and endangered species, you may have the opportunity to capture a rare sighting of the South Central Black Rhinoceros.
These beautiful animals have seen a drastic drop in population, almost 90%, and there are only certain places you can see these wonderful rhinos today, one of them being Mkhaya Game Reserve.
Black Rhinos at Mkhaya Game Reserve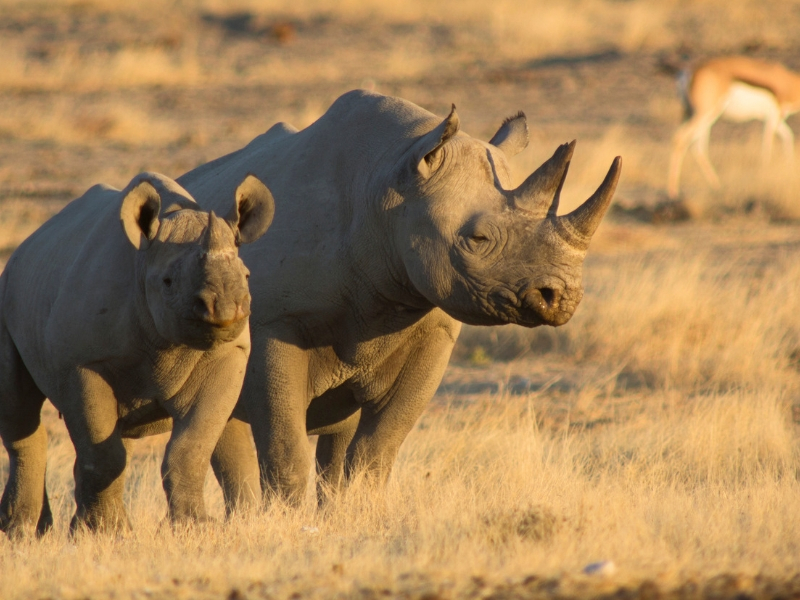 A private reserve, Mkhaya is a sanctuary for many endangered species including the Black Rhino.
Although they are elusive and can be aggressive compared to their counter-part cousins the White Rhino, caution is taken to even catch a glimpse of these marvellous animals.
Related Holiday – South Africa Escorted Tour
4. Hermanus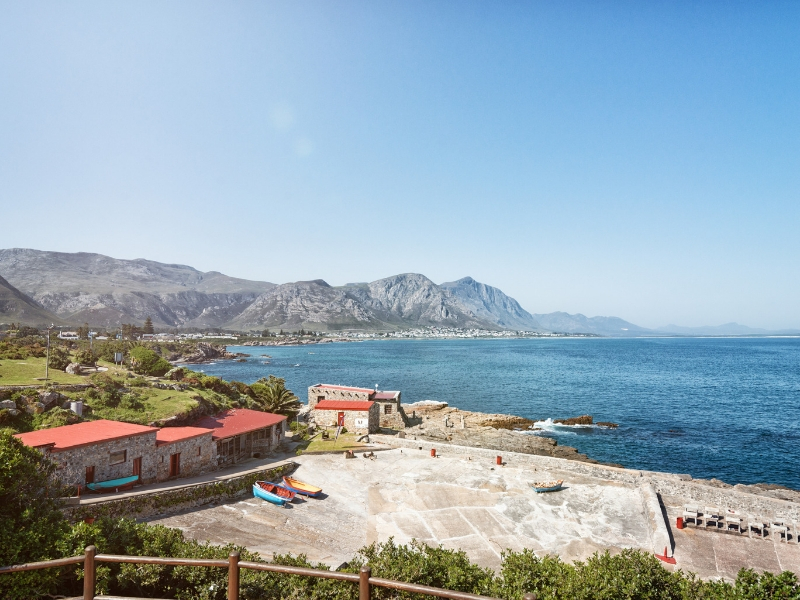 Taking a trip to the coast is definitely worth doing when visiting South Africa and there's no better place to spot some marine life than in the town of Hermanus.
Hermanus is just 122 km away from Cape Town so it makes for a wonderful day trip. A bustling town, there is a variety of shops, restaurants and of course wine to choose from making a day spent here worthwhile.
However, the main attraction here is the land based whale watching on offer from June to December. That's right, you can catch a glimpse of some remarkable marine life from the cliffs and shores of the town.
Southern Right Whale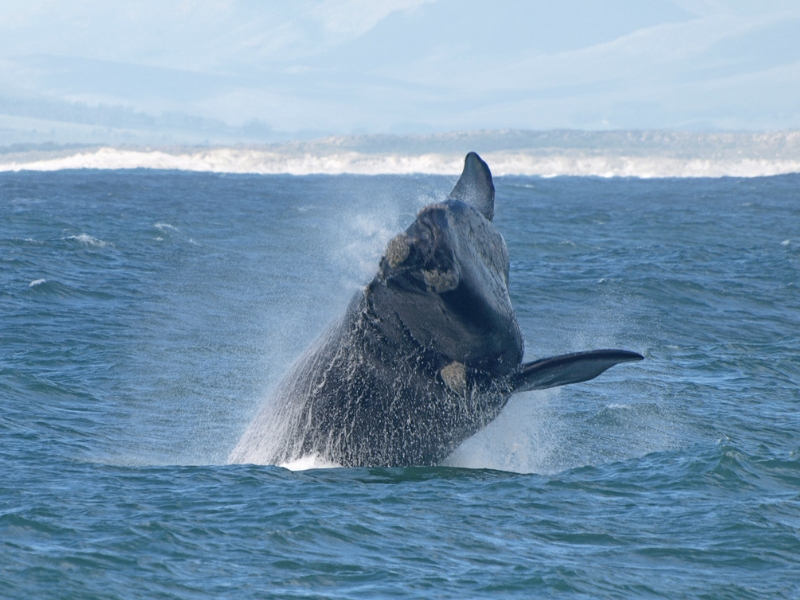 Hermanus has become one of the best places in the world to spot the Southern Right Whale.
With over 100 whales known to migrate to this region, they come to mate and calve as well as show off their swimming skills.
Since hunting has ceased on these whales, the population has continued to grow year on year.
Bit of trivia: Hermanus has the world's only Whale Crier – someone who alerts the town by using a horn to announce whales have been spotted.
If you decide to take a licensed tour boat out into one of the bays, you may get closer than you imagined to these whales as they are very curious about human vessels
Related Holiday – South Africa Escorted Tour
5. Cape of Good Hope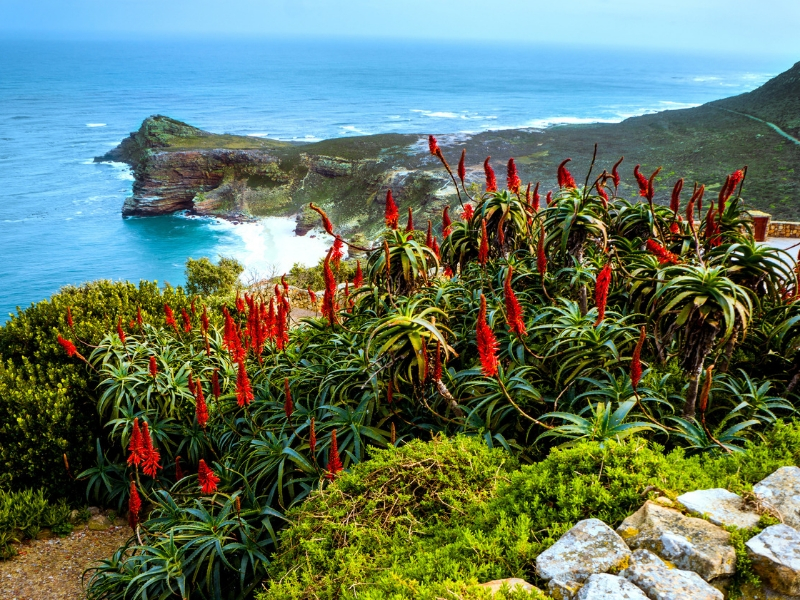 Spectacular scenery awaits you in the Cape of Good Hope.
It's diverse environment from its meeting of two seas (Atlantic and Indian Oceans) to its rocky mountain terrain makes this an ideal spot to witness some of South Africa's stunning wildlife.
The Cape of Good Hope also forms part of the Table Mountain National Reserve and within it the Cape Floristic Kingdom.
It may be the smallest floral kingdom but there is over 1100 species of indigenous plants within this area, some of which can be found nowhere else in the world.
You can also spot some interesting wildlife, Chacma Baboons, Cape Mountain Zebra, Antelope and the Humpback Whale.
One place we highly recommend visiting during your time here is Boulders Beach.
African Penguins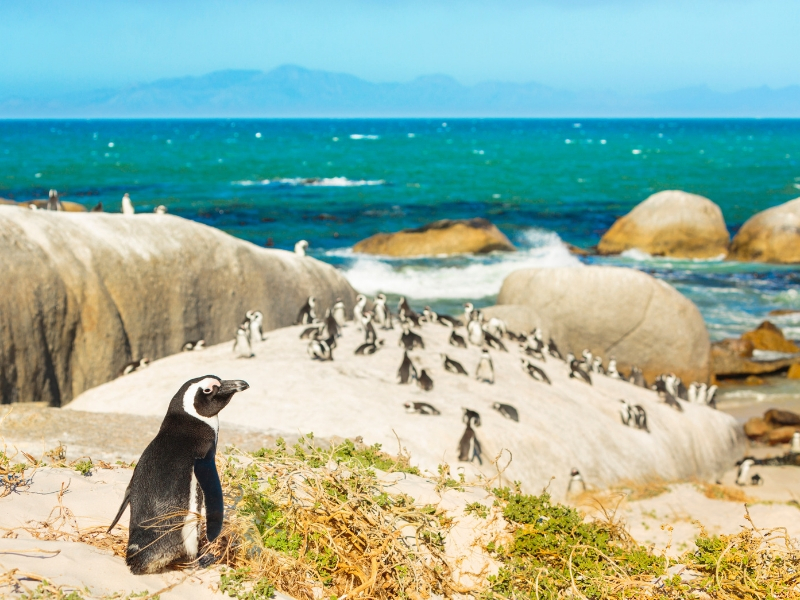 In 1982, a colony of African Penguins settled on Boulders Beach. Since then this has become a popular tourist spot for those looking to catch a glimpse of these endangered birds.
The African Penguin can only be found on the coastline of South Africa and have therefore fallen under the protection of the Cape Nature Conservation.
Bit of trivia: In 1982, there were just two breeding pairs, today the colony is over 3000 strong.
Looking to get up close, we recommend visiting Foxy Beach. Here boardwalks have been installed allowing you to see these beautiful birds within just a few metres, giving you that perfect picture moment.
Experience South Africa's Wildlife
Browse our wonderful wildlife South Africa Escorted holiday here.
Have you experienced South Africa's Wildlife?
Let us know by leaving us a comment on facebook.
Similar Features
11 Roaring great wildlife spots around the planet
A wildlife paradise – 7 animals on Mull for 'Eagle-eyed' visitors to look out for
8 Extraordinary experiences found in South Africa
---
Follow us on Facebook or on Instagram @DCThomsonTravel. Got a travel suggestion or story you want to share, email us at holidayenquiries@dcttravel.co.uk.