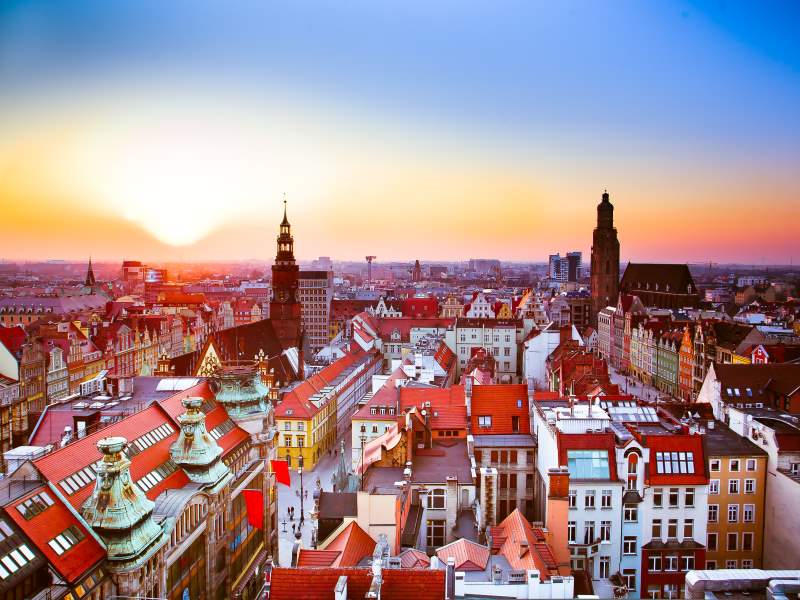 Krakow is one of the one of the world's greatest and oldest cities.
A true continental great, we celebrate this glorious holiday destination from its beautiful Old Town, major and important attractions and, close by, stunning surrounding countryside leading up into the iconic High Tatras.
Whether thinking about visiting on a short break or as part of larger itinerary, here are 10 essential must-visit destinations in and around the Polish capital catering to different tastes.
1. Main Square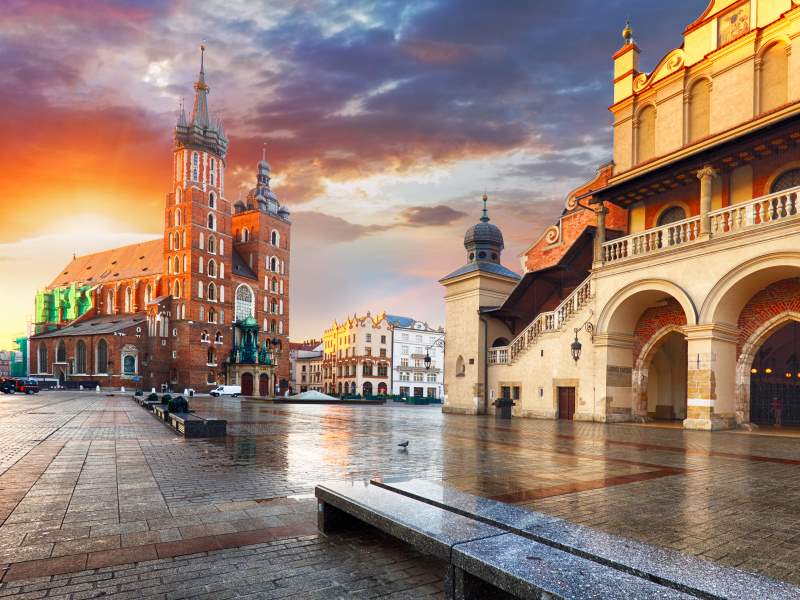 The city's Main Square or central square is actually one of the largest of its kind in the entire world.
Bit of Trivia – The Main Square is around an amazing 10 acres in size!
A massive Krakow landmark, a number of other notable landmarks can be found in and around the square ensuring that a brief stop or two during your exploration takes very little effort for visitors looking to tick off as much of the main sights as possible.
Notable and popular tourist attractions located close by including the Renaissance Cloth Hall and 14th century St Mary's Church (more on that icon later).
View available holidays to Krakow
2. Wawel Castle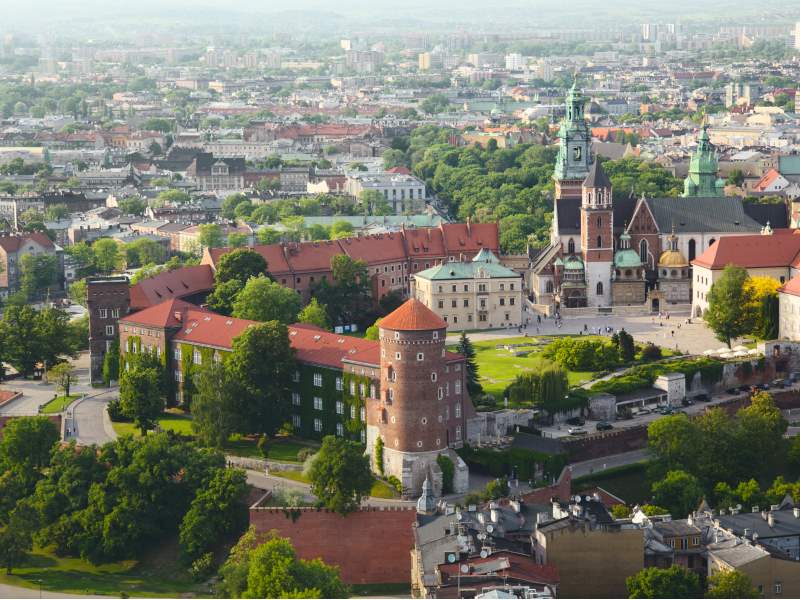 Right up there amongst the best castles in Europe, Wawel Castle is a magnificent sight.
The first bricks of this Polish icon were laid right back in the 13th century under the orders of King Casmir III the Great.
Awarded UNESCO-listed World Heritage Status just over 40 years ago, the castle is a highly important site, providing both cultural and historical links to the country's long and notable past.
Actually a series of different buildings, some built-in different eras, the castle stands out immediately thanks its terracotta-tiled series of different roofs with a number of turrets shooting off high into the sky painted green.
Inside, the castle boasts a fantastic collection of old tapestries.
Believed to be one of the largest collections of its kind in the world, the different tapestries may range in size but are all expertly and intricately detailed – an impressive feat given the timing of their creation.
View available holidays to Krakow
3. St Florian's Gate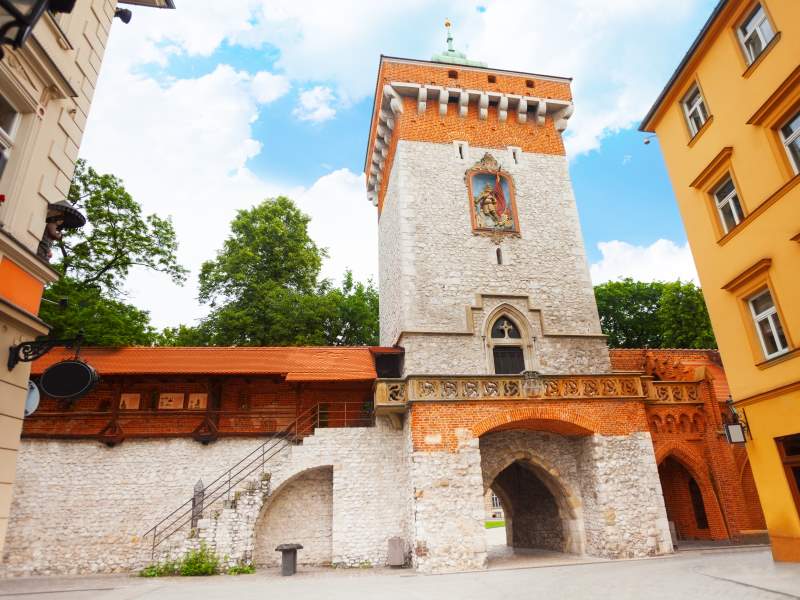 A key tower in the city, St Florian's Gate is located with Krakow's distinct and beautiful Old Town quarter.
Like many of the great European cities, Krakow's Old Town is a key reason why so many tourists decide to spend time in the Polish capital, often returning such is the city's appeal.
First constructed back in the 14th century, St Florian's Gate is a true Gothic marvel and key beacon or point of reference for visitors navigating their way around the heart of the city.
Originally built as a protective lookout to guard against invading forces centuries ago, the Gate has largely stood the test of time.
Surrounded by old, yet largely uniform buildings, the tower is a wonderful piece of architecture worth experiencing for yourself.
View available holidays to Krakow
4. Wieliczka Salt Mines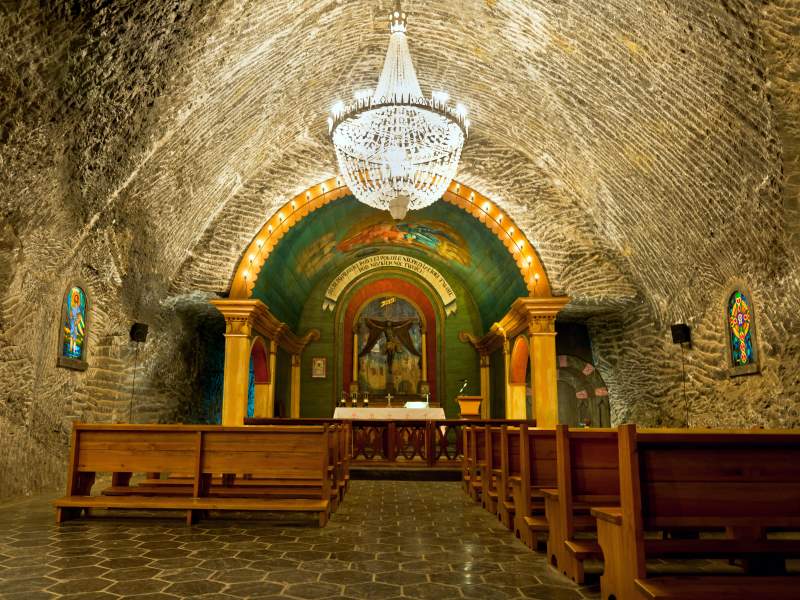 Travelling deep underground, Wieliczka Salt Mine was first dug hundreds of years ago.
Easily reached from the capital, the salt mine is one of the most popular tourist attractions in Europe.
Another UNESCO-listed gem, Wieliczka Salt Mine travels down hundreds of metres.
Spread over a series of different connected levels, the Mine has been welcoming tourists for centuries.
On arrival, some sections of mine may just surprise you. All sitting within the mine, visitors will be able to enjoy a rather grand chapel, intricate artwork carved into salt rock and some period machinery showcasing different mining techniques used throughout the mine's existence.
View available holidays to Krakow
5. Auschwitz – Birkenau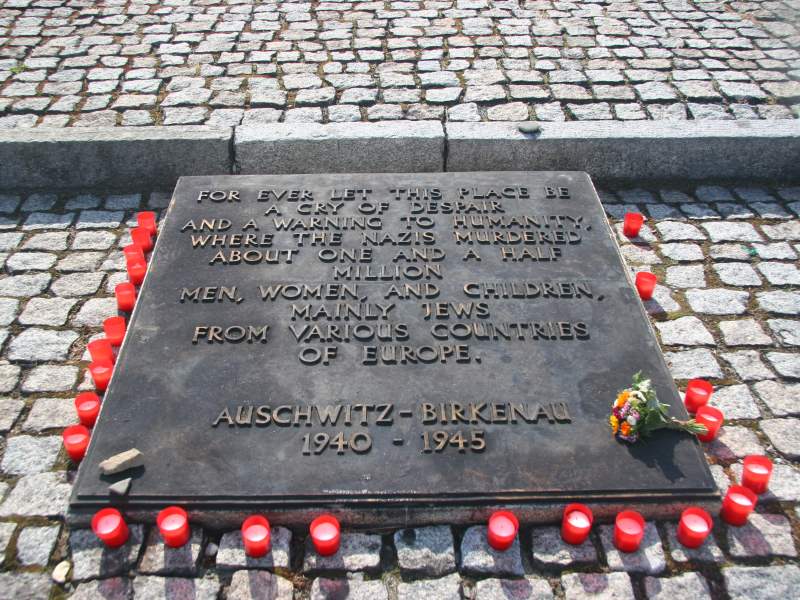 At the heart of one of the most turbulent periods in global history, what remains of the former Nazi Concentration Camp complex at Auschwitz – Birkenau is an important historical landmark.
Now acting as an important record of the events that took place with an on-site museum dedicated to documenting the history of Auschwitz, a visit here provides insight into the events that took place and also gives visitors a chance to pay their respects to the lives lost.
6. Wawel Cathedral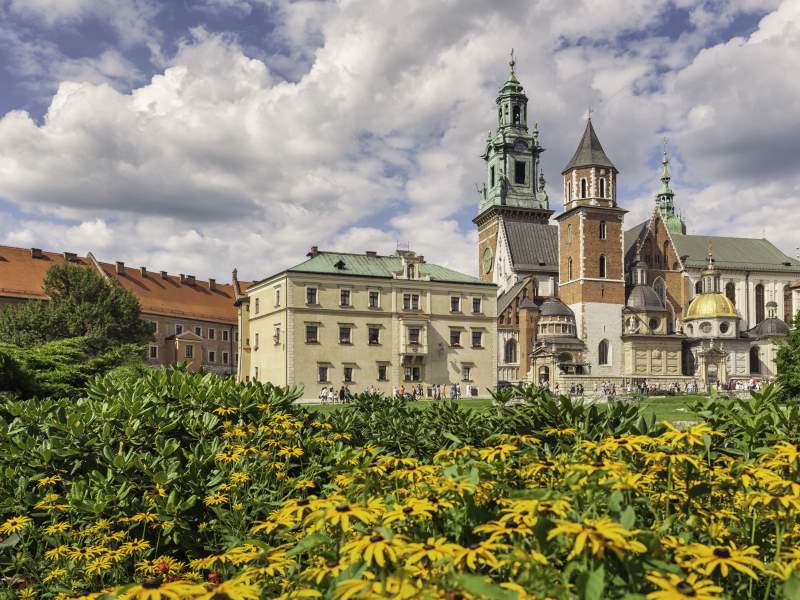 Undoubtedly another key city sight, Wawel Cathedral is a fantastic Polish landmark.
A beautiful building first constructed in the 11th century, Wawel Cathedral has been an ever-present in Krakow for over 800 years, older than some other notable global icons including the oldest parts of Edinburgh Castle.
Inside, a number of jaw-droppingly beautiful aisles all have their own memorable focal points ranging from King's tombs, the cenotaph of King Wladyslaw and a massive main golden alter rising several metres up.
View available holidays to Krakow
7. Ojcow National Park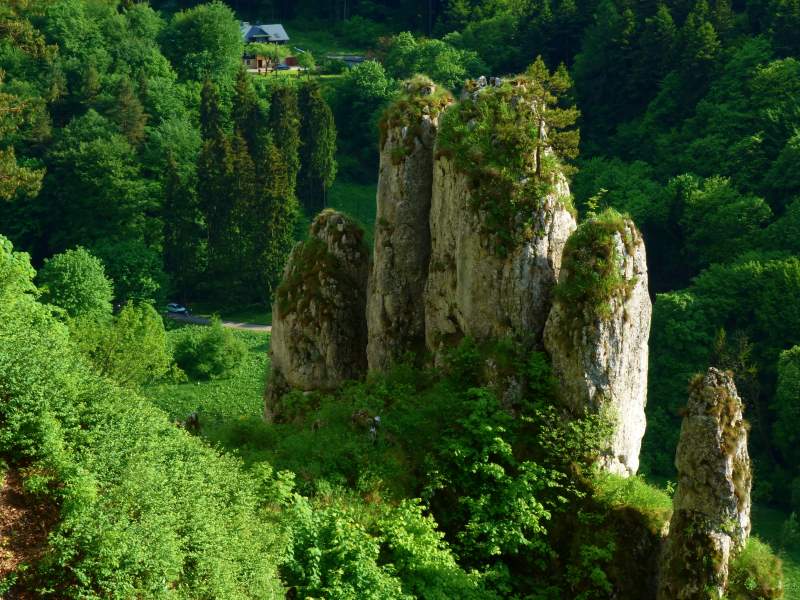 A national park for over 50 years, contained within Ojcow National Park is some of the most beautiful countryside in Poland, in good company alongside the highly regarded beauty of the glorious High Tatras.
Within Ojcow National park, visitors will be able to encounter the ruins of the lost clifftop castle of Ojcow Castle, Krakow Gate and the fascinating Jaskinia cave.
Standing out amongst the thick foliage of the park, Ojcow is home to a number of lovingly nicknamed rock formations including the lone standing 'Hercules Club' and the famous White Hand Rock (pictured) that looks like a giant hand is rising out of the earth.
View available holidays to Krakow
8. St Mary's Cathedral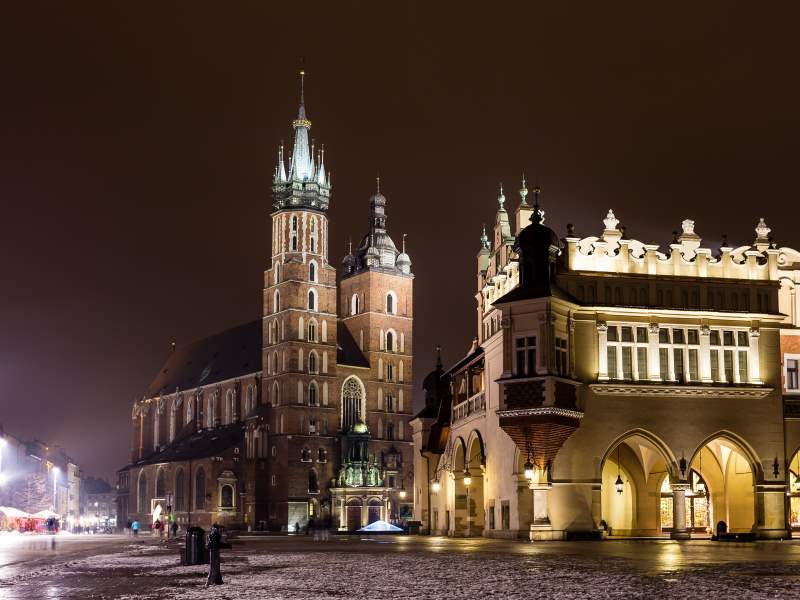 As mentioned earlier in our list of essential Krakow sights, St Mary's Cathedral is handily located on the city's Main Square.
A beautiful sight in a city full of memorable and eye-catching landmarks, the cathedral is a must-experience during any break in the city.
Best known for its two opposing towers, one of which was extended to become a watchtower, the cathedral has a rather famous characteristic.
Every hour on the hour, the cathedral plays a bugle call – a key Krakow tradition.
View available holidays to Krakow
9. Zakopane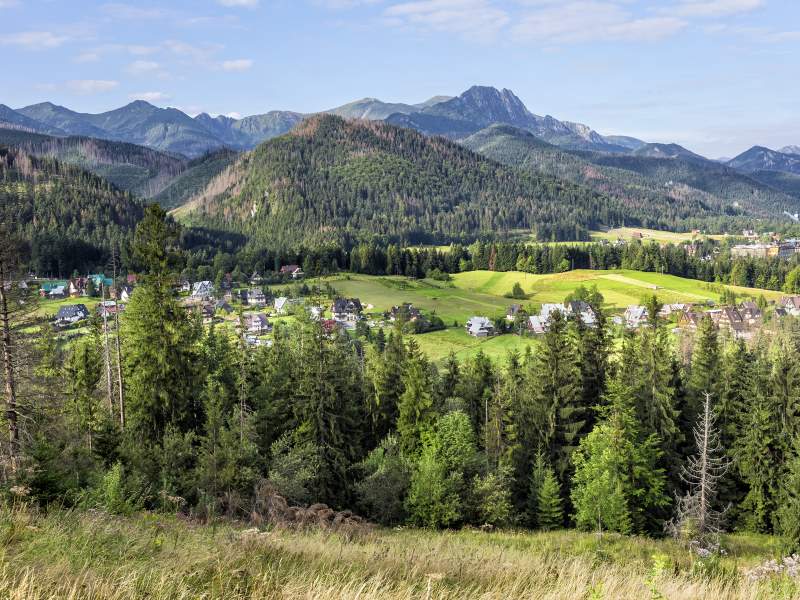 One of Poland's greatest resort towns, Zakopane rests at the foot of the Tatra Mountains.
Surrounded by sublime natural beauty, visiting Zakopane from nearby Krakow is easily achieved and gives holidaymakers a chance to reconnect with nature.
The gateway to Tatra National Park, one of Europe's greatest, Zakopane is a popular base for walking holidays.
If you are thinking about exploring the park, awesome scenic experiences await should you venture the large and rather dramatic mountain lake Morskie Oko and Giewont Peak.
An easy hike suitable for all ages, the views at Five Lakes Valley are truly spectacular.
Visit Krakow
Explore our collection of holidays visiting Krakow here.
Have you visited any of the featured destinations?
Let us know by leaving us a comment on facebook.
Similar Features
Poland's glorious High Tatras – 6 Reasons why you should visit
Brilliant solutions to wanderlust: 6 holidays to Eastern Europe
Baltic Cruise – 10 fascinating cities you can visit
---
Follow us on Facebook or on Instagram @DCThomsonTravel. Got a travel suggestion or story you want to share, email us at holidayenquiries@dcttravel.co.uk.