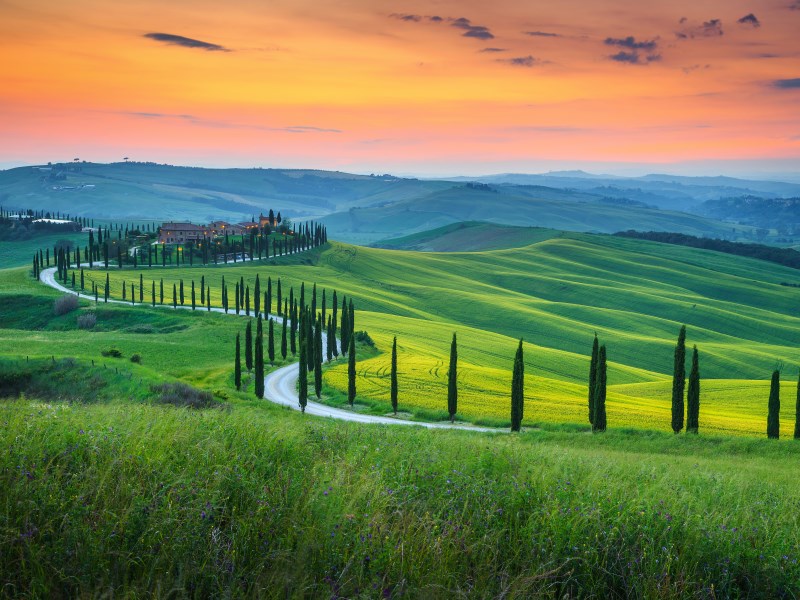 All featuring genuine, enriching experiences, these 5 fantastic Italian holidays aimed at the solo traveller all include carefully constructed itineraries.
These departures showcase the best of their respective destinations as well as allowing for a degree of freedom.
This can often be an important combination for the solo traveller looking for a degree of flexibility from their holiday.
Amongst the guided tours and included visits, each of these excellent holidays features allocated free time where you can spend your time as you want to, perhaps ticking off further authentic experiences or simply exploring destinations at leisure.
Updated – November 2019!
1. Walking in the Tuscan Hills
The famous rolling hills of Tuscany is one of Italy's most scenic regions. Wonderfully picturesque, this is the setting for a great 8-day solo itinerary departing in the autumn of 2019.
This scenic landscape is known to have served as both the subject and inspiration for some truly great works of art, such is the area's beauty.
A number of the country's most postcard-perfect towns and villages can be found throughout the region.
A great experience for travellers, this dedicated solo departure includes informative guided walks through both the Tuscan hills, Crete Senesi, and visits to historic gems like Siena, and Perugia.
On arrival at your arranged accommodation in the town of Chianciano Terme, holidaymakers are welcome to join an informal evening drinks reception where you can get to know like-minded travellers whose company you will share during the guided portions of the holiday.
Beginning in day two, the planned itinerary starts with a gentle exploration of the renowned hills of Tuscany and the notable towns of San Quirico d'Orcia and village of Bagno Vignoni, famous for its hot springs.
Another great excursion into the city of Siena provides the chance to explore the grand city that holds UNESCO World Heritage Status.
City highlights to look out for include the Main Square, Pubblico Palace, the Tower of Mangia, and Basilica Cateriniana San Domenico.
Wandering around the city is a great experience where streets lined by striking, almost uniform at times, architecture often leaves a lasting impression on visitors.
A key Italian landmark, Siena's great Cathedral is beautiful inside and out. Visitors are welcomed by a magnificent marble exterior.
Inside, visitors can admire intricately designed stained-glass windows and a number of works of art including sculptures and paintings.
Crossing into the neighbouring Province Umbria is always memorable.
Perugia, home to an iconic medieval fountain, cathedral, and old fortress area, is a special city that leads on to scenic Lake Trasimeno.
A free day where you can make your own plans is followed by a final wonderfully curated day of highlights including the ancient village of Monticchiello, the UNESCO-listed town of Pienza, and a visit to a producer of the renowned Pecorino cheese are included.
Learn about the refined production process before sampling some of the delicious produce.
Celebrating the climax of the holiday, the final night includes a farewell dinner at a local winery!
2. Lake Garda & the best of the Veneto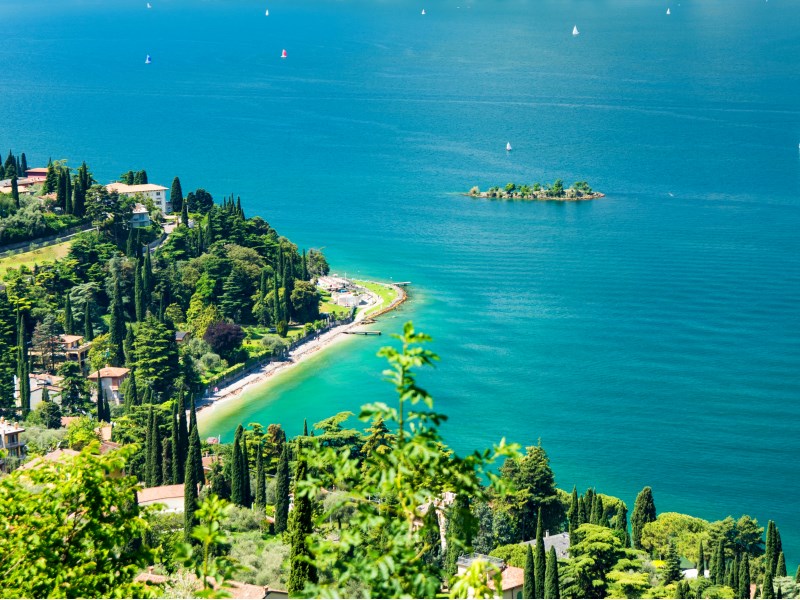 Across 8 days, this Italian getaway planned with the solo traveller in mind is perfect for holidaymakers looking to experience some of the most cherished locations in this beautiful country.
Departing throughout 2019, this awesome itinerary includes guided tours of romantic Venice and Verona, a visit to the Italian jewel Lake Garda, and UNESCO-listed Mantova.
Free time is accounted for, adding a crucial element of flexibility to the holiday for solo travellers perhaps in search of their own individual experiences whilst visiting this beautiful part of Italy.
Lake Garda is one of the grandest lakes in all of Italy.
Wonderfully picturesque, a guided tour gives holidaymakers the chance to experience this quintessential Italian holiday destination for themselves and see what all the fuss is about!
The lakes' shores are lined by some iconic villages and towns. During the tour (on foot and by boat), holidaymakers will be able to sample some of these iconic locations including Riva del Garda to the north.
Romantic Venice is easily reached by car. Thankfully included, Venice is one of the world's most famous cities.
Characterised by gondolas floating along the city's network of canals, and landmarks including St Mark's Square and Doge's Palace, there is much to experience whilst in the city.
A walking tour shows off the best of the city. We also recommend taking a gondola ride whilst visiting this great city.
Travelling gracefully along a series of waterways passing striking architecture is one of the great Venetian experiences.
A fact not lost, the appeal for many of solo travel is freedom. An allocated free day in the middle of holiday gives holidaymakers the freedom to go off in search of their own memorable holiday experiences.
Close to the hotel, perhaps the Botanical Heller Gardens may just offer up a great holiday experience and some inspiration for the green-fingered garden enthusiasts among you?
Almost stepping back in time, the medieval city of Mantova is another great inclusion. A guided tour of Mantova's Old Town presents the city's greatest and oldest features.
During the tour, there are a wealth of sights to look out for, including Ducale Palace and St Andrea Church.
Return back to the freedom of following your itinerary a final free day where Lake Garda's shore is perfect for further exploration.
There are a number of walking trails in the area that visitors can follow should they decide to set off on foot.
Verona, of 'Romeo & Juliet' fame, is a lovely Italian city. A guided walking tour takes visitors to some of the best attractions in the city, including medieval highlights.
A reminder of the fallen Roman Empire, the great amphitheatre in the city is a memorable landmark. As is Verona's City Square where you can catch a lovely bite to eat or hunt for a great souvenir to take back home with you as a reminder of this great Italian escape.
3. Sicily: Classic & Undiscovered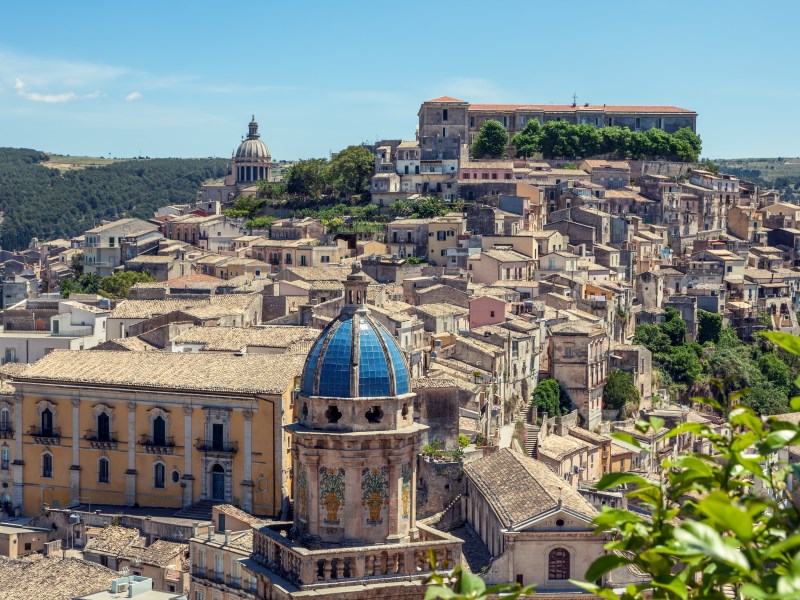 Off the Italian mainland, Sicily has a lot to offer. In the heart of Mediterranean, visitors to the island can enjoy a pleasant climate, beaches, historic landmarks, and a culture shaped from a range of different sources ensuring Sicily feels intriguingly different to mainland holiday destinations.
Mount Etna is a towering reminder of the island's volcanic activity and a key landmark at home on this beautiful island landscape.
This 8-day holiday includes a great coach tour taking in the sights of Syracuse, an exploration of Ortygia, and a guided tour of Ragusa.
Included visits range from hilltop Noto, medieval Modica, Taormina at the foot of Etna, to a great vineyard visit.
Key experiences also include a chocolate tasting whilst visiting Modica, the chance to climb to the summit of Mount Etna, and a wine tasting session on the slopes of the great mountain.
The Valley of the Temples is a notable historic highlight where the temples date right back to the 6th century.
Ragusa, a city divided into old and new towns, is visited on the 5th day of this excellent itinerary.
A beautiful city, the buildings here will leave a lasting impression. None more so than Ragusa Cathedral and the city's Duomo of San Giorgio.
Also included, a day dedicated to visiting Villa Romana Del Casale and its renowned, extensive collection of Roman mosaics is a day well spent at one of the island's most culturally important attractions.
4. Classical Italy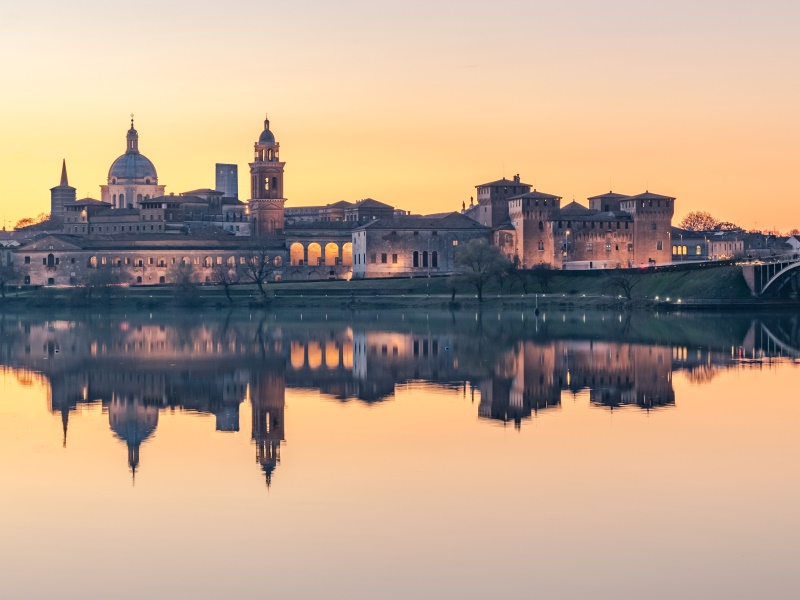 Enjoy Classical Italy on this next fantastic Solo Italian tour.
Arriving in Rome, the holiday truly begins with a visit to Siena, once one of the largest cities on the planet.
Throughout Siena, you will be able to admire the city's stunning medieval fortress with plenty of free time ensuring that you go out in search of your own memories of the famous city.
Travelling on to Florence, a guided tour of the city followed by an included visit to the renowned Uffizi Gallery provides the perfect cultural introduction.
A key included experience, holidaymakers will be able to admire works from some of history's most famous cultural figures including Da Vinci, Raphael and Caravaggio.
A guided walk of Arezzo is the next crucial experience in this featured itinerary.
Celebrated for its architecture, Arezzo's cathedral, standing since the 16th century, is a must-see, standing on an elevated hilltop position.
Another magnificent medieval gem, the town of Assisi, resting in the beautiful Umbrian countryside, is a stunning town.
Famously the birthplace of Saint Francis of Assisi, the town has a town dedicated to one of the country's most revered saints.
Exploring beautiful Assisi is fittingly followed by a visit to the Italian capital – Rome.
Up there amongst the world's most iconic cities, a day of guided exploration ticking off some of Rome's best-known landmarks including the famed Colosseum marks the perfect introduction for first-time visitors and will shed further light on this deeply historic city for veteran visitors.
A timely allocated free day giving holidaymakers the chance to explore the famous city further or simply unwind at a leisurely pace before commencing the journey home.
5. Hidden Italy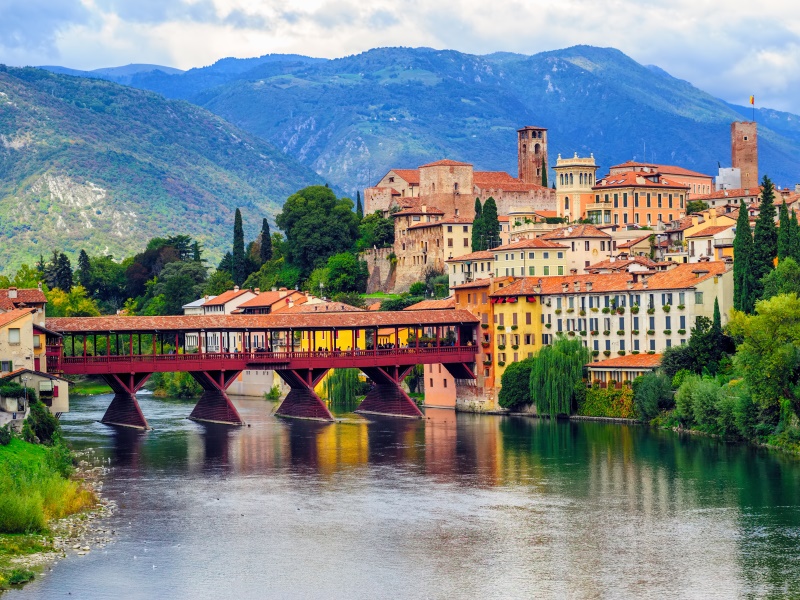 Uncover Hidden Italy during this insightful tour exploring the history of the country.
Unearthing the spectacular past of a number of destinations, holidaymakers will be able to admire an eye-catching selection of Italian destinations.
Making the most of your time, on arrival you will be taken to your well-appointed accommodation before being transported onwards to Castelfranco Veneto.
Built around a historic castle, the town was once a key trading post between the Venetian Empire and the rest of Europe.
On the second day, the tour takes to the water with a cruise along the canal at Brenta.
Often proving to be the best way to experience this beautiful part of Italy, the canal stretches into the countryside from the Venetian Lagoon.
Holidaymakers will be able to experience the city on their own terms during allocated free time.
However, we thoroughly recommend keeping an eye out for the city's Ragione Palace and medieval St. Anthony Church.
Travelling southwest to Vicenza, at the foot of tree-covered Monte Berico, holidaymakers can enjoy an included guided tour taking them through Vicenza's historic centre.
At the heart of the town, Vicenza's Piazza dei Signori is an important local landmark. Arriving at this central area provides the perfect excuse to take a break.
Travelling to another historic gem, quiet and beautiful Mantova us full of jaw-dropping medieval architecture.
Found quite close to the famous jewel of Italy, Lake Garda, relatively unknown Mantova is to some degree a hidden Italian treasure.
A guided tour of Mantova's Old Town will shed some light on the famous history and wonderful architecture evident throughout this fabulous UNESCO-listed World Heritage Site, famously where Shakespeare exiled Romeo.
The enchanting town of Bassano del Grappa and the famous Villa Sandi await during the final day of exploration in this featured tour.
Resting below the hills of Monte Grappa, the town is separated in two, connected together by the Ponte Degli Alpini Bridge.
Wandering around town at a leisurely pace, you will be able to take in the sights, sounds and atmosphere of this stunning Alpine town.
Holidaymakers will also be able to enjoy the delights of an included visit to a local artisan distillery, producer of the famous Italian drink Grappa.
A further included visit to the highly regarded wine producer Villa Sandi takes holidaymakers on a journey of discovery that includes time spent exploring a centuries-old network of tunnels.
Have you visited any of the featured Italian destinations?
Let us know by leaving us a comment on facebook.
Similar Features
12 Inspirational walking & hiking routes around Scotland
8 Breathtaking sights – The Faroe Islands
Solo Travel: Why you should visit Vietnam & Cambodia
---
Follow us on Facebook or on Instagram @DCThomsonTravel. Got a travel suggestion or story you want to share, email us at holidayenquiries@dcttravel.co.uk.