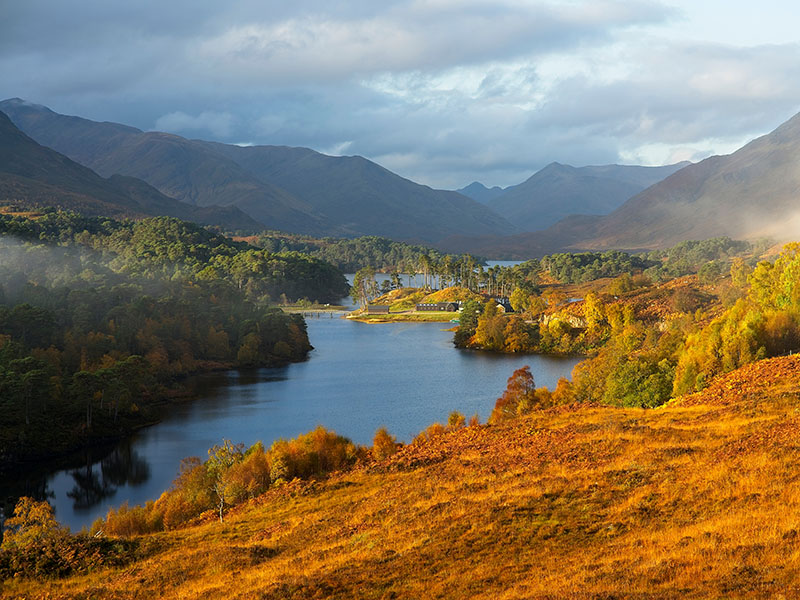 Scotland is one of the most beautiful places in the world at this time of year.
The landscape starts to changes dramatically, continuing into winter, with fantastic results.
We take a look at some essential autumn woodland walks where you will discover and fall in love with this beautiful country for yourself, or in some cases, all over again!
1. Glen Affric, Cannich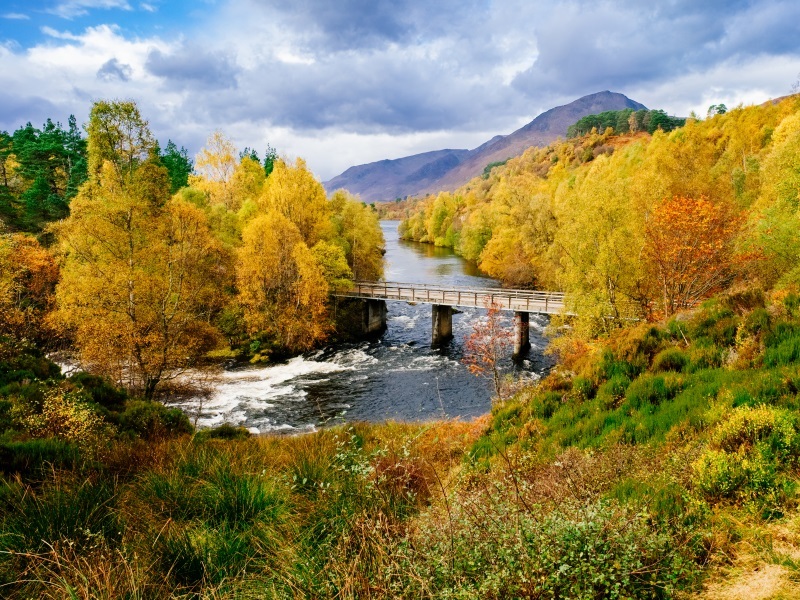 One of the most popular spots in Scotland, Glen Affric covers some 30 miles. Throughout, you will discover some beautiful and some curious wildlife, including otters.
Featuring some great trails, Glen Affric has some notable residents, including the rulers of the land, Red Deer.
Stop by River Affric, and Plodda Falls, a spectacular waterfall only adding to the magical setting.
Where to stay?
On the banks of the River Ness lies near Inverness. A vibrant northern city, Inverness is a cultural hotspot.
2. The Hermitage, Dunkeld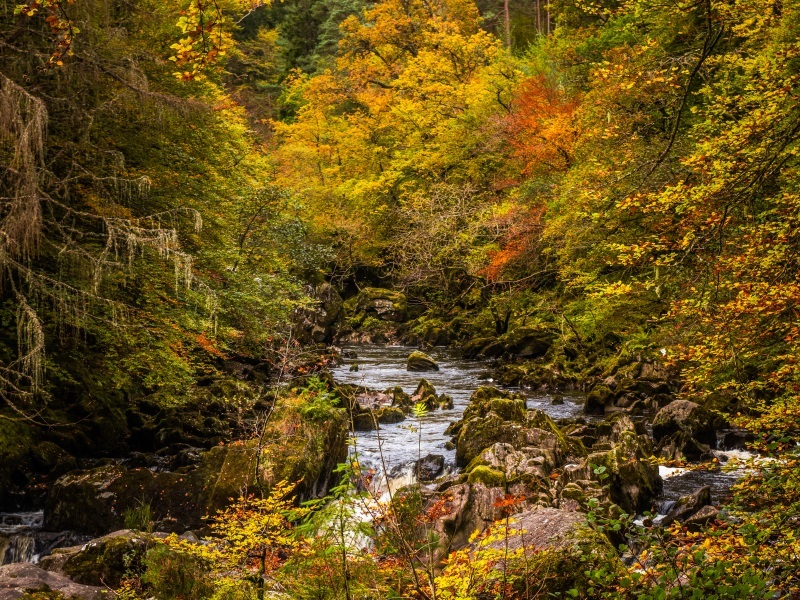 Featuring some of the tallest fir trees in Britain, this fantastic Perthshire walk takes you through some lovely Scottish woodland.
The land was originally designed by 18th-century dukes as a place where they could unwind and take part in popular leisure activities in their spare time.
We can say with some certainty that they did a good job!
A wonderfully preserved site, the woodland covers over 30 acres of land, featuring some great scenic spots.
Popular stopping point for visitor, the Rivendell-esque Ossian Hall was named after the famed narrator of a series of poems written by the Scottish poet, James Macpherson.
A great vantage point, you will be able to take in some great views of nearby Black Linn Falls and the River Braan.
Whilst in the woods, look out for Ossian's Cave, an eerie landmark that thankfully doesn't conceal any wicked monsters!
Where to stay?
Dunkeld. Just over 50 miles from Scotland's capital, Edinburgh and around 40 from Dundee, there are lovely hotels in this picturesque Perthshire town.
3. Rothiemurchus Forest, Aviemore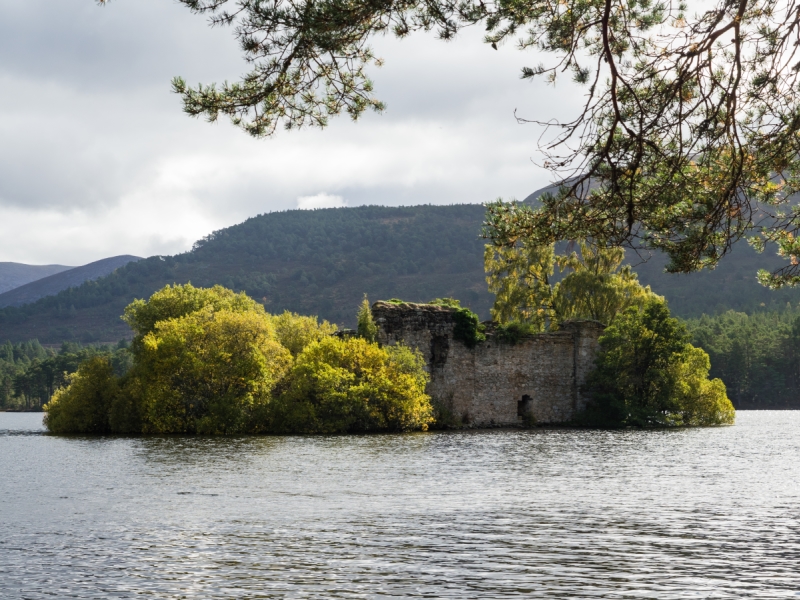 Formerly part of the old, historic Caledonian Forest, Rothiemurchus Forest is now within the Cairngorms National Park.
A popular route for walkers is to follow the woods to the Iron Bridge.
Close to Aviemore, Rothiemurchus Forest is a spectacular part of the Scottish Highlands allowing for great views of the famous Cairngorms.
Well maintained paths take you through some lovely forest where a whole host of animals go about their business.
Be on the look-out for Squirrels and Western Capercaillie, as shown in the fascinating BBC documentary series 'Highlands – Scotland's Wild Heart'.
Where to stay?
A popular base for Skiers and Dog Sled enthusiasts, Aviemore is a wonderful Scottish town lying some 120 miles from Edinburgh.
Trains are available that can take you onwards to Inverness, home to the famous loch dwelling monster!
4. Tentsmuir Forest, Tayport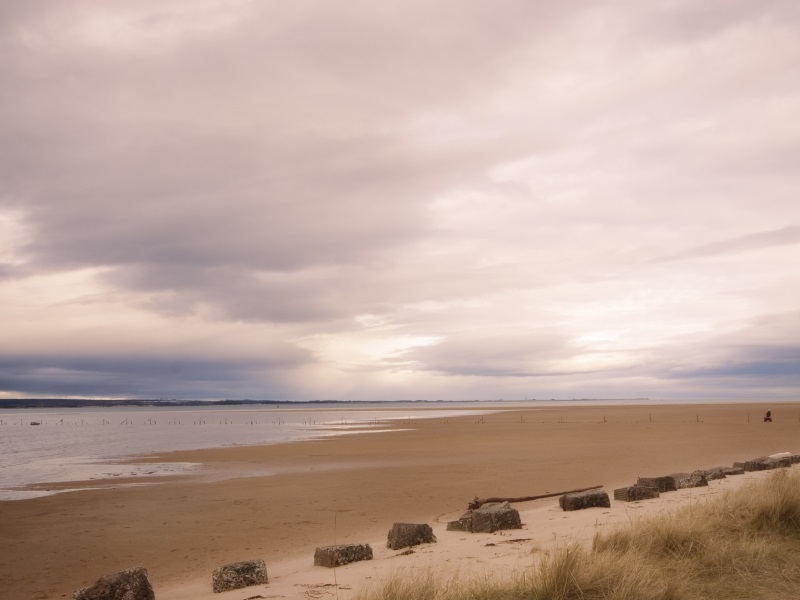 Just over the Tay Bridge from Dundee, Tentsmuir Forest offers woodland walks guiding you through some lovely sand dunes before arriving at a fantastic beach stretching off into the distance.
Home of a great Pine forest, Tentsmuir is maintained by the Forestry Commission.
The drive into the forest ratchets up the expectation level as you travel further into the woods.
Once you arrive at the car park, you may feel a sudden urge to run towards the sound of the waves crashing onto the beach.
Good luck with the water temperature!
Where to stay?
Dundee offers a great selection of restaurants and shops. A stop by the striking V&A Dundee Design Museum is simply a must when in the city.
This wonderful piece of architecture has drawn hundreds of thousands of visitors since first opening in September 2018.
5. Faskally Forest, Pitlochry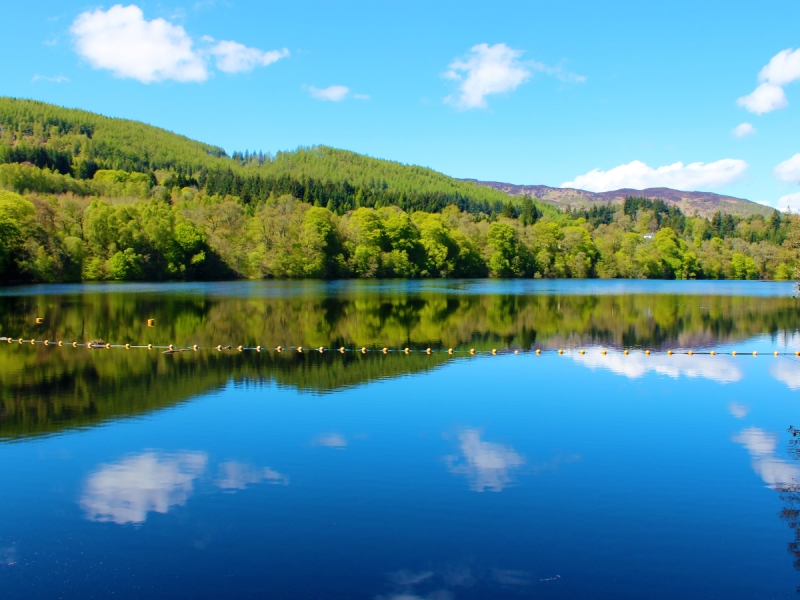 Enchanted in Autumn, Faskally Wood lies close to the burgh of Pitlochry.
The woodland has been carefully maintained over a number of decades by experts.
The essential Forester's Trail takes you past a great selection of different trees, providing wonderful changes in light as the daylight (what's left of it!) struggles to breakthrough.
Famously the home of the Enchanted Forest, Faskally is one of Scotland's most popular woodland areas.
Where to stay?
Pitlochry, found in the heart of Scotland, is a fantastic place to visit.
Take time to stop by some of the renowned Whisky Distilleries in the area, including the Blair Atholl Distillery.
6. Loch Katrine, Trossachs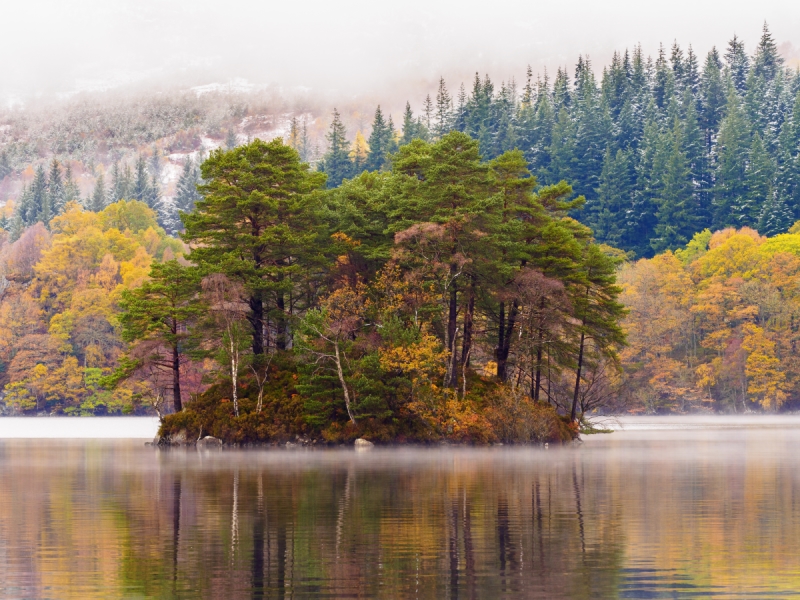 Resting in the Trossachs, part of the famous Highlands, Loch Katrine is one of the UK's most beautiful lakes.
Home to the iconic Sir Walter Scott steamship, a popular activity taking to the water is a cruise along the lake.
Both a walking and cycling paradise, the entire area, like much of the country, transforms into 'leaf-peeping' paradise.
There are multiple trails available taking in the best of Katrine, some of which link on to some of the world's most famous walking routes including the West Highland Way and Rob Roy Way.
Where to stay?
Aberfoyle is an extremely popular tourist spot found within Loch Lomond and Trossachs National Park.
As well as being an ideal base to reach Loch Katrine, Aryll Forest Park and Loch Ard are also within convenient travelling distance from the village.
7. Loch Tummel, Perthshire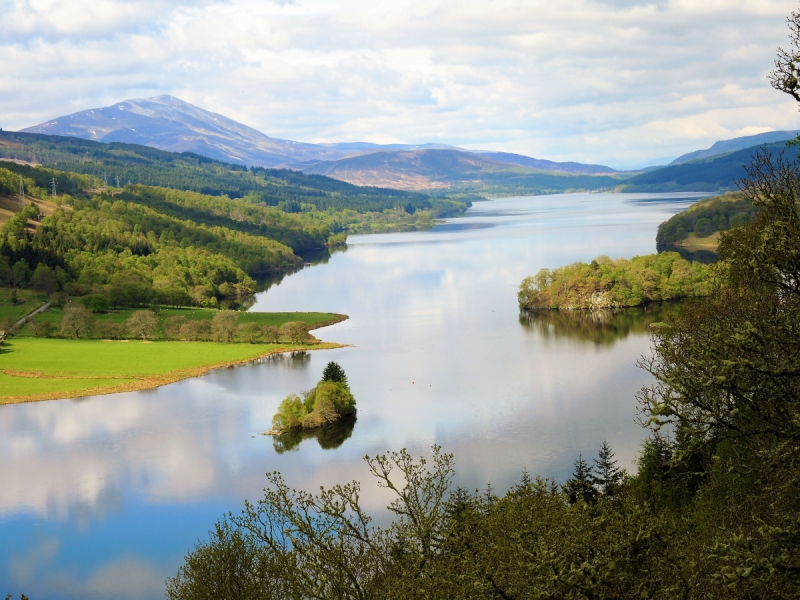 Loch Tummel is, simply put, one of the most beautiful spots in Perthshire.
One of the famous vantage points in the country, walking up to Queen's View rewards visitors with jaw-dropping views of surrounding landscapes that dip down taking in Loch Tummel before rising ahead into heavily hills way off into the distance.
Close by, one of Scotland's best-known mountains – Schiehallion – awaits.
A fantastically scenic walk undertaken should you decide to tackle the mountain, this striking landmark is one of the most iconic Munros in the entire country.
Where to stay?
Both Blair Atholl and Pitlochry are ideally placed for visitors looking to experience the beauty of Loch Tummel firsthand.
Similar Features
Take the Ultimate Road Trip – See Scenic Scotland this Autumn
---
Follow us on Facebook or on Instagram @DCThomsonTravel. Got a travel suggestion or story you want to share, email us at holidayenquiries@dcttravel.co.uk.