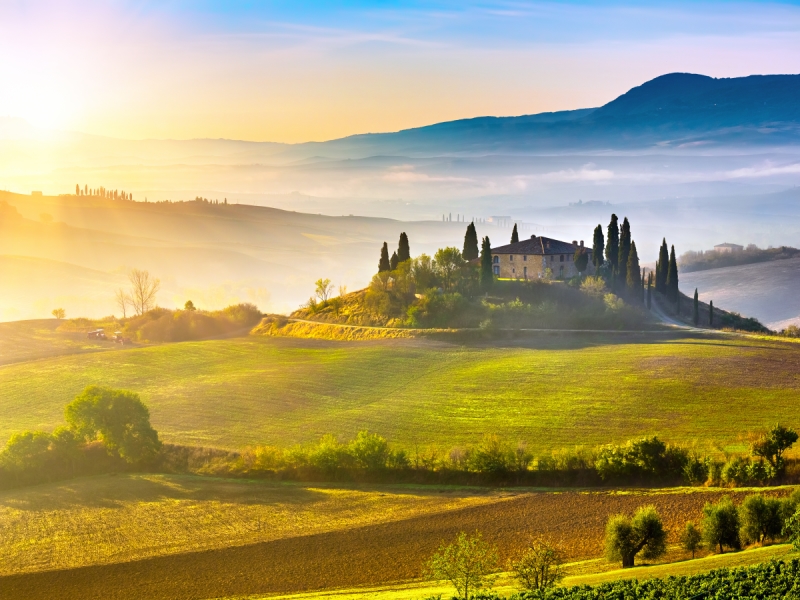 Think Italy and for many holidaymakers an image of Tuscany's rolling fields and sun-soaked landscape featuring lovely hilltop towns immediately springs to mind.
Taking inspiration from a fantastic classic tour of the region, here are 5 simply 'fantastico' towns and cities in the region we thoroughly recommend experiencing.
1. Florence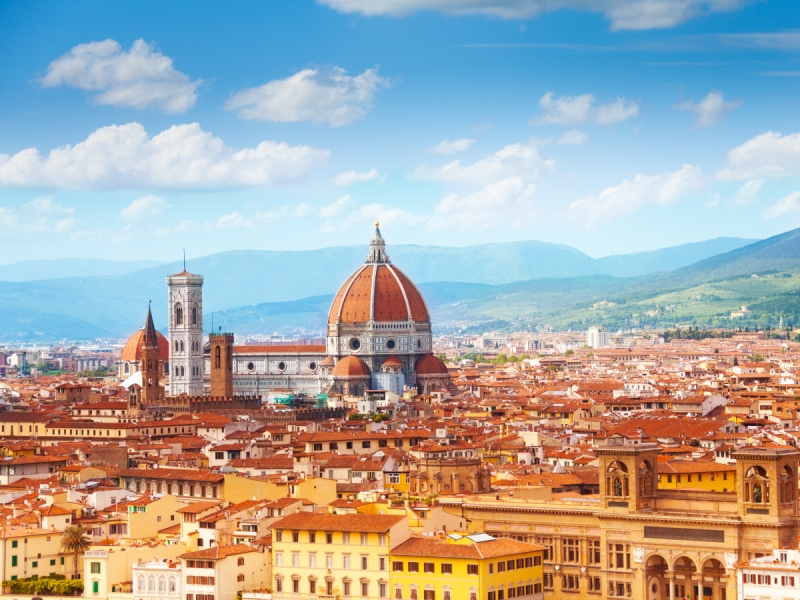 Stunning Florence, affectionately known as 'The City of Lillies' is put simply, one of Italy's greatest cities.
Both culturally and historically important, this magnificent city rests in-land, deep in the heart of Italy's beautiful countryside.
Historical landmarks dominate the Florence skyline.
Key buildings to look out for during any visit include the church Basilica of Santa Croe, and the huge Cathedral of Santa Maria del Fiore that famously has a massive orange-tiled dome that rises high above neighbouring buildings.
One historical site quickly followed by another (a majority of landmarks are within walking distance of each other), the city's Town Hall, a noble-looking landmark resembling part of a grand chess set, is where you will find an amazing copy of Michelangelo's David statue.
Linking either side of the River Arno that runs through the city together, the medieval Ponte Vecchio Bridge is the city's oldest bridge and even has shops going right along the walkway should you fancy a browse mid-crossing!
2. Lucca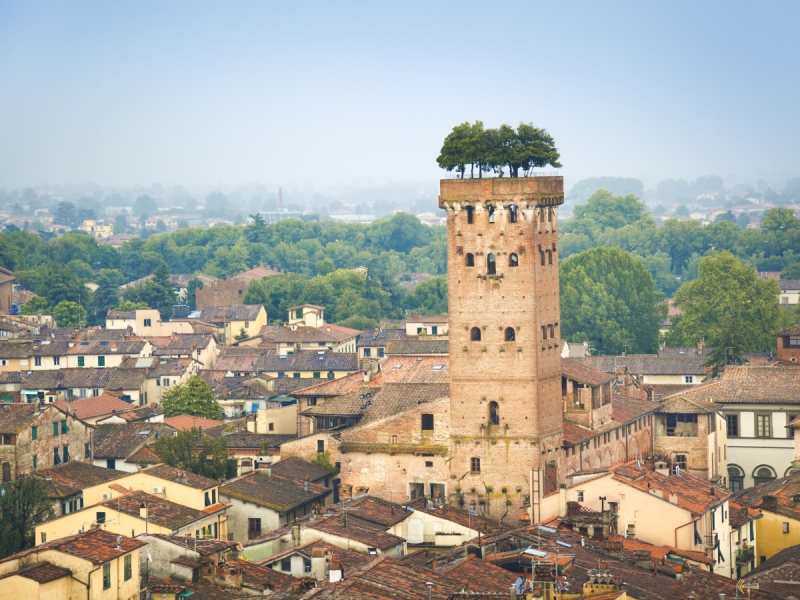 Lucca's historic centre is protected by huge, well-preserved medieval walls that were built to protect the town's treasure and wealth.
The city has a long association with both silk and olive oil and is regarded as one of the wealthiest in the country.
A fantastic place to experience, Lucca's centre, complete with cobbled streets and interesting buildings is the only town in Italy surrounded by walls.
Trees growing on its roof, the medieval-age Guinigi Tower is one of many Romanesque Lucca landmarks.
Other notable sights to look out for include St Martin Cathedral and the vibrant market area Piazza dell' Anfiteatro surrounded by tall buildings where many visitors decide to stop and enjoy some food and refreshments at one of the local cafes.
3. Montecatini Terme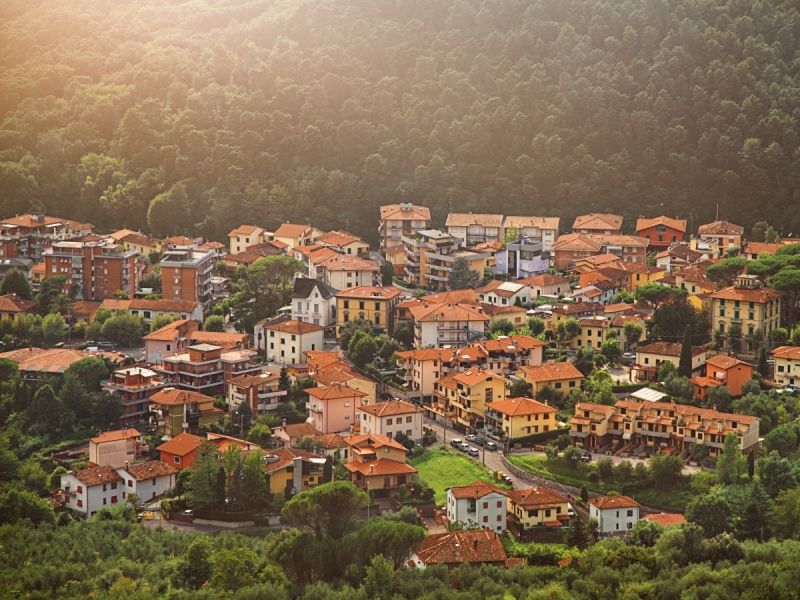 Holidaymakers who have experienced the Roman splendour of Bath, one of the oldest cities in the UK may see some similarities between the two.
Like Bath, key areas in Montecatini date back to Roman times with both cities long associated with spas and thermal pools.
A popular short break destination for Italians, Montecatini, in today's featured holiday, is where holidaymakers will be staying for 7 nights.
With plenty of free time, the city's Terme Tettuccio Spa is a must.
---
---
Famed for its Art Nouveau styling, the spa is open-air letting guests enjoy the glorious Italian sunshine whilst achieving a state of ultimate relaxation.
A pleasant journey that also gives your feet a rest, a journey on the Montecatini funicular takes passengers on red trains up to the old village of Montecatini Alto.
High above the city below, you can look for miles around after wandering the streets of this pretty old town.
4. San Gimignano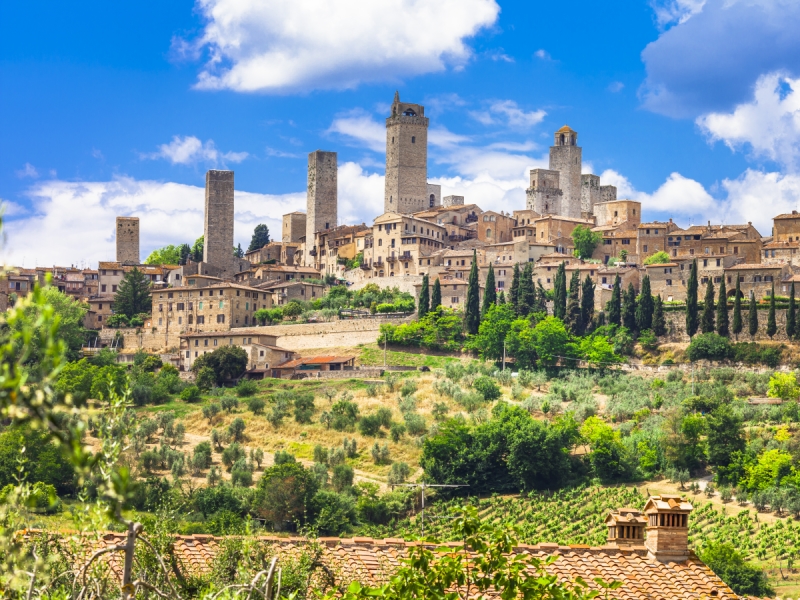 A trip discovering the beauty of Tuscany would not be complete without a visit to one of the region's jaw-dropping hilltop towns.
San Gimignano fits the bill perfectly. Also encircled by medieval walls, the town is historically important (UNESCO-listed) and famed for its wine production.
We thoroughly recommend trying this authentic local produce, produced from grapes grown in the surrounding hills.
5. Siena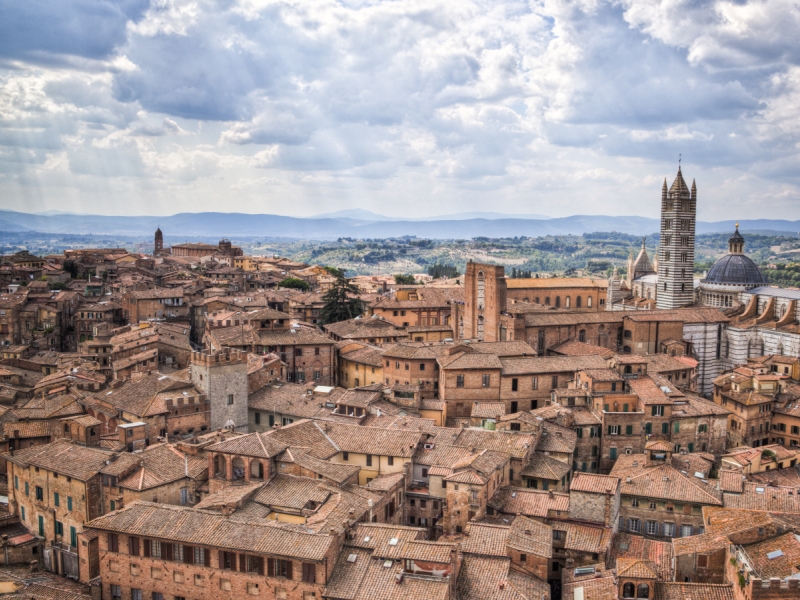 One of Italy's greatest medieval cities, visitors to Siena are often struck by the city's jaw-dropping gothic architecture.
A prime example and a major Italian landmark, the Tower of Mangia rises close to 90 metres.
Set in Siena's public square, the tower and adjoining Pubblico Palace are must-sees whilst exploring classic Tuscany.
The Square is actually a major attraction in itself.
Medieval in appearance, one of the key events in Tuscany – Palio di Siena – is held twice annually in the Square.
During the event, the square transforms into a horse racing track that wraps around the square where riders and their horses all compete against their rivals.
Discover the best towns & cities of Tuscany
Learn more about this 'Classic Tuscany' holiday here.
Similar Features
---
Follow us on Facebook or on Instagram @DCThomsonTravel. Got a travel suggestion or story you want to share, email us at holidayenquiries@dcttravel.co.uk.