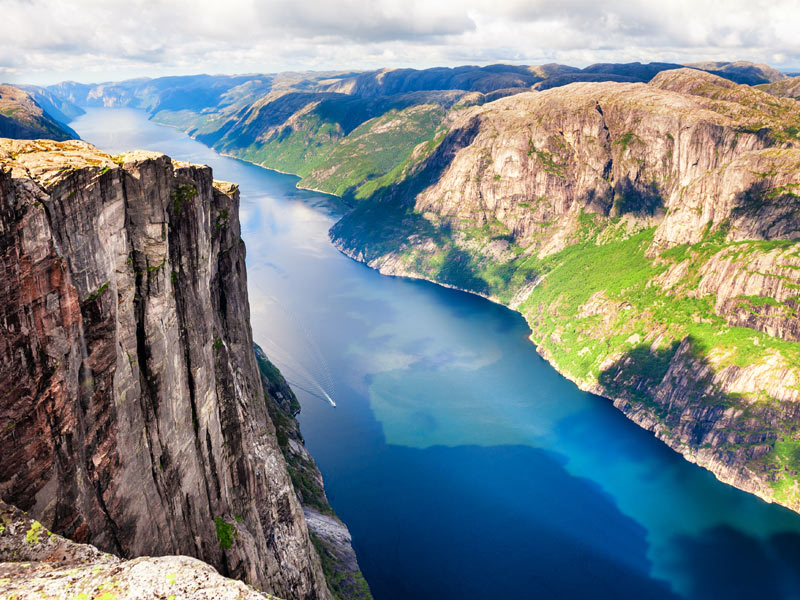 Fancy a cruise?
With a wide range of exciting itineraries and destinations to choose from, these cruises from Rosyth on the Expedition ship – The Balmoral take in the scenic delights of Norway, stunning Scottish islands and so much more.
1. Scenic isles of Scotland 2023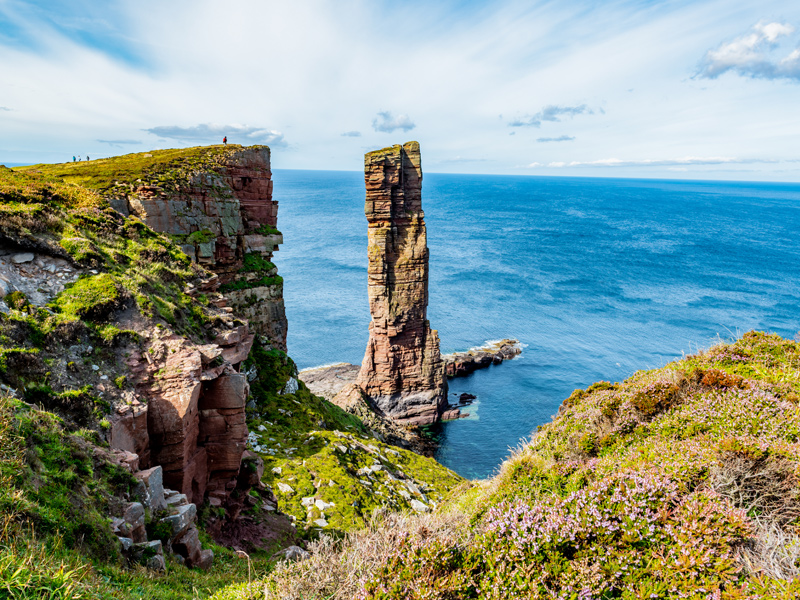 When: 15 June 2023
This 7-night cruise on the Balmoral is a lavish Scottish island-hopping adventure.
Spend time ashore on rugged and remote isles. This itinerary is designed by experts to cover the best habitats to visit.
This cruise goes out of its way to explore distinctly diverse islands. Encounter the most precipitous cliff edges and unspoiled terrain. For nature lovers, it is the ultimate choice.
Wildlife lives freely along these islands. Seabirds, dolphins and whales can be spotted along this coastal cruise.
What You'll Love:
The odyssey begins in Orkney – this ex-Scandinavian kingdom holds a rich history of Viking heritage
Orkney is also UNESCO World Heritage Centre classified as being a haven for the best Neolithic sites in Europe
The enchanting Isle of Skye. A beautiful fairy-like isle with a mystical belonging to it. Often shrouded in a thick cloud or sea fog
Loch Hourn – a beautiful loch nestled between a ridge of mountains. The Balmoral sails through its passage you will get a sense it's a setting fit for Hogwarts castle
Isle of Lewis – the largest island of the Outer Hebrides. Home to turquoise waters and white windswept sandy beaches
Iona – The Holy Isle, often regarded as the birthplace of Christianity in Scotland. Find a peaceful moment within its isolated abbey
Staffa – a petite island and home to an extraordinary narrow sea cave. Fingal's Cave characteristics are because of its exceptionally symmetrical columns and natural acoustics
2. Summertime Norwegian Fjords in Five Nights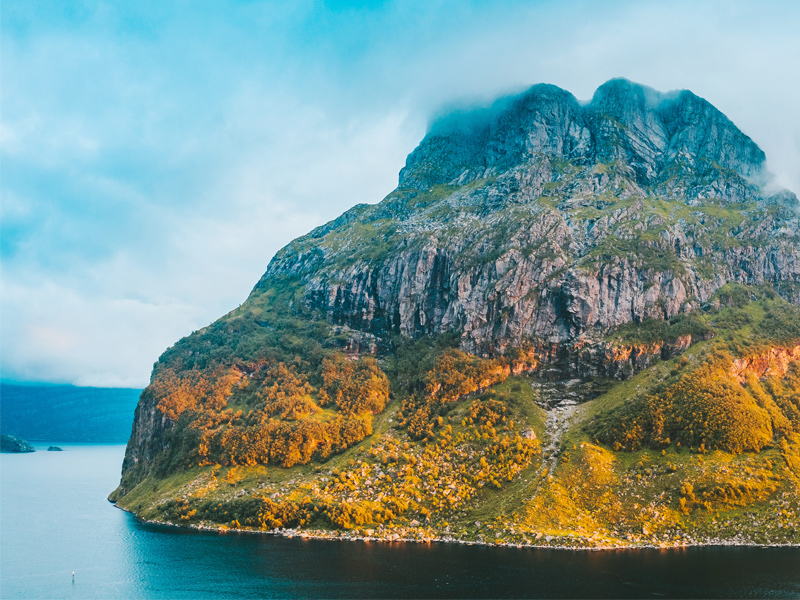 When: 3 August 2023
A trip to Norway would not be complete without an exploration of its magical fjords. This 5-night cruise experience is centred around Norway's natural beauty.
Fjords are formed by the submergence of a glaciated valley. It creates narrow picturesque sea passages cradled in between dramatic cliffs. Paired with the sprouting green foliage in the summertime.
This Norwegian trip is definitely about the journey and not the destination. On this voyage, your cruise ship the Balmoral will glide past stunning scenery. Its perfect size is ideal for those who just wish to adore the fjord's beautiful passages and scenic waterfalls.
This floating hotel is designed to bring comfort. Hosting stylish cabins with smart accessories and leisure facilities including swimming pools, jacuzzis and a gym.
What You'll Love:
Set sail from Rosyth to Lysefjord – here you can spot mountain goats and be memorised by its calm reflective waters
Surrounded in-between the mountains lies the colourful city of Bergen. Get a taste of local life here in Norway's second-largest city. With the opportunity to visit its world-renowned museum collections
Olden – a sweet petite village located at the mouth of the Oldeelva River. Take a wander to its wooden church. Enjoy the tranquillity of its cascading waterfalls and scenic views
Briksdal Glacier – a spectacular glacier that is a neighbour of Olden village. Stop a moment and listen to the icescape eerie creaking
The mountain of Hornelen and its sunset – it's claimed to be the highest sea cliff in Europe. Its location provides a striking canvas for the rays
The Balmoral's scenic route will give you a feeling of "just living in the moment". Throughout, its scenic passage will inspire you to get up for the rising dawn or long for the burning sunset
3. Highlights & Hidden Gems of the Norwegian Fjords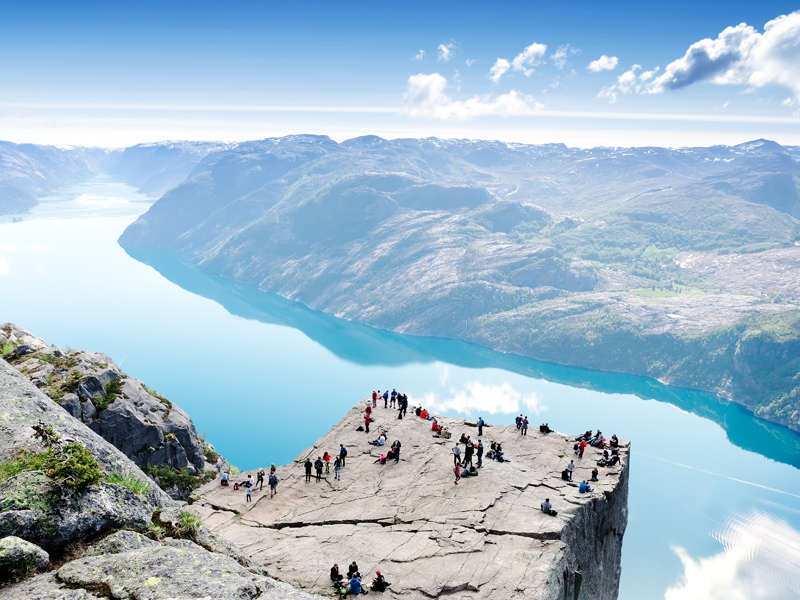 When: 8 August 2023
Is Norway sounding pretty good? Go greater and further with this departure and visit different fjords along the way.
The Balmoral cruise team believe first impressions matter. They make effort to seize the first night with a formal welcome led by the captain at his drinks party and gala buffet.
Feel at ease with your new temporary crewmates. Stay recluse or let friendships naturally form during this journey through Norway's Fjordlands and remarkable waterways.
What You'll Love:
After your first night, you begin your journey to Lysefjord then the following day to Bergen. Other day trips lead to Olden and the Briksdal glacier
Eidfjord – a municipality in Vestland country. Its unique landscape is movie scenery worthy. Lush in nature with the largest high mountain plateau in Europe
Go fjord kayaking at the magnificent Hardangerfjord glassy waters
From your ship's decks, see Lysefjord's canyon of steep, rugged mountains and the verdant, forested mountains and valleys of Mmaurangerfjord
Chasing waterfalls, the itinerary takes you to many including the amazing cascading Fureberg.
Another is the powerful mountain running waterfall of Langloss, which is often acclaimed to look like a blowing bridal veil
Ride the Rauma railway – feel more grounded on this mode of transport and pass through tunnels, over bridges and scenery on this beautiful train journey
4. Discovering Scandinavia's Viking Heritage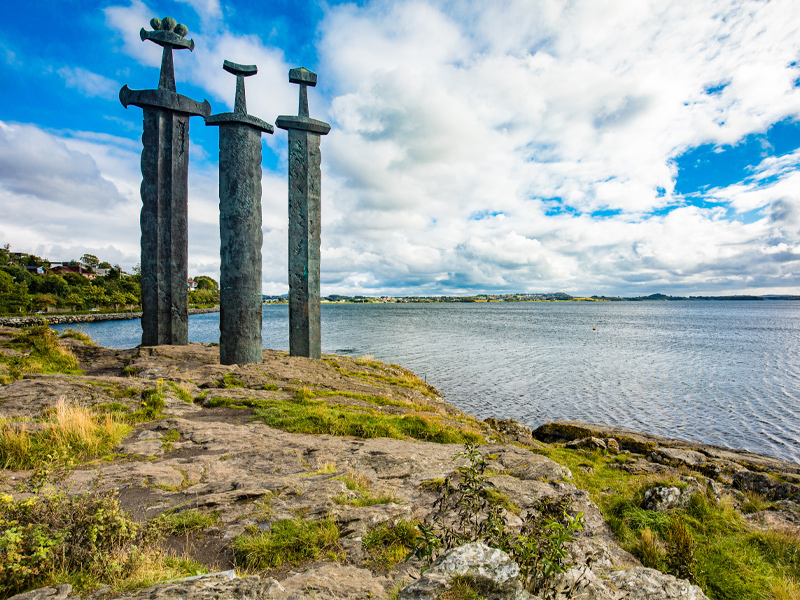 When: 16 August 2023
This 9-night trip sailing from Rosyth is a combination of using scenic passage routes to take an expedition in Viking Heritage.
Find out what it may have felt like to sail as Viking in pastimes. See from their perspective, the views of their home and their focus on sea travel. Find out about their way of life in historical settlements in Norway, Denmark & the UK.
Venture to where the Vikings lived. Some locations are left uninhabited, whilst others are now full of life. Comprehend what Valhalla truly meant to a Viking, when seeing the Viking burial grounds and original Viking ships.
What You'll Love:
It is a northern cruise with a little bit of everything…
Leave Rosyth to Aalbord – Denmark. A gem of a city, enjoy its futuristic design and colourful old town. A place that's anything but dull. Live a day in the Danes' life and eat street food in an old furniture factory
Hundested – A small city in Denmark. Its harbour promotes hubs for arts and crafts. It is known for its speciality in glasswork. Its sand dunes also lead to the frequent creation of sand sculptures
The family home of Fred Olsen in Hvitsten – a quaint town
Oslo – Norway's capital
Fedajrod and Listfjord – a beautiful sea passage
Hidrasund & Strandsfkjord – Scenic island towns outside Norway
Stavanger – the fourth largest city in Norway filled with impressive museums and breathtaking surroundings. Its old town holds a cosy atmosphere and quirky museums
Shetland, Lerwick – Scotland's Viking Island. With roots in Norwegian heritage, this island is bursting with treasures
5. German Cities with Kiel Week Regatta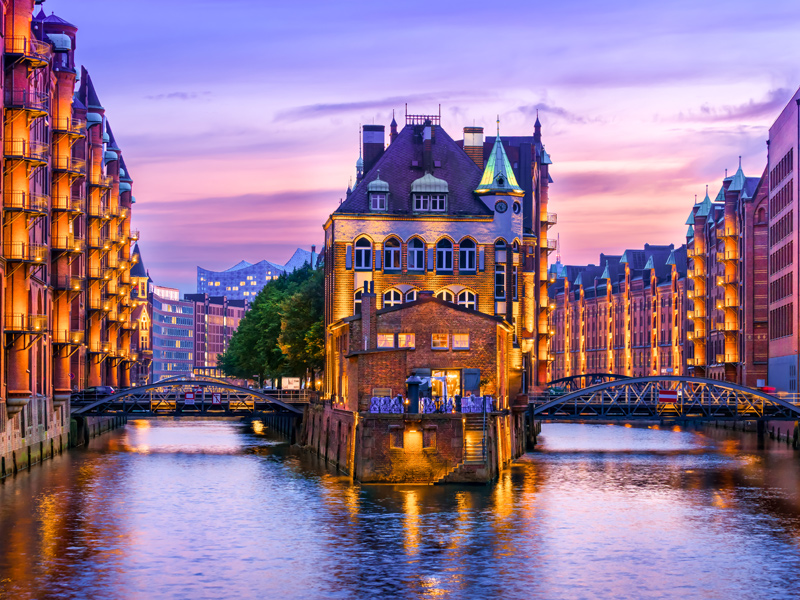 When: 22 June 2023
Have you heard of Kiel? It is Germany's northernmost town.
This unique German city hosts the largest sailing event in Europe. Known as Kiel Week or otherwise known as Kiel Regatta.
The Kiel Canal is one of the busiest artificial waterways in the world! This departure is timed to sync in for this unmissable event. The extended call at Kiel is the centrepiece of this itinerary.
Don't miss the biggest volksfest (peoples festival) in Germany. Kiel week brings in about 2000 modern ships and yachts, a display of 100 historical international ships along with about 3 million visitors throughout the week it can be seen as one of the largest summer festivals in Europe.
You arrive on the final day of Kiel Week. Enjoy the closing party and festive buzz of the city. Be excited by the live music and countless food stands.
Experience the authentic German festivities and retreat as you please on your own impressive ship, "The Balmoral".
Indulge in the day and as night draws watch the evening fireworks that bring the event to a close.
What You'll Love:
Your safe haven Balmoral ventures on through German territory
This cruise allows you to delve into rich maritime history effortlessly. It includes stops in fascinating naval bases, WWII U-Boat bunkers and opportunities to visit decommissioned British submarines
What's more, thanks to Balmoral's smaller size, you'll also experience memorable scenic cruising along the impressive Kiel Canal
The Balmoral eventually takes you inland to Hamburg. Here are opportunities to visit its famous attractions and visit the UNESCO-listed market square in Bremen
6. Experience Spanish & Portuguese Traditions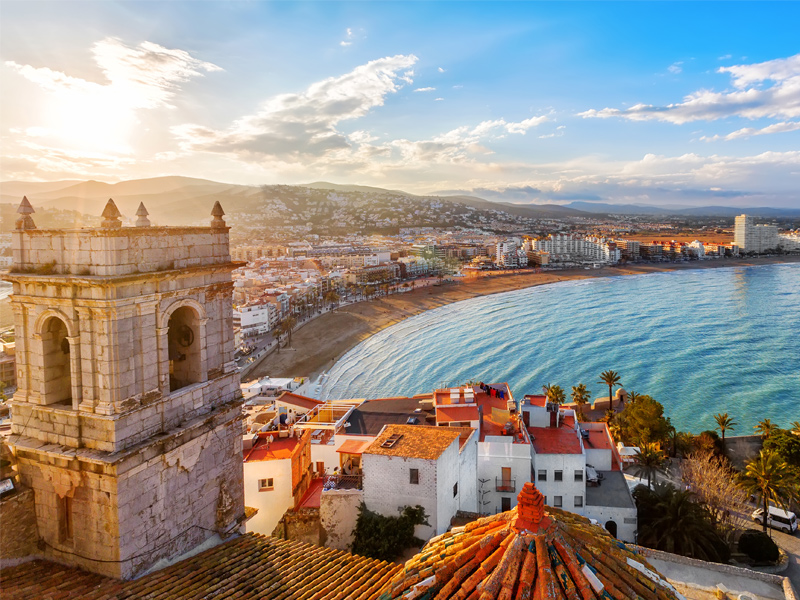 When: 2 July 2023
One of our longer expeditions setting sail from Rosyth. This sun-seeking cruise sets sail for locations renowned culturally and full of historical gems.
This itinerary has a special focus on cuisine, each destination rich in history, serving up fantastic local delicacies. Indulge and be literally fed with the knowledge of history throughout this trip!
Because nothing beats authentic food.
From Rosyth to Portugal, this cruise itinerary is a sweet deal. Landing in Lisbon, Portugal's capital. We encourage you not to only eat the local's favourite treat – the Pasteis de Nata but also to create some with a local pastry chef as well. A priceless skill that you can bring back with you.
In Lisbon, be fascinated by its vibrancy. It has almost the same population size as Edinburgh. Both cities hold odd similarities with their friendliness and old narrow hilly cobbled alleyways.
However, Lisbon city has eye-catching details all over, especially with its decoratively colourful tiled exterior. Along with its sun-bleached monuments that will definitely unlink the two.
With this tour, every day will feel like an adventure. Be excited every time you step off the Balmoral onto new Spanish or Portuguese terrain. Enjoy your days venturing to famous fortresses, castles and museums.
In Spain get stepping and meet a local Bailaora (dancer) in Andalusia. This part of Spain is where flamenco dancing originates. Spend your nights learning history with your feet and fall in love with Spanish traditional dance.
End your Sangria evenings with a few dishes of late-night tapas.
What You'll Love:
Leixoes, Matosinhos – one of Portugal's major seaports. The residents adore its beach. This location is famous for its sardine industry. Take a bite and try them fried
Malaga, Andalusia – Visit a family-owned olive yard and learn the history of Olive oil production. Enjoy samples and the allotment where the beautiful trees thrive
Further time in Malaga could also be spent with time to see the works of Picasso. Picasso was a Malaga native, see if you can notice his heritage within his pieces of work
Cartagena – A port city with marble streets. Filled with the ancient history of Roman times
Valencia – The birthplace of paella, take the opportunity to treat your palate and try some in its charming old town. Roam around and see its gothic cathedrals
Those interested in a modern building can visit Calatrava's art and science complex. One of Spain's twelve treasures. A tourist attraction that should be put on the bucket list
Mahon, Menorca – This island town is known for its British style Georgian houses and renaissance essence. Enjoy the delicious restaurants that surround the harbour
Cadiz, Andalusia – here you can discover Torre Tavira, a pastime watchtower built during the city's golden age. Enjoy the beautiful 360 views of the city from its peak
Another site to visit for some serenity includes the Cathedral de Cadiz. Its Baroque style includes a dome of golden tiles that captures the eye. Spot the Guardian Angel and enjoy a moment of silence within its walls
Cruising the mouth of River Tagus – a joint river that ventures through Portugal and Spain. Its characteristics landscapes surrounding are green and open. Various plant species are in abundance here including cork oaks, figs, olive trees and vineyards
Other views that may be encountered include the range of mountains with densely green forests that lay in valleys
Vigo – a Galician city on the northwest coast of span. The old quarter of the city is home to the neoclassical church of Santa Maria
7. Rugged & Remote Spitsbergen with the Midnight Sun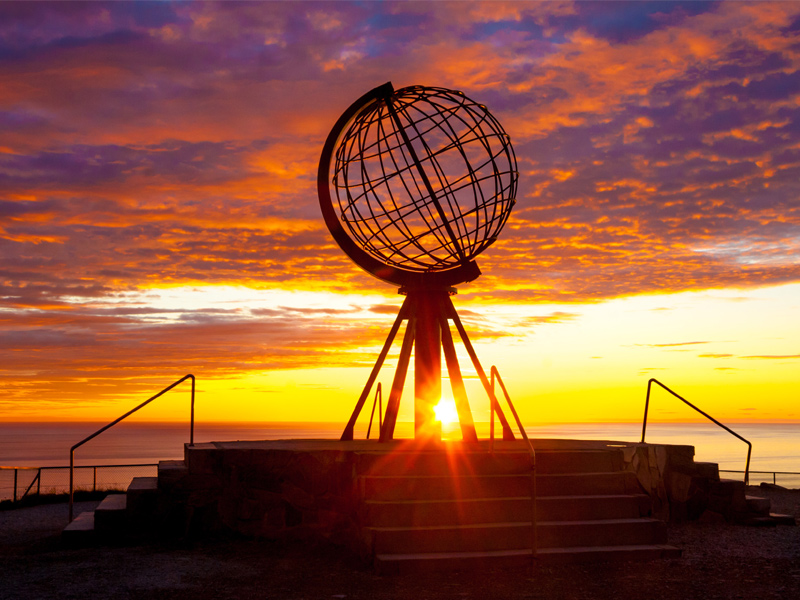 When: 19 July 2023
Heading to the world's most northern homes at the top of Europe in a direction towards Spitsbergen. Only 700 nautical miles from the North Pole. This is a truly out of reach destination.
Spitsbergen, Norway's northernmost capital holds a captivating beauty. Its name originates with mean that translates from Dutch to "pointed mountains".
Its landscape is very alpine and unique due to geology and climate. Its rivers and coldness may not be suited for many cruises but thanks to Balmoral's expeditionary size, it navigates this eerie northern landscape with ease.
The Balmoral sets you in for a magical scenic cruise.
What You'll Love:
Further stops include time in Longyearbyen, the northernmost town in the world
Ventures to Pyramiden, the abandoned society coal mining settlement. Frozen in time, feel a different time in the world. A place where industrial communities use to thrive
Find out how locals navigate living in this remote landscape. Encounter some of the local transport by meeting huskies and their handlers
Breaking off from society again, the Balmoral disconnects you back to nature and takes you to the otherworldly mountain in Spitsbergen. Be speechless as you discover tempelfjorden mountain. Uncanny with its distinctive ranges
Another fascinating destination on the Norwegian mainland is Honningsvag – its picturesque fishing village is cradled by rugged landscape and hills
Tromso – another town with an iconic Arctic Cathedral. Here, seize the opportunity to take in views from Mount Storsteinen
Enjoy a rare visit to the beautiful Vesterålen archipelago, to discover miles of rugged coastline, unspoilt countryside and the 'Blue Town' of Sortland – almost entirely painted in various blue hues thanks to artist Bjorn Elvenes
Scenic cruising by the mighty Black Glacier will provide a glimpse of Mother Nature's work at its finest, while you'll also be within the Arctic Circle during the Midnight Sun phenomenon when the sun does not set at night
Elsewhere in Norway, visit Åndalsnes for a chance to ride the magnificent Rauma Railway into fjordland mountains
Witness the beauty of natural wonders including the Torghatten and Seven Sisters mountains, Trollfjord and Devil's Jaw
Plan Ahead
Browse our full selection of cruises sailing from Rosyth here. Click here to start exploring.
Similar Features