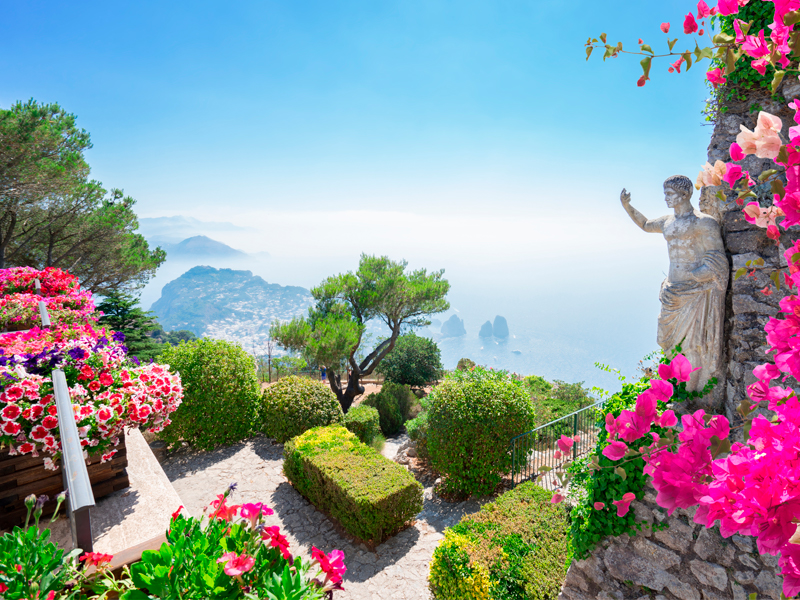 Have you heard of these wonderful botanical gardens before?
Although predominantly buildings often take the spotlight for being a highlight when touring, join us for the greener side of life.
Gardens are important because they represent the natural environment.
Providing a comprehensive idea of a country's climate and hostility towards life. Be impressed by these locations' serenity and uniqueness, they may become your favourite and most memorable part of your next trip away.
1. Monet's Garden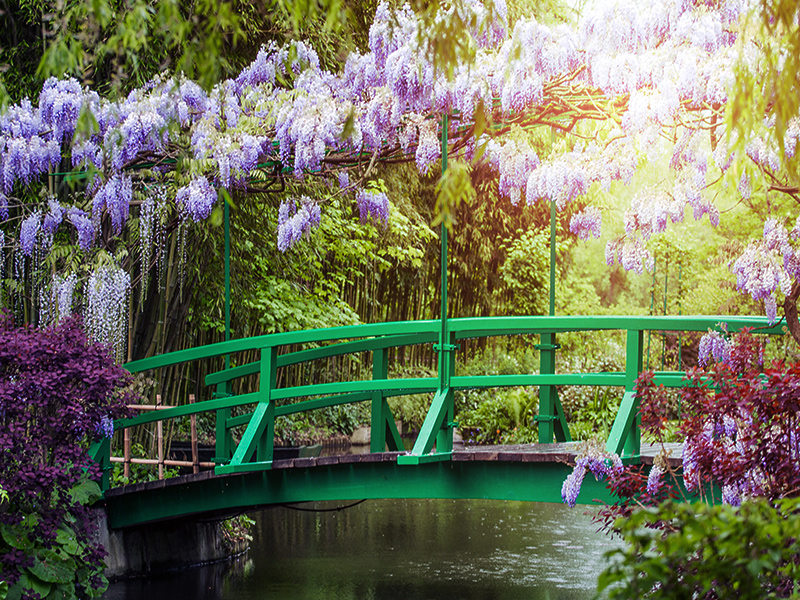 Where: Northern France, Giverny
History:
Claude Monet was one of the most famous impressionist painters. His lesser-known talent was that he was the fondest of gardeners.
He was born and educated in Paris but seeking more serenity away from the city, he and his family settled in Giverny in 1883.
Here Monet created his beloved garden that would go to inspire some of his most renowned pieces of work.
About the Garden: Monet's former Giverny home hosts two gardens, the first Garden "The Clos Normand" is one acre of land that sits nearest to the house.
Here you will find his flowerbeds with dozens of blossoming flower species that form a beautiful walkway to the entrance of the home. Along this walkway are metal arches with climbing rose bushes.
Monet's second garden is very contrasting to his first, containing flourishing flowerbeds.
The artist was a great admirer of Japanese culture and created a garden referencing this.
His love and time spent in his Japanese Garden are reflected in his works and was the making of his masterpiece "The Waterlily Garden".
To create the garden, Monet rerouted a small creek to fill a pond, built his own Japanese inspired style bridge and brought in a variety of water lilies species to reside in the water.
Along the side of the pond, Monet planted willow trees, poplar, azaleas and bamboo.
Why we think this is amazing:
Monet although firstly known for being a painter, his dedication to being a gardener and appreciating the seeds he sowed would be appreciated for decades to come.
It's a lovely living piece of art! His legacy did not cease only with his painted art but also with his garden.
Visit here with our "The Seine, Paris & Normandy River Cruise" tour
2. A Garden of 7 Million Tulips.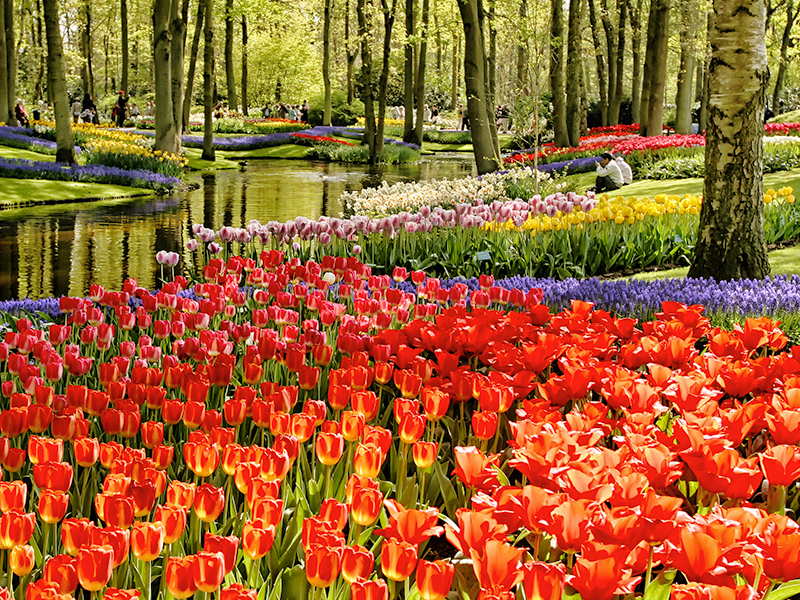 Where: Keukenhof, South Holland
History:
Keukenhof gardens is one of the world's largest flower gardens. Each year a different theme is held along with annual competitions, art shows and exhibits. It is also home to the world's largest lily show, this is displayed during its last 10 days of the opening season.
About the Gardens:
The Tulip is the national flower of the Netherlands, and a visit to Keukenhof gardens is the ultimate way to experience their beauty. Known as the "Garden of Europe" its location is southwest of Amsterdam.
The Keukenhof gardens cover an area of 72 acres and are home to approximately 7 million bulbs and 800 tulip varieties. Open for a short period during the bloom season, be sure to keep these dates written in your calendar for your next spring getaway.
Why we think it's amazing:
Amongst the millions of flowers, awards are given to the prettiest flowers. Due to the abundance, it is a huge achievement for talented cultivators.
You are can purchase the bulbs of the flowers you admire the most.
As all flowers are marked with the name and grower, all you need to do is simply write it down and find the gardener's tent. The Netherlands are the world's largest exporter of flowers and this flower premiere is a showcase of years of hard work, cultural appreciation and nurture.
The gardens are only open from 24th March – 15th May. We recommend visiting in Mid-April when the tulips reach their prime. If you wish to visit you will need to wait until next year, however, another plant orientated event that happens once every 10 years is still open!
Spend an unforgettable day at the Floriade Horticultural Expo 2022. Held every ten years at a different venue in The Netherlands this year it's held in Almere near Amsterdam. The Floriade is one of the premier events in the horticultural world. Indulge in impressive attractions, heaps of art and culture and a unique collection of trees, shrubs and flowers.
View here for our "Amsterdam and the Floriade 2022 Horticultural Expo" tour
3. The Rothschild Villa and its 9 Dream Gardens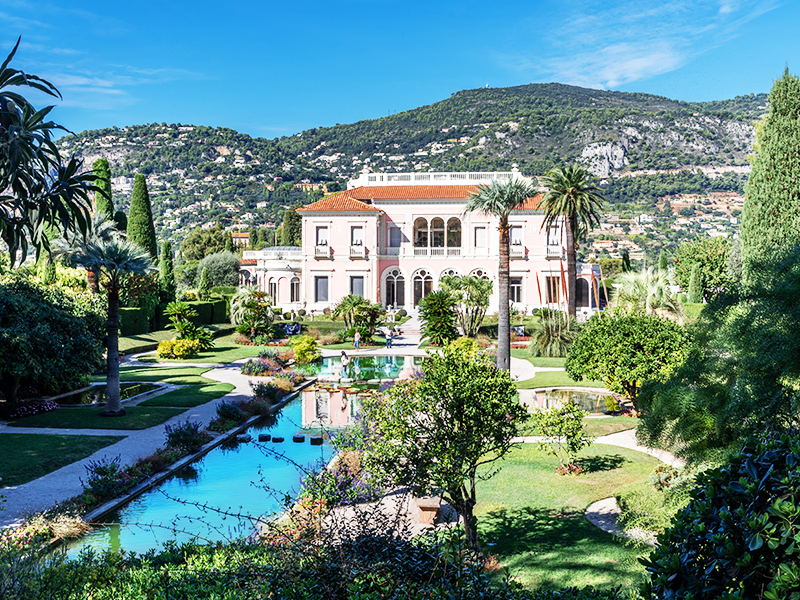 Where: Cap Ferrat, South of France
History:
The Rothschild family were a Pan-European Jewish family. Their economic influence grew in Europe between the 18th – 20th centuries.
Involved mainly in banking their family business developed into a powerful multinational enterprise.
This villa was constructed between 1905-1912 and was regarded as one of the best-listed buildings in the French Riveria and its gardens (nine of them to be exact) lives up to the top billing.
The French villa created for Baroness Beatrice de Rothschild can be described as lavish and exquisite.
About the Gardens:
This fabulous wonder sits near and overlooks the Mediterranean sea in the Provence-Alpes-Côte d'Azur region of South France.  Its stunning cliff-top position provides dreamy views as you walk through.
There is nothing dull about this spot as it has it all! Abundance and richness are its specialties. Among the grounds are beautiful statues and birdbaths.
Each garden holds a unique style.
 A formal French-style garden (Hosts a musical fountain which springs into action every 10 minutes)
 A Japanese garden (Known as "Cho-Seki-Tei", meaning "garden where one can calmly listen to the pleasant sound of the waves at twilight". Hosting ferns, a pond, azaleas and Japanese ornaments)
 An exotic garden (Formerly called the Mexican garden home to large cacti & succulents)
 A rose garden (Best in bloom during May – June and has the two excellent coastal viewpoints)
 A stone garden (Raked to perfection)
 A florentine garden (Italian influences linger throughout with a large neoclassical horseshoe staircase which nests a marble angel statue in between)
 A sevres garden (A yellow open-air room styled similar to an atrium, with a turquoise pool of water and climbing plants throughout)
 A provencal garden (Hosts a variety of olive trees and pines)
 A Spanish garden (A cool cave filled with aquatic plants and pomegranate trees, whilst Honeysuckles fill the air)
Visit here on our "Cannes & the Côte d'Azur" tour
4. The Gardens of Capri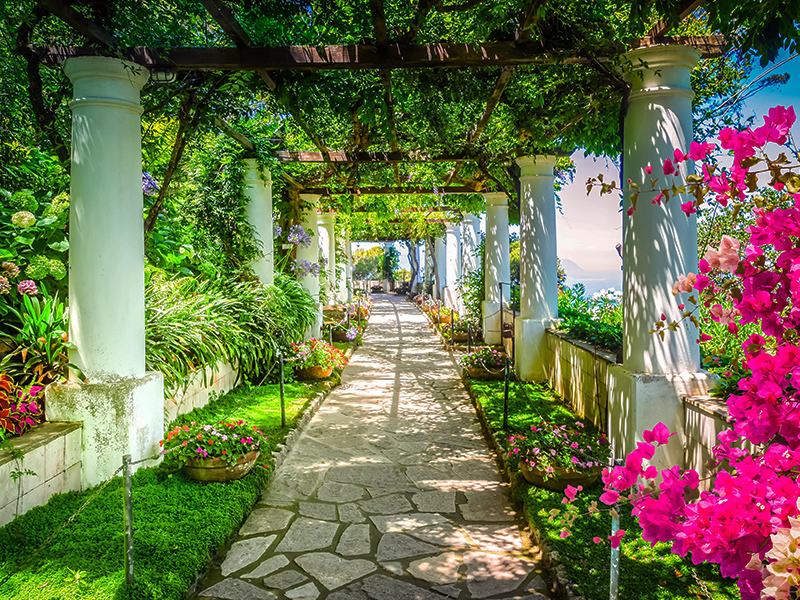 Where: Capri Island in Italy on the Almafi coast, Villa San Michele & The Garden of Augustus
History:
The history of Villa San Michele built in the 19th century was a glorious rebuild constructed on top of an ancient imperial Roman villa and Medieval chapel (dedicated to Saint Michel).
Operating as a museum and art gallery, it has an outdoor coastal view passageway with brilliant colonnades that are engulfed with foliage.
The Gardens of Augustus was laid out by German Industrialist Friedrich Alfred Krupp during the early 20th century.
This botanical garden is a tribute to Capri's native flora.
About the Garden:
The mixture of climbing plants weaved through the art, history and architecture here makes it a rich and extraordinary experience… a famous author and visionary owner was called Dr Axel Munthe.
He created these luscious grounds to be elegant and harmonious. He also carried a strong passion for music where bands would often be found playing here.
To relive this experience, a great time to visit is during the festival season of Concerti al Tramonto, held every summer on Capri Island.
The Gardens of Augustus also known as Krupp Gardens, are botanical and terrace designed gardens sitting on the verge of the Capri overlooking the sea.
Its location provides a 180-degree panoramic view of the island. It's comfortably located between hotels and restaurants.
Sometimes referred to as the Eden Garden. This outdoor paradise is splurging with striving plants, aged vines, vibrant flowers and shrewd trees. Nestled into the verge of the cliff is a zigzag path that snakes to the water edge below.
Visit here on our "Pompeii, Capri & the Bay of Naples" tour
5. A Bonnie Garden on an Italian shore

Where: Villa Taranto Botanical Gardens, Lake Maggiore
History:
Scottish captain Neil McEacharn, bought the villa in 1931 with the vision of building his dream gardens on his beloved shore in Lake Maggiore. He named the location after his family ancestor "Duke of Taranto".
With no heirs to pass his precious home to it was gifted to the Italian state after his death for the public to enjoy.
When McEacharn passed he was buried in a mausoleum in the heart of his beloved garden.
About the Garden: 
On the west shore of Lake Maggiore lays McEacharn treasured land of 16 hectares, it contains over 20,000 plant varieties, 3000 species and 7km of the path.
Signature pieces include vibrant azaleas, blossoming Cornus bushes and its greenhouse including a pond with floating Victoria Amazonicas that could pass as stepping-stones.
Why we think it's amazing:
Located in one of Europe's most romantic regions with an extensive collection of flowers, almost all year there will be a flower with a full boom, which you can be in awe of appreciation. The symmetrical beauty and clean designs of the garden create a marvellous essence.
Visit here on our "Lake Maggiore" tour
Browse all Garden Tours