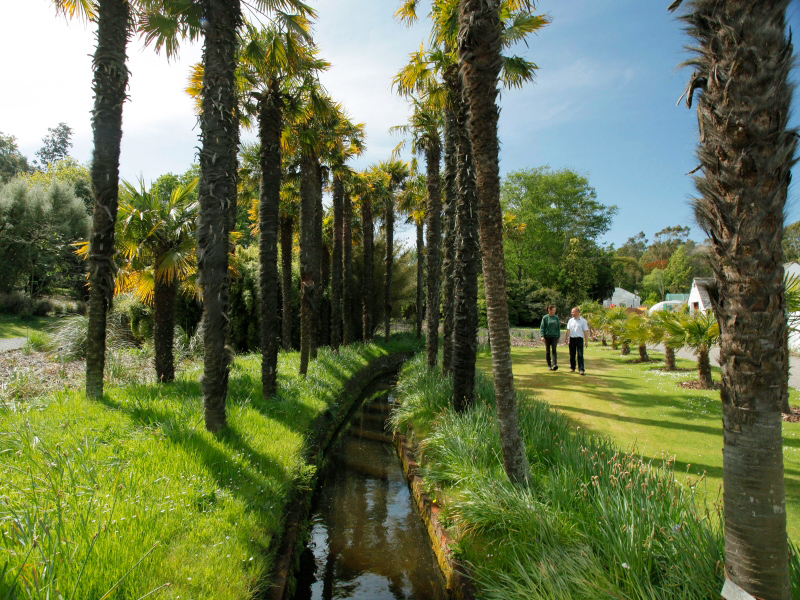 Have you heard of these bonnie gardens before? Discover some of Scotland's best gardens.
Scotland is magical in many senses from its spectacular scenery to bizarre weather. Both these factors combined with the heavy rainfall allow for wonderful gardens to flourish here.
Be impressed by these locations' serenity and uniqueness, they may become your favourite and most memorable part of your next trip away.
1. The Gardens of a Scottish Chateau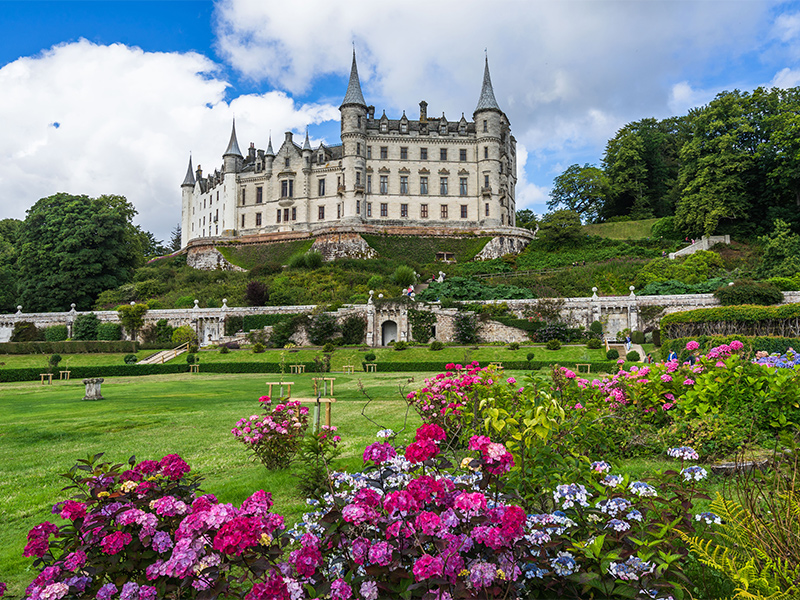 Where: Dunrobin Castle, North of Scotland
Built-in 1845 with an inspirational blueprint from the Palace of Versailles, Dunrobin Castle is situated in the North of Scotland. It is one of the most grandiose sites in Northern Scotland.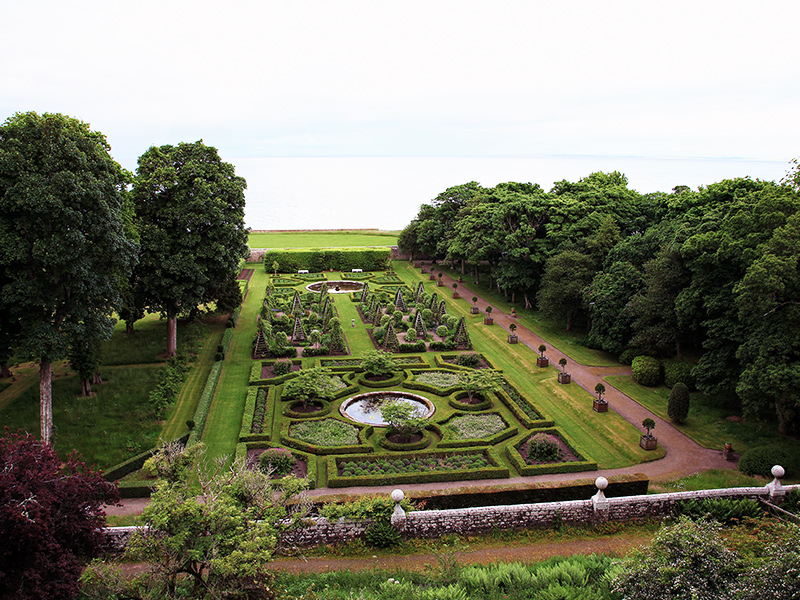 A moat of trees surrounds the castle grounds and upon entry, you'll unveil the magnificent bright fairytail castle and its turrets set with a woodland forest backdrop that looks out to the sea. This excellent scene of the secluded fortress will feel fablelike.
Embrace how it must have felt to reside there all those years ago.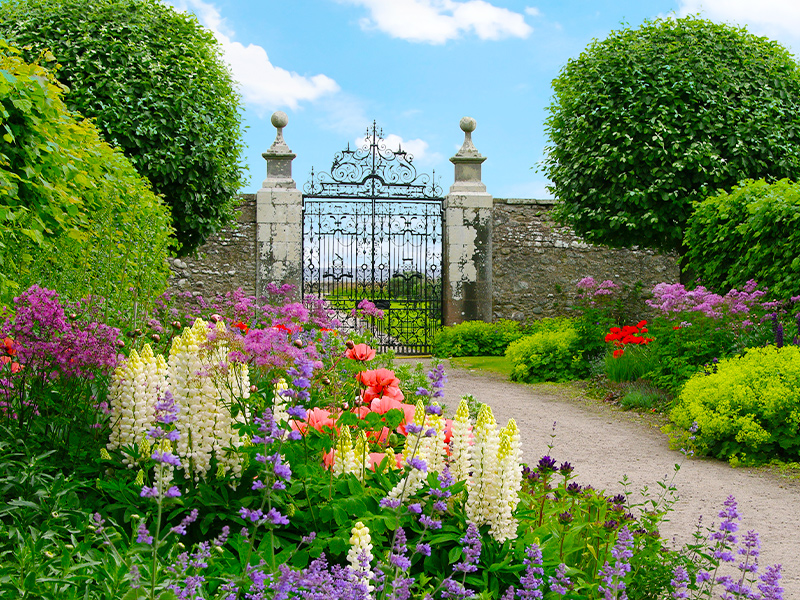 Architect Sir Charles Barry established the gardens of the palace a few years later along with a Victorian extension to the castle.
He cultivated the garden in a sheltered surrounding on low ground in order to protect and support the growth of its residential plants and shrubs from the harsh external forces. Its protective dynamic and geographical location allows a surprising range of plants to flourish here.
As you make your way down the steps from the castle you will access its gem of a garden. You'll discover interesting features such as fountains, flowerbeds, decorative walls and sculptures.
Its northerly location allows the gulf stream of warm seawater that flows through the Atlantic to bring sub-tropical conditions here. This creates a unique and surprising environment for plant growth.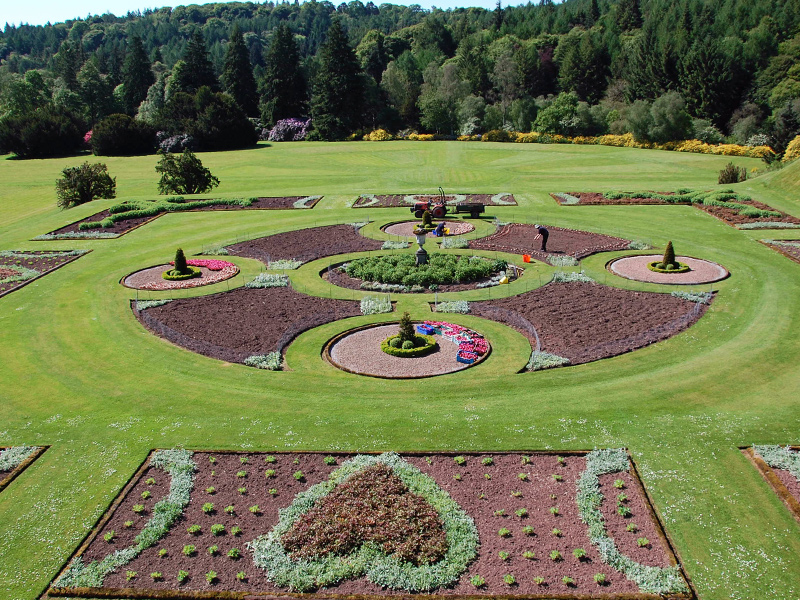 One of the unusual plants thriving here is the Gunnera Maniata, a South American rhubarb species with eight-foot-long leaves.
Other blossoming plants are Fuchsias, they flourish so successfully that the head gardener even raised his own variety named "Dunrobin Bedder". Although small changes have occurred over the last 150 years with new plants being introduced, the original design by the Architect Sir Charles Barry has not.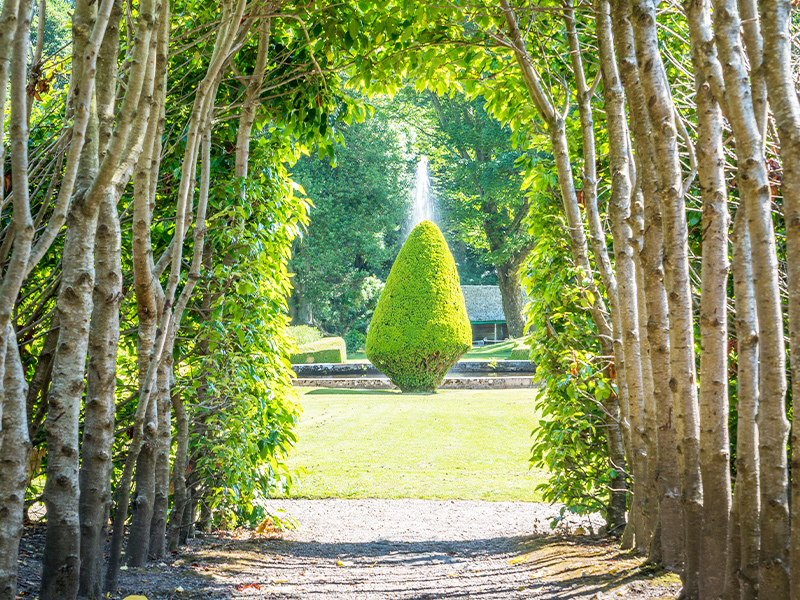 Today a dedicated team maintain the garden and uses generations-old gardening skills to develop and maintain the garden.
Upholding traditions in recent years the old tree culture method "Pleaching" has been introduced (training trees to weave into each other to create walls, arches or tunnels).
Another different traditional art that was recently reintroduced to the castle is Falconry. The ancient art of hunting with the help of birds of prey – a practice that takes years of dedication and training to master. When making your visit make sure to check the schedule to see when they showcase their variety of different bird species in action on the castle lawn.
Visit with our tour "Gardens of the Far North"
2. Logan Botantic Garden

Where: The southwestern tip of Scotland, near Stranraer
This five-star garden hosts a variety of plant treasures rarely seen in Scotland! Located on the south-western side of Scotland, very close to the coast. Once again, the warmth carried by the Gulf Stream enables plants from all continents to thrive.
The Garden began in 1869 when a Laird, James McDouall married Agnes Buchan-Hepburn. As she moved to live with him she brought lilies, roses and other foilage with her. It was a harmonious match. The garden continued to thrive with the help of McDouall brothers who were also found gardeners and travelled afar to find new species to introduce into their family garden.
A century later it was gifted to the public to enjoy. In 2019 it celebrated its 50th anniversary.
This remote destination constitutes a specialised part of the Royal Botanic Garden Edinburgh's Living Collection, also supporting important scientific research, education and conservation.
Its Garden features include:
A collection of Palm Trees and Tree Ferns. Both are generally very slow-growing plants. These recognisable exotic plants with their unusual leaves would not be expected to grow so successful in a normal Scottish Climate but due to the niche wonderful location.  They thrive at Logan Botanical Garden and are an excellent spectacle for visitors to enjoy.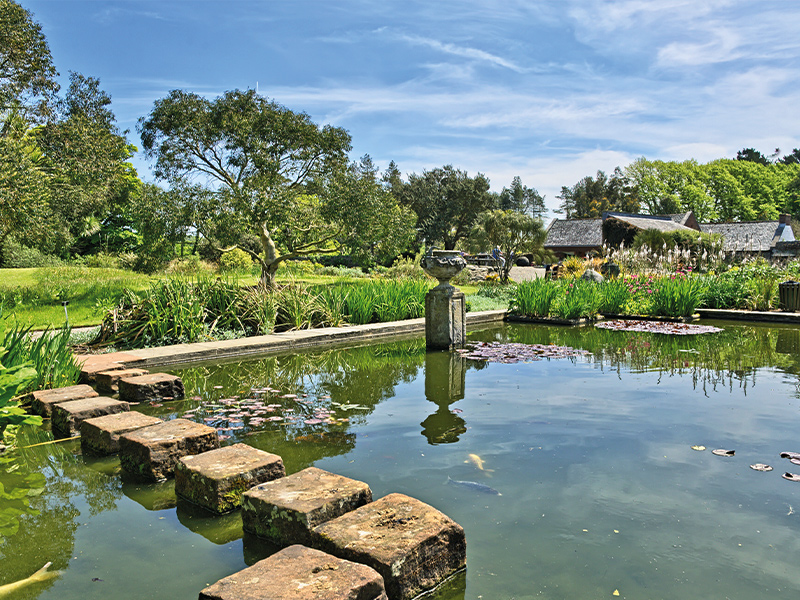 Other bizarre residing plants to be found are its Eucalyptus and Giant Gunnera – Native to Australia and Chile.
Visitors may stroll through groves of eucalyptus or even retrieve shade under an awesome giant rhubarb-like gunnera leaf. It's been recognised that Agnes could have been the first to plant an outdoor Eucalupytus tree in Scotland.
Other features include "The Walled Garden" an enclosed space with a large pond. Here you will find a display of exotic plants and a substantial terraced fishpond, adorned with water lilies. The resting flowers and still water create a sense of tranquillity in the air.
Lastly, the Logan Conservatory. This elegant Victorian-style greenhouse shelters a variety of tender South African plants. Following Agnes' legacy, this glasshouse has also become an innovator in the gardening world as it is the first-ever all-green powered Glasshouse in the UK.
For any nature lover and plant enthusiasts, the Logan gardens are marvellous. They will leave you fascinated with its extensive and unusually thriving collection. It's one of the top places in Scotland to see rarer species.
Visit with our tour "Gardens of Dumfries & Galloway"
3. The Orkney Garden Trail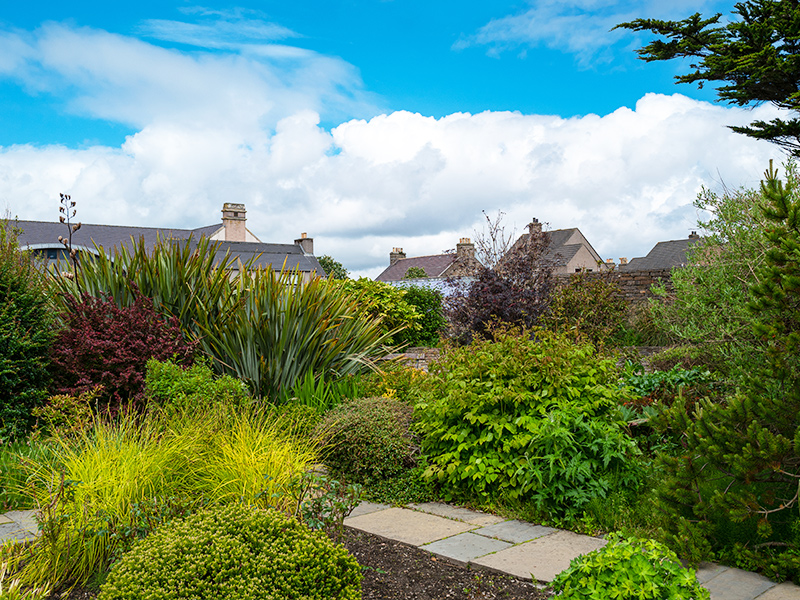 Where: Orkney
This northerly island may not be an expected place to find gardening enthusiasts to be found. Due to the location, the gardens here face harsh weather conditions such as constant battles of wind and rain however, advantageously this excessive rain and the prolonged sunlight in the summer allow for sturdier plants to flourish.
The lengthened daylight in the summer months is referred to as the Simmer Dim. During this period no true darkness falls and bright amber skies illuminate Shetland.
Despite the challenges, a bunch of determined gardeners have created, in some cases over generations, a collection of excellent gardens. Their gardens are amongst the beautiful landscapes of Orkneys coast and hills.
They are proud of their success and this small gardening community participates in a biennial event called the "Orkney Garden Trail" where multiple private and public locations accept visitors during the summer to raise funds for charity.
One of the favourite locations on this trail sits in the heart of Orkney's Neolithic World Heritage site. It's a private garden at Kierfiold, Sandwick. Its a remote home with beautiful views and hosts an elaborate garden full of foliage.
One of the trail's collaborative efforts is the cherished and well cared for community Garden in Finstown. Find haven here and enjoy the sweet surroundings. Placed off the road it's a restful place to enjoy a quiet walk and spot wildlife.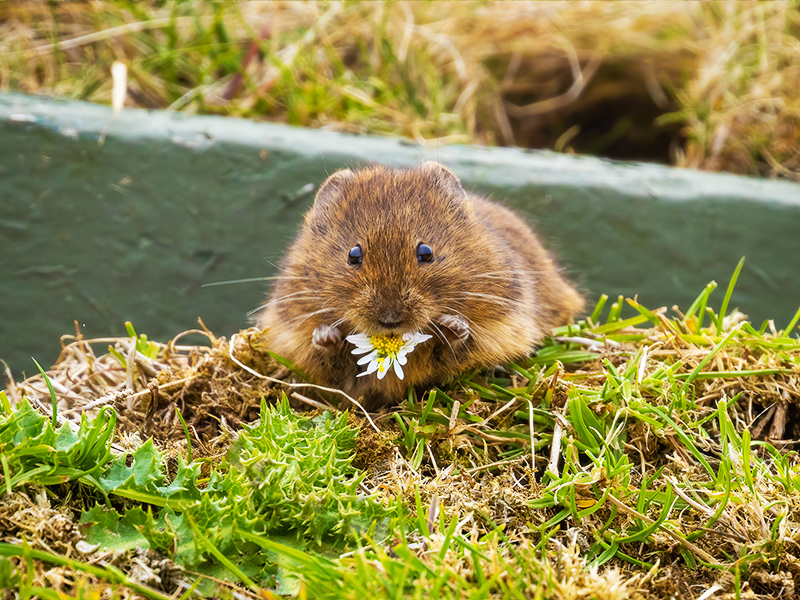 Another wonderful spot is The Quoy of Houton. Perched near the edge of a cliff and only a stone's throw away from the sea. It's a traditional farmhouse that was featured in the tv series Gardeners' World. On the show, it was recognised as one of Britain's best challenging gardens. Its dry stone walling protects the plants and withstands the hits of the coastal winds of up to 100mph. Within the walls are a plentiful amount of geraniums and wildflowers.
A journey through the Orkney garden trail could be viewed not as an exciting adventure but more of an appreciative journey and discovery of the humble pleasures in life. Find tranquillity and embrace what remote island gardening life entails
Visit with our tour "Orkney's Garden Trail" tour
4. Ardkinglas Woodland Garden, Gruffalo Trail & Fairy Trail

Where: Ardkinglas Woodland Garden, the village of Cairndow near Argyll
Located in the small Argyll village of Cairndow. Ardkinglas Woodland Garden, renowned for its collection of conifer trees is a member of the National Tree Collection Scotland.
Open all year round with a backdrop of mountains and aged trees. A walk through the woods is remarkable in every season. From spring to summer enjoy the new leaves or the blooming azalea (best in bloom during May – June).
Huge conifers planted in the nineteenth century provide a high canopy for rhododendrons and other shrubs. It contains five of Britain's tallest or largest conifers, an extensive Sorbus glade and some stunning Rhododendron 'Loderi'.
The gardens are raised on different levels and include a variety of terrains to venture through. Main pathways are moulded to be pram and wheelchair friendly.
Beyond the main path lies a route to a more extensive network of wilder woodland walks that offer longer excursions.
Ardkinglas woodland characteristics resemble many traits tied to the famous children's book  "The Gruffalo".
A dedicated walkthrough of "The Gruffalo & Fairy Trail" should not be skipped when visiting this enchanted woodland garden.  Throughout the path, find little Gruffalo figurines that direct you in the right direction!
All coins tossed into the wishing well along the trail are donated to a different local charity every 3 months.
Visit with our "Spring & Autumn in the West Highlands" tour
5. Garden Party at the 'Pink Palace', Drumlanrig Castle

Where: Drumlanrig Castle
Built from red sandstone which gives it the nickname "Pink Palace" Drumlanrig Castle is another one of Scotland's treasures.
Completed in 1691 by William Douglas, 1st Duke of Queensberry, the castle is one of the first and most important Renaissance buildings in Scotland.
Its Victorian garden consists of 40 acres and is often rented for private events because of its brilliance. Its kept lawn, mixed shrubs and herbaceous borders portray an elegant finish for any special occasion. The gardeners intentionally plant contrasting foliage and climbing plants to provide structure to stimulate aesthetically pleasing sights.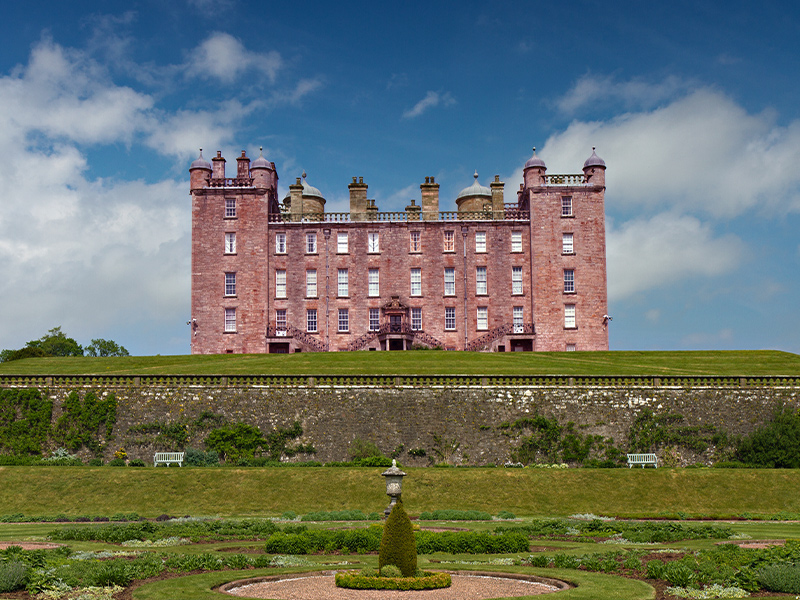 Another wonderful quality of Drumaling castle garden is its 183m long terrace walk along its balustrade walls. The tiny column short wall is drenched in climbing plants. It is perhaps one of the most iconic features of this building. Be left in awe also when you visit the castle's large restored Victorian glasshouse and unique heather houses.
Like many castles and grand estates, it hosts a variety of different gardens with themes involving compatible plant species.  One of the gardens is the Duchess' Garden, home to blossoming flowers such as roses and prim cut shrubs.
The Rock garden is a layered garden including a tranquil walk made of the use of stones. The stones create a variety of different levels for flower and plant beds creating depth and texture. The pathway is formed with the use of stones to protect the ground and guide visitors.
The location is surrounded by woods. Allowing for a special garden which not all castles often have. The Woodland Garden is where decade-old trees reside and in spring, home to snowdrops, bluebells and daffodils. Enjoy the sound of whistling trees, and singing birds along this delightful woodland pathway.
Nearby lies a cabin, Larchwood Cabin with a garden shop. Take a plant and recreate some of the Pink Palace gardens at your own home.
Visit with our tour "A Grand tour of Scottish Gardens"