A Voyage of Discovery River Cruise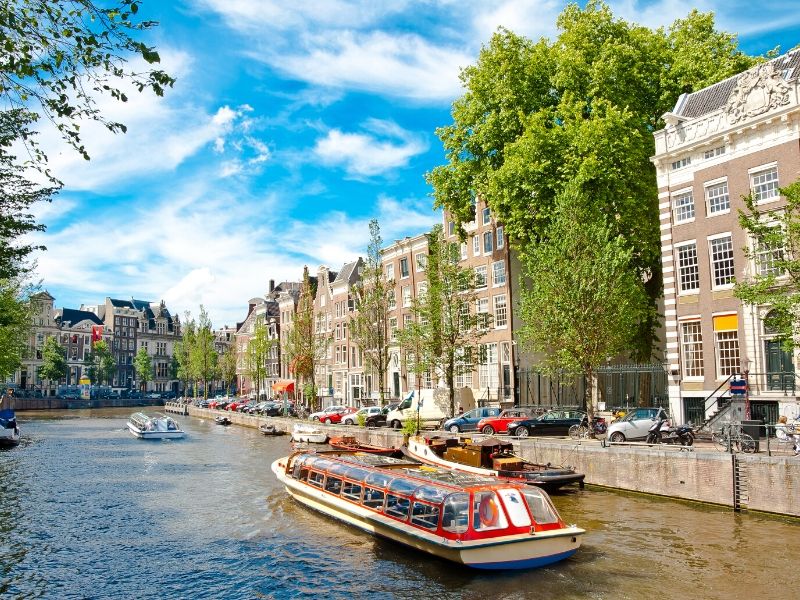 Step aboard Dutch Melody, a ship chartered exclusively for Saga passengers, for this art-themed week-long river cruise. You'll spend time moored in Amsterdam, which puts you within easy reach of the capital's key attractions, plus journey to Haarlem, Rotterdam and Gouda – from where you visit The Hague to see more of the country's Golden Age treasures.
Price Includes
Return flights from Glasgow, Edinburgh & Aberdeen – other UK airports available
20 meals: 7 breakfasts, 6 packed lunches and 7 dinners
A choice of wine, beer and soft drinks at lunch and dinner
Optional travel insurance underwritten by Great Lakes Insurance SE, UK
Return coach travel via Eurotunnel or ferry
Saga Cruise Host
Saga Cruise Assistant on board
Complimentary Wi-Fi on board
Museum Card giving unlimited access to multiple attractions
Three on-board talks from an expert art historian Stella Lyons
Drinks reception and Captain's dinner
Services of a tour manager
Subject to availability. Single supplements apply.
To speak to an adviser regarding more information for this cruise or to book this cruise, please call 0800 1707 233 and quote *DC THOMSON TRAVEL*
A Voyage of Discovery River Cruise Itinerary
Day 1 – UK to Amsterdam
Travel by coach from Folkestone to Amsterdam via Eurotunnel or ferry, and embark Dutch Melody. Enjoy a welcome reception and dinner. During your cruise you'll be treated to three art appreciation talks by an art historian. Your Saga Host will issue you with a Museum Card on your first evening in Amsterdam. It gives access to over 30 attractions in the capital, as well as variety of museums in other towns and city's across the Netherlands. As venues vary from year to year you might like to check out the latest valid attractions at www.museumkaart.nl before you travel.
Regardless of which are participating, we guarantee you access to both the Rijksmuseum and Van Gogh Museum. While entrances are included, you will have to pay extra to use an audio guide or purchase a guidebook, and you won't be entitled to fast-track entry. It does not give entry to any special exhibitions within the museums either.
Day 2 – Amsterdam
Set off for a day of independent exploration. With your Museum Card you might want to head straight for the Rijksmuseum. It displays more than 8,000 works of art – just a tiny portion of its one-million-strong collection – and is renowned for its paintings from the Dutch Golden Age. The Rijksmuseum, designed by Pierre Cuypers (who also designed the similarly styled Central Station) opened in 1885. You'll find the Dutch Masters section on the top floor of the museum. Here you can study master painter Vermeer's famous Little Street which offers a 17th-century view of Delft, and see works by Pieter de Hooch and Jacob van Ruisdael. It is painter and etcher Rembrandt van Rijn whose work dominates the Dutch Golden Age, and the pièce de résistance is his huge painting housed here,The Night Watch.
Later, perhaps visit the Van Gogh Museum, which houses some 200 of his paintings alongside works by Gauguin, Monet and Seurat. Of special note is Van Gogh's delicate Almond Blossoms, painted the year of his death as a gift to his brother and sister-in-law to celebrate the birth of their son, who later went on to found the museum.
Day 3 – Amsterdam to Haarlem to Amsterdam
This morning, cruise west to Haarlem, which thrived in the Golden Age thanks to its support of the arts. Flemish and French immigrants flocked to the city and the council commissioned many great artists and craftsmen to decorate the city hall. Among them were Jan Steen and Frans Hals – a museum now stands in honour of the latter. Hals introduced a looser, freer brushwork style which gave his subjects a liveliness and character which is demonstrated in his famous work 'The Laughing Cavalier'. Perhaps visit the Frans Hals Museum or Teylers Museum where you can discover an intriguing 18th-century art, natural history and science collection. Both museums can be entered with your card (there's a small charge for the audio guide where available).
Depart Haarlem this evening and cruise back to Amsterdam where you moor overnight.
Day 4 – Amsterdam to Rotterdam
Cruise to Rotterdam this morning arriving at lunchtime. Head to the city's museum district where among other museums, you can discover the Kunsthal, a cultural institute whose changing exhibitions always offer something of a surprise, from art and photography, to fashion and design. Remain moored overnight.
Day 5 – Rotterdam to Gouda
Rotterdam has had its ups and downs, not least heavy bombardment during World War II. Heavily restored it's now home to an array of modern architecture including the curious Cube Houses, the Erasmus bridge and the unusual Markthal covered market. There's even the Floating Forest where saplings have been planted in recycled sea buoys that are anchored in the Rijnhaven harbour area. Seek out these sights or return to the museum area this morning.
Depart for Gouda at lunchtime and moor overnight.
Day 6 – Gouda
Best known for its cheese, Gouda is an attractive town of medieval mansions threaded through with canals and alleyways. From here you can enjoy an included transfer to The Hague for a visit to the Mauritshuis. Built originally in the 17th century as the home for the count of Johan Maurits van Nassau-Siegen, this fine example of Dutch classicism became a museum in 1822. Within the restored and extended interior you can study some of the finest masterpieces from the Dutch Golden Era, including Vermeer's Girl with a Pearl Earring. Other works of art housed here include genre paintings by Jan Steen, Rembrandt's 1669 Self-Portrait and example's of Frans Hals' 'rough technique' which can be seen in such gems as his Laughing Boy. Cruise overnight to Amsterdam.
Day 7 – Amsterdam
Look forward to a day exploring the capital of the Netherlands. Perhaps return to Museum Square and get the most out of your Museum card.
Alternatively, enjoy free time exploring Amsterdam's centre where tree-shaded canals, arched bridges, colourful cafes and historic buildings combine to create a magical atmosphere that is unique to this most cosmopolitan of cities.
Day 8 – Amsterdam to UK
Disembark after breakfast for your return to the UK
---
A Voyage of Discovery River Cruise
FROM
£1049.00
Departing From
Glasgow
Edinburgh
Aberdeen
Other UK airports also available