Alaska Cruise & the Rocky Mountaineer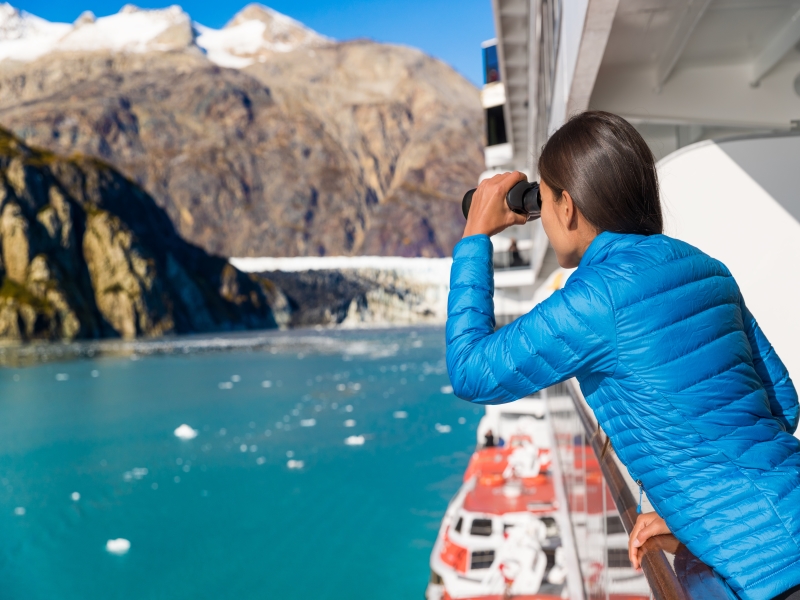 Available
Until September 2023

Take a trip through some of the world's most spectacular scenery, by road, rail and elegant cruise ship.
This very special tour combines our Five-Star Alaska Cruise & the Canadian Rockies holiday with the added thrill of a journey from the railroad town of Jasper to glittering Vancouver aboard the famous Rocky Mountaineer train. It's the perfect choice for those who want to add the pleasures of one of the world's great rail journeys to a holiday already brimming with unforgettable sights and experiences.
What You'll Love
A journey on the world-famous Rocky Mountaineer
A seven-night cruise through the Inside Passage and awe-inspiring Alaskan waters
Visits to Juneau, Skagway and colourful Ketchikantay in Banff, the capital of the Rockies
The alpine town of Jasper, set amidst stunning mountain scenery
A journey along the Icefields Parkway, via sparkling Lake Louise, to Jasper
Discover Vancouver, frequently voted one of the world's best cities to live in
Seven nights' full-board inside cabin accommodation on board a five-star Holland America line cruise ship
Seven nights' room-only hotel accommodation staying in a series of three and four-star hotels in Banff (2 nights) Jasper (1) Kamloops (1) Vancouver (3)
SilverLeaf Service travel on board Rocky Mountaineer from Jasper to Vancouver (upgrade to GoldLeaf Service for a supplement)
Breakfast and lunch on board Rocky Mountaineer
Return flights to Calgary (returning from Vancouver)
Comfortable, air-conditioned coach travel and transfers throughout
Fully escorted by a friendly, experienced tour manager (the ship's staff and crew will take care of you during your cruise)
Single supplements apply. Offer subject to availability.
Alternative Departures
Itinerary
Day 1 – Fly to Calgary
Fly west to the oil-and-cattle town of Calgary, meet your tour manager and board our coach for a scenic journey up into the towering Rocky Mountains. Spend two nights, here, in the exquisite mountain capital, Banff, surrounded by breath-taking setting.
Day 2 – Optional Banff sightseeing tour
Explore the Rockies' spectacular capital, perhaps joining exciting optional excursions that include a cable-car ride to the summit of Sulphur Mountain, a trip to the scenic Surprise Corner viewpoint overlooking the famous Banff Springs Hotel, and an unforgettable helicopter ride.
However you choose to spend your day, you are assured of some wonderful scenery.
Day 3 – Travel to Jasper via Lake Louise and the Icefields of Parkway
Another breath-taking day awaits as you re-board the coach and journey to beautiful Lake Louise, its turquoise waters – frozen for much of the year – set against the awesome backdrop of imposing Victoria Glacier. This afternoon, continue your journey, along the renowned Icefields Parkway, one of the world's most scenic roads, to the historic Rockies' railroad town of Jasper, at the gateway to picturesque Jasper National Park. Spend the night here, and soak up the atmosphere of one of Canada's most "western" townships.
Day 4 – Ride the Rocky Mountaineer to Kamloops
This morning, begin your journey on the legendary Rocky Mountaineer, following the path of the North Thompson River past Mount Robson, Pyramid Falls and Yellowhead Pass, and through the scenic wonderland of the Monashee and Caribou mountains. Enjoy breakfast and lunch on board the train as you gaze in awe at the majestic scenery, and arrive in Kamloops in the late afternoon to transfer to a comfortable overnight hotel.
Day 5 – Re-board the Rocky Mountaineer and travel to Vancouver
Re-board the train to continue your spectacular journey to the coast. Highlights will include the mighty Fraser River, the rushing waters of Hell's Gate in the Fraser Canyon, and the stunning coastal ranges that rise up as you near beautiful Vancouver.
Once again, you'll enjoy breakfast and lunch on board, and once you arrive in Vancouver, you'll transfer to your next hotel. Relax, or head out to enjoy your first evening in a city often voted among the best places in the world to live.
Day 6 – Board your cruise ship
Board your Holland America Line cruise ship ahead of the late-afternoon sailing. Settle in to your stateroom, or join fellow passengers on deck for the voyage out into the Strait of Georgia, as you leave the magnificent Vancouver skyline in your wake and head north towards the wilderness state of Alaska.
Later, enjoy dinner and your first evening on board.
Day 7 – Cruise the Inside Passage
Awake to enjoy a day at sea, as your ship cruises the waters of Alaska's scenic Inside Passage. This narrow waterway is surrounded on both sides by a thickly forested land of mountains and glaciers, and the very occasional settlement (while this region is nowhere near as inhospitable as the Alaskan north, it is still referred to as The Last Frontier). Take a turn on deck, keep watch for aquatic life, and enjoy the ship's wide range of on-board amenities.
Day 8 – Call at Juneau
Today you'll call in the Alaskan capital, Juneau, in its awe-inspiring setting at the foot of the magnificent mountains from which the immense Mendenhall Glacier flows. Built with the proceeds of gold prospecting, Juneau, which is only accessible by air or sea, is a surprisingly chic and stylish city framed by dense forest.
Optional shore excursions on offer will include gold-panning tours, a fascinating trip to the nearby Mendenhall, and activities like rafting or helicopter rides.
Day 9 – Visit Skagway
Skagway, the northernmost point of your cruise, was the historic gateway to the Yukon Territory. It was from here that tens of thousands of hopeful adventurers once set off into the wilderness, many never to return, and it remains a pioneering town of honky-tonk saloons and Klondike memorabilia. A fascinating shore excursion to Klondike Gold Rush National Park will reveal one of American history's most colourful chapters, and some of the improbable characters that lived through it.
Day 10 – Scenic Cruising through Tracy Arm or Endicott Arm
Steep cliffs and glacier-covered mountains greet you as you arrive in breath-taking Tracy Arm this morning. At the heart of a 5.7-million acre wilderness, and surrounded by the even vaster Tongass National Forest, this fjord brings the opportunity to view the twin Sawyer Glaciers, where you might see huge chunks of ice crash into the sea. There are also opportunities to spot wildlife on land and sea, as black and brown bears and mountain goats vie with hump-back whales and chubby bear seals for your attention.
Day 11 – Explore Ketchikan
The last of your Alaskan ports is the southernmost settlement of Ketchikan, with its historic wooden buildings, boardwalks and profusion of arts and crafts stores. From here, many will wish to join the optional shore excursion by floatplane to the remote Misty Fjords National Monument.
Day 12 – Sail back along the Inside Passage
Enjoy a last day at sea, cruising the Inside Passage, and making the most of life aboard your wonderfully appointed Holland America Line ship.
This evening, a farewell dinner completes your wonderful cruise experience.
Day 13 – Return to Vancouver
This morning your ship returns to the glittering waterfront city of Vancouver, and you'll disembark and transfer to your new hotel for a two-night stay.
Day 14 – Optional visit to Vancouver Island
Today you'll have the chance to enjoy an optional full-day tour to beautiful Vancouver Island and the unashamedly 'British' provincial capital, Victoria, with its vast Parliament Buildings and grand old Fairmont Empress Hotel. This hugely enjoyable trip also includes a visit to world-famous, 50-acre Butchart Gardens, after which you'll return to Vancouver to spend another evening in the city.
Day 15 – Explore Vancouver on an optional tour and return flight
Join this morning's optional guided tour, which will include restored Gastown, hectic, colourful Chinatown, and the glass and steel wonders of the Burrard Inlet waterfront. Cross Lion's Gate Bridge into the leafy suburbs of North Van and the wilderness beyond to brave the famous Capilano Bridge.
This evening, transfer to the airport for your overnight return flight.
Day 16 – Arrive back in the UK
Today you'll return home, at the end of a wonderful cruise holiday.
---
Alaska Cruise & the Rocky Mountaineer
FROM
£4565.00
Departing From
Aberdeen
Edinburgh
Glasgow
Other UK airports also available
Departure dates
24th April 2023
4th September 2023