India – Tigers, the Taj Mahal and Amritsar's Golden Temple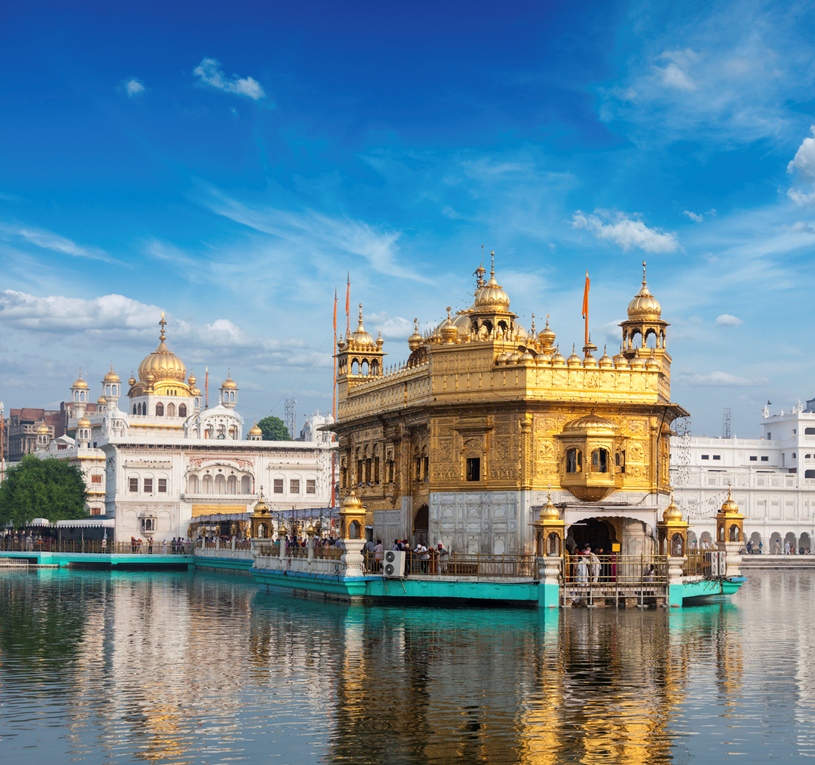 Available
Until November 2022
Join us as we take a journey into the prosperous province of Punjab, home to Amritsar's sacred Golden Temple, and explore the beautiful Himalayan hill-state of Himachal-Pradesh, one of India's most arresting and beguiling regions.
Take a journey of the senses to the cities of the Golden Triangle, Sikhism's most sacred site and some of northern India's most alluring countryside.
Search for tigers in Ranthambhore and see the Taj Mahal on this enthralling holiday in Northern India.  Experience the colourful theatrics of a border-closing ceremony, visit exquisite, Tibetan-influenced Dharamsala and ride the Shatabdi Express train.
---
Amritsar's Golden Temple Available Departures:
Fly direct from Glasgow – departs various dates until November 2020 – from £2,135pp
Fly direct from Edinburgh – departs various dates until November 2019 – from £2,135pp
Dates and prices published on this page are for the departures flying from Edinburgh & Glasgow only
---
Amritsar's Golden Temple Tour Highlights:
A stay in Ranthambhore National Park, with two safaris
Witness the Palki ceremony at Amritsar's Golden Temple
Sunset and sunrise visits to the immortal Taj Mahal
An included guided tour of the sights of New Delhi
Enjoy a traditional rickshaw ride through Old Delhi
Climb to Amber Fort by Jeep
See Jaipur's Palace of the Winds
Stay overnight in a pool villa in Dholpur
Enjoy an Indian cookery demonstration
Explore the Heritage Village at Pragpur
A tour of the glorious Himalayan foothills
A visit to the Jallianwala Bagh memorial park
See the Indo-Pakistani border closing ceremony
Price Includes
12 nights' half-board accommodation in a series of good-quality hotels in Delhi (2 nights), Jaipur (2), Ranthambhore (2), Dholpur (1), Agra (1), Pragpur (2) and
Amritsar (2), plus two nights on the aircraft (one night only in 2021)
Seven lunches
Return scheduled to Delhi via Abu Dhabi
An internal flight from Amritsar to Delhi
First-class rail travel between Delhi and Jalandhar
Comfortable, air-conditioned coach travel and transfers throughout
Fully escorted by a friendly, experienced tour manager
Single supplements apply. Subject to availability.
Amritsar's Golden Temple Itinerary
Day 1 – Fly to India
Fly overnight from the UK to Delhi.
Day 2 – Included Delhi sightseeing tour
Arriving in India, you'll meet your tour manager and transfer to your hotel. Later, after an included lunch, join your tour manager on a guided tour to the ruins of the Quwwat-ul-Islam mosque and the ornate Qutb Minar tower that rises from them.
Day 3 – Included Delhi city tour and travel to Jaipur
Today's explorations begin with a guided tour of the Old City, and an exciting rickshaw ride through the lanes of Chandni Chowk. Afterwards, you'll explore New Delhi, with its echoes of the British Raj, and visit the impressive Agrasen ki Baoli stepwell. This afternoon, you'll travel to the Pink City of Jaipur, where you'll spend the next two nights.
Day 4 – Included Amber Fort and Jaipur sightseeing
Visit Amber's extraordinary hill-top fort by Jeep to explore the Royal Halls and enjoy the magnificent views. This afternoon, discover Jaipur's stunning City Palace museum, the famous astronomical observatory and drive by the 18th-century Palace of the Winds. Dinner tonight is taken in the city with a local Rajasthani family.
Day 5 – From Jaipur to Ranthambhore
Journey to beautiful Ranthambhore National Park for a two-night stay, during which you'll hope to catch a glimpse of the legendary Tigers of Ranthambhore. Relax in the hotel or join this afternoon's optional excursion to Ranthambhore Fort before this evening's tiger talk from a local naturalist.
Day 6 – Guided wildlife safaris in Ranthambhore National Park
Today's highlights will be two canter (open-air vehicle) safaris in the company of a knowledgeable naturalist guide. Search for signs of the legendary Tigers of Ranthambhore, as well as some of the park's other inhabitants: striped hyenas, sambar deer, sloth bears and perhaps even leopards. Lunch is included today.
Day 7 – From Ranthambhore to Dholpur
Journey through the Rajasthan countryside to Dholpur to your next hotel – the Raj Niwas Palace. Once a Royal retreat, this glorious, red sandstone, Raj-era building stands in 13 acres of manicured gardens. During your stay you'll enjoy attentive service, accommodation in beautifully appointed pool-villas in the grounds, and have the opportunity to watch a cookery demonstration before dinner at this splendid heritage hotel.
Day 8– Included river cruise and Agra sightseeing tour
An early morning cruise on the Chambal River offers the opportunity to spot crocodiles, turtles and birdlife. Afterwards, you'll travel to Agra, the City of Love, whose crowning sight is the awe-inspiring Taj Mahal. Visit majestic Agra Fort before your first sight of the Taj – in all its glory – at sunset.
Day 9 – Included Taj Mahal sunrise visit
Pay an early morning visit to view the Taj Mahal from across the Yamuna River. Afterwards, bid farewell to Agra and make your way back to Delhi for an overnight stay.
Day 10 – Included Shatabdi Express train travel
This morning we'll board an air-conditioned Shatabdi Express train and journey north to Jalandhar. You'll travel in First Class and breakfast will be provided en route.
After lunch in Jalandhar, you'll cross the Punjabi plain and continue to exquisite Pragpur hill station. This former Royal settlement was named India's first Heritage Village. Enjoy its delightful surroundings, which include a 19th-century artificial Taal pond, several colourful temples and a collection of traditional artisans' shops. There will also be an included cookery demonstration at the hotel.
Day 11 – Included tour of the Himalayan foothills
Call at former British hill station, Dharamsala and its upper town McLeod Ganj – a Tibetan refuge and home-in-exile to the Dalai Lama, which draws visitors from across the globe to its glorious setting. Visit Kangra Fort where a late lunch is included, before returning to Pragpur.
Day 12 – From the Himalayas to Amritsar
You'll take a scenic journey across the Punjabi plain to Amritsar, today. Here, you'll join the throng for the extraordinary Palki ceremony at the breath-taking Golden Temple. Sikhism's holiest shrine is stunning by night, towering over the narrow streets of Amritsar's Old Town. See its copper-plated Harimandir, from which a covered causeway runs out over the waters of the sacred lake, lined each evening by devotees who have come for the procession of the Granth Sahib, Sikhism's Holy Book.
Day 13 – Included Golden Temple tour
Today brings another opportunity to visit the Golden Temple. The jewel-encrusted, golden-domed main temple (which provides welcome and shelter for pilgrims from across the globe), the vast dining hall – where food is distributed free to some 35,000 people each day – and the Central Sikh Museum are all highlights of a fascinating day.
You'll also visit the Jallianwala Bagh, a poignant memorial park that commemorates one of the bloodiest days in Indian history. This evening, you'll make the short journey out to the Indo-Pakistani border crossing at Wagah, where the gates are closed and the flags lowered at sunset in a colourful, unforgettable ceremony.
Day 14 – Fly back to the UK
Today, we'll head to the airport to board your overnight flight home to the UK via Delhi.
Departures in 2021 will depart earlier in the day, and arrive home later today, rather than on Day 15.
Day 15 – Land back in the UK
Arrive in the UK in the early morning.
---
India – Tigers, the Taj Mahal and Amritsar's Golden Temple
FROM
£2135.00
Departing From
Edinburgh
Glasgow
Other UK airports also available
Departure dates
16th September 2021
7th October 2021
28th October 2021
11th November 2021
20th January 2022
10th February 2022
3rd March 2022
10th March 2022
21st April 2022
28th April 2022
12th May 2022
15th September 2022
6th October 2022
20th October 2022
10th November 2022
17th November 2022