Amsterdam, Cologne and the Best of Holland & Flanders River Cruise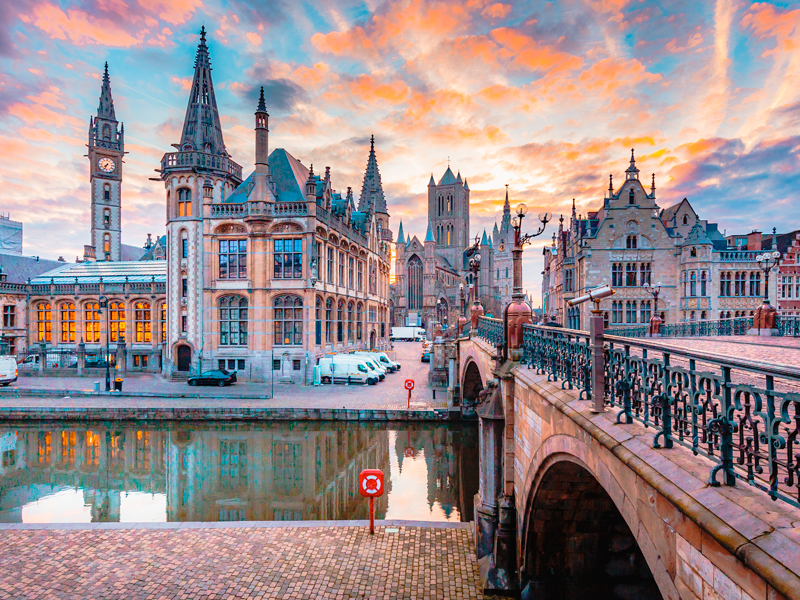 Available
Until August 2022
Wander the picture-perfect streets of medieval towns, gaze in awe at magnificent Gothic architecture, and discover contemporary urban landscapes and the iconic windmills of a bygone age.
This superb cruise embraces the rich and diverse cultural heritage of these northern European neighbours, inextricably linked by history and their fascinating waterways.
What You'll Love
Enjoy peace of mind with Flexible Booking*
Happy by day two or we'll bring you home with a full refund
Return flights & transfers
Seven nights on board in your choice of luxury cabin or suite, with river views
8 visits and tours including a trip to the Floriade Expo (2022 only), guided tours of Cologne, Antwerp, Bruges, Ghent and Rotterdam and visits to Kinderdijk, Airborne Museum or Het Loo Palace
All meals on board from dinner on your day of arrival through to breakfast on your day of departure, including a welcome dinner and the Captain's Dinner
A packed lunch during the full day trip to Bruges
Five-star service from an English-speaking crew and knowledgeable local guides
Complimentary on-board tea and coffee
Complimentary on-board Wi-Fi
Subject to availability. Single supplements apply.
*Full terms and conditions can be viewed on the Riviera Travel website here. 
Itinerary
Day 1 – Arrival in Amsterdam
Arrive at the airport for your flight to Amsterdam or take the Eurostar from London St Pancras International to Brussels, where you change trains and continue to Amsterdam. On arrival, transfer by coach to your five-star cruise ship. The friendly crew welcomes you to your spacious and superbly furnished accommodation – you'll feel immediately at home on your first-class floating hotel. The ship remains here overnight, so watch dusk descend over Amsterdam as you enjoy your first dinner on board.
Day 2 – Amsterdam
This morning awake to the colourful canalside of Amsterdam as you enjoy a delicious breakfast on board.
(2021 departures) We embark on a charming glass-topped canal cruiser to begin exploring this beautiful city. With a network of 165 17th-century canals radiating from the city centre, taking to the water really is the best way to immerse yourself in Amsterdam's history and culture. As you drift between the cobbled streets, fringed with tall, narrow merchants' houses, past characterful houseboats and interesting bridges, your guide imparts a wealth of knowledge about life, past and present in this unique city, once home to the famous Dutch painter Rembrandt and the legendary Anne Frank, who wrote her diaries whilst in hiding during the Nazi occupation. This afternoon our ship remains moored, so you can wander the cobbled canalpaths at your leisure.
(2022 departures) This morning, you can choose to visit the fabulous Floriade Expo in Almere for the morning only or spend the full day there. The Floriade Expo, the World Fair of horticultural shows, is the largest public event in the Netherlands. This magnificent exhibition, which takes place only once every 10 years, from April to October is described as 'the greenest day out', and truly a feast for the senses. Wander the park enjoying the scent and colour of a whole spectrum of stunning flowers, fascinating plants, fruit and vegetables from around the globe. With forty inspirational presentations, a spectacular greenhouse complex, a cable car over the park, pavilions with sustainable innovations and a vibrant arts and culture programme, there's something for everyone to enjoy – no matter how green-fingered you are!
For those opting to return to Amsterdam for the afternoon you might opt for a relaxing cruise or if art is your passion, then no visit would be complete without experiencing the vast collection of masterpieces housed in the extraordinary Rijksmuseum or Van Gogh Museum. Alternatively, head to the vibrant Jordaan district, crammed with independent galleries, quirky shops and fashionable cafés from where you can linger over a refreshing locally-brewed beer and watch the Amsterdammers skilfully dodging each other on their high-handlebarred cycles.
Step back in time with a thought-provoking visit to Anne Frank's house or enjoy bargain-hunting in the bustling Waterlooplein flea market, the largest in Europe. Feeling peckish? If raw herring, a Dutch delicacy often accompanied by gherkins and diced onions, from a traditional haringhandel (herring stand) doesn't appeal, perhaps opt for a plate of mouth-watering poffertjes, mini pancakes dusted with sugar.
Day 3 – Rotterdam & Kinderdijk
Clustered at the mouth of the Rhine as it flows into the North Sea, Rotterdam's destiny as a trading gateway to Europe and beyond was almost assured, and after breakfast this morning, you will enjoy a guided tour of this vibrant city, learning more about the history of its maritime past as well as its thriving cultural scene. Although it suffered massive bomb damage during the Second World War, the city was completely reconstructed, resulting in some interesting and quirky architectural styles, including the Witte Huis, Europe's first skyscraper, built in the Art Nouveau style.
We'll also see the Church of Saint Lawrence, the only surviving building of the original old town, the Erasmus Bridge, nick-named 'the swan' because of its avian-like shape and the arched market hall, plus the famous yellow Cube Houses, known locally as Kubuswoningen. Designed by Dutch architect Piet Blom in the 1970s, strikingly built on stilts and tilted at quirky angles, they remain an iconic and unique feature to this day.
Back on board, as we continue our journey to Kinderdijk this afternoon, take in the lovely views through the restaurant's panoramic windows over a delicious lunch. We soon arrive at the very heart of this captivating region to witness a truly striking polder scene – a series of 19 authentic windmills lining the canal banks, set against a starkly beautiful backdrop of pancake-flat marshland. Windmills are symbolic of Dutch history and its never-ending battle with the sea, and visiting these meticulously preserved structures is like stepping back in time. It's no surprise that the windmills, recognised for their significance within Dutch history and heritage, now enjoy an esteemed UNESCO status. Later we return to our cruise ship, where the chef has prepared an inviting dinner.
Day 4 – Bruges & Ghent
Overnight our ship has glided stealthily downstream and you wake in the medieval city of Ghent. Today's included excursion takes us to nearby and quintessentially beautiful Bruges, known for its serene canals, narrow cobbled streets, romantic gabled houses, exquisite churches and myriad shops selling artisan goods – and of course its legendary chocolate! After breakfast we take the short drive to this picture-perfect city; exquisitely compact, its entire historic centre is a UNESCO World Heritage Site and as you wander its historic streets, stories from our expert guide will bring it to life.
We begin in its medieval heart, the Markt, which has served as the main market square since the 10th century. Towering 272 feet over the colourful gabled buildings framing the square is the Belfry and its 47-bell carillon. Another must is the Church of Our Lady, where you can see Michelangelo's Madonna and Child, a work of incomparable beauty carved in white Carrara marble. Whilst you might be reluctant to leave this enchanting place, later this afternoon you can choose between staying in Bruges and returning to the ship a little later, or returning to Ghent for an included afternoon guided tour.
Ghent is a medieval gem, once Western Europe's second largest city after Paris. Spared the ravages of the 20th century, you can stroll along its magnificently unspoilt waterfront, gazing upon the 13th-century skyline punctured by soaring belfries, with the 12th-century Gravenstein fortress towering above. See the impressive Gothic Saint Bavo's Cathedral, whose altarpiece is one of the world's foremost art treasures – the van Eyck brothers' Adoration of the Mystic Lamb. After tonight's superb dinner, we leave these fascinating cities behind, as our elegant vessel cruises on towards Antwerp overnight, along the River Scheldt.
Please note lunch is not included on the full-day excursion to Bruges; however the ship will offer a packed lunch.
Day 5 – Antwerp
The Scheldt has always been Antwerp's lifeline, and records showing the earliest settlers arrived here in the 2nd century, the river acting as a natural barrier against invasion. The 12th century city walls were built in an attempt to keep out the Flemish who finally annexed the city in 1357. With increasing numbers of ships arriving from Italy, together with the birth of the Flemish weaving industry, the city became an important warehouse for English wool and period of significant prosperity ensued. Belgium's second city, Antwerp's charming and cosmopolitan atmosphere draws you in, as you immerse yourself amongst its winding, cobbled streets and spectacular historic buildings, juxtaposed by more modern architecture fringing lanes of lively cafés and tempting shops.
This morning we enjoy a tour with a local guide who'll impart their knowledge about the city's highlights as well as some lesser-known but equally fascinating sights. At its heart is the captivating main square – the Grote Markt – dominated by ornately gabled guildhouses and the Renaissance town hall. The opulent Brabo Fountain is a famous sight too, with its turquoise-grey finish dominating the square's skyline.
One of the delights of river cruising is the magical experience of watching the seamlessly changing landscapes drifting by through the panoramic windows or up on the sun deck; so after lunch this afternoon, there's ample time to unwind and catch up on some reading, indulge in the spa or simply enjoy a glass of wine as the riverside views gently roll by.
Day 6 – Arnhem
Awake this morning to find overnight our vessel has gently brought us to the very heart of Holland. We have arrived in Arnhem, synonymous with the ill-fated 1944 aerial assault, devised by General Montgomery to end World War II, depicted in the film A Bridge Too Far. This morning you have a choice of two excursions: either a fascinating visit to the Airborne Museum at Oosterbeek or to Het Loo Palace, royal residence at Apeldoorn.
For those choosing the former, we head to the battle HQ of the British 1st Airborne Division, now an exceptional museum with memorabilia, artwork and accounts relating to this famous and complex battle. There will also be an opportunity to visit the Commonwealth War Cemetery, the final resting place of so many.
If the latter appeals to you, join an expert guide on our visit to the exquisite Het Loo Palace, built for William, Prince of Orange and later King of England, Scotland and Ireland. Set in lush countryside, it's a fine example of Dutch Baroque architecture, set in several hundred hectares of parkland with beautifully symmetrical manicured gardens designed by Claude Desgotz.
We re-join our ship for an afternoon of picturesque sailing so sink into a comfy chair in the lounge and recharge over a cup of afternoon tea before thoughts turn to tonight's mouthwatering meal prepared by our on-board chefs.
Day 7 – Cologne
If you're enjoying an early coffee on the sun deck, you will witness our stately arrival in the magnificent city of Cologne. On this morning's guided tour, led by a knowledgeable local guide, we'll discover some of its highlights and enjoy entry into the spectacular twin-spired cathedral, the largest Gothic church in Northern Europe, miraculous survivor of Second World War bombing and a UNESCO World Heritage Site. It took six centuries to complete, and among its many treasures are the magnificent stained-glass windows and gilded sarcophagus said to contain the remains of the three kings from the Nativity story.
We also see the vibrant old town, beautifully restored and boasting an abundance of excellent shopping and cosy bars, some of which still brew their own beer. You'll have some free time to explore the city under your own steam; perhaps you'll opt for a spot of shopping in the Belgian quarter with its quirky boutiques, to pick up some last minute souvenirs or spend your final afternoon reflecting on this superb cruise over a glass of local Kölsch, traditionally brewed in the city and recognisable by its bright yellow hue. As night falls, a sumptuous dinner provides the perfect finale to this memorable cruise.
Day 8 – Return Home
Transfer to the train station or airport for your return flight to the UK.
---
Amsterdam, Cologne and the Best of Holland & Flanders River Cruise
FROM
£2009.00
Departing From
Edinburgh
Other UK airports also available
Departure dates
3rd May 2023
21st August 2023