Amsterdam, Kinderdijk and the Dutch Bulbfields River Cruise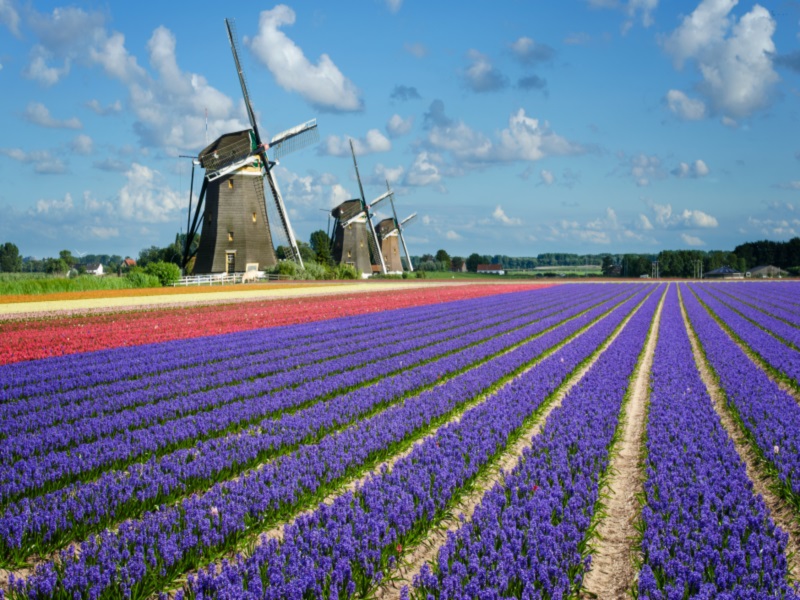 Experience historic maritime cities, where innovation meets the traditions of the past, plus the authenticity of iconic windmills and the floral masterpiece of the colourful Dutch bulbfields.
The stunning bulbfields really are an amazing sight. In Keukenhof Park there are a staggering 7 million blooms covering 80 acres in a riot of colour whilst imaginative landscaping shows off mother-nature at her outstanding best with shimmering lakes, water-gardens and flowering shrubs of every hue.
You will also explore the Ijsselmeer, the inland lagoon created by the damming of the Zuider Zee in the 1930's and discover the series of beautiful villages along its shore which have made their living from the sea for centuries.
It was from here during the 16th century Golden Age, that the Dutch roamed the world in search of the spices, silks and luxury goods which Europe's aristocracy craved and today they are little changed since this time.
Blend this with Amsterdam, one of Europe's most vibrant and fascinating cities and a wonderful few days are in store.
Amsterdam, Kinderdijk and the Dutch Bulbfields River Cruise Price Includes
Change your booking free up to 45 days before travel
Covid Cancellation protection included as standard
Return flights & transfers
Four nights on board in your choice of luxury cabin or suite, with river views
Five visits and tours including visits to the Keukenhof Gardens, Enkhuizen, Kinderdijk and Rotterdam, and a canal cruise in Amsterdam
All meals on board from dinner on your day of arrival through to breakfast on your day of departure, including  the Captain's Dinner
Five-star service from an English-speaking crew and knowledgeable local guides
Complimentary on-board tea and coffee
Complimentary on-board Wi-Fi
Subject to availability. Single supplements apply – for solo options for this tour, click here.
*Book by 30 April 2021 and you can enjoy the flexibility to change your booking before travel, with no fees and no questions asked. You can change your booking up to 45 days before departure for 2021 holidays. New bookings for 2022 can be changed for free up until 30 September 2021. Full terms and conditions can be viewed here. 
---
Amsterdam, Kinderdijk and the Dutch Bulbfields River Cruise
FROM
£929.00
Departing From
Edinburgh
Glasgow
Other UK airports available
Departure dates
1st April 2022
1st April 2022
1st April 2022
1st April 2022
1st April 2022
2nd April 2022
2nd April 2022
2nd April 2022
2nd April 2022
2nd April 2022
2nd April 2022
2nd April 2022
4th April 2022
4th April 2022
4th April 2022
4th April 2022
4th April 2022
4th April 2022
4th April 2022
5th April 2022
5th April 2022
5th April 2022
5th April 2022
5th April 2022
5th April 2022
5th April 2022
6th April 2022
6th April 2022
6th April 2022
6th April 2022
6th April 2022
6th April 2022
6th April 2022
8th April 2022
8th April 2022
8th April 2022
8th April 2022
8th April 2022
8th April 2022
8th April 2022
9th April 2022
9th April 2022
9th April 2022
9th April 2022
9th April 2022
9th April 2022
9th April 2022
10th April 2022
10th April 2022
10th April 2022
10th April 2022
10th April 2022
10th April 2022
10th April 2022
12th April 2022
12th April 2022
12th April 2022
12th April 2022
12th April 2022
12th April 2022
12th April 2022
14th April 2022
14th April 2022
14th April 2022
14th April 2022
14th April 2022
14th April 2022
14th April 2022