Autumn Fjordland 2020 Cruise from Rosyth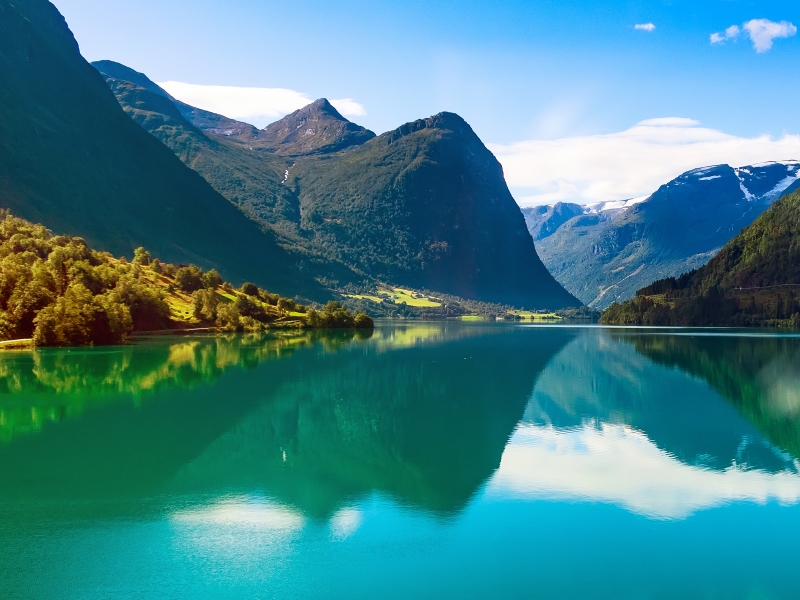 SAVE UP TO 45%
Join Marco Polo as she sets sail from Rosyth, cruising to the glorious autumn fjordland of Western Norway. Here, in addition to some marvellous ports of call, you'll enjoy some wonderful, relaxed days cruising through still waters.
Cross the North Sea to explore the spectacular landscape of the fjords. Cruise to idyllic Olden, on majestic Nordfjord, then on through mighty Sognefjord to remote Flåm. Sit back and take in the majestic scenery, or head ashore on excursions to discover the pristine interior, with its glaciers and crashing waterfalls, or perhaps to ride on the famously steep and winding Flåmsbana Mountain Railway. A last call, in colourful Bergen, gives you the chance to stroll past the lovingly restored warehouses of Bryggen and perhaps take in the view from the summit of Mount Fløyen – a fitting finale to your Norwegian cruise – before you return to Rosyth via lively, historic Newcastle upon Tyne.
---
Autumn Fjordland Cruise from Rosyth Ports of call include:
Olden, Norway
Flam, Norway
Bergen, Norway
Newcastle, England
---
Price Includes
7 nights' accommodation in your choice of cabin
Delicious full board cuisine
Afternoon teas and late night snacks
Captain's Cocktail Party (cruises of 6 nights or more)
Self service tea & coffee (6am to midnight)
Big show entertainment, cabarets and classical interludes
Daytime activities and leisure facilities
Guest speaker and arts & crafts (cruises of 5 nights or more)
Porterage of luggage, port to cabin
Port Taxes
Single supplements apply. Subject to availability.
Autumn Fjordland Cruise from Rosyth Itinerary
Day One – Depart from Rosyth
Depart: 1600hrs
Board Marco Polo in Rosyth, today, settle in to your cabin and relax as your cruise begins.
Day Two – At sea
Spend today relaxing on board.
Day Three – Olden, Norway
Arrive: 0800hrs
Depart: 1600hrs
Today Marco Polo calls at Olden. This is the stopping-off point for a trip through the beautiful surrounding countryside to the famous Briksdal Glacier, part of the vast Jostedalsbreen ice-pack, which broods over the eastern reaches of the fjord.
Day Four – Flam, Norway
Arrive: 0900hrs
Depart: 2000hrs
Flam welcomes Marco Polo, today, and here you'll have the opportunity to board the world-famous Flamsbana Mountain Railway for the journey to Myrdal. Later this evening, the ship navigates her way through stunning Sognefjord.
Day Five – Bergen, Norway
Arrive: 0700hrs
Depart: 2000hrs
Your last Norwegian call is in Bergen, an ancient city of medieval houses, cobbled streets, and the birthplace of composer Edvard Grieg. Visit the vibrant harbour and the fish market, stroll past historic Bryggen's wooden warehouses and take the Floibanen funicular to the summit of Floyen, the best known of Bergen's Seven Mountains.
Day Six – At sea
Spend today relaxing on board.
Day Seven – Newcastle, England
Arrive: 0800hrs
Depart: 1800hrs
Newcastle was once among the most vibrant centres of the British Industrial Revolution, and has now evolved into one of England's most energetic and exciting cities. Some of your newfound friends will disembark and finish their journey here, and you'll have some time to explore before beginning the final leg of your cruise.
Day Eight – Arrive back at Aberdeen
Arrive: 0700hrs
Say goodbye to Marco Polo, her crew and your fellow passengers as she arrives in Rosyth, today, and you disembark at the end of a wonderful cruise.
---
Autumn Fjordland 2020 Cruise from Rosyth
FROM
£599.00