Bath, Somerset & Glastonbury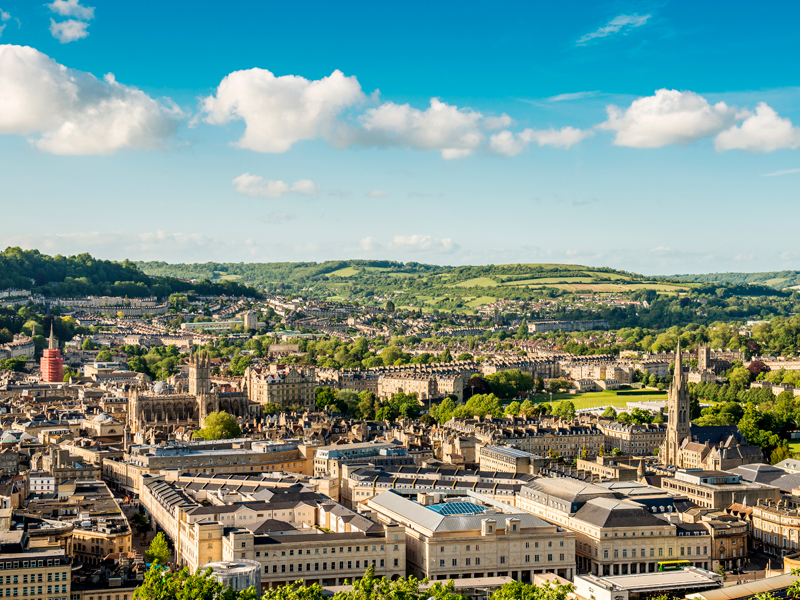 A county steeped in history, there's much to uncover on this fascinating Somerset tour.
From the ancient streets of Bath and Roman settlements, to the meticulously preserved prehistoric stones of Avebury in nearby Wiltshire and Gothic Cathedral of Wells.
Not forgetting a boat trip along the River Avon, a trip to the famed musical village of Glastonbury and the home of Cheddar cheese.
This fantastic tour begins in our base of Bath, widely regarded as one of the most beautiful cities in England. Home to the iconic Royal crescent, Roman Baths and striking botanical gardens, it's a city that perfectly blends Roman and Georgian influences.
Bath's heyday was in the 18th century when it became a fashionable destination, so it's no surprise author Jane Austen went on to call it her home.
There's so much history to embrace, as we visit the likes of Glastonbury Abbey and Wells Cathedral, the earliest English Cathedral to be built in the Gothic style.
Then of course there's the 6000-year-old Avebury stone circle and Lacock village, a place seemingly frozen in time.
We also enjoy a taste of the local area, with a visit to a family-owned artisan cheesemaker in Cheddar Gorge, as well as a traditional afternoon tea in charming Lacock.
What You'll Love
Enjoy peace of mind with Flexible Booking*
Four nights in four-star accommodation with breakfast
Discover beautiful Bath on a guided walking tour
Soak up over 2000 years of history at the Roman Baths
Explore charming Wells and see its stunning Cathedral
Visit the legendary musical town of Glastonbury
See the Bishop's Palace in Wells on a guided tour
Experience Cheddar cheese making at a family-owned cheesemaker
Step back in time in the village of Lacock and its Abbey
Discover the ancient Avebury stone circle
The services of a Riviera Travel tour manager
Subject to availability. Single supplements apply.
*Full terms and conditions can be viewed on the Riviera Travel website here. 
Itinerary
Day 1 – Arrival in Bath & River Boat Trip
Make your way to the beautiful city of Bath in a way to suit you, with our Travel Concierge on hand to help with any rail or private car arrangements. After checking in this afternoon, make yourself at home at the centrally located hotel, just a five-minute walk from the banks of the River Avon. It's here your introduction to this charming, historic city begins, on a relaxing river boat trip. As you take in the pretty riverside scenes, they'll be plenty of wildlife spotting opportunities along the way; including kingfishers, herons, mallards and if even otters if you're really lucky.
Day 2 – Bath & Roman Baths
After breakfast at the hotel, we take to the ancient, cobbled streets of Bath for a guided tour. It's unsurprising that the whole city has been awarded UNESCO World Heritage status, boasting an incredible and fascinating display of Roman remains and contrasting 18th-century architecture. Perfectly blending Roman and Georgian influences, the city centre is a pleasure to explore with its harmonious honey-hued buildings.
It was the Romans who first discovered Bath's potential by siting a bathhouse here, which lead to the development of a settlement in the area. So, after our guided walking tour of the city centre, we will visit one of the best-preserved Roman bathhouses in the world, taking advantage of the hot springs located here which reach temperatures of up to 46C.
With plenty more to discover, enjoy a free afternoon to explore Bath. The Royal Crescent is another highlight of course, so perhaps visit the No. 1 Royal Crescent museum for a glimpse into wealthy Georgian life, behind the beautiful façade of these iconic townhouses. Literature fans may want to head to the Jane Austen Centre to find out more about the author's life in the city in the early 1800s. Then there's Royal Victoria Park, with its botanical gardens, an inspiring place to spend a leisurely afternoon.
Day 3 – Wells, Glastonbury & Cheddar Gorge
Today begins with a visit to one of the smallest cathedral cities in the UK, Wells. Despite not significantly changing in over 800 years, this picturesque corner of Somerset still retains its old-world charm. With its amber toned exterior, Wells Cathedral is the earliest English Cathedral to be built in the Gothic style, having been built from 1190, and looks truly impressive. Look up to see over 300 breathtaking 13th century figures of saints and kings which adorn the west front, with a majestic interior matches the grandeur of the exterior. Nearby Bishop's Palace, set within 14 acres of tranquil gardens and surrounded by a moat, has been home to the Bishop of Bath and Wells for over 800 years. We will have a guided tour of the palace and gardens to find out more about this incredible landmark, with some free time for lunch. It's thought to be the most impressive Bishop's house still in use in England, followed by free time to admire the Cathedral itself.
Known for its annual music festival but with a long and illustrious history, we continue to Glastonbury. The village itself is built around a set of ruins of a former abbey, which you will have time to explore with free time for lunch. Famed for mystical associations, Glastonbury Abbey dates back to the 7th century and is thought to be the oldest Christian foundation in the UK.
Food lovers will be excited at the next stop, as will those who appreciate natural beauty, as we head to Cheddar Gorge. We call at the true 'home' of the famous cheese, the only place in the village itself where cheese is made, to experience part of the cheese-making process at a family-owned artisan cheesemaker. Gough's Cave in Cheddar Gorge, is, in fact, the original historical Cheddar Cheese larder. This is because the Cheddar Gorge caves in have environmental conditions perfect for cheese maturing; constant temperature and high humidity. In turn, these create the distinct flavour and texture.
After driving through the dramatic Cheddar Gorge to admire the natural beauty of this amazing limestone geological formation, we make our way through the rural landscape of the Mendip Hills, returning to Bath in the late afternoon.
Day 4 – Avebury, Lacock & Afternoon Tea
This morning begins with a trip to one of the best-preserved prehistoric sites in Britain, Avebury, in nearby Wiltshire. A historical gem, the history of this Neolithic stone circle dates back almost 6,000 years, with a mystery purpose that is still not known to this day. Also the largest stone circle in Britain, it originally featured about 100 stones, with two smaller stone circles enclosed within it, which indicate it may have been used for ceremonies or rituals. Unlike nearby Stonehenge, you can actually walk inside the stone circle at Avebury. This we do, giving a truly interactive experience.
Our next stop a place where it feels time has almost stood still, Lacock. This incredibly well-preserved National Trust village is a famous filming location, appearing in Harry Potter, Downton Abbey and Pride and Prejudice, amongst others. We will have time to explore the wonderful village itself and the nearby 13th-century abbey. Our time in this quintessential British place is rounded off a fittingly timeless tradition, as we enjoy afternoon tea before returning to Bath.
Day 5 – Return Home
Today we return home with memories of Somerset. Perhaps enjoy some shopping in the local independents or enjoy a leisurely stroll around Bath's picture-perfect Royal Victoria Park before returning.
---
Bath, Somerset & Glastonbury
FROM
£639.00