Beijing & the Great Wall of China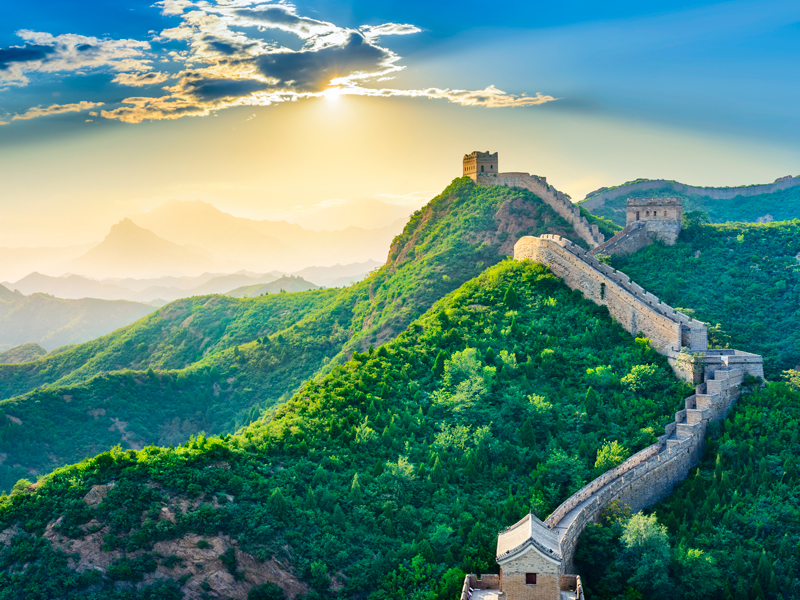 Embark on a trip of a lifetime to China. On our travels, we will discover architecture from imperial dynasties, visit Buddhist temples and experience the city of Beijing and the famous Great Wall of China.
In Beijing, we'll explore its 14th century ancient city of the elite, stand where General Mao rallied his troops and stroll along the impressive Sacred Way, the burial place of Ming Dynasty emperors.
We'll visit the Great Wall of China and have the opportunity to walk along a section of this incredible Wonder of the World.
Combining ancient traditions, fascinating culture and centuries of history, this is a holiday that will leave us with memories to last a lifetime.
What You'll Love
Experience iconic China on this 10-night guided group holiday to Beijing & the Great Wall of China
Stay 8 nights at a 5-star hotel in Beijing
Enjoy a full-day tour of Beijing's Forbidden City & the famous Tiananmen Square
Visit one of the wonders of the world on a full-day excursion to the Great Wall of China
Explore must-see attractions like the Imperial Summer Palace & the Beijing Zoo's world-famous Pandas
Discover iconic sites like the Lama Temple & the Temple of Heaven on a full-day tour
8 hotel breakfasts plus 8 evening meals are included (in hotel or local restaurant)
Return flights & transfers
Subject to availability. Single supplements apply. To check latest availability, call 0131 608 1238 quoting "DC Thomson Travel"
Itinerary
Day 1 – Travel to China
Let's begin our adventure, as we depart for Beijing.
Day 2 – Arrive in Beijing
Following our arrival in Beijing, we will be transferred with guide assistance to our hotel.
Join us for dinner! An evening meal is included every night of our stay in China, at our hotel, or in a local restaurant.
Day 3 – Tiananmen Square, Forbidden City, Temple of Heaven & Qianmen Street
Join us on a full day's exploration as we uncover some of Beijing's most famous landmarks, including the Palace Museum (also known as the Forbidden City), Tiananmen Square, and The Temple of Heaven.
Discover Tiananmen Square, one of the largest in the world. Full stop It was Chairman Mao's creation, and major rallies took place here during the Cultural Revolution.
Let's see more, as we pass through the ancient gates into the Forbidden City, which was off-limits to most of the world for 500 years! The Forbidden City is the best-preserved cluster of ancient buildings in China, and entering this magnificent palace is like stepping back in time. The old world of beautiful concubines and emperors, eunuchs and conspicuous wealth still hovers around the lush gardens, courtyards, pavilions, and the great halls of the palace.
*Breakfast is included each day of our stay in our hotel.*
Later we enjoy more of Beijing's beauty with a visit to the Temple of Heaven, a complex of religious buildings symbolising the relationship between Earth and Heaven. Originally, it functioned as a vast stage for solemn rites and rituals. All of the buildings in the park, including the Round Altar, the Imperial Vault of Heaven, and the Hall of Prayer for Good Harvests, represent conversations between the gods and mortals.
Afterwards, we explore Qianmen Street, which is one of the oldest pedestrian streets and most loved shopping districts in China. This ornate shopping street has a mix of Chinese and Western shops and eateries, the most famous of which is Quanjude Chinese Restaurant, which sells over 2 million of its trademark Peking Roast Duck every year.
Day 4 – The Great Wall, Jade Factory & Sacred Way
This morning we discover The Great Wall, a Wonder of the World which is a highlight for many on this holiday. It dates back to the 7th century BC in certain sections and was built to protect the first unified Kingdom of China. The Great Wall stretches for over 20,000 miles. Take in the scenery and gaze at the magnificence of this ancient wonder, as we walk along part of the wall.
After lunch, we visit a Jade Factory, with precious jade jewellery and sculptures being carved. Next, we discover the Sacred Way. This walkway is part of the Ming Tombs complex, which contains the tombs of thirteen emperors. The road is lined with eighteen pairs of stone statues and an impressive gateway.
Day 5 – At Leisure
Today is free for shopping, sightseeing or relaxing. Our expert local guide will be happy to provide information and recommendations.
Enjoy a full-day optional excursion to the historic cultural town of Tianjin. After a short coach transfer to the station, we board the Bullet Train for our 30 minute journey. On arrival in Tianjin, we begin to discover this unique city, combining a mixture of ancient Chinese and modern western architecture. Included is a visit to the Jingyuan Garden, the Last Emperor's residence during his exile, and a short stop to admire the Tianjin Eye (similar to the London Eye). Afterwards, we can delve into the fascinating Tianjin Ancient Culture Street, known for its remarkable architecture and popular with visitors for its unusual beauty and style. There will be free time for lunch (not included), after which we transfer onwards for a short walking tour of the Italian Quarter before returning to the station for our train back to Beijing. (This excursion is subject to minimum numbers).
Day 6 – Lama Temple, Hutong Tour & Sanlitun Village
Join us as we discover more of Beijing's temples, with a trip to the Lama or Yonghe Temple, a Tibetan Buddist monastery. The Lama Temple contains a 26 metre tall wooden statue of the Maitreya Buddha and unique bronze statues of the Buddhas of the Three Ages.
Later, we enjoy a walking tour around a traditional Hutong, an area of residential laneways and courtyards with ornate houses and gardens.
After lunch, we'll have free time at the Sanlitun Village, a large complex of shops and restaurants. Time to shop till we drop, and perhaps savour some tasty local dishes!
Day 7 – At Leisure
Let's see more as we discover Beijing at our own pace. Savour some of the local dishes, shop in one of the many markets, or explore more in the old city Hutong area.
Tonight enjoy an optional excursion to witness one of China's cultural highlights : an ancient martial arts Kung Fu show! We depart our hotel, passing Changan avenue, Qianmen Gate, and Tiananmen Square en route to the venue. The acrobatic performance, combining a fusion of modern dance with Chinese traditional martial arts, makes this excursion a unique and spectacular experience. (This excursion is subject to minimum numbers).
Day 8 – Summer Palace
Let's uncover more on our full-day excursion to see more of Beijing's treasures, including the Summer Palace, a cruise on Kunming Lake and the Olympic Bird's Nest Stadium. Step back in time as we enter the Summer Palace, overlooking a lake and surrounded by extensive gardens and once the destination of choice for vacationing emperors and empresses.
Next, we arrive at the Long Corridor located between the lake and hill and take a slow walk down to the lake, stopping to take photos along the way and enjoy the scenic surroundings. There will be free time to stop for lunch (not included) before we arrive at the pier. We board our boat and cruise across Kunming Lake, enjoying the views of Longevity Hill and the Summer Palace.
After, we transfer by coach to Olympic Park and see (from outside) the unique Bird's Nest Stadium that hosted the 2008 Olympics.
This evening, we can indulge in shopping or sightseeing at our leisure. Our expert guide will be happy to offer advice and recommendations.
Day 9- At Leisure
Time to enjoy a last day in Beijing, at our leisure. Let's take in some last-minute shopping, savour one last taste of the famous Peking duck or other favourite specialities, sit in a café and sip lychee tea and discover more on a walk through the old Hutong streets – the choice is ours!
Day 10 – Return Home
We can spend the morning at leisure before transferring by coach to Beijing Airport for our flight home, after a truly memorable trip.
We arrive home from our holiday of a lifetime.
---
Beijing & the Great Wall of China
FROM
£2498.00
Departure dates
25th October 2022
1st November 2022
25th April 2023
16th May 2023
20th June 2023
9th September 2023
24th October 2023
14th November 2023