Berlin, Dresden, Meissen and Colditz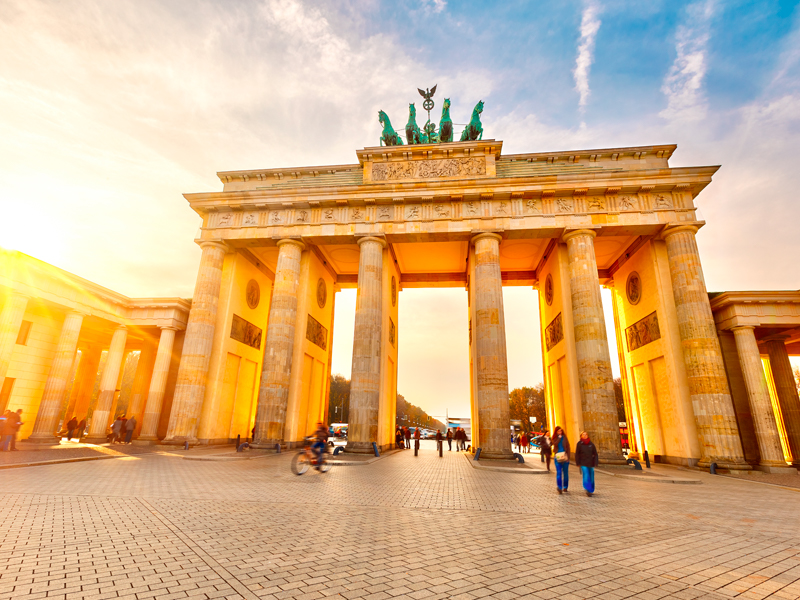 On this intriguingly varied tour, we experience two of Europe's greatest cultural cities, Berlin and Dresden.
Both have endured violent interludes in otherwise glittering histories and have now returned to their former glory at the heart of 21st century Europe.
Iconic locations abound in Berlin – from Checkpoint Charlie with its spy stories, to the magnificent avenue of Unter den Linden with its many cafés and museums.
Perhaps more sedate than Berlin, Dresden is a cultural jewel reborn as a beacon of hope and peace, revelling in the renewed splendour of its architecture, opera and museums.
We explore the medieval town of Meissen, where highly skilled artisans craft exquisite porcelain in the only factory in Europe where the process is still completed entirely by hand.
Finally, and in complete contrast to picturesque Meissen, we visit Colditz Castle, the infamous prisoner of war camp for serial would-be escapees – inmates included the legless fighter pilot Douglas Bader.
This is a tour that reveals Germany's delightful contrasts, from its vibrant modern cities to its charming rural landscapes, and lets you experience the past, present and future of this remarkable country.
What You'll Love
Enjoy of mind with Flexible Booking Policy*
Return flights & transfers
Four nights in four-star superior accommodation inclusive of all local taxes, with daily breakfast
Tour of Berlin, home to Norman Foster's Reichstag, 'Check Point Charlie', the DDR (former East Germany) Museum, and some of the world's finest archaeological and fine art museums
Walking tour of Dresden, 'Florence of the Elbe', home to one of the world's greatest art collections, formerly the capital of the Kings of Saxony
Visit Meissen and take a guided tour of the world-famous porcelain studio
Guided tour of Colditz Castle of Second World War prisoner of war fame – with entrance fees included
Services of an expert tour manager
Subject to availability. Single supplements apply. Click here to see departures exclusively for solo travellers. 
*Full terms and conditions can be viewed on the Riviera Travel website here here. 
Itinerary
Day 1 – Arrival in Berlin
Arrive at the airport for your flight to Berlin. On arrival, we transfer to either the four-star superior Hotel Maritim Berlin or the four-star superior Maritim Pro Arte for two nights.
Day 2 – Berlin
Berlin is an incredible place. Originally two separate 14th-century towns, it has long been a city of contrasts and never more so than in its recent past, which makes it such a fascinating place to visit.
This morning we have a guided tour taking in many landmarks, including Checkpoint Charlie, a poignant symbol of the Cold War when the city was divided between East and West. You'll see the Brandenburg Gate – one of Germany's most iconic landmarks – and the Reichstag, the parliament of the reunified Germany that is steeped in history and partially reconstructed by Norman Foster. We also take in Unter Den Linden, the city's most famous boulevard, the imposing cathedral and of course what remains of the Berlin Wall – now a protected historical monument.
The afternoon is free for you to explore. Berlin's turbulent political past makes it such an absorbing place, but it is also an incredibly vibrant city with a character and optimism to match. It strongly rewards exploring by foot – visit the impressive Charlottenburg Palace and the legendary Olympiastadion stadium, or you may wish to take a short train ride to Potsdam and the Sanssouci Palace, home of the famous Prussian king Frederick the Great.
Day 3 – Colditz & Meissen
After breakfast we drive through gentle rolling woodland and fields into Saxony, crossing the mighty River Elbe en route to somewhere synonymous with the heroic art of escape: Colditz. The supposedly escape-proof castle towers on its clifftop, looming over the town below. Our guided tour and the related exhibition offer intriguing insights into the lives of both inmates and guards. We see escape tunnels, a home-made radio, false uniforms and other escape equipment, all ingeniously crafted from whatever materials were to hand. Much was secreted about the buildings and, like the 'radio room', was discovered by maintenance workers after the war. Some of the most moving exhibits are postcards sent by prisoners to their children, whom they were not to see for many years.
Next we visit the town of Meissen, famous for producing the first porcelain to be made outside of China. We have a remarkable tour revealing how, since 1710, highly skilled artisans have created these unique works of art. Many porcelain pieces take weeks or even months to finish, and in the museum you can enjoy many of the splendid examples from throughout the company's existence.
We soon arrive in Dresden for two nights, at the centrally located four-star superior Hotel Steigenberger. On some tour dates we'll stay at the four-star superior Maritim Hotel situated on the banks of the River Elbe.
Day 4 – Dresden
Sitting majestically astride the stately waters of the River Elbe and dating from the 12th century, Dresden is a strikingly beautiful place to visit. It rose to artistic prominence during the early 18th century when August the Strong, ruler of Poland and Saxony, gathered many of Europe's best musicians, architects and artists in his capital. Its pre-eminence as a centre for art, classical music and science saw the emergence of fine Renaissance, Baroque and Classical buildings, the majority of which – though destroyed by the Allied bombings of 1945 – have been wonderfully restored in recent years, returning Dresden to its former glory. This morning we have a walking tour around these revitalised architectural gems, and in the afternoon you're free to explore as you wish. Absorb the ambience of Dresden's many enchanting shops, seek out a cosy restaurant down one of the quaintly cobbled streets, or simply enjoy the numerous talented street musicians that keep Dresden's musical heritage alive.
Day 5 – Return Flight
After breakfast, transfer to the airport for your flight home.
---
Berlin, Dresden, Meissen and Colditz
FROM
£699.00
Departing From
Bristol
East Midlands
London Gatwick
London Heathrow
London Stansted
Manchester
Departure dates
14th August 2022
22nd August 2022
9th September 2022
16th September 2022
26th September 2022
30th September 2022