Expedition around the Irish Sea – 2023 British Isles Cruise
INTRODUCTION
Expedition around the Irish Sea – 2023 British Isles Cruise from Greenock

Historic seaports, natural wonders and cultural gems await as we cruise the Irish Sea taking in four countries of the British Isles, and the Isle of Man.
With its splendid Victorian and Art Nouveau architecture, Glasgow is a fitting port from which to launch your expedition around the Irish Sea.
Reaching Northern Ireland, Dunluce Castle in Portrush is one of the most scenic and romantic castles imaginable.
Visit the fabled Giant's Causeway before sailing to Belfast where you can explore the cobbled streets of the Cathedral Quarter and witness the proud heritage of its shipbuilding past.
The British Isles are blessed with incredible landscapes, and the Isle of Man is no exception — the entire island is a UNESCO Biosphere Reserve.
Explore its rugged coastline and uncover Celtic and Viking History. Venturing further south we drop anchor at the charming fishing village of Fishguard in Wales, where you'll stumble upon ancient monuments and Neolithic houses.
Sample those timeless institutions that are the bedrock of British Isles society – pubs. Find out the "craic" – friendly talk and fun times – in Dublin's cosy establishments of good cheer while sipping a pint of Guinness.
Wander its bustling streets taking in the historic vibe, and pay a visit to Trinity College and Dublin Castle before sailing back to Glasgow as your final port of call.

What You'll Love
Expedition cruise in a cabin of your choice
Breakfast, lunch and dinner including beverages (house beer and wine, sodas, and mineral water) in restaurant Aune
Complimentary tea and coffee
Complimentary Wi-Fi on board. Be aware that we sail in remote areas with very limited connection. Streaming is not supported.
Complimentary reusable water bottle to use at water refill stations on board
English-speaking Expedition Team who organise and accompany activities on board and ashore
Range of included activities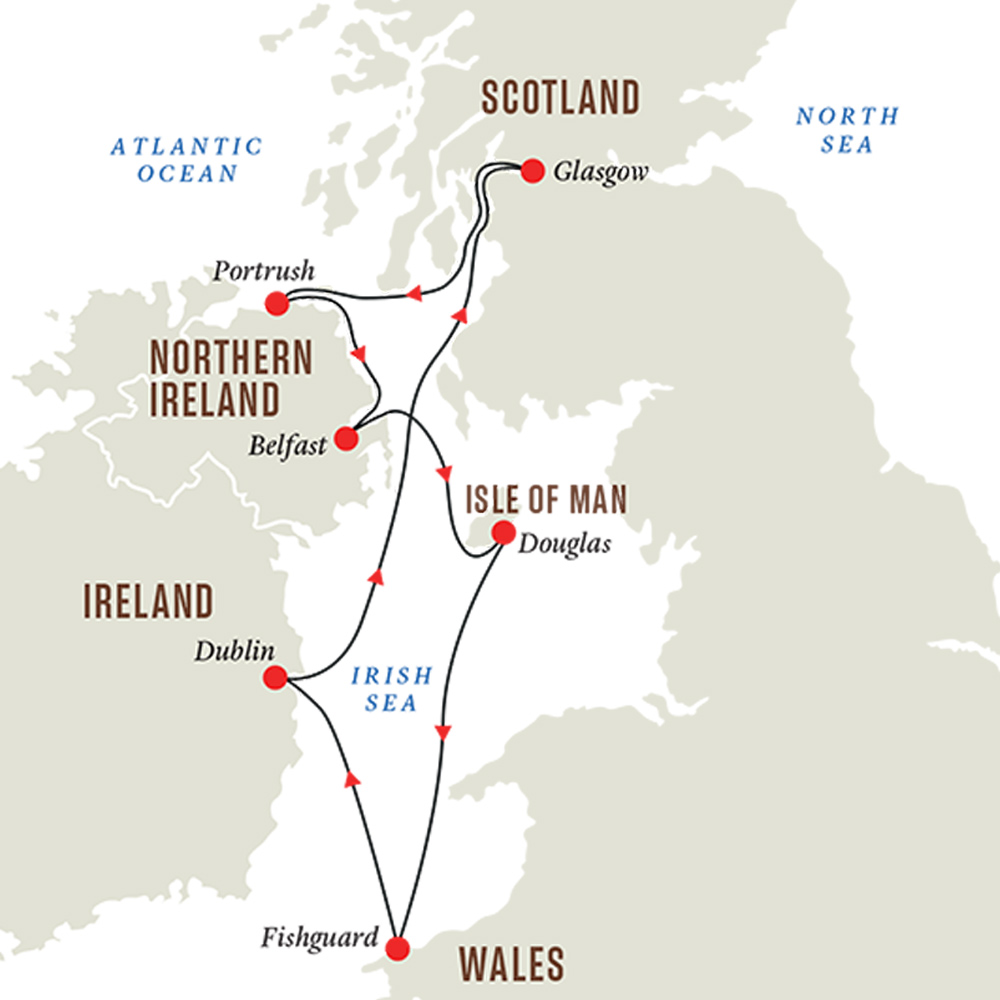 Itinerary
Day 1: Glasgow, Scotland
Set sail from Scotland's stylish city of culture and get to know your expedition ship and crew.
Glasgow is an elegant city filled with splendid architecture in the Victorian and Art Nouveau styles. If you have any time prior to embarkation you'll discover its museums, galleries, and lively spots to eat, drink and shop.
When you're done, your comfortable expedition ship MS Spitsbergen will be waiting for you. You'll be greeted by your friendly Expedition Team and after attending a safety briefing and settling in, you'll sit down to a welcome dinner to mark the start of the cruise.
Day 2: Portrush, Northern Ireland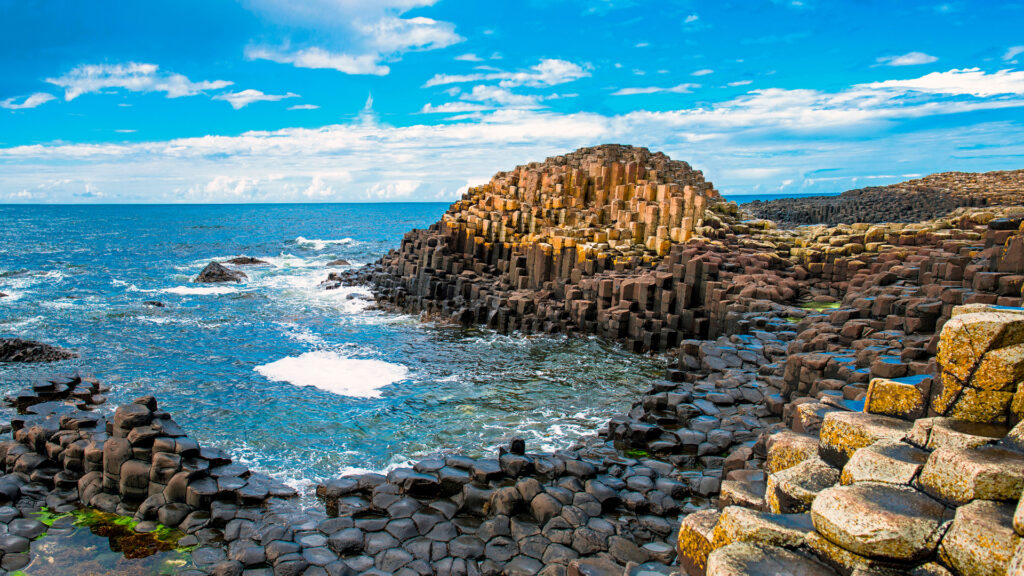 Step out into little Portrush and see a giant natural wonder.
Portrush is a small resort town that's been popular since Victorian times. From here there are several walks you can go on, and this section of coast features long sandy beaches. Birders should trek up to Ramore Head, just north of the town.
A big drawcard is the UNESCO-listed Giant's Causeway, around 40,000 interlocking basalt columns rising mysteriously from the coast. Meanwhile the Dunluce Castle ruins, set dramatically atop cliffs overlooking the Atlantic, provide a stunning backdrop to the wild beauty of this region.
Day 3: Belfast, Northern Ireland
Roam Northern Ireland's historic industrial city and discover its proud heritage.
Famed as the birthplace of the Titanic, Northern Ireland's capital is a city of industry and elegance. Wander the Titanic Quarter and walk the Maritime Mile, a waterfront trail showcasing Belfast's proud seafaring history.
Elegant Victorian architecture abounds here. Admire the detailed mosaics of St Anne's Cathedral, and the majestic façade of the Grand Opera House. Climb Cave Hill, near Belfast Castle, for great city views.
There are tasty treats and great handicrafts for sale at St George's Market, and the Ulster Museum will delight history buffs.
Day 4: Isle of Man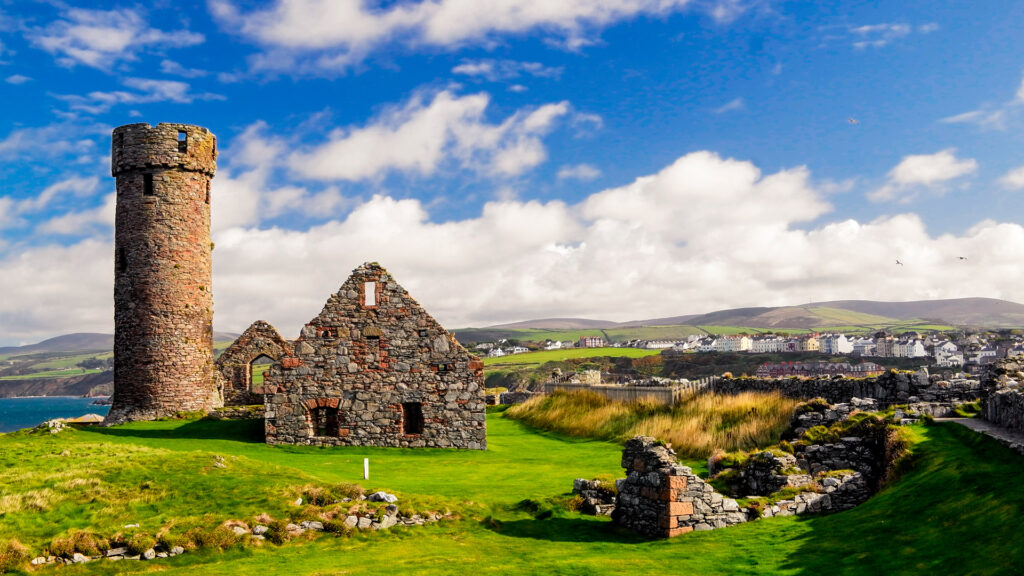 Explore the capital of the Isle of Man, a hotbed of Celtic and Viking heritage.
The scenic approach to Douglas is not to be missed! We head ashore to explore the capital of the Isle of Man; learn about the island's Celtic and Viking heritage, trace its development as a Victorian tourist resort, and see its stunning rugged coastline.
There's so much to pack into your day in Douglas. Visit the Manx Museum, check out the murals in St Thomas's Church and discover the impressively spooky Peel Castle, originally a Viking stronghold and now said to be haunted.
Day 5: Fishguard, Wales
Explore Fishguard and see its Iron Age settlements and the idyllic Dyffryn Fernant gardens.
Nestled between the Preseli Hills and the Pembrokeshire coast is the charming Welsh coastal town of Fishguard. You'll find the original hamlet and harbour in Lower Fishguard, and spectacular sea views from the 'Main Town' on the clifftop.
Explore the ruins of Fishguard Fort at Castle Point, and spot marine life on a coastal walk along the Pencaer Peninsula. Get a feel for life in the neolithic inside the reconstructed roundhouses of Castell Henllys – while the Dyffryn Fernant gardens are a horticultural gem not to be missed.
Day 6: Dublin, Ireland
Discover the lively city on the River Liffey, famed for its cultural contributions.
Founded by Vikings, and later becoming the Kingdom of Dublin, Ireland's capital has a remarkable history. But as one of Europe's most youthful cities, 'Dubs' is also a lively cultural centre of live music, pubs and a very modern tech hub.
Today, you'll have the opportunity to explore this fascinating city, visiting such places as Trinity College, the oldest university in Ireland. Here, you'll see the medieval manuscript the Book of Kells. Dublin Castle is also worth a visit, and don't forget to sample a pint of Guinness.
Day 7: Glasgow, Scotland
Our island-hopping expedition ends where we started out, in Glasgow. We know you'll have had some wonderful experiences over the past 10 days, but why not linger a while and see some of the things you may have missed before you set sail.
MS Spitsbergen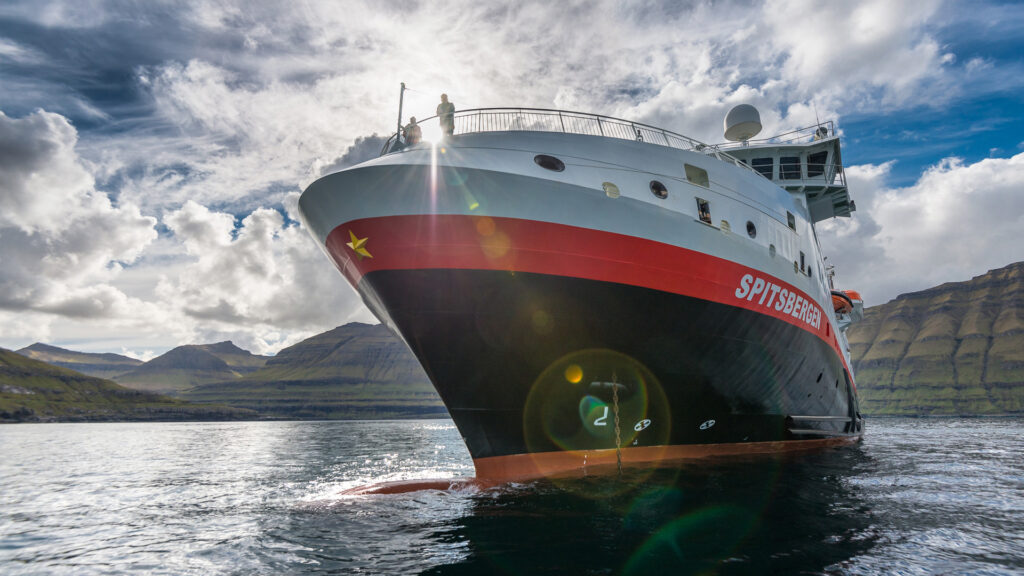 Named after the Crown Jewel of the Arctic Norway – the Svalbard archipelago and its biggest island, MS Spitsbergen is stylish, comfortable, offering morden public areas and cabins.
Environmentally progressive with future plans looking at ways to further reduce emissions and fuel consumption even more, MS Spitsbergen also has its own expedition team on board.
Throughout your journey, the on-board Expedition Team host a lecture programme and evening gatherings daily. Out on deck you can participate in live points of interest to learn more about the nature, culture and other phenomena we encounter during your cruise.
HOW TO BOOK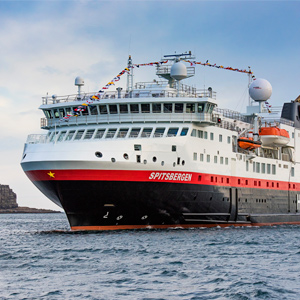 ENQUIRE OR BOOK
Call 0203 808 4029 quoting DCT OFFER
To request a brochure, click below.
Terms & Conditions
Organised by Hurtigruten. From price quoted are in GBP and are per person and based on the Select fare structure, and full occupancy of lowest available grade two-berth cabin, on a full-board basis. Single supplements apply. Cabins and excursions are subject to availability. Hurtigruten operates a flexible pricing system and prices are capacity controlled, correct at time of booking. Not included: travel insurance, luggage handling, optional excursions or gratuities.