Classic Tuscany – Solo Traveller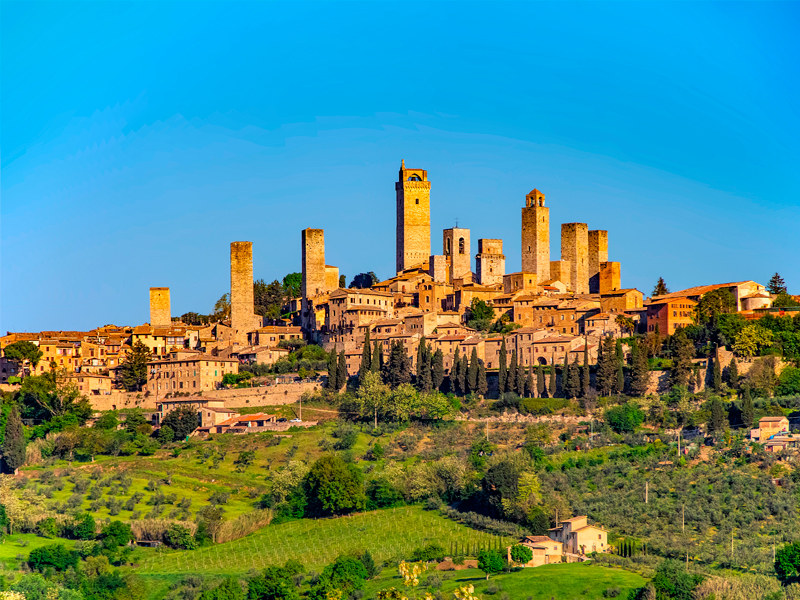 Enjoy the very best of Tuscany on our 7-night solo traveller holiday to Montecatini, a beautiful hillside town known for its geothermal spas, cable car and charming outdoor cafes.
On this Italy tour, we'll visit several UNESCO World Heritage Sites throughout Tuscany as part of the day trips and excursions included with your holiday.
We'll explore the Renaissance masterpieces and monuments of Florence, the medieval tower houses of San Gimignano, and Siena's remarkable sloping square, Piazza del Campo.
A highlight for many is the trip to Pisa, which is home not only to the leaning tower, but also to magnificent cathedrals and baroque buildings. We'll also have plenty of leisure time to explore on your own or with your fellow travellers, take in the stunning surroundings of Montecatini and experience Italy like a local. Join us on this Italian adventure for the perfect mix of culture, relaxation and history.
What You'll Love
Discover Tuscany on a guided solo traveller holiday & uncover Italy's most famous region
Meet other like-minded solo travellers & enjoy the comfort of your very own hotel room
Spend 7 nights in Montecatini, a scenic town surrounded by natural thermal springs (4* Half Board)
Visit the capital of the Renaissance on a day trip to Florence, including stops at the Duomo & Ponte Vecchio
Learn about the incredible architecture & history of Lucca & Pisa on a guided day tour
Explore the traditional Italian towns of Siena & San Gimignano on a full day guided excursion
Return flights & transfers
Subject to availability. Single supplements apply. To check latest availability, call 0131 608 1238 quoting "DC Thomson Travel"
Itinerary
Day 1 – Travel to Italy
Upon arrival in Italy, we will be met by our local representative and transferred by coach to our hotel in Montecatini.
Day 2 – At Leisure
Today we can enjoy a chance to discover Tuscany at our own pace. Take a stroll around Montecatini and treat yourself to a coffee in one of the many cafes or take the cable car to the older town, which sits atop a nearby hill.
Day 3 – Florence
After breakfast, begin our holiday with a walking tour around Florence accompanied by our expert local guide. We will witness the famous Duomo (cathedral), which was completed structurally in 1436 and has an elaborate green and pink facade in the 19th century gothic-revival style. From there we will move on to the Piazza della Signoria, which was the centre of the Florentine Republic and remains the political hub of the city. We will also see the Ponte Vecchio (Old Bridge) which has shops built along the length of it as was once common for Italian bridges.
After our walking tour, enjoy some free time to have a leisurely lunch and the chance to explore Florence's exquisite streets and squares.
Day 4 – At Leisure
A further opportunity to relax and enjoy the lovely town of Montecatini! Ask our guide to recommend some places of interest for you according to your tastes. We recommend a trip to one of the many piazzas and leafy parks in Montecatini.
Day 5 – Lucca & Pisa
After breakfast we travel to Lucca, the birthplace of Puccini, and the only town in Italy entirely surrounded by walls. Considered to be among the wealthiest and most conservative cities in Tuscany, Lucca's prosperity was gained largely through silk and high-quality olive oil. The city is crammed with beautiful Romanesque churches – an architecture enthusiasts dream.
Later, we travel to Pisa where we will visit the Piazza dei Miracoli, home to perhaps the most iconic building in Italy – the Leaning Tower. The famous lean was caused by a poor foundation, which could not support the structure's weight. The tilt continued to increase before the structure was completed and has since been partially corrected in the 20th and 21st centuries. On this excursion we will also see the Pisa Cathedral and the many baroque buildings, which make up the Piazza dei Miracoli (the Square of Miracles).
Day 6 – At Leisure
Enjoy our final day at leisure in Tuscany! Why not pick up some last minute souvenirs in Montecatini, or relax in one of the nine thermal centres, where you can enjoy everything from massages to mud baths, saunas to beauty treatments.
Day 7 – Siena & San Gimignano
Begin our day with a guided tour of Siena, a city famous for its art, cuisine, museums and medieval landscape. Here, we will visit the Piazza del Campo, home of the famous Palio horse race held twice a year.
In the afternoon we move on to San Gimignano. The town is known as the "Town of Fine Towers" and it sits on a hilltop. A UNESCO World Heritage Site, it is encircled in walls and is famous for its medieval architecture and impressive skyline. We recommend you try the local white wine, Vernaccia di San Gimignano, made from grapes grown on the sandstone hillsides of the area.
Day 8 – Return Home
Time to say 'arrivederci' to Tuscany! We'll check out of our hotel and depart by coach to the airport for our return flight.
---
Classic Tuscany – Solo Traveller
FROM
£1299.00
Departure dates
10th October 2022
19th June 2023