Classical Spain – Seville, Córdoba & Granada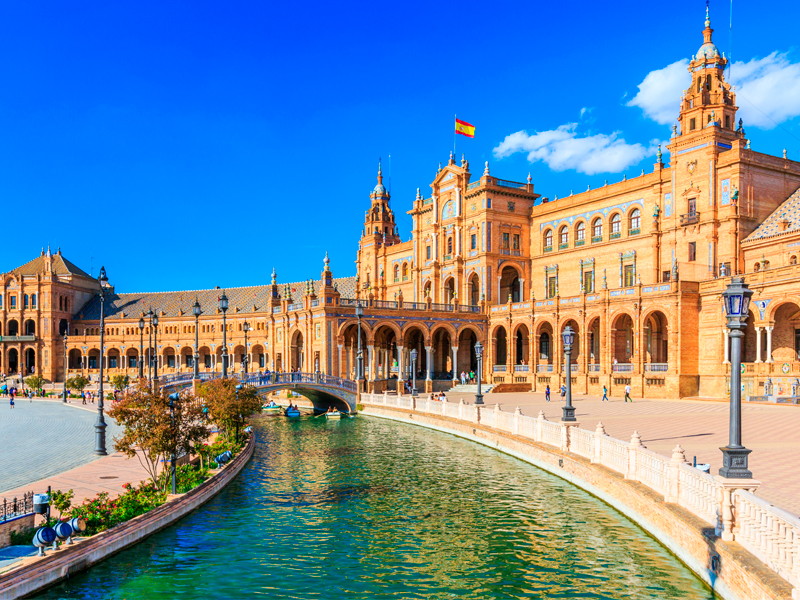 Available
Until October 2022
Experience Classical Spain and Andalucía's magical fusion of Spanish and Moorish cultures as you discover Seville's vibrant streets and conquistador heritage, Granada's wondrous Alhambra and the dazzling Mezquita mosque in Córdoba – and much more.
Andalucía is simply one of the most beautiful corners of Europe yet for many it remains relatively undiscovered. It's a land where the excesses of the modern era seem not to have taken root and where travellers are genuinely welcomed.
The food is a delight, with the area noted for its seafood and its famous drink, the fortified wine from Jerez we call sherry. Try a glass of fino, a very dry yet refreshing sherry, while nibbling tapas, that great Spanish titbit invention.
The people are charming – always ready to help, with a friendly attitude towards their fellow man and a love of life so typical of Mediterranean people. So, for an inspirational blend of timeless countryside, iconic monuments, romantic and vivacious cities, fragrant flowers and orange blossom, wonderful art and superb cuisine, all set in a region that welcomes visitors as honoured guests, welcome to Andalucía.
What You'll Love
Enjoy peace of mind with Flexible booking*
Flights & transfers
Six nights in three-star superior and four-star accommodation including all local taxes, with breakfast
Experience beautiful Seville's vibrant streets and tranquil parks on a tour led by a local guide
Visit to medieval Ronda – one of Spain's most spectacularly situated cities
Delight in delicious and authentic Tapas in Seville
Fall under the spell of the Alhambra, seeing one of the most romantic places ever built, with exquisite formal gardens of roses and fountains, set against the dramatic mountains of Granada
Visit Córdoba with a guided tour of the Mezquita, possibly the most beautiful mosque constructed – entrance included
Services of an expert tour manager
Subject to availability. Single supplements apply. Click here for departures exclusively for solo travellers. 
*Full terms and conditions can be viewed on the Riviera Travel website here. 
Itinerary
Day 1 – Arrival in Maga
Arrive at the airport for your flight to Malaga. On arrival, we transfer to the four-star Ilunion Hacienda del Sol. This hotel is ideally situated in undulating countryside near the village of Mijas.
Day 2 – Ronda & Tapas in Seville 
After breakfast we take a drive into the hills forming the beautiful backdrop to the coast and then arrive in Ronda, a city widely acknowledged as one of the most spectacular in Spain and which enjoys a setting so naturally dramatic it could be in a fairy tale. Built on a ridge and split by a most impressive gorge plunging down hundreds of feet, Ronda's almost impregnable position meant it was one of the last bastions of Moorish power, only falling to the Christians in 1485. During the 18th century, the two halves of the town were joined by its iconic stone bridge, while another highlight is the palace that was once home to King Ferdinand and Queen Isabella, paymasters of Columbus. With lots of good restaurants and tapas bars, Ronda is a splendid spot to spend a few hours exploring its classic Moorish maze of cobbled alleys, full of whitewashed houses with window grilles. Much of the city's appeal lies in its spectacular views and clear mountain air – Andalucía at its simple best. We continue our drive into the countryside beyond, which is both very scenic and quite isolated, so much so it is not unusual to see eagles and vultures soaring above or ibex roaming the mountains.
We then arrive in Seville and our hotel, the three-star superior Don Paco, where we stay for the next three nights.
Day 3 – Seville
Flamboyant, seductive, fascinating … Seville is all these and more. It is simply one of the most beautiful and charismatic cities in the world, with the serene River Guadalquivir flowing through its centre, a history spanning the centuries, a wealth of historic buildings, colourful back streets and peaceful parks.
It has its origins in Roman times – the Emperor Hadrian, builder of the famous wall, came from here. During the 8th century the Moors arrived, stayed for five centuries and left a unique legacy still in evidence today. However, if one event changed Seville, it was the discovery of the New World and, fittingly, Columbus is buried in the imposing cathedral. Immense wealth poured in from Spain's new empire and catapulted Seville into one of the largest and richest cities in Europe.
Much of Seville was built during this time and it seems to have changed little in the last 500 years, with tiny twisting streets and hidden squares where the locals hide from the midday sun in high summer. Today, though, it possesses a vibrant, cultural spirit that is very special.
The city of Figaro, this is the setting for another classic opera, Carmen. It's also the home of flamenco, the origins of which are lost in the aeons of time. In short, this is the essence of Spain.
After breakfast we have a tour of this beguiling city, during which we'll see the awe-inspiring semi-circular Plaza de España, a fine example of Renaissance Revival and Moorish Revival styles of Spanish architecture. You'll also see the Tower of Gold, so named as it was used to store plunder from the Americas, and much more. During the afternoon you're free to explore Seville at your leisure, during this time you could visit the fortified palace of the Alcázar or the world's largest Gothic cathedral which is the final resting place of the great navigator, Christopher Columbus. Alternatively if you wish, you could take a cruise on one of the many river boats.
Day 4 – Free Day in Seville
Today we have a free day. There are the 'musts' to revisit if you wish, such as the Alcázar, the fortified palace of the Moors with a richness of decoration which will astound you, and the cathedral, but also take time to wander around the Barrio Santa Cruz, the former Jewish quarter of the medieval city, and the smart pedestrianised Calle Sierpes, a street full of beautiful shops selling high-quality leather goods. The Maria Luisa Park is a beautiful display of colour where you can relax and indulge in a spot of people-watching.
Day 5 – Córdoba
After breakfast we leave Seville and head east to another of Andalucía's classic cities, arriving in Córdoba for our guided tour. Córdoba was the ancient capital of the Moors and is principally famous for a single building – the Mezquita – the grandest and most beautiful mosque ever constructed in the Moorish world. Dominating the centre of the Old Town, which was once the home of a thriving Jewish community, it is a building of extraordinary power and mystery with an arcaded hall supported by over 850 columns made of semi-precious stones. One can only wonder at the architectural brilliance of the builders all those hundreds of years ago, while northern Europe was still immersed in the depths of the Dark Ages. Another highlight is the immense, well-preserved Roman bridge. Córdoba is a delightful place full of patios drenched in the colour of thousands of flowers – the Spanish seem to take so much pride decorating their homes.
We then continue our journey to arrive in the city of Granada, the last stronghold of the sultans during the Middle Ages and home to the Alhambra, the most spectacular gem of Moorish Andalucía. As we approach Granada, there can be no more proof of the diversity of this corner of southern Europe. We pass through some very arid countryside with a landscape of dried riverbeds, giving way to rolling olive groves. In the distance is the spectacular Sierra Nevada, the highest mountain range in Spain. The landscape then becomes more fertile and picturesque, with ancient olive trees stretching off into the distance.
Our hotel for the next two nights is either the centrally located four-star Hotel Corona, in the heart of the city and within easy walking distance of the principal areas of interest, or the four-star Hotel Alixares, well located opposite the Alhambra. Both are fully air-conditioned and ideal for a comfortable stay.
Day 6 – Granada & the Alhambra
Granada has a naturally dramatic location, nestling against the backdrop of permanently snow-capped mountains soaring majestically to a height of 11,000 feet. It is the perfect setting for the most perfect of architectural wonders, the Alhambra. So individual in its setting, so rich in its history and so exquisite in its design, this iconic building was the high point in Moorish culture. It is not just a palace, though. Some of it is a fortress, and much is given over to formal gardens full of roses and fountains, giving an incredible impression of peace and tranquillity.
Today we visit the Alhambra, which for many people will be the highlight of the holiday, and you'll also have time to explore the city as you wish. There is a myriad of twisting streets, the old Moorish quarter and the traditional gypsy area, all full of tiny unique shops, with seemingly every balcony sprouting flowers in a profusion of colour. There's nothing better than taking a stroll through these streets, little changed in centuries, with pavements made of pebbles set in mortar and some so narrow that mules were the only form of transport. Granada also boasts some of the most distinctive old bars in Spain, many of them decorated with antique tiles, where taking a drink and a few tapas can be an excuse for a unique, authentically Andalucían experience.
Day 7 – Return Flight
Transfer to Malaga airport for your flight home.
---
Classical Spain – Seville, Córdoba & Granada
FROM
£1049.00
Departing From
Edinburgh
Other UK airports also available
Departure dates
25th June 2022
3rd September 2022
17th September 2022
1st October 2022
8th October 2022