Cornwall – Falmouth Bay & St Ives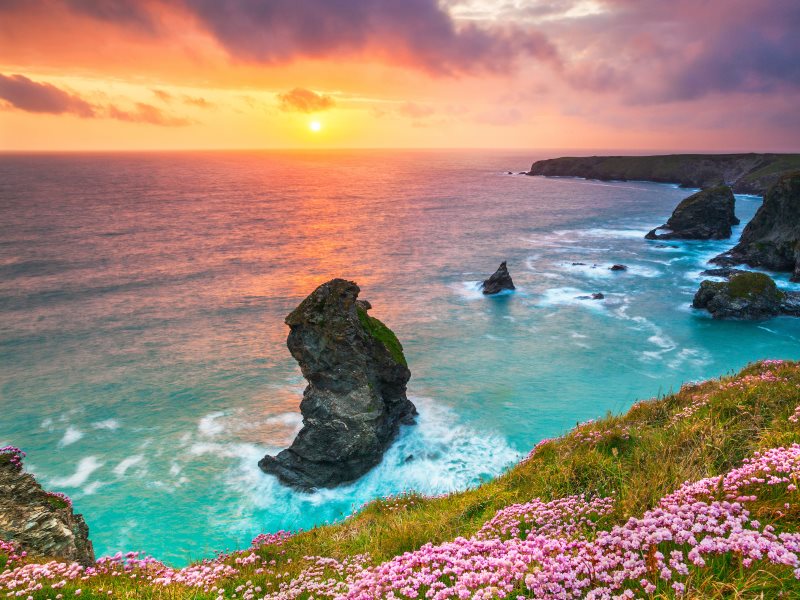 Available
Until October 2022
This varied tour combines the incredible highlights of Cornwall in just a short break, featuring the incredible Tintagel Castle, Lost Gardens of Heligan and St Michael's Mount.
With a unique geographical setting, the river Tamar sets Cornwall apart from the rest of England, giving the locals a real sense of identity and belonging.
Cornwall is blessed with both stunning natural features and a colourful history of maritime trade and smuggling.
As well as these impressive coastlines, characterful little harbours and fishing villages, we will be sure to immerse ourselves in what it means to be Cornish. Imagine experiencing time-honoured Cornish cream tea overlooking the harbour or visiting a traditional cyder farm to see how the famous local drink is made.
What You'll Love
Enjoy peace of mind with Flexible Booking *
Stay four nights in 4-star accommodation with daily breakfasts
Discover the world class Lost Gardens of Heligan on a guided tour
Visit chic the charming coastal villages of Mevagissey and Padstow
Discover St Michael's Mount with its imposing medieval castle
Enjoy a visit to a family-run Cornish Cyder Farm with a tour and tasting
Explore spectacular Tintagel Castle
Enjoy a traditional Cornish cream team
The services of an expert tour manager
Subject to availability. Single supplements apply. Click here for departures exclusively for solo travellers. 
*Full terms and conditions can be viewed here. 
Itinerary
Day 1
Make your way to your well-appointed hotel in a way to suit you with time to settle in and explore Falmouth. A fantastic coastal town, Falmouth is attractively located at the mouth of the river Fal. Falmouth's golden age was in the 18th and 19th centuries thanks to its deep natural harbour which facilitated trade, and today it is one of the most famous destinations in Cornwall.
The town is conveniently located for exploring the rest of the county too, offering a wealth of shops, cafes and restaurants, as well as a renowned maritime museum which you can visit during your free time. The beautifully located Pendennis Castle is also worth a visit, with great views of the estuary from the top. Plus of course there are some of Falmouth's excellent beaches just a few minutes' walk from the hotel.
Day 2
After breakfast, this morning we take a drive to visit the world-class Lost Gardens of Heligan. These are amongst the finest gardens in England but they were rediscovered relatively recently, as they had been 'lost' since the start of WWI until a door in the ruins was found, which led to the restoration of this estate in the 1990s. There really is something for everyone in these gardens, from ornamental gardens to a wild subtropical 'jungle', so we will have a guided tour followed by free time to explore – you could easily spend the whole day in this captivating yet tranquil space.
We will then head to the nearby fishing village of Mevagissey, a picturesque spot for a leisurely lunch or a coffee overlooking the harbour. This small village is a maze of quaint, narrow streets, nevertheless Mevagissey is still one of the biggest fishing ports in Cornwall.
We will return to Falmouth in the afternoon where we will end our first day with a Cornish classic – cream tea at the hotel, with beautiful views over the bay. Just remember that the traditional Cornish method is to put jam first on your scone, followed by cream!
Day 3
This morning a scenic drive awaits as we make our way to Tintagel Castle, set high on Cornwall's rugged north coast. As the silhouette comes into view, you'll begin to understand why this is undoubtedly one of the most spectacular historic sites in England. Tintagel Castle became famous for its links with King Arthur in the 12th century, when Geoffrey of Monmouth claimed that King Arthur was conceived there.
We will have plenty of time to admire the stunning scenery and coastline that surrounds it, and we include a visit to the castle, now made more easily accessible thanks a new bridge which was completed in 2019. Centuries of erosion have resulted in the loss of parts of the castle and other buildings, eroding the land which divides the island from the mainland, but there are still plenty of medieval remains to be explored. For keen walkers, you can also walk along the coastal path for stunning views of the castle and dramatic coastline.
We continue to charming Padstow where we have free time for lunch and to explore. Padstow is an old fishing port but over recent years it has become one of Cornwall's 'trendiest' destinations and is now filled with restaurants and chic boutiques. Some of this development is also thanks to its links with Rick Stein, who owns several establishments in the village, including restaurants, hotels, shops and pubs, so you will really be spoilt for choice here! Or for people who just want to get away from the bustle of the town, there is a huge sandy beach just a 10-minute walk from the harbour.
Day 4
History fans may recognise St Michael's Mount as the famous tidal island boasting a medieval castle, linked to Marazion by a man-made causeway. This morning we drive to Marazion for a view of this intriguing part of the world. Enjoy a scenic walk across, or reach by boat during high tide, to enjoy a coffee on the terrace overlooking the causeway. Or perhaps visit the majestic castle and its terraced gardens (gardens are only open during specific times of the year), which is free for National Trust members.
We then continue to St Ives for lunch and free time. St Ives is renowned for its sandy beaches and there is a truly 'arty' atmosphere here thanks to the thriving artistic community, with interesting galleries and shops, plus of course Tate St Ives.
In the afternoon we will call at a Cornish Cyder Farm to enjoy a tour and tasting. Spelt with a 'y' in the traditional way, this fine product is created from a single pressing, like virgin olive oil. This is a family-run farm located in the Cornish countryside, they have been making cyders, wines, spirits and more for nearly 40 years – they even became Cornwall's first distillery for 300 years. We will find out more about their success story and how their dreams of hand-pressing apples became reality after they bought a 150-year-old farm back to life, bought a 16th-century press and turned their passion into great local products.
Day 5
If you have time, why not stop to the pretty village of St Mawes before returning? Famous for its whitewashed buildings and beautiful location with views over Falmouth Bay, this is a great place for one more leisurely cream tea in one of the establishments facing the harbour.
---
Cornwall – Falmouth Bay & St Ives
FROM
£619.00