Costa Rica – from the Caribbean to the Pacific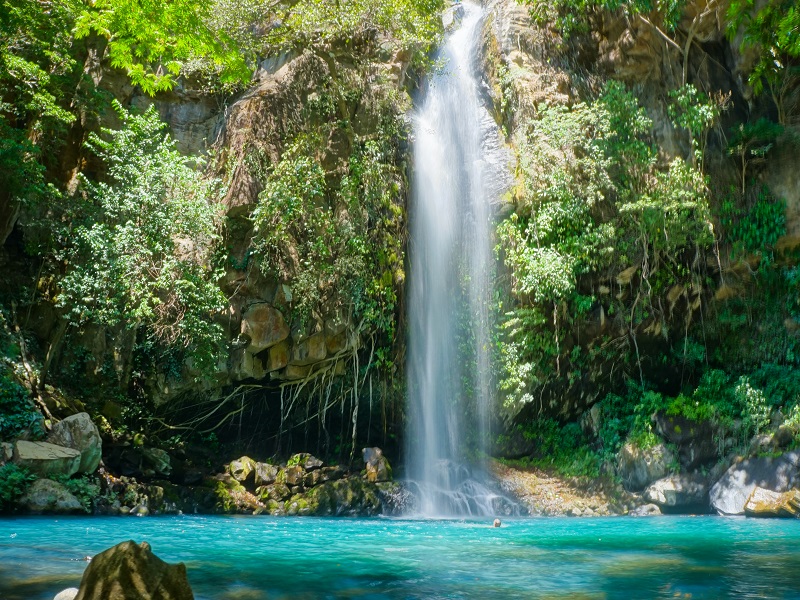 Available
Until November 2023
In Costa Rica every road seems to lead to another waterfall, a coffee plantation, a volcano, a lush rainforest or a stunning tropical beach. Everywhere you look, you are greeted by smiling faces who are immensely proud to live in a country whose happy motto is 'pura vida' – pure life!
Our tour starts from the country's capital of San José before striking out for the Tortuguero National Park on Costa Rica's eastern Caribbean coast, a labyrinth of canals, rivers and lagoons covered in thick forest and mangroves.
We continue cross-country towards the Arenal volcano. With a perfect cone, numerous hot springs and surrounded by its own national park, roughly half the species of Costa Rica can be found here.
From our comfortable base we will also visit the Caño Negro reserve, close to the border with Nicaragua. The main access route here is along the Rio Frio and the best way to spot wildlife is our boat safari which gives you uninterrupted views along its banks.
Our next port of call is the renowned Monteverde Cloud Forest, a unique ecosystem created by the warm Pacific winds being pushed up and condensing on the mountain slopes.
Our final stay for three nights is at a five-star resort in Guanacaste on the Pacific coast. Known for its beautiful palm-fringed beaches, this is the perfect spot to take some time off, relax, find a nice restaurant or bar and watch the sun slowly sink into the mighty Pacific Ocean.
With the new direct flights from London Gatwick to San José, we are sure you will come back from this surprising, amazing country with a real burning desire to go back. Pura vida!
What You'll Love
Enjoy peace of mind with Flexible Booking*
Return flights and transfers
Stay in 3 to 5-star accommodation, including three nights in a five-star resort overlooking the Pacific Ocean
22 meals: 11 breakfasts, 6 lunches & 5 dinners
Discover the unique eco-system in Tortuguero National Park
Explore the area around the still-active Arenal Volcano
Travel to the remote Caño Negro Wildlife Refuge, renowned for its incredible birdlife
See the extraordinary Monteverde Cloud Forest from above on hanging bridges
Enjoy a fascinating tour of a coffee estate
Option to try out an exhilarating 'zip-line' tour through the rainforest
Services of an expert tour manager
Subject to availability, single supplements apply.
*Full terms and conditions can be viewed here. 
Itinerary
Day 1 – Arrival in San José
Arrive at the airport for your flight to San José. We arrive in the afternoon, with the remainder of the day at leisure.
Hotel – 4* Crowne Plaza Corobici – San José
Conveniently located in downtown San José.
Choice of restaurants
Central location
Large swimming pool
Day 2 – Tortuguero 
After an early start, we leave the city behind, on our way to Tortuguero, on Costa Rica's Caribbean coast, passing by coffee and banana plantations and small farming communities. We arrive at the dock where we transfer on to our boat for the final part of our journey through the complex maze of natural canals to our home for the next two nights, the Aninga, Evergreen or Pachira eco-lodges, on full board basis.
After lunch we visit the nearby small picturesque town of Tortuguero and the Caribbean Conservation Corporation museum dedicated to studying the thousands of Atlantic Green, Hawksbill and Leatherback turtles who come to lay their eggs on the protected beaches here between July to October every year. As the sun sets and the sounds of the tropical forest fill the air, you may look forward to sampling some typical Costa Rican cuisine in the hotel's restaurant. (B, L, D)
Hotel – Pachira Eco-Lodge – Tortuguero
Situated within the rainforest.
Set inside Tortuguero National Park
Environmental policies
Wonderful cocktails
Evergreen Eco-Lodge
Hotel – Evergreen Eco-Lodge – Tortuguero
Wonderfully positioned in the rainforest.
Environmental policies
Complimentary tea & coffee
Delicious cocktails
Hotel – Aninga Eco-Lodge – Tortuguero
Day 3 – Tortuguero
After breakfast we set off for a fascinating walk along one of the nature trails around our lodge. means 'turtle catcher' and the many species of turtles which lay their eggs on these beaches came close to extinction until the area was declared a national park. You can also expect to see caimans, several types of monkeys and a huge number of endemic and migratory bird species, including toucans, macaws and raptors. After some time to relax by the pool during the hottest part of the day, in the afternoon we continue our exploration by boat, along the lush green waterways of this unique eco-system. (B, L, D)
Day 4 – Arenal
This morning we set off westwards through the centre of the country towards Arenal, famous for the perfect symmetrical cone of the Arenal Volcano, Costa Rica's youngest volcano. After a stop for lunch we arrive in Arenal in the afternoon. (B, L, D)
Hotel – 4* Hotel Arenal Manoa – Arenal
Amazing views of the Arenal Volcano.
All rooms have a private terrace
Beautiful gardens
Swim-up pool bar
Day 5 – Caño Negro Reserve
Today we head north, close to the Nicaraguan border, to the Caño Negro Wildlife Refuge. Here we embark on a boat to quietly float along the Frio River – your local guide will point out what's considered to be some of the most abundant bird life in Costa Rica. More than 300 bird species have been identified here, including kingfishers, ibis, toucans, storks and even a type of vulture, plus you're likely to see iguanas, caimans and numerous monkey species can also be spotted along the river banks. (B, L)
Day 6 – Arenal Free Day 
A day to take it easy at your hotel – after a sumptuous breakfast, settle down around the pool with its swim-up bar and wonderful views of the volcano. Just an easy walk around the grounds is sure to offer plenty of chances to spot some local wildlife. Tonight, why not enjoy an optional evening cooking class with dinner included. (B)
Day 7 – Monteverde
In the morning, embark on a walking tour in the foothills of Arena Volcano, enjoying more close-up scenic views of the volcano. We turn south today to drive towards the Monteverde Cloud Forest where we stay for two nights. Tonight, dinner is included. (B, D)
Hotel – 4* El Establo Mountain Hotel – Monteverde
Located in the Monteverde mountains.
Unbeatable views
Walking trails
All rooms have a balcony or terrace
Day 8 – Monteverde Cloud Forest
This stunning Cloud Forest boasts an extraordinarily diverse ecosystem, being home to 120 species of reptiles and amphibians, 130 species of mammals and an astounding 500 species of birds, not to mention more than 3,000 species of plants. Possibly the best way to enjoy all this is from above: the Sky Walk Hanging Bridges are a system of walkways that offer a unique view into the jungle from up to 180 feet above the forest floor.
If you're feeling really adventurous (and at extra charge), this is where you can also enjoy what is considered to be the country's best 'zip-line' experience.
This afternoon enjoy lunch and a tour of a traditional Costa Rican coffee farm where you'll see how one of Costa Rica's top exports is grown in this tropical region and its importance in the development of the country as a whole. Your evening is free to try out one of the many excellent local restaurants, cafés and bars. (B, L)
Day 9 – Guanacaste
This morning we drive towards the shores of the striking Pacific coast to the region of Guanacaste, one of the most beautiful places in the country, with an exotic combination of exquisite beaches and an exuberant tropical forest. On the way, we stop at the bustling town of Liberia, for some free time to have a stroll and maybe sample some of the local cuisine. Our luxurious, five-star hotel for three nights is close to the charming seaside resort of Tamarindo, where it's not unusual to see iguanas and white-faced monkeys on the beach! This evening we'll take you into Tamarindo where there's plenty of great food, music and friendly bars to choose from. (B)
Hotel – 5* JW Marriott Guanacaste Resort & Spa
Stunning ocean views from the Hacienda Pinilla ranch.
A choice of high-quality restaurants
Golf and tennis courts
Private beach
Day 10 – Palo Verde National Park 
Costa Rica's real riches come from its immensely fertile volcanic soils which have created a biodiversity of incredible range, variety and complexity – a veritable natural paradise! In fact, more than 25% of the country is designated as protected reserves or national parks. Today, we take a guided tour to Palo Verde National Park, one of Costa Rica's most popular conservation areas. Its wide range of land and marine biodiversity make this one of Central America's most impressive natural habitats. Your local guide will lead you by boat through the waterways of this tropical paradise to discover a unique combination of thick coastal forest, rivers and mangrove lagoons which are home to more than 109 species of mammals and 184 species of birds. One of its most well-known and likeable inhabitants is the three-toed sloth, but this is not even close to the tip of the iceberg. You'll also observe several species of monkeys, green iguanas, hundreds of varieties of brightly coloured tree frogs, hummingbirds a-plenty, scarlet macaws, blue-winged teal – the list just goes on and on! (B, L)
Day 11 – Free Day in Guanacaste 
Enjoy all the pleasures of your final day in your luxury hotel. You can take it easy on the beach or beside the hotel pool, with a piña colada or daiquiri in hand, play a round of golf, try out the spa or perhaps join the optional sunset cruise along the coast with picturesque views and time for snorkelling. We say farewell to this incredible country with an included dinner in Tamarindo. (B, D)
Day 12 – San Jose and Return Flight
Travel back to San José airport for your overnight direct flight home. (B)
Day 13 – Arrive Home
We arrive home this morning.
---
Costa Rica – from the Caribbean to the Pacific
FROM
£2799.00
Departure dates
1st November 2022
22nd November 2022
10th January 2023
31st January 2023
14th February 2023
7th March 2023
21st March 2023
15th April 2023
12th September 2023
14th October 2023
31st October 2023
14th November 2023