Croatia's Istrian Riviera & Lake Bled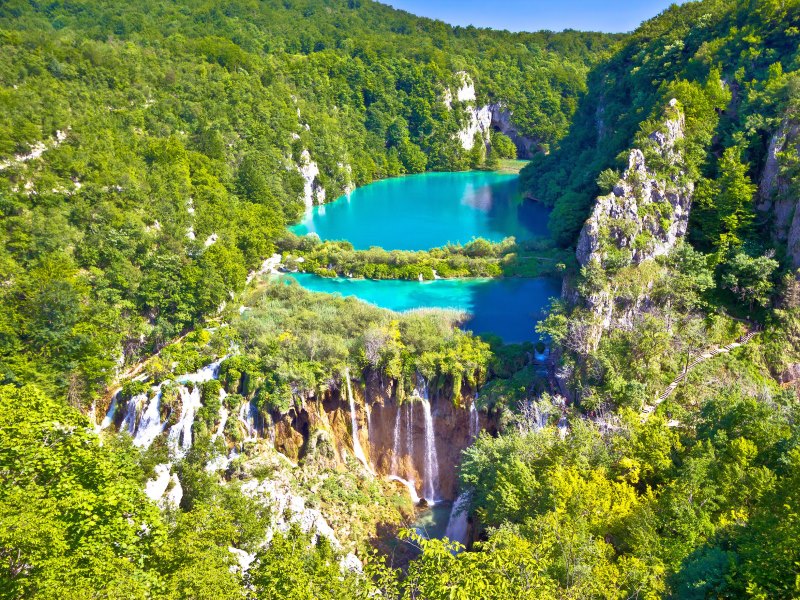 Discover the treasures beside the blue Adriatic – Roman glories, stunning scenery and one of Europe's most beautiful lakes.
Spend a week in a beautifully appointed shore-side hotel in the genteel, colourful resort of Opatija – a favourite destination of the Viennese elite during the Habsburg Empire, and now one of Croatia's premier holiday havens – and join three marvellous included excursions.
You'll enjoy the delights of the Istrian Riviera, journey into beautiful Slovenia to the beautiful shores of Lake Bled and spend a wonderful day in the spectacular surroundings of Croatia's glorious Plitvice National Park.
What You'll Love
Seven nights' dinner, bed and breakfast accommodation at the four-star Grand Hotel Opatijska Cvijeta, Opatija
Return flights to Venice or Pula
Comfortable, air-conditioned coach travel and transfers throughout
Visits to Pula, Rovinj and Lim Fjord on a tour of the Istrian Peninsula
Excursions to Lake Bled in Slovenia and to Plitvice National Park in Croatia
The services of a friendly, experienced tour manager
Single supplements apply. Subject to availability.
Itinerary
Day 1 – Fly to Croatia
Arrive in Venice or Pula, and transfer to your hotel in Opatija, on the Kvarner Gulf, one of the most sun-kissed corners of the Adriatic Sea. If transferring from Italy, you'll pass briefly into Slovenia then into Croatia on the way to your hotel.
Day 2 – At leisure in Opatija
Today you're free to enjoy the facilities of the hotel, or to discover the delights of Opatija, which has welcomed guests to its elegant shores for over 170 years. With an air of grandeur befitting its status as the former Austro-Hungarian counterpart to the Côte d'Azur (and similarly sheltered from the north winds by a backdrop of forested hills) Opatija is one of Croatia's most popular modern-day resorts. See its charming marina, shore-side promenade, wide range of shops, bars and restaurants – especially in the pretty Volosko neighbourhood – and several jetties from which swimmers can take a dip into the inviting water.
Day 3 – Included Istrian Peninsula excursion
On the first of our included tours you'll see some of the beauty of the Istrian peninsula in the company of our friendly tour manager. Highlights will include bustling Pula, the provincial capital famed for its vast Roman amphitheatre, the immense arches of which tower over the city's port and ancient centre. You'll also discover remarkable Lim Fjord, a wooded gash in the coastline that, according to local legend, once served as a hiding place for Welsh pirate (and later governor of Jamaica) Captain Henry Morgan. You'll visit stunning Rovinj, which rises Venice-like out of the water, its narrow streets and pastel-painted buildings leading ever upwards to the Baroque church of St Euphemia. Make the climb to enjoy the tremendous view, before returning to the harbourfront below, perhaps to enjoy a well-deserved ice-cream.
Day 4 – Included Slovenia and Lake Bled excursion
Today's long but memorable excursion takes you north through scenic countryside into Slovenia, and past the country's capital Ljubljana, to beautiful Lake Bled. Ringed by forested hills and looking out across the usually still waters to an island crowned by a Baroque church, Bled itself is a wonderful resort town surrounded by nature's glories. Enjoy the views of Bled Castle, which overlooks the town from a lofty perch on the opposite shore, before spending time enjoying the lakeside resort. Stop for lunch (payable locally), or perhaps take gondola-like pletna across to the island (payable locally). The energetic can even choose to row themselves!
You'll return to Opatija this evening in time for dinner.
Day 5 – Optional Krk and Cres Islands excursion
Rest and relax in and around your hotel, today, or join our optional boat tour to explore two contrasting islands lying off the beautiful Croatian coast. Board your vessel for the day in Opatija, and head out into the Kvarner Gulf. Your first stop will be Krk (pronounced "Kirk") a former Roman and Venetian outpost, and the largest island in the Gulf (and indeed the entire Adriatic). Across a narrow strait, Cres ("Tsress") is slightly smaller and less inhabited than its neighbour. Explore the historic fishing port of Beli, charmingly set on a hilltop overlooking its picturesque harbour.
During the day, you'll also have the chance to enjoy a traditional Croatian 'fish picnic' prepared by the crew of your boat.
Day 6 – Included tour of Plitvice National Park
The last of our included excursions takes you inland to Plitvice – justifiably Croatia's most celebrated and most visited natural attraction. Here, 16 bodies of water are surrounded by breathtaking scenery, and linked by a series of rushing waterfalls and rapids that tumble down the ancient, time-weathered terraces. After a drive through the beautiful scenery of Croatia's interior, you'll spend time exploring the park on foot before returning to Opatija this evening.
Day 7 – Optional Potojna Caves and Predjama Castle excursion
Spend a final day in the hotel or Opatija, or join our final tour and cross the border into Slovenia once again, heading to the rolling Karst region, which has lent its name to anywhere in the world where underground streams and caves are found.
Today, you'll visit the giant chasm at Postojna to travel two miles underground by train then walk with a personal audio-guide through a wonderfully illuminated netherworld of stalactites and stalagmites where the strange 'human fish' – a tiny amphibian – lives out its sightless life. After a fascinating visit, you'll journey to Predjama Castle, a remarkable Renaissance castle that clings to a sheer cliff-face at the mouth of another of the region's immense caves, its upper floor stairwells carved from the bedrock.
Return to Opatija to enjoy dinner and the last evening of your holiday.
Day 8 – Fly back to the UK
Transfer to the airport to check in for your flight home, after a wonderful stay in this delightful corner of the world.
---
Croatia's Istrian Riviera & Lake Bled
FROM
£1105.00
Departing From
Glasgow
Other UK Airports Available
Departure dates
23rd April 2023
7th May 2023
14th May 2023
21st May 2023
4th June 2023
11th June 2023
18th June 2023
25th June 2023
2nd July 2023
3rd September 2023
10th September 2023
17th September 2023
24th September 2023
1st October 2023
8th October 2023