Cruising the Best of the British Isles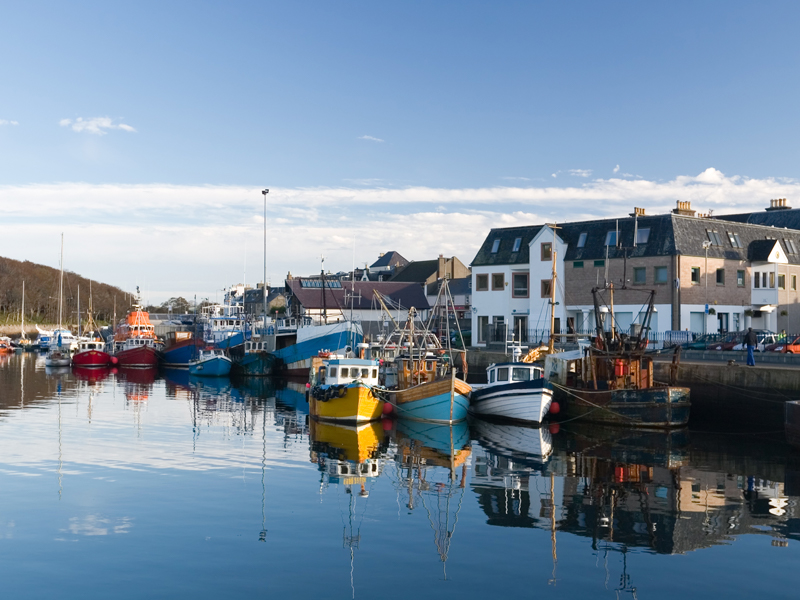 Historic cities of Scotland and Ireland meet ancient castles and striking coastlines on this unmissable cruise of the British Isles.
Bringing together lesser-visited parts of our shores, charming port towns, iconic architecture and fascinating fables of years gone by, all whilst enjoying the amenities of our world-class small ship.
Your voyage begins in Portsmouth, from where we effortlessly cruise to Edinburgh. Our contemporary vessel makes its way further north, stopping at delightful Aberdeen and Inverness on the way to the Orkney archipelago, looping back down to the Isle of Lewis & Harris.
It's then onward to the diverse cities of Belfast and Dublin, before rounding off an unforgettable experience with a stop in Isles of Scilly, for a chance to step over 300 years back in time.
What You'll Love
10 nights full board on the World Voyager, chartered exclusively for Riviera Travel, in your choice of cabin or suite, with sea views
Embarkation and disembarkation in Portsmouth
Guided sightseeing tours of Edinburgh, Aberdeen, Inverness, Belfast, Dublin and St Mary's on the Isles of Scilly
Discover Loch Ness on a drive around Scotland's most famous waters
Explore UNESCO-listed Neolithic Orkney, with visits to Skaill House and Skara Brae
Visit Lews Castle and discover the Neolithic Callanish Standing Stones of Stornoway
Five-star service from English-speaking crew and knowledgeable local guides
All port taxes
The services of a Riviera Travel Cruise Director and Concierge
Subject to availability. Single supplements apply.
Itinerary
Day 1 – Embark in Portsmouth
Arrive in Portsmouth, where you will embark your fabulous small ship. The welcoming crew will be there to greet you, ensuring you settle in on board and familiarise yourself with your well-appointed surroundings.
Day 2 – Cruising to Edinburgh
Today we cruise to the historic city of Edinburgh, so what better time to make the most of your contemporary small ship? Early risers may want to head to the fabulous observation deck to enjoy a spectacular sunrise, or even head to the walking track for beautiful views to accompany a morning stroll.
After breakfast, perhaps indulge in a treatment at the spa, unwind in the sauna or simply take a dip in the outside pool. There are loungers and a pool bar too – perfect for relaxing with a book as you enjoy your favourite drink. More entertainment awaits in the on-board auditorium, so look out for the timetable of lectures and film screenings. After a day enjoying all your modern cruise ship has to offer, be sure to head to the second observation deck to enjoy unmissable views as you sip your pre-dinner drink.
Day 3 – Edinburgh
This morning we arrive in Rosyth, located just across the Forth from Edinburgh. We then transfer to central Edinburgh for a guided walking tour of this fantastic city. Begin by seeing the Royal Mile, the main thoroughfare in Edinburgh's Old Town which stretches up to Edinburgh Castle, one of Scotland's most iconic sights. See the 12th-century St Giles Cathedral before crossing over to Edinburgh's New Town to see the beautiful architecture here and the iconic Scott's Monument.
You may choose to return to your ship for lunch before heading back out to explore Scotland's capital city further. Perhaps visit the castle, or for a fascinating journey back in time you could visit The Real Mary King's Close.
Day 4 – Aberdeen
Over your delicious breakfast or morning coffee, be sure to get a good view from the panoramic windows as our agile ship approaches Aberdeen. Aberdeen is Scotland's third largest city located on the mouths of the River Dee and River Don. Known as the 'Granite City', Aberdeen was founded in the 7th or 8th century and is known for its handsome grey granite architecture.
Today, we explore further on a guided tour. As you walk the ancient streets, look out for St Machar's Cathedral, former seat of the Bishop of Aberdeen, as well as King's College Chapel and Aberdeen University. You will enjoy a visit to the beautiful Cruickshank Botanical Garden, situated on King's College campus. After lunch on board, this afternoon you can enjoy more of the area. So perhaps take a trip to Craigievar Castle – said to have inspired Walt Disney when he drew Cinderella's castle!
Day 5 – Inverness and Loch Ness
This morning we awake in Invergordon, a picturesque port which large ships wouldn't ordinarily be able to access, making it the ideal stop to explore Inverness and the famous Loch Ness. Your exploration begins with a guided walking tour of Inverness, a historic town which inspired Shakespeare's Macbeth.
Highlights include the Inverness Town House, a stunning baronial house, plus Inverness Castle with its superb views over the city. The Victorian Market, another of your stops on the walking tour, is brimming with boutique shops, as well as the Old High Church and graveyard, as mentioned in the Outlander series of books and the majestic St Andrews Cathedral, built in 1158.
Next, we take an unforgettable drive along Scotland's most famous waters, Loch Ness. Loch Ness is the second largest loch by surface area and the largest by volume in the British Isles and is most associated with sightings of the fabled Loch Ness Monster. We uncover stories of a bygone era on a scenic drive around parts of the loch, stopping to enjoy remarkable views with commentary from your knowledgeable guide. A favourite calling point for many will be the stop overlooking Urquhart Castle, one of Scotland's most iconic castle ruins. We return to the ship for a late lunch, with the afternoon free to enjoy as you wish.
Day 6 – Kirkwall, Orkney
Overnight our ship has made its way to another gem of Scotland's waters, Kirkwall, the largest town in the Orkney archipelago. Our insight into this spectacular part of Scotland begins with a scenic tour of the UNESCO-listed Neolithic highlights of Orkney, including visits to Skaill House and Skara Brae. We then head west and visit the Standing Stones of Stennes, before visiting the Ring of Brodgar, the mystical stones which form one of the most captivating prehistoric monuments in the British Isles.
Your journey continues on to Maeshowe, where you will enjoy a guided tour of one of the finest chambered tombs in Europe, more than a staggering 5,000 years old. There will be time to explore Kirkwall, after a late lunch on the ship. Later this evening your ship will begin to make its way to spectacular Stornoway, so why not find a spot on deck or by a panoramic window as the sun seamlessly melts into the sea.
Day 7 – Stornoway, Outer Hebrides
This morning, peek out of your window to breath-taking sights of the Isle of Lewis & Harris, as we dock in Stornoway. Take in the untamed scenery of the Outer Hebrides and learn about the region's history from the Vikings to World War II.
During this half day tour, you will enjoy a visit to Lews Castle, a Victorian-era castle designed by architect and Glaswegian Charles Wilson. There will also be a chance to step back in time in the museum here before heading to the Neolithic Callanish Standing Stones. There's natural beauty at every turn: admire the wildly beautiful landscapes with visit to Carloway Beach and the striking white sand of Bosta Beach.
After a morning soaking up the history and scenic beauty of this region, we return by coach to Stornoway for lunch on board. There's plenty of time this afternoon to explore the town at your leisure before our evening departure as you dine.
Day 8 – Belfast
After a morning of sailing, today our discovery of Northern Ireland's capital begins with a fascinating walking tour. This afternoon, a local guide will take us to Belfast City Hall on Donegal Square, the 19th century Albert Memorial Clock, St Anne's Cathedral in the Cathedral Quarter, Queen's University campus, botanical gardens and the Big Fish ceramic mosaic sculpture.
Day 9 – Dublin
Overnight our ship has made its way south to the lively port of Dublin. After a hearty breakfast on board, we delve deeper into this historic city on a guided walking tour. Our journey begins at the Spire, known as the Monument of Light, before crossing the River Liffey to the south side, to the bustling Temple Bar, Dublin's nightlife district.
Of course a visit to Dublin wouldn't be complete without a visit to the likes of the Molly Malone statue, Grafton Street and the wonderful St. Stephen's Green, Dublin's largest park. After lunch, our ship leaves for the Scilly Isles, so this afternoon make yourself comfortable by a window to take in the coastal views from the Irish Sea.
Day 10 – St Mary's Isles of Scilly
Today, enjoy a short scenic guided walk on St Mary's, the largest island in the Scilly Isles. With your local guide, enjoy a fascinating walk, stopping at Morning Point Battery, a former garrison which is home to a Ione cannon looking out into the waters. Next continue along the coast and see the Garrison Walls. The walls have a history dating back over 350 years, with the Scilly Isles always being a point of interest and protection for the British against Spanish and French invaders.
Continue your walk back to the town and enjoy a wander through the streets before continuing to Harry's Walls, the unfinished remains of an artillery fort dating originally back to the mid-16th century. Enjoy the rest of your morning on this beautiful island before heading back to the ship for lunch and our homeward journey.
Day 11 – Portsmouth
Today we arrive back in Portsmouth, where we disembark with fond memories of newly discovered parts of the British Isles.
---
Cruising the Best of the British Isles
FROM
£6699.00