Cyprus Discovered – Paphos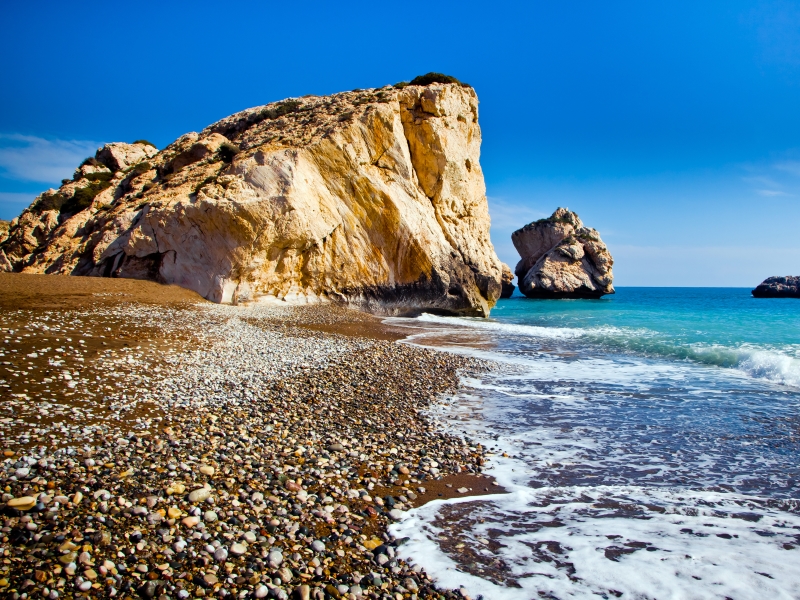 Discover the delights of Aphrodite's Isle on this escorted holiday to one of the Mediterranean's most favoured corners.
From your base in the coastal resort of Paphos, on Cyprus' south west coast, you'll enjoy three wonderful excursions in the company of your tour manager. Discover Paphos' fascinating history and its UNESCO-listed old town on a walking tour, explore the snow-capped Troodos Mountains, journey to Aphrodite's birthplace, and visit lively, lovely Limassol. With plenty of time for relaxation, and the chance to get to know even more about delightful Cyprus and its charms on two other optional excursions, this really is a perfect break in the winter sun.
What You'll Love
Spend a week soaking up some winter sun
A walking tour of ancient Pano Paphos
Enjoy a tour of the snow-capped Troodos Mountains
Exploring the fascinating city of Nicosia on an optional excursion
Visit Petra tou Romiou – the legendary birthplace of the goddess Aphrodite
Discover bustling Limassol's old port and castle
Alternative Departures
Itinerary
Day 1 – Fly to Cyprus
Fly into Paphos, meet your tour manager and transfer to your Paphos hotel. You'll then have the rest of the day free to rest, relax and enjoy the surroundings.
Day 2 -Included Paphos guided tour
An included half-day guided tour of Paphos, conducted by a local guide, will bring to life this fascinating place. See the extraordinary Tombs of the Kings burial site, the famous Paphos Mosaics housed in ancient Roman villas, and the Byzantine Church of Ayia Paraskevi. There will also be an entertaining stop to see how Loukoumi – the Greek Cypriot version of Turkish Delight – is made.
After the tour you may like to visit one of the excellent museums that bring added insight to this historic settlement.
Day 3 – Included Troodos Mountains Tour
Our second included tour takes us into the spectacular Troodos Mountains, which rise above the plains and the coast, and which have been home to remote villages and religious communities, including several wonderfully decorated Byzantine churches tucked away in the forested slopes, for centuries.
You'll stop, first, at Omodos, a wine-producing village of white stone houses that's also home to an ancient monastery, before winding your way through the pines to Troodos village itself. Other highlights of this memorable day will include ancient Kykkos Monastery (famed for its Byzantine Museum, mosaics and frescoes) Throni Park (burial place of Archbishop Makarios, Cyprus' first president) and Chrysorrogiatissa Monastery.
Day 4 – Optional Nicosia Tour
Today you're free to relax or to join our optional tour to Nicosia, the island capital for more than 12 centuries. Divided in 1974 by the 'Green Line' separating Greek and Turkish Cypriot territories, the city is both a bustling metropolis with a sophisticated cafe culture, and a fascinating gateway to the island's turbulent past.
You'll also head into northern Cyprus to visit the Bellapais Abbey, made famous by author Lawrence Durrell, and the coastal port-town of Kyrenia, with its picture-book harbour and castle.
Day 5 – At leisure
Rest and relax in your chosen hotel and its surroundings, today. There's so much to do in and around Paphos – sights to see, shops to discover, and even nearby golf courses to tempt the energetic. The harbour-front bustles with life, while the Old Town of Klitma, on its rocky plateau, offers a colourful alternative.
Day 6 – Included Limassol and Aphrodite's Rock
Today's included tour begins with a visit to the glorious beach that is home to Petra tou Romiou, Aphrodite's Rock, where the goddess of love is said to have risen from the waves. Pause to take in the scene, before heading to the ancient ruins of Kourion, where a magnificent Second-Century BC Greco-Roman theatre that is still in use today, sits spectacularly atop the cliffs.
Your next stop will be Cyprus' bustling second city, Limassol. Here a guided tour will reveal the fascinating sights, excellent shopping, and compact Old City – home to a picturesque fishing harbour and yachting marina – of this bustling city and centre of the Cypriot wine industry. Stroll through the streets of the Turkish Quarter surrounding the ancient castle, which once bore witness to the marriage of Richard the Lionheart, in search of the historic Grand Mosque and the traditional Turkish bath houses (Hammams) that still operate here.
Day 7 – Optional Taste of Authentic Cyprus Tour
Your last optional excursion offers the chance to journey to the traditional village of Agios Georgios Silikou to meet local 'celebrity baker' Mrs Paraskevi and enjoy a demonstration in the delightful lady's home. Learn how to bake halloumi pies (using Cypriot bread and traditional fillings) in a traditional oven, and sample the end product. After a short stroll through the village of Monagri, where several Cypriot delicacies are produced by the villagers, you will continue with the foodie theme and stop for lunch in a traditional tavern in the wine-making village of Lania.
You'll end your gastronomic journey with an afternoon's visit to the village of Mandria, in the foothills of the mountains, to sample tea made from locally grown herbs.
Day 8 – Fly back to the UK
Bid farewell to Paphos and your hotel, and transfer to the airport to board your flight home.
---
Cyprus Discovered – Paphos
FROM
£795.00
Departing From
Edinburgh
Glasgow
Other UK airports also available
Departure dates
21st September 2022
28th September 2022
5th October 2022
12th October 2022
26th October 2022
2nd November 2022
1st March 2023
15th March 2023
12th April 2023
19th April 2023
3rd May 2023
10th May 2023