Deep South USA Plus Texas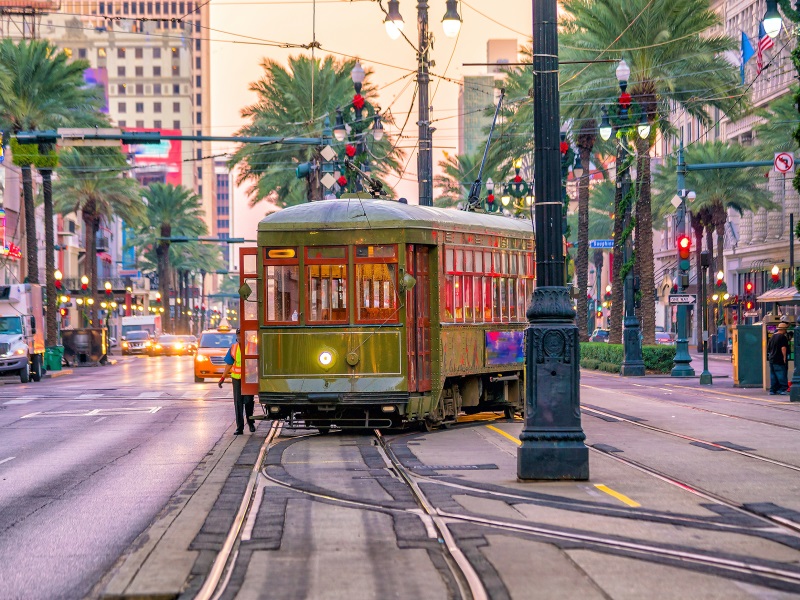 Experience the unique culture, history, music of America's Deep South, home of the blues, plus the charms and classic images of Texas, the 'Lone Star State'.
Take one of America's classic 'road trips' exploring the Deep South, renowned for its gracious hospitality, its charming southern drawl, its unique Creole and Cajun cuisine and, of course, the most popular music genres of the 20th century – jazz, rock n' roll, the blues and country.
What You'll Love
Enjoy peace of mind with Flexible Booking*
Happy by day two or we'll bring you home with a full refund
Return flights & transfers
Stay in hand-picked three-star and three-star superior accommodation with daily breakfast, including all local taxes
Spend three nights in New Orleans and enjoy a walking tour with a local guide through the iconic French Quarter
Tour of Graceland to explore the incredible life and times of Elvis, the King of Rock and Roll, through the places where he recorded his greatest hits and his unique home
Stay in Nashville, 'Music City USA', and visit the Country Music Hall of Fame
Tour Studio B in Nashville and Sun Studios in Memphis, where some of the world's best-loved songs of the last 50 years were recorded
Guided tour of Houston's NASA Johnson Space Centre, from where the Apollo Moon landings were controlled
Experience a ride on Amtrak's renowned train service from Memphis to New Orleans
Visit the Alamo in San Antonio, where the settlers fought for Texas' independence from Mexico
See where President John F Kennedy was assassinated in Dallas, and tour the fascinating museum dedicated to that fateful day
Services of an expert tour manager
Subject to availability, single supplements may apply.
*Full terms and conditions can be viewed here. 
Itinerary
Day 1 – Arrival in Atlanta
Arrive at the airport for your direct flight to Atlanta.
Day 2 – Nashville
Driving into Tennessee to Lynchburg, this quintessential little town is a true slice of unspoilt 50s America, with its red-brick courthouse, general store and one traffic light. It's a great place to just browse the shops and get a bite to eat before we visit Lynchburg's claim to fame: the Jack Daniel Distillery. Obviously it's where Jack Daniel's whisky is made, since 1884 and a tour is a great experience. Interestingly, the county is 'dry' and locals are not allowed to consume the product they are most famous for. Continuing across Tennessee's rolling green hills we soon arrive at 'Music City USA', Nashville.
Day 3 – Nashville
In downtown Nashville we visit the Country Music Hall of Fame. A huge museum of all things 'Country & Western', it has floors of fascinating exhibits from the earliest days of country music to the megastars of today. There are films and videos of music's greatest, with their life-stories and costumes. The famed Music Row is close by, lined with studios and record company offices, where we visit the
legendary RCA Studio B, where Elvis recorded many of his greatest hits, followed by a 'who's who' of recording superstars such as Roy Orbison, the Everly Brothers, Dolly Parton and Willie Nelson. Lower Broadway is Nashville's nightlife centre, with stupendous live music in famous honky-tonk bars like Robert's Western World and The Stage on Broadway and many more. There's a fantastic atmosphere along the entire street and an evening here is a real 'must'! Tonight you have the chance to see a
country music show at the Grand Ole Opry.
Day 4 – Memphis
Today we say goodbye to Nashville and head to the far west of Tennessee and the city of Memphis and America's artery, the Mississippi. From its earliest beginnings as a small French garrison, Memphis grew into a magnet for freed slaves after the Civil War and as a cotton trading centre.
This afternoon we have a guided tour around the birthplace of Rock n' Roll – the legendary Sun Studio, where Elvis recorded his first hit. This insignificant, yet iconic 1950s building, was the starting point for Jerry Lee Lewis, Johnny Cash and Roy Orbison amongst others and is a designated National Historic Landmark. You can still see Jerry Lee's piano and Elvis' microphone!
Day 5 – Graceland and National Civil Rights Museum
Today we visit one of America's biggest tourist attractions, Elvis' Graceland. The 'King' bought the Graceland mansion for $100,000 in 1957 when he was just 22 and it was his main home until his death. From the time it opened to the public in 1982, Graceland has expanded to include Elvis' private airplanes and his extensive car collection. One of the most iconic houses in America, Graceland's Meditation Garden is also Elvis' final resting place.
This afternoon we step back into America's historical milestones visiting the National Civil Rights Museum at The Lorraine Motel. It was here Martin Luther King was shot on 4th April 1968. Five years previous on 28th August 1963 he delivered his famous 'I Have a Dream' speech around the Lincoln Memorial in Washington DC to a crowd of 250,000 people. The following year in 1964, King won the Nobel Peace Prize for combating racial inequality through non-violent resistance. In that same year, President Johnson got a law passed prohibiting all racial discrimination.
This evening is at leisure to sample the music scene at Memphis' famous Beale Street.
Day 6 – Amtrak Train to New Orleans
An early departure this morning as we catch the renowned 'City of New Orleans' Amtrak train service to New Orleans, a real little piece of America. The double-decker, classic silver coloured train carriages, so typical of the US, feature comfortable reclining armchairs with plenty of legroom, as well as a panoramic glass observation deck and dining car.
Our journey takes us through vast forests, farms and the small 'southern' towns lining the eastern bank of the Mississippi like pearls on a necklace. Nearing New Orleans, excitement mounts and we cross Lake Pontchartrain, bizarrely it appears like the train is actually travelling over the water itself. In the evening why not step out and try New Orleans' famed Cajun cuisine – there are plenty of fantastic
restaurants.
Day 7 – New Orleans
This morning we have a walking tour of New Orleans' famous French Quarter with an expert local guide. We see the charming art galleries and antique shops along Royal Street, the white stucco St Louis Cathedral and Jackson Square, full of artists, musicians and fortune tellers, and walk up the iconic Bourbon Street, centre of the city's nightlife. The afternoon is free for you to explore this charming city at your leisure. This evening, you have the opportunity to enjoy an evening jazz cruise with dinner on board the Steamboat City of New Orleans
Day 8 – Free Day in New Orleans 
A free day to relax in the 'Big Easy' and explore further afield. Alternatively, you may choose to
visit some of the most impressive Antebellum Plantations outside New Orleans combined with a fascinating boat tour of the nearby Louisiana swamps, known for their alligators and snapping turtles, and where you can admire the fauna, such as the moss-draped cypresses native to the bayous of Louisiana. Oak Alley Plantation is a National Historic Landmark and is considered the Deep South's most spectacular mansion. Dating from 1839 with two rows of mighty oaks leading down towards the Mississippi River, the house has been fully restored to its magnificent 19th-century opulence and grandeur.
Day 9 – Houston and NASA
We leave New Orleans this morning heading ever westwards along Louisiana's Cajun country towards Texas. As we enter the outskirts of Houston, our first stop is at the world-famous NASA Johnson Space Centre, still a working NASA base from where the international space station is controlled. We visit 'Mission Control', now restored to its 1965 look with all the original equipment and furniture – a unique experience.
We also see a full-size Saturn V rocket which famously has no on-board computer, they were just too big at the time, plus the huge indoor training facility for the astronauts of the
International Space Station.
Day 10 – San Antonio
We continue further into the south Texas plains arriving in San Antonio this afternoon. Originally settled by the Spanish who built a mission station here, the Alamo, whose name was destined to be one of the most evocative words in American history. It was here in 1836 that a seriously outnumbered group of settlers, including Davy Crockett and Jim Bowie, were besieged by the Mexican army for nearly two weeks before they were overrun.
Tonight we stay just round the corner from the Alamo and within easy walking distance to the
charming Riverwalk area with its many bars and restaurants, ideal for trying out the region's famed Tex-Mex cuisine.
Day 11 – Fort Worth
We say goodbye to friendly San Antonio and travel north to Dallas, stopping in Austin for some free time to explore. On arrival in Fort Worth, we visit the historical Stockyard District. This evening you have the opportunity to attend the world's only year-round rodeo, held in the historic Cowtown Coliseum. See some of the best rodeo athletes perform thrilling feats of bull-riding, tie-down roping, team-roping, barrel-racing, bronc-riding and breakawayroping.
Day 12 – Dallas
This morning we visit the infamous Dealey Plaza, where President John F Kennedy was assassinated by Lee Harvey Oswald. The floor in the Texas Book Depository from where thefatal shots were fired has been converted into the excellent 6th Floor Museum dedicated to explaining the background and the events of that fateful day on the 22nd of November in 1963.
The rest of the day is free for you to explore Dallas.
Day 13 – Return Flight
Transfer to the airport for your return flight via Atlanta.
Day 14 – Arrive Home
You arrive home this morning after a really memorable tour.
---
Deep South USA Plus Texas
FROM
£2479.00
Departing From
London Heathrow
Manchester
Departure dates
28th September 2022
12th October 2022
26th October 2022
9th November 2022
15th March 2023
29th March 2023
5th April 2023
26th April 2023
10th May 2023
31st May 2023
6th September 2023
20th September 2023
11th October 2023
25th October 2023
15th November 2023