Dordogne, Albi & Carcassonne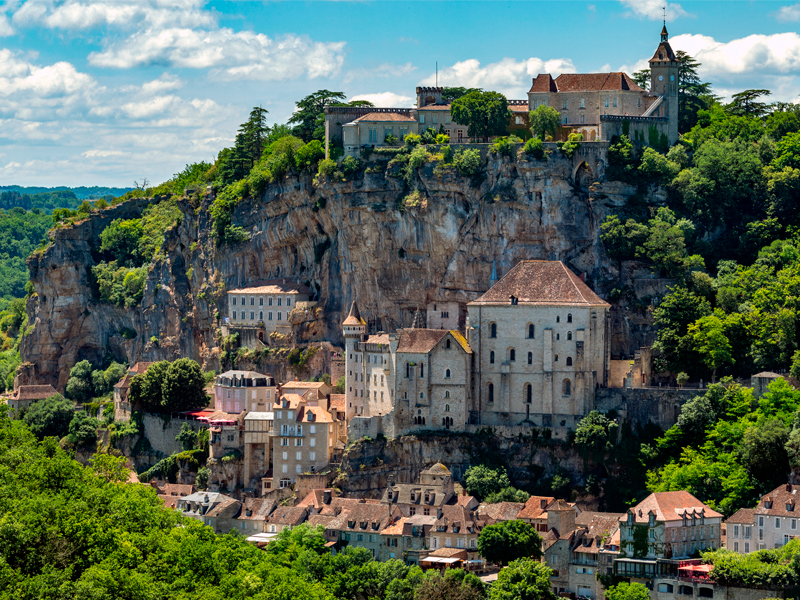 Dordogne, Albi & Carcassonne – Immersed in France's bucolic rural heart, see its charming honey-coloured rural villages, sophisticated prehistoric art, gorgeous gardens and timeless medieval towns bursting with market-day life.
Far removed from the noise and pace of modern life, on this fascinating tour you can completely immerse yourself in deepest France. Here is a hauntingly beautiful, undulating rural landscape covered with a verdant carpet of dense oak, walnut and chestnut forests slashed by deep, twisting gorges lined by craggy cliffs filled with sparklingly pure, trout-filled rivers. It's bisected by dry-stone walls, studded with isolated farm houses and wonderfully medieval, honey-coloured stone villages which spring into vibrant life on market days just as they have always done. Unchanged for centuries and blessed with a wonderfully benign climate, its magnificence will take your breath away.
What You'll Love
Enjoy peace of mind with Flexible Booking*
Happy by day two or we'll bring you home with a full refund
Return flights and transfers
Seven nights in three-star superior and four star accommodation including all local taxes, with breakfast and five dinners
Guided walking tour of Albi with its remarkable Gothic cathedral, home town of Toulouse-Lautrec – a museum now houses a world-class collection of his work
Tour of the astonishing prehistoric replica cave paintings, perfectly reproduced at Lascaux depicting fauna from the Stone Age – with entrance fees included
Walking tour of delightfully medieval Sarlat, perhaps the most picturesque town in the entire Dordogne area
Guided walking tour of the dramatic 13th century fortress city of Carcassonne
Travel by traditional flat-bottomed boat through the river Dordogne valley
Visits to some of France's most attractive medieval villages: Domme, Rocamadour and La Roque-Gageac
Stroll around the typically formal gardens of Marqueyssac with their amazing panoramic views over five castles and the twisting river below with entrance fees included
Visit Beynac, the formidable fortress of Richard the Lionheart
See Cahors' fine examples of medieval military architecture
Services of an expert tour manager
Subject to availability. Single supplements apply.
*Full terms and conditions can be viewed here. 
Itinerary
Day 1 – Arrival in Sarlat 
You should arrive at the airport to take your flight to Toulouse or Carcassonne, or you can travel by train via Paris to Souillac. On arrival you will be met and taken to the three-star superior hotel Relais de la Moussidière for four nights with dinner on the edge of delightful Sarlat, probably the most picturesque town in the Dordogne. The rest of the day will be spent at leisure, allowing you time to settle into the hotel and start exploring if you wish.
Day 2 – Sarlat & Lascaux 
After breakfast we get an insight into the fascinating history of Sarlat on a walking tour of this ancient market town. It grew after a Benedictine monastery was built there in the early 9th century during the reign of Charlemagne. As we meander through the atmospheric cobbled streets, we'll discover how the town was shaped by the various conflicts that brought upheaval to the Dordogne in the Middle Ages. A stunning architectural jewel, Sarlat's handsome medieval buildings – including the imposing Cathedral of Saint Sacerdos – are constructed from luminous local golden stone and line a maze of cobbled streets. Such is its striking state of preservation, Sarlat has been the setting for a host of period feature films, including Les Misérables and Joan of Arc. The town's street life is especially vibrant – observe locals tasting delicious market produce: pungent cheeses, fine charcuterie and colourful ripe vegetables. Watch friends meet in the street, kiss on both cheeks and then catch up on the local gossip… Sarlat is provincial France at its most quintessential.
This afternoon we travel back around 17,000 years to prehistoric France and the famous cave of Lascaux. This UNESCO World Heritage Site near the village of Montignac is an elaborate cave system where chambers, galleries and shafts are adorned with almost 2,000 Upper Paleolithic paintings and engraved figures. Described by a local cave art scholar as the 'Sistine Chapel of prehistory', the chambers were only discovered in 1940, but have been closed to the public since 1963 to prevent degradation of the immensely delicate works. What we experience when we visit the recently opened International Centre for Cave Art (Lascaux 4) adjacent to the original cave is equally impressive – an exact copy of the decorated caverns that took three years to recreate. We discover the story of the four teenagers who stumbled across the cave and – through screens, interactive tablets and the latest 3D technology – are taken back nearly 20,000 years to the prehistoric Vézère Valley.
We then enter the replica cave for a truly unforgettable experience – the muffled sounds, eerie light and cool temperature are reproduced exactly as in the original cavern, while astonishingly detailed drawings of humans, symbols and animals – including horses, bulls and stags – decorate the walls. You'll have the opportunity to draw using the same tools and techniques employed by the Stone Age cave artists, touch original artefacts found by archaeologists around Lascaux and enjoy a 3D film that shines a light on some of the cave's major artworks. It's a strikingly realistic and thought-provoking experience, one that you cannot find anywhere else in the world.
Day 3 – Rocamadour & Marqueyssac Gardens
Today we follow the extraordinarily picturesque river Dordogne to one of France's most instantly recognisable sights – the remarkable village and monastery of Rocamadour. As we round the twisting and ever-ascending lanes, the view of this eclectic, near-vertical village assaults you. Hewn from the rock itself and dominating the riverbed below, its contours and overall beauty are highlighted by the bright sunlight. Following the discovery of St Amadour's perfectly preserved body, Rocamadour became a pilgrimage site during the Middle Ages, the 'Lourdes of its time', famed for its healing powers and visited by numerous monarchs. There's time to explore the village under your own steam.
We then journey west to visit the unusual 'Overhanging Gardens' of Marqueyssac. This beautiful formal display took 30 years to create and the superbly relaxing path through clipped box hedges and indigenous trees, plus one of the best panoramic views in the Dordogne, put these gardens in a class apart.
Day 4 – Beynac & La Roque-Gageac 
Within a couple of lazy meanders of the graceful river Dordogne is a remarkable collection of places embodying the fascinating melange of dramatic natural features, centuries of history and varied cultural delights which make the Dordogne one of the most special parts of France. Firstly we see the great fortress of Beynac, towering above the river and once captured by Richard the Lionheart. With amazing views, cobbled squares and a maze of narrow alleys, the village is recognised as one of the 'Most Beautiful Villages in France'.
A short drive then takes us to Domme, a magnificent walled town with several fortified gates, yet more stunning views, an array of fine medieval dwellings plus goldsmiths' houses and a delightful covered market.
Afterwards we drive back towards the river to discover one of France's prettiest villages. With its riverside location and cream-coloured stone houses, La Roque-Gageac is a delight to explore. Here we board a traditional 'gabare' boat, once used for transporting wine, for a sense of the way of life that once dominated the region.
Day 5 – Cahors 
This morning we bid farewell to the Dordogne travelling south to delightful Cahors, with its splendid 14th century fortified Valentré Bridge majestically spanning the River Lot. Continuing, the countryside gradually changes from rolling wooded slopes of lush green to the more pale yellows, ochres and endless fields of the instantly recognisable sunflowers so typical of southern France.
You stay three nights with breakfast and one dinner in Carcassonne. We use two hotels, both owned by the same family who are third-generation hoteliers and very professional in their approach. Enjoy a stay at either the four-star Mercure Carcassonne La Cité Hotel or the three-star superior hotel Le Donjon. Some dates will stay in Albi at the four-star hotel Saint-Antoine.
Day 6 – Carcassonne & Free Afternoon 
There are many historic 'old towns' in France but none quite compares to Carcassonne with its magnificent medieval citadel, its fairy-tale-like, cone-topped turrets and serrated cream-coloured Battlements. You will have a guided tour during which you will experience a wonderful sense of timelessness, wandering ancient cobbled lanes founded by Romans and trodden over the centuries by Visigoths, Saracens and rich medieval merchants. The citadel remains a living village and this afternoon you will have time to discover its more peaceful corners, absorbing the unique atmosphere of this truly special place.
Day 7 – Albi 
Albi came to prominence as a centre of Catharism, an unusual Christian sect but with some rather 'strange' views including the worship of two gods with the Pope being the representative of neither, all men being equal – as wealth itself should be and all should have a vote – including women. Obviously this was pretty radical stuff for the 12th century! The Pope declared them heretics and initiated a crusade against them. Today, on approaching Albi, you will see the stunning brick built city, dominated by one of the finest gothic cathedrals you will ever see. The overall ambience here is different from the Dordogne, more Mediterranean in character and during our guided tour we will learn all about this once independent state featuring a visit to the cathedral, arguably the largest brick building in the world. Its sumptuous interior is breath-taking in its detail and boasts one of Europe's most important medieval works, an enormous mural of the Last Judgement. This afternoon you are free to explore as you wish. The renowned artist Toulouse-Lautrec was born here and a museum houses a rich collection of his most famous works. It is just lovely though to amble around Albi's old town, one of France's largest conservation areas.
Please note that for tours staying in Albi, Days 6 & 7 will be operated in reverse order.
Day 8 – Return Journey 
You will be transferred to the airport or station for your return journey at the appropriate time.
---
Dordogne, Albi & Carcassonne
FROM
£1519.00
Departing From
Bristol
London Gatwick
Manchester
Departure dates
4th July 2022
12th September 2022
30th September 2022
10th October 2022