Dubrovnik & the Dalmatian Coast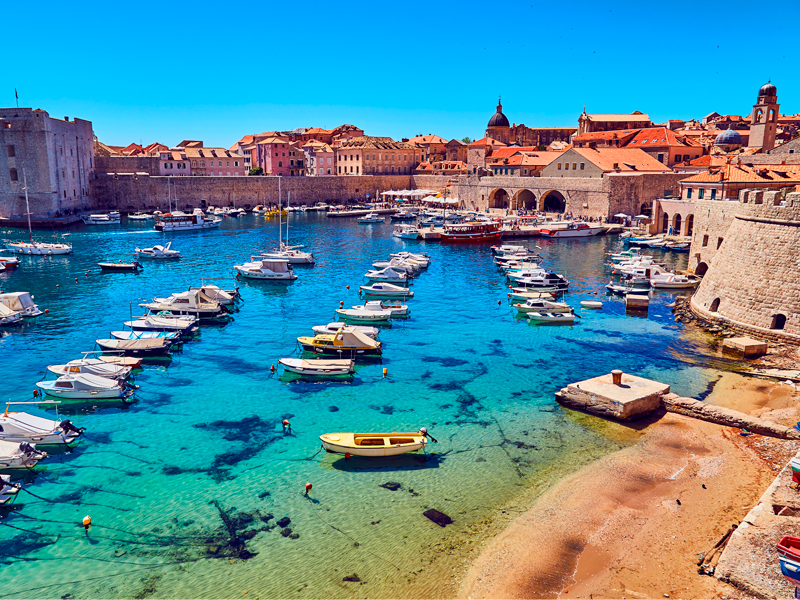 Experience Dubrovnik and the Dalmatian Coast. Naturally beautiful, historically fascinating and wonderfully Mediterranean, Croatia is simply one of Europe's 'must see' destinations.
The Dalmatian coastline is legendary: one of the most dramatic in Europe, extending for hundreds of miles, where steep limestone cliffs plunge into sapphire-blue waters. Just offshore the mirror-like Adriatic is studded with countless islands, giving scenery almost reminiscent of a series of huge intertwining lakes.
Dubrovnik in particular is a delight, almost a living museum, medieval in character with a heavy influence of the baroque period in the numerous churches and where life spills spontaneously onto its pedestrianised marble streets.
What You'll Love
Enjoy peace of mind with Flexible Booking*
Return travel from a selection of regional airports and transfers to and from your hotel included
Seven nights' four-star hotel accommodation, with breakfast and dinner
Explore Dubrovnik on a guided tour
Marvel at Krka National Park's dramatic interlocking waterfalls
Cross the iconic Stari Most bridge in Mostar
Visit the Emperor Diocletian's monumental palace in Split
Discover medieval Trogir, one of Dalmatia's most alluring old ports
Visit a traditional watermill in the Konavle valley and taste its regional specialities
Spend time in the ancient town of Cavtat
Services of an expert tour manager
Single supplements apply. Subject to availability.
*Full terms and conditions can be viewed on the Riviera Travel website here. 
Itinerary
Day 1 – Arrival in Croatia 
Take your arranged flight to Croatia, where you will be met at the airport by your tour manager. We then transfer to our hotel for the next three night with breakfast and dinner.
4* Arausana Antonina Hotel – Vodice
Chosen for its ideal location by the sea.
Restaurant & outdoor bar
Close to the city centre
Great views of the sea & surrounding islands
4* Hotel Plaza – Omiš
Chosen for its easy access to Omiš centre and the nearby beach.
Coastal location
Outdoor terrace & bar
Restaurant
4* Hotel Plaza Duće – Omiš
Chosen for its luxury feel and great facilities.
Rooftop pool & sun terrace
All rooms have a balcony & sea views
Stylish restaurant
Day 2 – Krka Valley 
After breakfast we drive inland to the Krka Valley, home to an immensely impressive sequence of lakes, where water cascades dramatically from one to the next via vertiginous interlocking waterfalls. Minerals dissolved in the water trigger stunning colour changes, from turquoise to azure-blue and from vibrant green to steely grey. With reflections of the majestic surrounding peaks and luxuriant forests rippling on lake surfaces, it's impossible not to be awestruck. You'll witness one of the most dramatic stretches of the river as you walk past several tiers of waterfalls tumbling magnificently into a broad, shallow pool, before we take a boat trip along the river. There's ample time to absorb the surroundings before we return to our hotel during the afternoon.
Day 3 – Split & Trogir 
Morning
We drive along stunning Dalmatian coastline on our way to Split. Croatia's second-largest city is most famous for a single building, the colossal palace of Emperor Diocletian, which makes up much of the city's Old Town. It's one of the great structures of the Roman Empire and has survived in amazing condition since it was built at the turn of the 4th century. A guided walking tour this morning of the fascinating complex will bring its storied history to life.
Afternoon
We visit the nearby medieval citadel of Trogir, one of the most beguiling little ports in Dalmatia. The Old Town is actually an island. A wealth of Renaissance and Romanesque buildings line a veritable maze of charmingly chaotic lanes. At the centre is the exquisite Cathedral of Saint Lawrence, whose long cycle of construction is reflected in its contrasting architectural features. Wander where your feet take you, cast an eye over one of the many antique shops or just enjoy a coffee in a pavement café – the choice is yours, before returning to the hotel in time for dinner.
Day 4 – Mostar 
Morning
This morning we say goodbye to our hotel in Omis or Vodice, and travel across the border to Mostar. Please note that for the border-crossing you will need passports in your hand luggage with you. The ancient town of Mostar is nestled in cliffs, overlooking the Neretva river. It was once a provincial capital of the Ottoman Empire, was later annexed by the Austro-Hungarian Empire and is now part of Bosnia and Herzegovina. Much of its renown rests with Stari Most, the bridge linking the two halves of the Old Town. Originally built in the 16th century, it was left in ruins in 1993 but rose again the following decade, painstakingly rebuilt to the original Balkan Islamic design as a symbol of reconciliation and as the visual focus of the city.
Afternoon
Once you've experienced the marvels of the city, we continue to Dubrovnik, where we stay for four nights with breakfast and dinner.
4* Valamar Hotel Lacroma – Dubrovnik
Chosen for its spectacular sunset and sea views from the terrace.
Spacious outdoor terrace with sea views
Two fresh water swimming pools
Two restaurants
Day 5 – Dubrovnik
Morning
Dubrovnik, an independent city-state for much of its history, has evolved differently to the rest of Croatia. This morning, we take a tour with an expert local guide explaining the city's landmarks and intriguing history. Dubrovnik threw off its Venetian masters in medieval times and founded a commercial empire, trading with the eastern Mediterranean, France, Spain and, later, the Ottoman Empire. The economic boom that resulted in the 'Pearl of the Adriatic' found beautiful expression in the likes of the Rector's Palace, now a museum, and Sponza Palace, currently housing centuries of historical city documents. The main avenue, lined by enticing shops and cafés, is completely paved with marble, which strikingly reflects the midday sun. Add in a wonderful array of monasteries and monumental ramparts and you'll find this is a wonderful city, nestling in a location of outstanding natural beauty.
Afternoon
You are free to explore before we return to the hotel for dinner.
Day 6 – Free Day in Dubrovnik 
You have the day to yourselves, so what is it to be? Watching the world go by as you have a leisurely lunch in the main square? Enjoying a cruise around the harbour? A stroll around the city walls that once protected the city's inhabitants, but now offer unbeatable views? The options are many and the choice is yours.
Day 7 – Konavle & Cavtat 
This morning we drive south away from the rugged coast around Dubrovnik and through the lush fields and immaculate vineyards of Konavle, Croatia's southernmost region nestled between the mesmerisingly blue Adriatic Sea and the dramatic mountains. This fertile land became the main granary of the Dubrovnik Republic and has produced grapes, olives and even silk for hundreds of years. Dotting the landscape are villages with centuries-old stone houses, where traditional farming methods and crafts are still very much a part of modern life.
The rivers that flow through the valley encouraged the construction of mills for agricultural development over the centuries, but today only three remain operational. We visit one of these faithfully restored watermills to learn how woollen cloth was produced here – the traditional processes of spinning, weaving and stamping are fascinating. Afterwards we enjoy a welcome drink made with homemade liqueurs, figs, sugared orange, lemon peels and candied almonds, as well as a selection of local cheeses, prosciutto, bread and wine for which Konavle is renowned.
Day 8 – Return Flight
Transfer to the airport for your flight home.
---
Dubrovnik & the Dalmatian Coast
FROM
£1599.00
Departing From
Edinburgh
Other UK airports also available