Dubrovnik, Montenegro and the Dalmatian Coast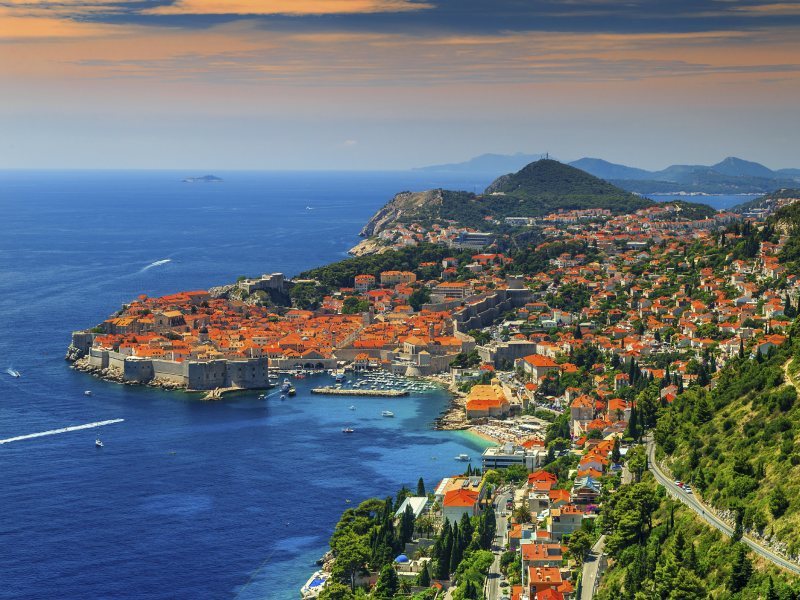 Available
Until October 2023

Join us in one of Europe's most popular holiday destinations – Croatia, Bosnia-Herzegovina, and Montenegro. Spend three nights on the Markarska Riviera, where you'll discover the exquisite cities of Split and Trogir, then head south to spend four nights close to the walled city of Dubrovnik. Explore Southern Croatia's coastline, see historic Mostar in Bosnia and Herzegovina, and visit one of Europe's most unspoiled countries: beautiful Montenegro.
What You'll Love
Seven nights' dinner, bed and breakfast accommodation at a four-star hotel in Drvenik (3 nights) and a three-star hotel in Dubrovnik (4)
Included excursions to Split, Trogir, Krka National Park and Montenegro
An included visit to Mostar
A guided tour of Dubrovnik
Return flights from your chosen UK airport to Dubrovnik
Comfortable, air-conditioned coach travel and transfers
The services of a friendly, experienced Tour Manager
Alternative Departures
Single supplements apply. Subject to availability.
Itinerary
Day One: Fly to Croatia
Fly from the UK to Dubrovnik, meet your Tour Manager, then transfer to your hotel in Drvenik, a coastal town on the shores of the Adriatic.
Day Two: Included Split and Trogir excursions
Visit Croatia's second-largest city, Split, on today's included tour. Wander the Old Town, visit the palace of Roman Emperor Diocletian, and browse the busy marketplace. From here, we'll continue to the fascinating island-town of Trogir, entering from the mainland through a baroque Land Gate to discover a time-warped jumble of palaces, ancient churches and hidden courtyards. After exploring, you'll return to the hotel for dinner.
Day Three: Included Krka National Park excursion
Today's included excursion takes in the tumbling waterfalls, deep gorges and clear lakes of beautiful Krka National Park, which stretches some 12 miles up a lavendar-clad valley from the harbour-town of Skradin. Stroll along wooden walkways though the forest at your own pace, and discover a park that previous customers have called "indescribably beautiful".
Day Four: Travel to Croatia via Mostar
This morning, you'll head past the River Neretva delta on the way to Bosnia-Herzegovina, and Mostar, famous for the lovingly restored medieval bridge that spans the river. After exploring this distinctive, UNESCO-listed town, boasting one of Europe's oldest continuously running markets, you'll travel to your second hotel base, close to Dubrovnik.
Day Five: Included Dubrovnik excursion
Join our guided tour of Dubrovnik, today, and you'll see the Renaissance Sponza Palace, baroque St Blaise's Church, and the Franciscan Monastery (home to Europe's oldest pharmacy). Take in the views across Dubrovnik and the blue Adriatic from the city walls, and spend a free afternoon sightseeing or shopping, before returning to the hotel for dinner.
Day Six: Included tour of Montenegro, the Bay of Kotor and Budva
Today, we'll cross the border into Montenegro, to visit the Bay of Kotor, southern Europe's largest fjord. You'll have time to explore the UNESCO World Heritage Site of Kotor itself, before we journey to picturesque Budva, which, at over 2,500 years old, is one of the oldest settlements on the Adriatic coast. From here, we'll head back to Dubrovnik.
Day Seven: Day at leisure
Enjoy a final day's relaxation, perhaps returning to Dubrovnik for some more sightseeing and shopping, or taking a dip in the clear blue waters of the Adriatic. This evening, enjoy a farewell dinner at the hotel.
Day Eight: Fly back to the UK
Transfer the short distance to the airport and board your flight home at the end of a wonderful Croatian holiday.
---
Dubrovnik, Montenegro and the Dalmatian Coast
FROM
£978.00
Departing From
Edinburgh
Other UK airports also available
Departure dates
4th September 2022
7th September 2022
11th September 2022
14th September 2022
18th September 2022
25th September 2022
28th September 2022
2nd October 2022
5th October 2022
9th October 2022
12th October 2022
23rd April 2023
3rd May 2023
3rd May 2023
7th May 2023
10th May 2023
14th May 2023
17th May 2023
21st May 2023
28th May 2023
4th June 2023
7th June 2023
11th June 2023
14th June 2023
18th June 2023
21st June 2023
25th June 2023
2nd July 2023
3rd September 2023
6th September 2023
10th September 2023
13th September 2023
17th September 2023
24th September 2023
27th September 2023
1st October 2023
4th October 2023
8th October 2023
11th October 2023
15th October 2023
18th October 2023