Dubrovnik, Split & Jewels of the Dalmatian Coast Yacht Cruise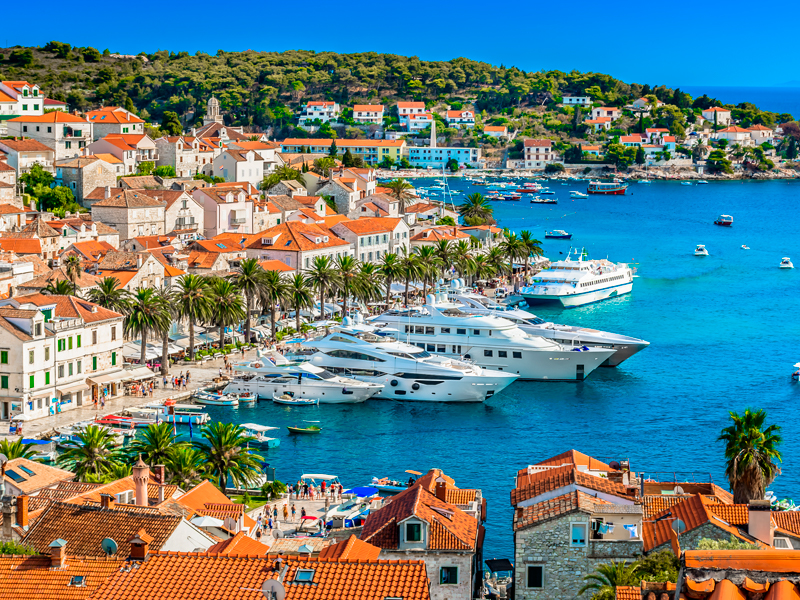 As you sail the breathtaking Adriatic waters, take in the stunning Elaphite islands, the marvellous Mount Biokovo and idyllic Pučišća.
Experience both historic Dubrovnik and the famous architecture of Split, with the lavish Diocletian's Palace as the star.
What You'll Love
Enjoy peace of mind with Flexible Booking*
Happy by day two or we'll bring you home with a full refund
Return flights from a choice of regional airports
7 nights on board the four-star MV Corona, cruising the southern Dalmatian coast
Daily breakfast, 5 lunches, 1 dinner plus the Captain's Dinner
Tour of Dubrovnik, Pearl of the Adriatic
Tour of Split and Emperor Diocletian's monumental palace, one of the greatest structures of the Roman Empire
Explore the stunningly beautiful islands of Hvar and Mljet
Guided tour of delightfully green Hvar
Guided tour of Korcula, one of the Adriatic's most perfectly preserved medieval ports, where Marco Polo was born
Services of our experienced Tour Manager
Complimentary Wi-Fi on board
Subject to availability. Single supplements apply.
*Full terms and conditions can be viewed here. 
Itinerary
Day 1 – Dubrovnik
You'll arrive at the airport to take your flight to this historic walled city. On arrival, you will be escorted to the harbour where the superb four star MV Corona awaits. The captain and crew will welcome you aboard and help you settle into your comfortable, well-equipped cabin. For the rest of the day it's time to relax and get to know your fellow passengers – there are just thirty-eight of you in total! Perhaps you'll catch some 'rays' on the Sun deck or take a stroll ashore. It'll soon be time for dinner and the ship's restaurant awaits. After dinner, why not take a stroll around Dubrovnik, or enjoy a digestif in a local bar?
Day 2 – Dubrovnik, The Elaphite Islands & Miljet
As you rise refreshed in the morning and enjoy a leisurely breakfast, you'll be so glad you chose this holiday. The MV Corona, our home for the next week and every inch the private yacht, slips out of the harbour and out to sea. Dubrovnik soon fades into the distance – but we will be back for a more in-depth visit later. It is impossible for large cruise liners to visit the charming and almost deserted hamlets accessible to the MV Corona.
We arrive at Mljet, one of the most seductive of such islands, where the hillsides are clad in a green carpet of lush pine forests bringing that instantly recognisable Mediterranean aroma to the air. Nestling in picturesque coves are medieval fishing villages, refreshingly free from tasteless development, where the alleyways are simply pebbles set into the earth and overhead shutters sway precariously in the warm, gentle breezes. Life here continues much as it has for centuries. We go ashore to the tiny islet of St Mary's and visit the 12th century former Benedictine monastery. With its colourful walls and altar carved from local stone you will already feel a long way from home. Gaze around you during dinner at one of the hospitable local restaurants and absorb the ambience. It's easy to see why legend has it that the Greek hero Ulysses came here to contemplate!
Day 3 – Miljet, Mararkska & Pučišća
After breakfast, take to the deck to see the spectacular coast of Korčula island sliding by as we cruise northwards through this enchanting archipelago. On reaching the mainland we drop anchor in the port of Makarska from where you can marvel at the rocky splendour of Mount Biokovo, nearly 1,828 metres above sea level, which shelters the coast from less temperate climates further inland. During the 10th century this region was bedevilled by fearsome pirates preying on passing ships. A slightly raffish atmosphere still prevails but piracy has long since been replaced by more peaceful activities such as fishing, and the production of olive oil and wine. St Mark's Baroque church and some palatial 18th-century Venetian style houses stand guard over Makarska's main square. Enjoy lunch at your leisure wherever you wish.
This afternoon we sail to the glorious island of Brac, mooring in idyllic Pučišća. This jewel of a place, perhaps the most spectacular of Croatia's villages, boasts dwellings of gleaming white stone reflecting the sun onto the crystal clear water. Stroll ashore to explore this charming spot or relax on board before the superb Captain's Dinner is served – a delicious selection of Croatian and Mediterranean specialities.
Day 4 – Pučišća, Omis & Split
Rise refreshed and take to the deck once more to watch the stunning coastal views slipping by. We drop anchor at Omis, formerly a stronghold of the formidable Corsairs of Almissa, where the spectacular emerald-green River Cetina runs into the Adriatic on this glorious stretch of the Dalmatian coast. Lunch is served on board after which we moor in Split, Dalmatia's capital. Split is principally famous for a single building, the Emperor Diocletian's huge palace, one of the greatest structures of the Roman Empire. No expense was spared in its construction – the best Italian marble, with columns and sphinxes from Egypt. But what makes this palace so astonishing is that during medieval times it was fully integrated into the town's fabric with a jumble of buildings grafted onto and inside it. This means for example, the Temple of Jupiter became a baptistry. It's all the more fascinating that today 3,000 people still live here. You will find surprises at every turn: there are tall medieval buildings lining the streets, buttressed by unmistakably Roman columns. We have a guided walking tour of this fascinating complex which has recently been used as the setting of the TV spectacular Game of Thrones. Take dinner at your leisure whilst the ship remains moored in Split. Back on board enjoy a digestif on the sun deck, drinking in the balmy evening air under a beautiful night sky.
Day 5 – Split, Stari Grad & Hvar
This morning we'll stop once more for an invigorating swim before we cruise to another stunning island in this breathtaking archipelago, Hvar. We moor in Stari Grad on the northern side of the island and then take the short drive by coach to the bewitching old town for a guided tour. Remarkably, it's so compact and cosy the streets don't even have names. With its freshwater springs, the island is unusually green, its hillsides boasting spectacular pine forests. Elsewhere you'll find olive groves, orchards and vineyards, the aromatic pleasures of the island exemplified by the delicate fragrance of abundant lavender fields. Hvar has been inhabited since Neolithic times; later, the Ancient Greeks founded a colony here, and during the 14th-century, as the Venetian Empire extended its influence, it became a major naval base. Also on the island's northern shores are some distinctive fortified 16th-century buildings, built to repel pirates and assaults by the Ottoman Empire. After exploring Hvar's agricultural, historical and cultural splendours, we transfer back to Stari Grad where you can dine at leisure wherever you wish. The ship remains moored in Stari Grad overnight.
Day 6 – Stari Grad & STARI GRAD & Korcula
Morning breaks and we find ourselves breakfasting over more stunning views of this most spectacular coastline. After a leisurely morning and another tasty lunch on board we soon arrive into the historic town of Korcula. Ruled by the Venetians for 800 years, it is rather reminiscent of a much smaller Dubrovnik, with its host of tangled lanes so typical of medieval Mediterranean ports. The town is a charming small fortress, celebrated for supplying timber for the wooden walls of Venice and its harbour was a major shelter for the Venetian fleet. You'll find architectural gems at every turn in its narrow cobbled streets. Famous for its artistic and musical traditions, Korcula has its own unique sword dance, the 'moreska', and a form of a-capella singing, but is much more famous as the birthplace of the explorer Marco Polo. His house can still be visited, as can the All Saints museum with its glorious collection of Byzantine icons.
After our guided walking tour, you are free to explore this beautiful town further. After dinner at your leisure, why not take an after-dinner drink in one of the innumerable harbour side cafés whilst admiring the sleek lines of the MV Corona.
Day 7 – Korcula & Dubrovnik
As our elegant yacht drifts on past the rocky shores of the beautiful Elaphite Islands, if the weather allows, it's your last chance to take a swim off the back of the ship as if it were your very own! After lunch on board, we arrive in Dubrovnik once more and take a guided tour of the old town. An independent city state for much of its history, it has evolved differently to the rest of Croatia. The city threw off its Venetian shackles during medieval times founding a commercial empire trading with the eastern Mediterranean, France, Spain and later the Ottoman Empire. As so often happened, the city began to reflect its resultant wealth and today this wonderfully Baroque city proudly nestles behind its huge imposing ramparts in a location of outstanding natural beauty. The main avenue, lined by intimate cafés, is completely paved with marble, which dazzles in the sunlight and gives credence to the city's description as the 'Pearl of the Adriatic'. Throughout the city you will find a wonderful array of monasteries, beautifully decorated churches and civic buildings dating from the 14th-century. The guided walking tour encompasses all this and more, after which you are free to explore as you wish.
This evening enjoy a final dinner at your leisure in this most beguiling of cities; and as you relax, your thoughts inevitably turn to the wonderful places you have experienced and the interesting people you have met on this most fascinating of maritime adventures.
Day 8 – Dubrovnik
After breakfast we disembark from the MV Corona and return to the airport at the appropriate time.
---
Dubrovnik, Split & Jewels of the Dalmatian Coast Yacht Cruise
FROM
£1679.00
Departing From
Edinburgh
Other UK airports also available
Departure dates
10th July 2022
25th September 2022