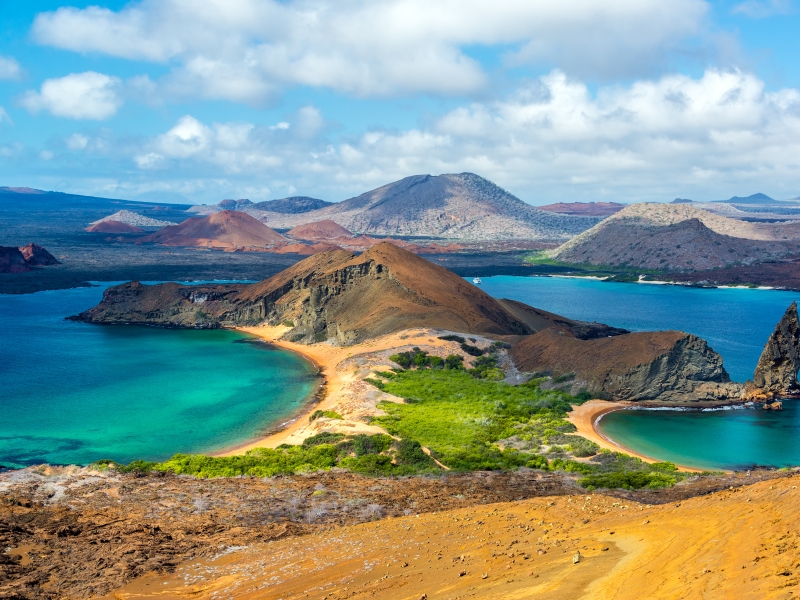 Available
Until November 2021
With magnificent wildlife, awe-inspiring architecture and striking scenery, Ecuador is an incredible adventure for lovers of natural beauty, history and culture.
A place that often goes unsung, Ecuador is an under-appreciated destination with wonders around every corner.
Although the Galapagos islands feature high up on most people's bucket list, the mainland is a surprising and fascinating place to visit in its own right.
On this inspiring tour, you'll be able to see some of the world's highest volcanoes, buzzy colonial cities, wonder at the beauty of hummingbirds in tropical cloud forests, travel on spectacular trains and stay in historic haciendas – all this before you've even stepped ashore in the Galapagos!
These incredible volcanic islands are home to a vast variety of flora and fauna, most of which are endemic species. A dream destination for wildlife enthusiasts and nature photographers, we will tour both land and sea to witness the sights of this magical archipelago.
Whether you are looking forward to the wondrous wildlife, breath-taking landscapes, the colonial charm – or all three and more – this unique destination and its welcoming locals are awaiting your adventure.
Price Includes
Return scheduled flights from the UK
Stay in hand-picked three-star and four-star accommodation with daily breakfast and eight meals
Guided walk around the astonishing UNESCO World Heritage sites of Quito and colonial Cuenca
Discover the wonderful birdlife of the Mindo Cloud Forest, with over 500 species recorded
Enjoy the amazing views of snow-capped Cotopaxi, the world's highest active volcano
Travel on the engineering marvel of the Devil's Nose Train
Experience the wonderful architecture and laid-back atmosphere of Cuenca
Search for bargains in authentic local markets and visit a rose farm in Riobamba
Explore Ingapirca, the most intriguing Inca ruins in Ecuador
See how authentic Panama hats are made
Ride the Pan-American highway along the Avenue of the Volcanoes
Stay five nights on the Galapagos islands of San Cristobal and Santa Cruz
See the giant tortoises of Santa Cruz in the stunning El Chato highland reserve
Learn about the wildlife conservation work at the San Cristobal Interpretation Centre
Swim or snorkel with the amazing marine life of the islands, in Isla Lobos lagoon and Academy Bay
See 'Lonesome George' at the famous Charles Darwin Research Station
The chance to add on an optional zip-line tour in the Mindo Forest
Personalise your holiday with optional boat trips to the islands of Bartolomé or North Seymour
The services of our experienced and insightful tour manager throughout
Subject to availability. Single supplements apply.
For more information or to book, please call 01283 742300 or click here.
---
Ecuador & the Galapagos
FROM
£3539.00
Departure dates
12th February 2021
12th March 2021
9th April 2021
7th May 2021
4th June 2021
2nd July 2021
24th September 2021
22nd October 2021
19th November 2021