Egypt – Nile River Cruise including Cairo & Hurghada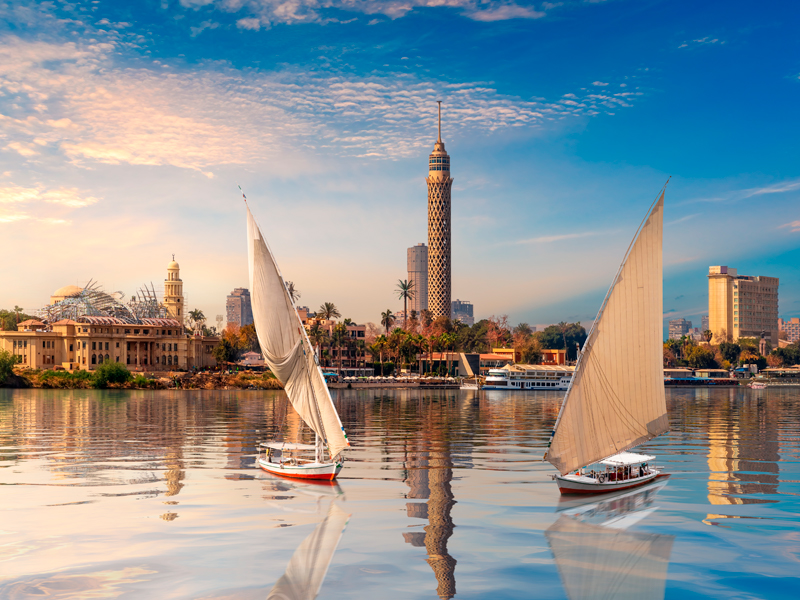 Sail down the Nile River and through Egypt on this unique holiday that combines the exotic beauty of Cairo and the vibrant resort of Hurghada with an unforgettable 7-night cruise.
Our holiday begins in the magnificent city of Cairo, where we'll absorb the ancient sites including a full day city tour, a visit to the Egyptian Museum and a trip to the Khan El Khalili bazaar.
We'll also pay a visit to Egypt's most iconic sites: the Pyramids of Giza and the Great Sphinx. Next, we'll embark on a relaxing river cruise down the Nile with a range of excursions along the way including the Temple of Horus, the Valley of Kings, the High Dam and the Temples of Karnak and Luxor.
Finally, we'll enjoy a 3-night stay in Hurghada, the beautiful beach resort town stretching 40km along Egypt's Red Sea coast.
What You'll Love
Explore the wonders of Egypt on this 12-night guided group holiday
Full board basis on Cruise and B&B/half board in hotels (4 & 5*)
Discover Egyptian antiquities & bustling Bazaars on a full-day guided tour of Cairo
Sail down the Nile River with 7 nights aboard the 4 Star MS Radamis II
Take a step back in time on a guided tour to the Pyramids of Giza, Great Sphinx, Luxor & Valley of the Kings
Immerse yourself in Nubian culture on a trip to a traditional village on Sehel Island
Soak up the sun in the resort town of Hurghada, located on the Red Sea
Includes 2 nights on a bed breakfast basis, 7 nights on a full board basis, 3 nights on a half board basis
Return flights & transfers
Subject to availability. Single supplements apply. To check latest availability, call 0131 608 1238 quoting "DC Thomson Travel"
A solo departure is also available, click here for more information.
Itinerary
Day 1 – Travel to Egypt
Depart for your flight to the Cairo. On arrival in Cairo you will be met by our local representative before transferring to your hotel. (For late night/early morning arrivals hotel rooms will be ready for check in on arrival)
Day 2 – Pyramids of Giza, Grand Egyptian Museum and Optional Sphinx Sound & Light Show
Following a leisurely breakfast depart your hotel for an excursion to the Pyramids of Giza and the Great Sphinx. The three pyramids and the sphinx, a mythical statue with the body of a lion and the face of a man, are considered as one of the Seven Wonders of the Ancient World.
Following lunch at a local restaurant we will enjoy an excursion to the Grand Egyptian Museum. This museum is home to an extensive collection of Egyptian antiquities ranging from the pre-historic era to the Greco Roman period and includes the magnificent Tutankhamen Collection
Optional evening excursion to Sphinx Sound & Light Show. This hour long show, narrated by the Sphinx, tells the story of the history of the pyramids and Pharaohs through music, light and sound. Return transfers from your hotel, with guide assistance, included. (From €43 per person. This excursion is subject to minimum numbers)
Day 3 – Cairo and El Khalili Bazaar
After breakfast check out and depart your hotel for a panoramic city tour of Cairo before arriving at the Khan el Khalili Bazaar, one of the most popular oriental markets. Its shops display a wonderful collection of brassware, rich textiles and other attractive oriental products.
Transfer to Cairo Airport for your flight to Luxor. On arrival transfer to the pier for embarkation of your 7 night Nile Cruise.
Evening meal and overnight on board your cruise.
Day 4 – Luxor to Edfu
After breakfast you will visit the Necroplis of Thebes located on the West Bank of the Nile. This UNESCO World Heritage site contains many funerary temples erected by kings and nobility to perform religious rituals for the spirits of the dead. Your visit this morning will include the Valley of the Kings, the Temple of Queen Hatshepsut and the Colossi of Memnon.
Lunch will be served on board your ship before sailing onwards to Edfu via Esna Lock.
Evening meal and overnight in Edfu on board your cruise.
Day 5 – Edfu to Aswan
This morning there is an opportunity for a short visit to the Ptolemaic Temple of Edfu, dedicated to Horus the falcon-headed God and built between 237 and 57 BC. The only mode of transport available to visit the temple in Edfu is by local horse & carriage, therefore the decision to participate in this excursion is at your own discretion.
After lunch on board visit the Temple of Kom Ombo which is dedicated to the two Gods, Sobek (The Crocodile God) and Harories, famous for its twin entrance halls and sanctuaries.
Evening meal and overnight in Aswan on board your cruise.
Day 6 – Aswan
After breakfast on board enjoy a visit to the High Dam and Philae Temple. Dedicated to the Goddess Isis the Philae Temple was dismantled and reassembled on Agilika Island (about 550m from this original home on Philae Island) after the High Dam caused rivers to rise close to the historic site
After lunch enjoy a leisurely motor boat trip around Elephantine Island, the oldest inhabited area in Aswan, with a visit to the Nubian Village on Seheil Island included. Discover the hospitality & traditional way of life of the Nubians as you visit their homes and markets.
Evening meal and overnight in Aswan on board your cruise.
Day 7 – Aswan & Felucca Trip
Enjoy breakfast and a morning at leisure on board your Nile Cruise.
After lunch enjoy a Felucca (traditional wooden sailing boat) trip around the islands. Sail by The Aga Khan Mausoleum which is built in the style of the Fatimid tombs in Islamic Egypt .
Evening meal and overnight in Aswan on board your cruise.
Day 8 – Aswan to Edfu
Enjoy a full day at leisure sailing from Aswan to Edfu, via Kom Ombo.
Evening meal and overnight in Edfu on board your cruise.
Day 9 – Edfu to Luxor
Enjoy breakfast and a morning at leisure on board your Nile Cruise as you sail to Luxor via the Esna Lock.
After lunch on board visit Luxor and Karnak Temples. The Luxor Temple was built by Amenophis III as a private residence for Amun and Karnak Temple is a complex covering 100 acres and 13 centuries of history
Evening meal and overnight in Luxor on board your cruise.
Day 10 – Luxor to Hurghada
Breakfast will be served on board your ship before disembarking in Luxor for your coach transfer to Hurghada. (Journey 280km / 4 hrs approx)
Evening meal and overnight in your hotel.
Day 11 – Hurghada
Enjoy a full day of relaxation at your resort hotel with facilities that include access to a private beach, three swimming pools and a variety of dining options.
Day 12 – Hurghada
You will have today at leisure for some last minute shopping and sightseeing of your choice.
Day 13 – Return Home
Early morning transfer from your hotel to Hurghada airport for your return flight.
---
Egypt – Nile River Cruise including Cairo & Hurghada
FROM
£2244.00
Departure dates
10th September 2022
1st October 2022
5th November 2022
29th April 2023
13th May 2023
4th November 2023