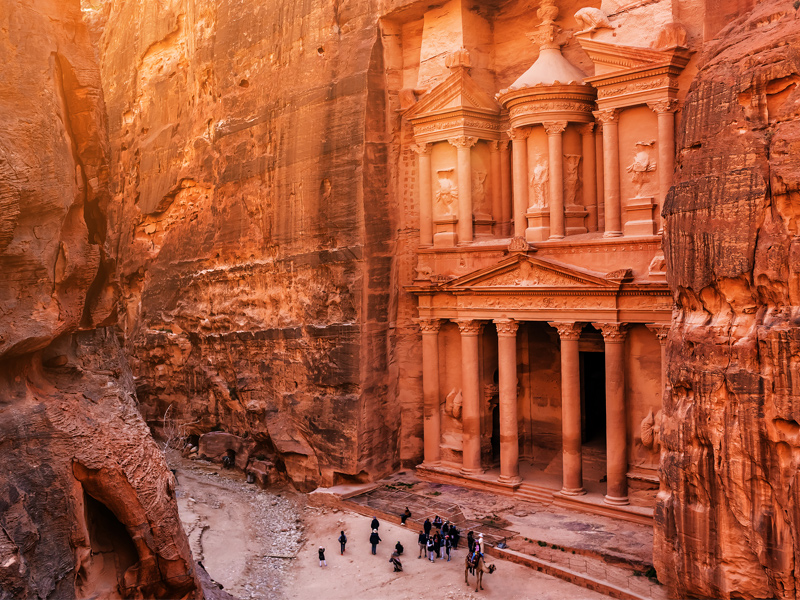 Explore a land steeped in history on this unforgettable small group holiday to Jordan.
We'll wander through ancient ruins in Jerash and Ajloun, marvel at the mosaics of Madaba, and discover the secrets of the capital, Amman.
We'll also experience some of Jordan's beautiful natural scenery, with hikes in the remarkable Mujib Nature & Dana Reserves, a boat trip to snorkel among the colourful coral of the Red Sea, a 4×4 jeep tour and overnight stay in the desert valley of Wadi Rum, as well as a soak in the healing salty waters of the Dead Sea.
With a cooking class and visit to a local crafts training project included, we'll get to know Jordan through its people, culture and cuisine, as well as its ancient sites and natural wonders on this once-in-a-lifetime tour.
What You'll Love
2 nights in Amman including tours of Jerash, Ajlun & a cooking class
1 night in Petra including a visit to the Treasury & Ad-Deir Monastery
1 night in the Dana Reserve including a morning hike in Dog Valley
1 night in Wadi Rum including a 4×4 jeep tour & overnight camp stay
1 night in Aqaba including a boat trip & snorkelling at the Red Sea, as well as a hike at the Mujib Nature Reserve on the Siq Wet Trail
2 nights at the Dead Sea with free ti me at leisure to enjoy the beach
All breakfasts, 2 lunches & 3 dinners included
8 nights accommodation & 1 overnight flight
Subject to availability. Single supplements apply. To check latest availability, call 0131 608 1238 quoting "DC Thomson Travel"
Itinerary
Day 1
Begin your adventure by travelling independently to Amman, the capital city of Jordan. Amman offers an intriguing blend of modern buildings and ancient ruins. Atop Jabal al-Qala'a hill, the historic Citadel includes the pillars of the Roman Temple of Hercules and the 8th-century Umayyad Palace complex, famed for its grand dome.
Enjoy a leisurely breakfast before meeting our guide and fellow group members for an orientation tour of Amman. Lets' get our bearings in Amman with an orientation tour of the city accompanied by our local expert guide. Our orientation tour is designed to help us discover all the best spots to eat, drink, shop and sightsee during our stay. We will also visit two of Amman's iconic highlights, the Citadel and Roman Theatre. You will have the afternoon at leisure to spend as you wish.
Day 2
In the morning, depart Amman for Jerash, famous for its ancient Roman architecture, with colonnaded streets, Corinthian arches, outdoor Roman theatres and the Oval Plaza.
Inhabited since the Bronze Age, it is home to the ruins of the walled Greco-Roman settlement of Gerasa, just outside the modern city. After Jerash, you will travel to the Rassoun Area, where you will enjoy an authentic dining experience with a local family. Jordanian families typically eat on low seating, so there will be no tables or chairs for this traditional taste of daily life.
After lunch, drive to Ajlun for a visit of its hill top castle. Ajlun Castle was built in the 12th Century to control the iron mines and to defend against invasion.
Ajlun Castle dominated the three main routes leading to the Jordan Valley. It protected trade and commercial routes between Jordan and Syria, and became an important link in the defensive chain against the Crusaders, who unsuccessfully spent decades trying to capture the castle and the nearby village. The castle stands on the ruins of a monastery, traces of which were discovered during archaeological excavations.
You will have ample time to explore the areas of the castle which are open to the public.
You will have the evening at leisure in Amman to spend as you desire. Check out a night market or grab a bite to eat with the locals at one of the city's restaurants.
Your local guide will be happy to suggest something to keep you entertained in Jordan's capital city.
Day 3
Say goodbye to Amman and continue your adventure towards Petra, driving along the King's Highway. You will enjoy stops en route at Madaba for a walking tour of Artisan Street, Mount Nebo, Shobak Castle and little Petra.
Madaba is an ancient town that is best known for its spectacular Byzantine and Umayyad mosaics, and is home to the famous 6th century Mosaic Map of Jerusalem and the Holy Land.
With two million pieces of vividly coloured local stone, it depicts hills and valleys, villages and towns as far as the Nile Delta. Mount Nebo is the mountain top memorial of Moses, and offers captivating views of the Jordan Valley, Dead Sea and The River Jordan. A small Byzantine church was built there by early Christians, which has since been expanded into a vast complex.
Perched in a wild, remote landscape, Shobak Castle is an early 12th-century Crusader castle in barren surroundings. It is perched on the side of a rocky, conical mountain at 1,300m (4,265ft) above sea level, making it particularly imposing when seen from a distance. Little Petra, also known as Siq al-Barid, is an archaeological site with buildings carved into the walls of the sandstone canyons. This will be your final stop of the day before arriving to your hotel in Petra, also known as the Rose City due to the colour of the famous rock-cut stones that can be found there.
Day 4
Spend a full day in Petra, exploring all the iconic highlights with your local expert guide. Petra is a historical and archaeological city which is well known for its rock-cut architecture and water conduit system. It is one of the New Seven Wonders of the World so is without a doubt one of Jordan's most valuable treasures. Petra was originally settled more than 2000 years ago by the Nabateans and served as an important junction for the silk and spice trade routes that linked the East with the West.
The entrance to the city is through the Siq, a narrow gorge, over 1 kilometre in length and at time just 3 metres wide. The Siq is flanked on either side by soaring, 80 metre high cliffs, so just simply walking through this impressive gorge is an experience in itself. As you reach the end of the Siq you will catch your first glimpse of "The Treasury", also known as Al-Khazneh. It is an awe inspiring façade, carved out of the dusky pink rock-face.
The Treasury dates back to the 1st Century, when it was built as a tomb for a Nabatean King. Afterwards, you will climb 800 rock-cut steps to visit the impressive Ad-Deir Monastery, which overlooks the valley below.
In the late afternoon, you will transfer from Petra to the Dana Reserve, which was established in 1993 as a biosphere reserve. Your accommodation for the evening will be in a local guesthouse with a traditional evening meal included on arrival for an authentic experience in Jordan's largest nature reserve.
Day 5
Lace up your walking boots and embark on a morning hike in the Dana Reserve. You will pass the unusual sandstone formations of the Dog Valley as you make your way to a group of small caves, thought to be an ancient religious retreat.
You may even cross paths with the local Bedouin people as they tend to their goats. Keep an eye out for the many rare forms of flora and fauna that can be found here. So far, a total of 800 plant species and 449 animal species have been recorded in the Reserve.
25 of these are known to be endangered, including the Sand Cat, the Syrian Wolf, the Lesser Kestrel and the Spiny Tailed Lizard. (Moderate difficulty / 1.5km / 2 hour duration approximately)
In the afternoon depart on a guided transfer from Dana Reserve to Wadi Rum, a protected desert wilderness in southern Jordan. Wadi Rum is home to a maze of large rocks that rise up to 1,750 metres from the desert floor.
Here you can see the many-domed Jebel Um Ishrin, and natural arches such as Burdah Rock Bridge. Many prehistoric inscriptions and carvings line rocky caverns and steep chasms, such as Khazali Canyon.
The natural watering hole of Lawrence's Spring is named after British soldier Lawrence of Arabia, who allegedly washed there. You will embark on an afternoon adventure in 4 x 4 jeeps around Wadi Rum before reaching your camp for the night.
Day 6
Depart Wadi Rum and head towards Aqaba, where you will board a boat to explore the regional waters of the Red Sea. Aqaba is a well-known seaside and diving destination in Jordan.
There will be an opportunity to snorkel in the warm waters in search of rich marine life and coral reefs. A BBQ lunch will be included on board before continuing to your hotel. Once you settle in to your hotel you will have the remainder of the day at leisure to explore Aqaba independently. Aqaba is a coastal city situated at the northeastern tip of the Red Sea, and Jordan's only Seaport. Your local expert guide will be happy to suggest activities to suit your taste.
The Aqaba coastline is 27 km long and characterized by beautiful beaches that host many different touristic activities. Unfortunately, many of these activities expose the sea and marine life to the dangers of pollution. Swim with coloured fish and explore the waters of the Red Sea, all while protecting this environment and its inhabitants by picking up waste that has accumulated among the coral reefs.
Snorkel in the fresh warm water and over colourful red sea corals while also conserving the sea at the same time by picking up any plastic or metal waste in the water. Your sustainable tourism experience will end with a well-earned traditionally cooked meal and a cup of Arabian herbal tea. Transfers, guide and snorkelling equipment included (Please note: This excursion is subject to minimum numbers)
Day 7
Depart Aqaba in the morning and drive to the Mujib Reserve, the lowest nature reserve on earth at 416 metres below sea level. Established in 1985, the reserve covers an area of 212 square kilometres. You will enjoy an adventurous hike on the Siq Wet Trail, starting near Mujib Bridge, walking over the dam by a suspended walkway, through the dramatic narrow canyons and along the towering sandstone cliffs to the base of a waterfall.
Keep your eyes peeled for the endangered Nubian Ibex, which is just one of the many forms of wildlife that live in the reserve. Note: For the Siq Wet Trail, you may be wading up to your chest in water, depending on water levels in the canyon, so bring a swimming costume, towel, waterproof walking shoes, and a waterproof bag for your valuables and camera.
A spare set of clothes is also recommended. Life jackets will be provided. You should be comfortable in water if taking part in this hike, if not there is the option to relax at the Mujib Nature Reserve Visitor Centre. (Moderate difficulty / 2km / 3 hour duration approximately / operated weather dependent)
You will have the remainder of the day at leisure to unwind after your morning hike. Enjoy the hotel facilities or relax in the water of the Dead Sea. The Dead Sea is a salt lake whose banks are more than 400m below sea level, and Earth's lowest point on dry land. It's famously hypersaline water makes floating easy due to natural buoyancy.
Day 8
Today you will have the full day at leisure to spend as you wish at the Dead Sea. In the Bible, the Dead Sea was referred to as a place of refuge for King David.
It was also one of the world's first health resorts and today its mineral-rich black mud is used for therapeutic and cosmetic treatments. Float in its salty water, relax on the sand that surrounds the Dead Sea or simply enjoy your hotel facilities. The choice is yours.
Day 9
This morning, you can choose to depart the Dead Sea with our group transfer to Amman Airport, or stay on at your leisure. Check out from your hotel is at 11am. We hope you leave with many fond memories of our group adventure holiday together in Jordan.
---
Explore Jordan
FROM
£1479.00
Departure dates
14th September 2022
4th October 2022