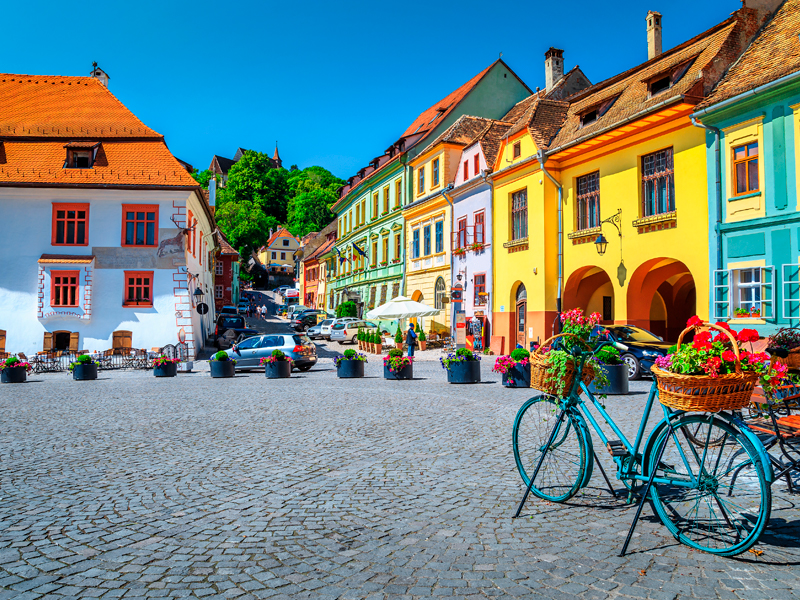 Available
Until October 2022
Uncover the history-steeped region of Transylvania on this Romanian guided group holiday.
The name "Transylvania" may instantly conjure images of spooky castles, swarms of bats and bloodthirsty vampires, but the dark past that has inspired this picture is just one of the many reasons to visit this fascinating and beautiful region of central Romania.
On this 7-night small group tour, we'll explore the real Transylvania, as we visit the historic towns of Sibiu, Sighisoara, Viscri & Brasov, hike through incredible natural rock formations, stop at Dracula's Castle, and even come face to face with some rescued bears!
We'll stay in colourful local hotels and spend one night getting to know a Romanian family in a traditional homestay, before ending our journey with a cycling tour in the cool and modern capital of Bucharest. Join us on this unforgettable adventure to discover how bewitching Transylvania can truly be.
Explore Transylvania Price Includes
Travel with us through Transylvania on this enchanting 7-night holiday to Romania
Walk in the footsteps of Vlad the Impaler on a guided tour of his birthplace, Sighisoara
Spend the night at a traditional homestay in the rural Transylvanian village of Viscri
Encounter local wildlife on a visit to a bear sanctuary in the Carpathian Mountains
Explore Transylvania's most iconic landmark: "Dracula's" Castle
Hike through the Bucegi Mountains to Busteni
Explore the highlights of Romania's capital, Bucharest, by bicycle
Know before you go

Your holiday starts at our hotel in Sinaia. Trains to Sinaia operate from București Nord station in central Bucharest. Average journey time is 2 hours and 40 minutes. From Sinaia station your hotel is approximately 3km away. Taxis are normally available.
To view available dates and prices for this holiday CLICK HERE
Or call 0131 608 1238 quoting "DC Thomson Travel"
---
Explore Transylvania
FROM
£829.00
Departure dates
8th September 2022
20th October 2022