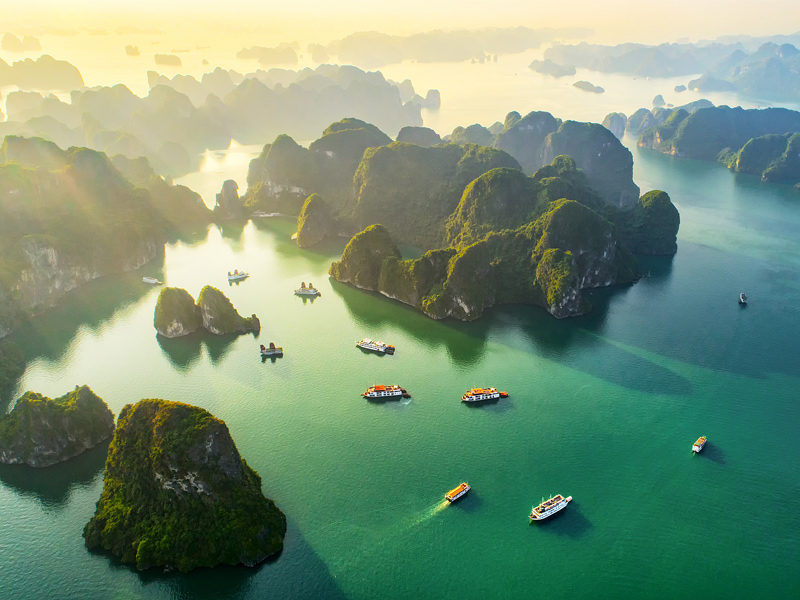 Join us on an adventure to Southeast Asia on this guided group holiday to Vietnam.
This beautiful country has so much to offer, from stunning white sandy beaches and buzzing cities to spectacular countryside filled with rice fields and sleepy villages.
On this holiday of a lifetime, we'll embark on a cultural discovery tour of Vietnam from North to South. We'll experience Hanoi's Old Quarter by cyclo ride, cycle through the Vietnamese countryside in search of pagodas, explore the underground network system of the Cu Chi Tunnels, cruise through the emerald waters of Halong Bay and soak up the local culture in the Mekong Delta. This small group tour allows us to truly immerse ourselves in the Vietnamese way of life. So, if you're ready for an adventure holiday, come explore Vietnam with us.
Please note that visas are required for travel on this tour.
What You'll Love
3 nights in Hanoi including Hao Lu, Tam Coc & a cyclo ride in Hanoi
1 overnight cruise in Halong Bay with on board activities including swimming, kayaking & Tai Chi lessons
3 nights in Hoi An including a walking tour & a 15km cycle
1 night in Hue including the Imperial City & the Marble Mountains
4 nights in Ho Chi Minh City including a city tour & the Cu Chi Tunnels
1 night in Can Tho including a boat ride on Ben Tre River, a cycle through the villages of the Mekong Delta & the Cai Rang floating markets
All breakfasts, 11 lunches & 1 dinner included
13 nights accommodation & 2 overnight flights
Itinerary
Day 1
Make your own way to Hanoi, the capital city of Vietnam. We will provide a complimentary transfer from Hanoi airport to your hotel in Hanoi (Distance: 27.8km/ approximate transfer time: 43 minutes). You can spend the afternoon settling in and getting to know your surroundings.
Day 2
Jump head-first into Hanoi's iconic sights and sounds on a full day city tour. In the morning you will visit the Ho Chi Minh Complex, which includes the Mausoleum, Uncle Ho's former stilt-house residence, the Presidential Palace, the Ho Chi Minh Museum and The Temple of Literature. (Please note that the Ho Chi Minh Mausoleum is closed from 1st October – 30th November for annual conservation.)
After lunch, explore the enthralling Museum of Ethnology, which contains an extensive display of life-size structures dedicated to Vietnam's 54 ethnic minorities. Next up is an exciting cyclo ride weaving through the chaotic streets of the Hanoi's Old Quarter. A cyclo is a three-wheel bicycle taxi that appeared in Vietnam during the French colonial period, after a failed attempt to introduce rickshaws! There is no better way to get to know the winding narrow streets of Hanoi than by this traditional mode of transport. You will have the remainder of the evening at leisure to spend as you wish in this buzzing city.
Day 3
Embark on a road trip through the picturesque countryside from Hanoi to the ancient complex of Hoa Lu. Hoa Lu was the capital city of Vietnam under both the Dinh and Le Dynasties between 968 and 1009 AD. Enjoy views of many palaces, pagodas, tombs and pavilions as you get out of the hustle and bustle of Hanoi. Visits to the Dinh and Le Temples are included followed by a traditional Vietnamese lunch.
Experience a sampan ride along Tam Coc, a winding waterway dotted with gorgeous limestone karsts, before a 6km bike ride through the stunning countryside towards Bich Dong Pagoda. The adventurous can climb the steps to explore this cluster of cave temples, including three pagodas located at different levels of the mountain, before returning to Hanoi in the late afternoon.
Day 4
Depart Hanoi for Halong Bay where you will board your boat for a 1 night cruise. Halong Bay is the highlight for many who visit Vietnam. It is well known for its emerald green waters and thousands of towering limestone islands topped by rainforests. Enjoy lunch on board while the boat heads towards secluded islands and ancient caves. In the afternoon there will be the opportunity to explore Titov Island and swim at its beach, as well as time to wander through the amazing Sung Sot Cave. Or if you prefer you can simply relax on board and soak up the tranquil atmosphere. *Swimming is subject to weather conditions
Enjoy a cocktail and some light snacks on the top deck as you watch the sunset against the most stunning back drop during a "Sunset Party". Afterwards indulge in a freshly prepared sea food dinner, for an authentic taste of Vietnamese cuisine.
Day 5
Start your day with an early morning Tai Chi lesson on the top deck. The ancient Chinese practice of Tai Chi combines slow, deliberate movements, meditation, and breathing exercises and is practised in Vietnam for its reported health benefits. Afterwards there will be the opportunity to enjoy kayaking around Man's Head Islet, discovering some of Halong Bay's hidden gems. Continue cruising, passing Ba Hang fishing village and Dog Islet while enjoying a fruit carving demonstration and Vietnamese cookery class before disembarking the boat in the early afternoon.
Transfer from Halong Bay harbour to Yen Duc Village, a community based tourism project which aims to give visitors an authentic glimpse of Vietnamese village life. Here you will have lunch along with a 30 minute traditional performance of the famous Vietnamese water puppets. Water puppetry is an ancient Vietnamese tradition that dates back as far as the 11th century. Afterwards continue towards Noi Bai airport for your internal flight to Danang. On arrival in Danang you will transfer to your hotel in Hoi An.
Day 6
Embark on a cycling tour this morning on Cam Kim Island with your local expert guide. Cycle on small paved paths in the middle of the island, through rice and corn fields passing by beautiful hamlets with some stops included at the small villages along the way. (Duration by bicycle: 15km)
Discover Hoi An's iconic highlights by foot during a half day walking tour with your local expert guide. You will start the afternoon in the centre of ancient old town. The 400-year old Japanese Covered Bridge, the Phuc Kien Assembly Halls and the colorful local market are just some of the sights you will get to experience on this guided tour with a difference. You will also eat like a local at one of the many traditional Vietnamese restaurants that the old town has to offer.
Day 7
Discover Vietnamese cuisine from the garden to the plate. Begin your day with a welcome drink at Hai Café in the Ancient Town of Hoi An, visit the morning market to uncover some of the ingredients you'll work with in your cooking class and then board a boat for a cruise along the Hoi An River to the Red Bridge Cooking School. Explore the herb garden, learning about some of Vietnam's most well-known dishes and partake in a cooking class. After lunch, there will be time to take a dip in the cooking school's swimming pool. Culinary guide, lunch and transfers included. (Please note: This excursion is subject to minimum numbers)
Today you have a full day to spend as you wish in Hoi An. Rent a bicycle and take a ride to the nearby beach, relax by the pool at your hotel, visit one of the many tailor shops for custom made items or barter down at the central market for some souvenirs. The options are endless.
You will also have the evening at leisure to spend as you desire. We highly recommend that you visit the ancient old town by night as the atmosphere is simply stunning. In the evening, the streets are illuminated by lively lanterns strewn between buildings, creating a magical array of colour as far as the eye can see. Grab a bite to eat at one of the riverside restaurants and soak up the atmosphere at your own pace.
Day 8
This morning drive north to the Royal City of Hue with a stop for a short climb up the famous Marble Mountains, a cluster of five marble and limestone hills named after the five elements (metal, water, wood, fire and earth). Continue the scenic route to Hue, enjoying the view of the coast line and Danang from the top of the Hai Van Pass. In the afternoon, enjoy an afternoon at leisure in Hue. Visit one of the bustling local markets independently, walk along the banks of the Perfume River or simply relax at your hotel. The choice is all yours.
Try a variety of street food dishes in Hue on a street food walking tour. Discover hidden restaurants, traders, and street food vendors located off the beaten track that most tourists won't find. Start by sampling some Hue local specialties such as Loc cake, Beo Cake, Nam Cake and Khot cake. Afterwards indulge in a Vietnamese BBQ with some local beer and locally prepared noodle soup. Your foodie tour will end with a sweet and cool dessert. Culinary guide and food tastings included (This excursion is subject to minimum numbers)
Day 9
After breakfast, you'll spend the morning discovering the main highlights of the Imperial City of Hue. Hue was the Vietnamese capital during the Nguyen Dynasty 1802-1945 and ruins of its regal past can still be seen today. Modelled on the Forbidden City in Beijing, the Imperial City of Hue is home to many palaces and temples within its giant walls. You will eat authentic cuisine at a restaurant within the city walls and enjoy a local experience at Dong Ba market browsing local produce before your afternoon transfer to Phu Bai airport for your short flight to Ho Chi Minh City.
Ho Chi Minh City (commonly known as Saigon) is a city in southern Vietnam famous for the pivotal role it played in the Vietnam War. On arrival in this bustling city, you will transfer to your hotel in District 1, a great choice for those looking for shopping, culture & nightlife. You will have the remainder of the evening at leisure. Check out some of the local food stalls that line the city's streets, especially around bustling Bến Thành Market, or simply relax at your hotel while you get to know your surroundings.
Day 10
This morning you will embark on a guided city tour that will cover all of Ho Chi Minh City's iconic highlights. Starting with the War Remnants Museum – a real eye-opening part of Vietnam's proud history; followed by the Reunification Palace; the former South Vietnam Presidential Palace; the Notre Dame Cathedral and Old Post Office.
After lunch at a local restaurant, it will be time to discover the sights and smells of Chinatown with a walking tour through its back-streets, allowing you to witness local daily life. Visit the amazing Cholon and Binh Tay Market before exploring Thien Hau temple, which was built in the early 19th Century as a tribute to the goddess of seafarers.
Day 11
This morning drive to Tay Ninh, once the historical center of the Cao-Dai religion. Founded in 1926, Cao-Dai is a combination of Buddhism, Christianity, Taoism and Confucianism. At the Holy See Temple, you will have the chance to watch the worshipers in their long white tunics during the noon Buddhist ceremony.
After lunch at a local restaurant, you will visit the famous Cu Chi Tunnels, an amazing network of underground tunnels that were used during the Vietnam War. The tunnels were used by Viet Cong soldiers as hiding spots during combat, as well as serving as communication and supply routes, hospitals, food and weapon caches and living quarters for numerous North Vietnamese fighters. A must do for any visitor to Vietnam!
Day 12
Today you will explore the Mekong Delta, a network of fresh and salt water canals that cover a wide area of Southern Vietnam. Leave behind the busy city of Ho Chih Minh and drive towards Ben Tre. Take a boat on Ben Tre River, one of the tributaries of the Mekong River, with a stop along the way to see how traditional bricks are made by printing and baking. You will also visit one of the many coconut processing workshops and a local village located along the waters' edge.
In the afternoon, take a bicycle ride or a tuk tuk along the village pathways, passing by green rice fields and vegetable plains, enabling you to discover local day to day activities in the Mekong Delta. After lunch at a riverside restaurant, enjoy a small rowing-boat trip along water palm creek, and a boat trip back to the pier where you will then be transferred to your hotel in Can Tho. Can Tho is set on the southern bank of the Hau River and is known for its canal network and nearby floating markets.
Day 13
Embark on a boat cruise to visit the Cai Rang floating market. This is a very unique experience as this is a special type of market where all purchasing activities take place on boats and ships. Afterwards, continue to visit a fruit garden where you will have a short tour and the chance to sample some local produce.
In the afternoon you will travel back to Ho Chi Minh City, observing rural life and the lush vegetation along the riverbanks. Enjoy lunch en route before arriving at your hotel in Ho Chi Minh City. The evening will be at leisure to experience the bustling night time atmosphere of Vietnam's largest city!
Day 14
Enjoy one final day at leisure in Ho Chi Minh City for independent exploration. Our guide will be happy to suggest something to suit your taste. Enjoy a local beer at one of the many lively cafes on Phạm Ngũ Lão Street, do some last minute souvenir shopping at the Bến Thành Market or simply relax. Late checkout is included at our hotel. We will provide a complimentary departure transfer from our hotel to Ho Chi Minh Airport.
---
Explore Vietnam
FROM
£1049.00
Departure dates
10th June 2022
4th September 2022
9th October 2022
12th November 2022
15th February 2023
8th March 2023
6th April 2023
9th June 2023
2nd September 2023