Footsteps of the Camino de Santiago Walking Holiday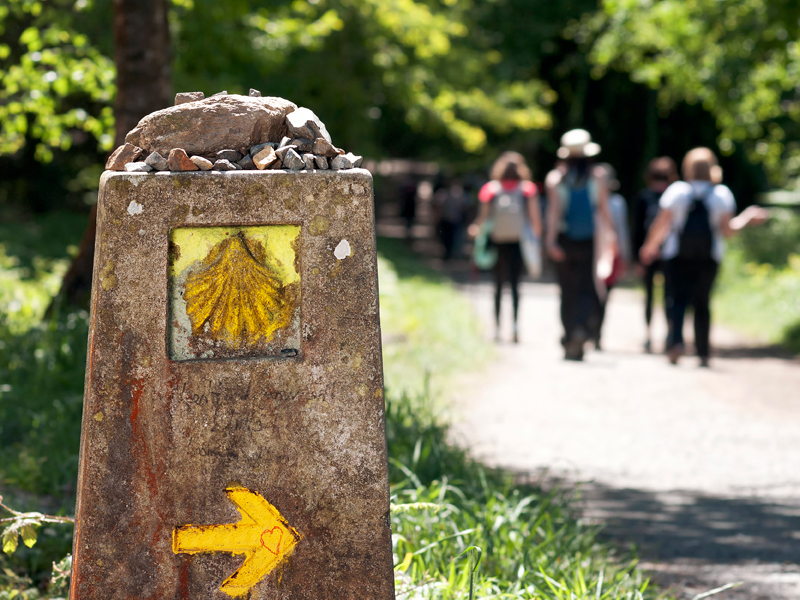 Available
Until October 2022
Embark on a walking holiday with us to sunny Spain! This 7-night guided tour will allow us to follow the footsteps of the Camino de Santiago while enjoying the food, wine and culture along the famous route.
Our journey will begin in Bilbao and take us west to the historic Santiago de Compostela.
This trip includes a visit to the Guggenheim museum, a tour of a local winery, a stroll through the beautiful old town of León and a half day guided tour of Santiago de Compostela.
As we walk through this stunning area of Spain, we'll soak up the beauty of the verdant Galician countryside and be amazed by the magnificent views from the tiny mountain village of Cebreiro, 1300 metres above sea level.
We'll complete our holiday by leaving a stone at the symbolic Cruz de Fierro (The Iron Cross) and like the pilgrims before us, leave all our burdens behind.
This trip is ideal for moderately experienced walkers, with an average walking distance around 10km per day on mostly flat, gravel terrain.
Footsteps of the Camino de Santiago Tour Highlights
Follow in the footsteps of centuries of pilgrims on this 7-night guided walking holiday to Spain.
Explore Bilbao with a guide walking tour, visit to the Guggenheim & time at leisure.
Spend an exhilarating 4 days walking the Camino de Santiago with an expert guide.
Discover the pilgrimage site of Santiago de Compostela on a half day city tour.
Includes 5 nights on a bed and breakfast basis, 2 nights on a half board basis (3 & 4*).
Enjoy the flexibility to make your own way there.
Know before you go
Your holiday starts at the Hotel Ercilla Bilbao, which is approximately 6km from Bilbao Airport. A number of services connect to the city centre.
To view available dates and prices for this holiday CLICK HERE
Or call 0131 608 1238 quoting "DC Thomson Travel"
---
Footsteps of the Camino de Santiago Walking Holiday
FROM
£919.00
Departure dates
22nd September 2022
6th October 2022