Gardens and Architecture of the Firth of Clyde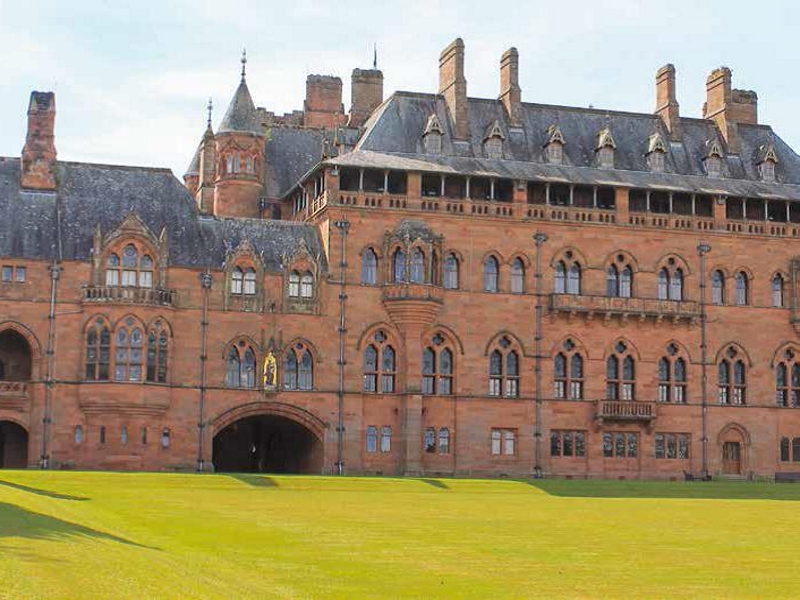 Available
Until September 2020
Join us as we visit architectural marvels and fine gardens in and around the Firth of Clyde, including works by the ever-popular Charles Rennie Mackintosh.
We visit his House for an Art Lover, Scotland Street School and Hill House, one of his finest domestic creations. Currently undergoing a major conservation project, it will be enclosed in a metallic mesh structure that will become a feature of the visitor experience. This visit is subject to the work being completed in time, and if necessary we will instead visit Scots architect Sir Robert Lorimer's grand house at Ardkinglas, along with its woodland garden.
Visit the nearby gardens of Glenarn, reputedly one of the best woodland gardens in Scotland, and sail across the Firth of Clyde to the Isle of Bute for a visit to Mount Stuart, one of the largest High Gothic house in Britain, which offers the perfect combination of architectural grandeur and captivating gardens. Finally, no Mackintosh tour would be complete without an afternoon tea experience at the Willow Tearooms in Glasgow's Sauchiehall Street.
---
Gardens and Architecture of the Firth of Clyde Tour Highlights:
Views over the River Clyde from Hill House
The Gothic splendour of Mount Stuart
1,000 year old King Fern at Ascog Hall
Afternoon tea at the world-famous Mackintosh at the Willow Tearoom
---
Price Includes
Return coach travel available from Inverurie, Aberdeen, Montrose, Arbroath, Dundee, Perth, Kinross, Dunfermline, Edinburgh or Glasgow
3 nights' hotel accommodation at the 4-star Gleddoch House Hotel on a dinner, bed and breakfast basis
An afternoon tea at the newly restored Mackintosh Willow Tearooms, Sauchiehall Street
Visit House for an Art Lover at Glasgow's Bellhouston Park
Discover Hill House, Charles Rennie Mackintosh's finest domestic creation
Take the ferry from Wemyss Bay to Rothesay on the Isle of Bute and learn about the spectacular house and gardens of Mount Stuart
Visit the secluded and long neglected gardens of Ascog Hall Fernery
An optional entry to Mackintosh House before learning about the history of Scotland Street School, which was designed by Charles Rennie Mackintosh himself
Services of a professional tour manager
Single supplements apply. Subject to availability.
Want to explore more of our holidays in Scotland? Please click here.
Gardens and Architecture of the Firth of Clyde Itinerary
Day 1
We depart by coach this morning from our pick-up points and head for Glasgow's Bellahouston Park, where we will visit the House for an Art Lover. The origins of this unique building lie in drawings prepared by Charles Rennie Mackintosh in 1901 as his entry to a competition to design a 'Haus Eines Kunstfreundes' or 'Art Lovers House' set by German design magazine 'Zeitschrift Fur Innendekoration'. The entry, though highly commended, was unsuccessful and for more than 80 years Mackintosh's concept remained an unrealised design on paper, until Graham Roxburgh, the Consulting Engineer responsible for restoring Mackintosh interiors in nearby Craigie Hall, had the idea finally to build the House for an Art Lover. After much detective work and various setbacks Roxburgh's dream finally became a reality in 1996 when the house opened to the public and today it offers a remarkable insight into the work of an architect of extraordinary vision and imagination.
Meals include: Dinner
Hotel: Gleddoch House Hotel
Day 2
After breakfast this morning we cross the Erskine Bridge for a visit to Hill House, Charles Rennie Mackintosh's finest domestic creation which sits high above the River Clyde commanding fine views of the estuary. Commissioned in 1902 by the Glasgow publisher Walter Blackie, the house still makes a striking statement today. Blackie wanted an individual feel to his home and he asked Mackintosh to design not only the house and gardens, but much of the furniture and interiors too. Mackintosh's wife, Margaret Macdonald, contributed fabric designs and a unique panel over the fireplace in the drawing room. The result is a daring design with an air of restrained elegance, which still appeals to modern-day tastes.
Note: for the next few years Hill House is undergoing extensive work to make the building fully weather-proof. As part of this process a huge semi-transparent steel mesh cover is being erected over the house to allow it to completely dry out before the weather-proofing begins. The 'box' will become a feature of the visitor experience and those who wish can use the walkways within it to take a closer look at the exterior of the house. Please note that this visit is subject to the work being completed in time.
Should Hill House not be open in time, we will instead visit Ardkinglas House at the head of Loch Fyne. Recognised as Sir Robert Lorimer's masterpiece, Ardkinglas was built in 1907, though it has the appearance of a much older Scots baronial-style house, thanks to the use of traditional materials which were skilfully and creatively mastered by expert craftsmen but with a wealth of new technology incorporated into the design. The house remains practically unaltered and is a very popular location for TV dramas and film production. Following our private tour of the house we will have some free time to enjoy the fine woodland garden, full of mature specimen trees. Highlights include five of Britain's tallest or largest conifers, an extensive sorbus glade and (in June) some stunning Rhododendron 'Loderi'.
Nearby are the gardens of Glenarn, reputedly one of the best woodland gardens in Scotland. Glenarn was originally planted by the Gibson brothers, and filled with rhododendrons and other plants collected by Kingdom-Ward, Ludlow and Sheriff on their expeditions to Tibet and China. The garden had been neglected for many years when Mike and Sue Thornley acquired it in 1983 and they have spent the last ten years or so gradually restoring it. The mild, damp location supports old plants of Rhododendron tanastyllum, arboreum var. nigagiricum and Magnolia rostrata to mention but a few, and all should be at their best at this time of year.
Meals include: Breakfast, Dinner
Hotel: Gleddoch House Hotel
Day 3
After breakfast we head for Wemyss Bay where we will catch the morning ferry to Rothesay on the Isle of Bute. Our first visit will be to the spectacular house and gardens of Mount Stuart, which is one of the largest, most spectacular High Victorian Gothic houses in Britain and yet one of the least known. The gardens were only opened to the general public for the first time in June 1995. These 300 acres of stunning woodlands and gardens are a real treasure trove for the garden enthusiast. The temperate effect of the Gulf Stream on Bute ensures that there are always many exotic plants, palm trees and Mediterranean blooms to be seen here. There is a pavilion glasshouse in the grounds which nurtures rare species from the tropical rain forests of south-east Asia while native British plants thrive in the fertile soils and mild climate. A guided tour of the house and lunch are included here.
Thereafter we will visit Ascog Hall Fernery. In the secluded and long neglected gardens of Ascog Hall a sunken fernery with beautiful rock work and water pools was found. Even in its dilapidated state the potential was spotted and it has now been carefully refurbished with an impressive collection of ferns researched by the Royal Botanic Gardens in Edinburgh. Open to the public only recently for the first time this unique fern house is a joy to behold. It offers a rare opportunity to glimpse a bygone era and is a tribute to the imagination and ingenuity of Alexander Bannatyne Stuart, a former owner of Ascog Hall in Victorian times, whose passion for collecting exotic ferns inspired him in his endeavour to replicate a tiny fragment of sub-tropical jungle on a small Scottish island.
We then catch an afternoon ferry and return to the hotel.
Meals include: Breakfast, Dinner
Hotel: Gleddoch House Hotel
Day 4
This morning, after breakfast, we will check out of the hotel and travel into Glasgow for a visit to the Hunterian Museum, part of the University of Glasgow, which was founded in 1807, making it Scotland's oldest public museum, and is home to one of the largest collections outside the National Museums. You may be interested in visiting the Mackintosh Collection, numbering around 1000 items, including architectural, furniture and interior designs, textile designs, flower drawings and watercolours. Entrance to the Macintosh House is optional (entrance charge £5 adult, £3 senior citizen). Please note entrance is restricted to 12 passengers at a time and cannot be pre-booked.
We continue to the Scotland Street School, which was designed by Charles Rennie Mackintosh 1903-1906 for the School Board of Glasgow. With many typical Mackintosh features and details built into the stonework and staircases, there is something to admire around every corner. Now a museum, it tells the story of 100 years of education in Scotland, from the late 19th century to the late 20th century. When Scotland Street School first opened on 15 August 1906, it educated the children of families mainly working in shipbuilding and engineering on the south side of Glasgow. We will find out what school days were like in the reign of Queen Victoria, during World War II, and in the 1950s and 60s, in three reconstructed classrooms. With Scottish education now sadly slipping down the world rankings it is a poignant reminder of an education system that was once the envy of the world.
Following our visit here we will transfer to the newly restored Mackintosh at the Willow Tearooms in Sauchiehall Street. The famous Tea Rooms first opened in 1903 and are of huge importance to Glasgow's architectural and cultural heritage and are the only surviving Tea Rooms designed by Charles Rennie Mackintosh for local entrepreneur and patron Miss Kate Cranston. For the last four years it has been undergoing an extensive restoration in order to bring it back to its former glory, using painstakingly crafted furniture and fittings which are exact replicas of the originals. Afternoon tea is included here – a traditional selection of sandwiches, scones, shortbread and cake, accompanied by your choice of loose leaf tea or freshly ground coffee.
Following this we will return to our original departure points.
Meals include: Breakfast
---
Gardens and Architecture of the Firth of Clyde
FROM
£635.00
Departing From
Inverurie
Aberdeen
Montrose
Arbroath
Dundee
Perth
Kinross
Dunfermline
Edinburgh
Glasgow