A Grand Tour of the Gardens of Scotland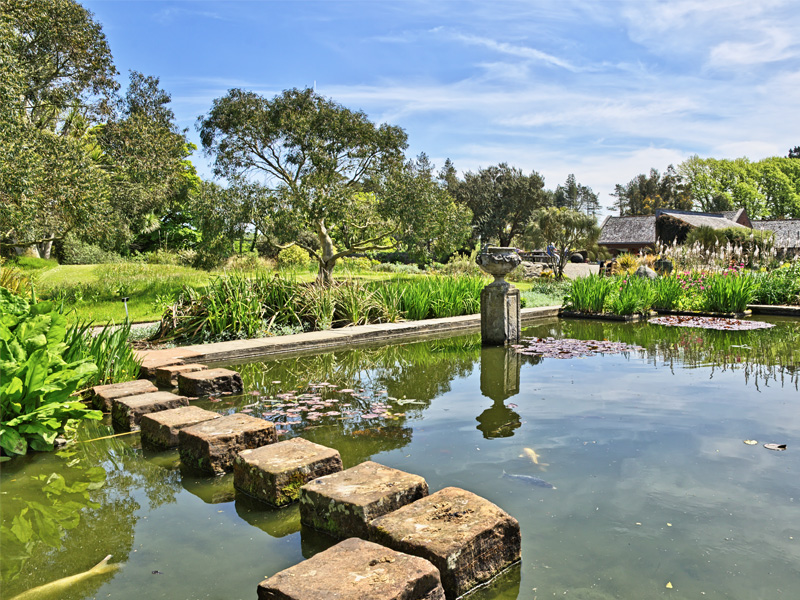 Our Grand Tour of Scotland's finest gardens takes us from the open spaces of the far north to the wilds of the west; from the splendours of the south to the elegance of the east. The range of gardens is equally diverse, from the peace and calm of Malleny Garden in Edinburgh to the windy hilltop and lavish planting of Glenwhan, from the sub-tropical exoticism of Logan Botanic Gardens to the homely and traditional Castle of Mey.
We begin at Branklyn and Cluny gardens in Perthshire before driving along the 'backbone' of Scotland to Inverness. From here we strike out north to castles Dunrobin and Mey and west to Dundonnell and Inverewe, undoubtedly one of the highlights of the tour. Travelling through the Great Glen we savour the peace and quiet of the West Highlands, where the mild, damp climate, influenced by the Gulf Stream, promotes luxuriant growth in tranquil gardens such as Ardchattan, Arduaine and An Cala.
Moving south and west into Dumfries and Galloway we see more lush planting, with exotic plants from around the world flourishing in this mild climate. Then we move on into the softer, more rounded landscapes of the Border country to see two marvellous gardens before we come full circle back to Edinburgh and conclude in the distinguished surroundings of the Royal Botanic Gardens.
NC500: Please note that this itinerary features part of the North Coast 500, the highly scenic coastal route which begins and ends in Inverness.
What You'll Love
Exotic planting at Inverewe, Arduaine and Logan Botanic Gardens
The late Queen Mother's homely and much loved rose garden at the Castle of Mey
Peaceful, loch-side gardens in Argyll
The great woodland gardens of Ardkinglas and Glenarn
The stately surroundings of the Royal Botanic Garden Edinburgh
Accommodation
Services of a professional tour manager
Comfortable coach travel throughout
Meals – as per the itinerary
Single Supplements apply. Subject to availability.
Itinerary
Day 1
We depart from your local area and travel north to our first visit, Branklyn Gardens, a haven of peace and colour. Begun in 1922, on a south-facing slope with acid soil, the garden represents a wonderful collection of small rhododendrons, maples, magnolias and woodland plants. Paths wind along the contours of the land bringing the visitor nose to nose with all kinds of distinguished plants, all beautifully grown.
We continue with a visit to Cluny House Gardens, near Aberfeldy. Wandering through this wonderful wild woodland garden we will discover rare and exotic plants from around the world. The gardens feature trees and shrubs from America, New Zealand, Japan, China and Tibet, creating the unique atmosphere of a Himalayan woodland paradise. We'll also see Britain's widest conifer – a giant Wellingtonia, 11 metres in girth and over 130 years old.
Later we will continue to Inverness to our accommodation at the Best Western Inverness Palace Hotel.
Day 2 
Enjoy your full Scottish breakfast.  This morning we will visit Dunrobin Castle – the château-style ancestral home of the Dukes of Sutherland.  The castle is a wonderful early 19th-century fantasy castle with a touch of the Loire and a dash of Bavaria.  Below the castle is a magnificent example of a formal nineteenth century garden. The gardens are laid out on terraces which descend to the sea.
We later continue to John O'Groats before having an afternoon visit to the private gardens and former home of Her Majesty the Queen Mother, at the Castle of Mey.
Day 3 
After breakfast we have a long but most rewarding day as we drive across the north of Scotland to visit Dundonnell House Garden. The house was completed in 1769 by the Mackenzie's of Dundonnell, who lived in it until the 1940s. Since then it has had a number of owners, including the late Alan Roger – rumoured to be in MI5, but known locally simply as a plantsman and bonsai expert. The current owner, has added delightful new borders for year-round colour, centred on an enormous and ancient yew tree over 300 years old. The main part of the garden lies within very old walls and is divided into distinctive compartments, adding greatly to the interest here; other highlights include riverside walks in the fine arboretum and a restored Victorian glasshouse.
Our final visit of the day is to Inverewe gardens, unquestionably one of the most outstanding gardens in the country.  The northern road into Inverewe is spectacular – towering mountains and breathtaking vistas – and the view from above Gruinard Bay has to be seen to be believed. Famous gardens do not always live up to their reputations but it would be hard to imagine anyone failing to be excited by Inverewe, when at this time of year it will be at its most colourful. The balmy Gulf Stream Drift Climate promotes luxuriant growth and today it is a jungle of mature exotic trees and shrubs laced with winding walks, rising and falling, giving sudden glimpses of shimmering water through the foliage.
We will return to Inverness via Loch Maree and Achnasheen, another spectacularly scenic journey.
Day 4 
This morning, after breakfast, we check out of the hotel and depart for Abriachan Gardens, near Drumnadrochit.
We continue along the shores of Loch Ness and through the Great Glen to Fort William which sits at the foot of Ben Nevis, Britain's highest mountain. A scenic drive takes us down the coast and into Argyll. We follow a narrow road over the hills with superb views of Loch Etive and Ben Cruachan to the gardens at historic Ardchattan Priory. A garden has existed here for over 700 years, since Valliscaulian monks, a little-known order from Burgundy, first settled here on the north shore of Loch Etive. The high summer months see the herbaceous borders at their best, while the scent of Philadelphus pervades the shrub garden and orchids can be spotted in the wildflower meadow.
We continue to our hotel in nearby Oban.
Day 5 
This morning we will head south to Loch Melfort to visit the National Trust for Scotland's garden at Arduaine. The garden here was started in 1897 by James Arthur Campbell, a tea planter, and a friend of Osgood MacKenzie, the maker of Inverewe.  It is a splendid site, full of the most magnificent plants.  It is most rewarding to keep going to the viewpoint which gives an exquisite panorama of the calm waters of Loch Melfort below.
Our afternoon visit will be to the small private garden of An Cala on the Isle of Seil, linked to the mainland by the so called 'Bridge over the Atlantic.  This is a quaint garden very much on a domestic scale, which relies for its impact on its situation looking out to the sea with the islands of Luing, Scarba, Mull and the Garvellachs in the distance.
We return to Oban with sufficient time to have a look round the town before dinner.
Day 6 
After breakfast we check out of the hotel and drive through the Pass of Brander and along the shores of Loch Awe with views of ruined Kilchurn Castle, on via Inveraray and the shores of Loch Fyne to the woodland garden of Ardkinglas. Here huge conifers planted in the nineteenth century provide a high canopy for rhododendrons and other shrubs. Highlights include five of Britain's tallest or largest conifers, an extensive sorbus glade and some stunning Rhododendron 'Loderi'.
We continue to Glenarn, reputedly one of the best woodland gardens in Scotland. Glenarn was originally planted by the Gibson brothers, and filled with rhododendrons and other plants collected by Kingdom-Ward, Ludlow and Sheriff on their expeditions to Tibet and China. The garden had been neglected for many years when Mike and Sue Thornley acquired it in 1983 and have been gradually restoring it since then.
Following our visit we continue to our overnight accommodation in Glasgow.
Day 7 
We continue south today as we travel into Ayrshire and visit Dumfries House. Its stunning interiors are home to a world-class collection of furniture by Thomas Chippendale and many late 18th Century cabinet makers, which recently featured on BBC's Antiques Roadshow. We are able to make the most of those interiors on our grand tour of the house, followed by tea and shortbread. We will also visit the Queen Elizabeth Walled Garden, which is one of the best examples of its kind in Scotland and in many ways the flagship of the restoration project. You may also wish to venture into the intriguing yew hedge maze and see if you can reach the Japanese pagoda at its centre – and then find your way out again!
After our visit, we will travel to our accommodation in Dumfries.
Day 8 
Today after breakfast we visit Glenwhan Gardens, spread out over a windy hilltop with marvellous views of Luce Bay and the Mull of Galloway. Since 1979 a very large, interesting and individual garden has been created that is filled with good plants. At its heart is an extensive pool, divided by a grassy causeway and fed by a tumbling stream. The slopes above are lavishly planted with trees and shrubs – almost any gardener will find something unfamiliar here.
This afternoon we continue on to our next destination: the world-famous Logan Botanic Gardens at Port Logan. Port Logan lies in the Mull of Galloway, which juts out into the sea in the extreme south-west of Scotland. The garden was started by the McDougall family who lived here for 800 years, and since 1969 it has been in the care of the Royal Botanic Garden at Edinburgh. Logan Botanic Garden is beautifully laid out, particularly in the walled garden with its fine terraces and well-planned borders under an avenue of cabbage palms. The climate here is exceptionally mild and several different habitats provide conditions for a huge range of plants.
Next door are the gardens of Logan House, which were originally part of Logan Botanic Garden. This Victorian woodland garden features champion trees, sweeping lawns and ancient shrubberies, meandering pathways and a majestic monkey puzzle avenue. It also features seven United Kingdom and fourteen Scottish champion trees. Opened to the public in 2002 Logan House has benefited from a programme of replanting and renovation and the results have been very successful.
We return to our hotel.
Day 9 
This morning after breakfast we visit Broughton House, a fascinating 18th Century house and garden which was home to E A Hornel from 1901 until his death in 1933. During his lifetime he had twice lived in Japan and his experience there influenced many of his paintings. The garden which runs down to the estuary of the Dee also shows the influence of his time in Japan and is always full of colour.
Following this we visit the wonderful plantsman's nursery of Ellenbank. This wonderful nursery is full of cottage garden perennials such as violas, clematis and penstemons.
Our last visit of the day will be to the gardens of the Threave Estate. The gardens have been largely created by students at the School of Horticulture which started here in 1960. Mature woodland of beech, conifers and oaks form the background to a large collection of shrub roses, sweeping mixed borders, dwarf heathers, peat and rock gardens, a walled kitchen garden and superb glasshouses.
Day 10 
This morning we check out of our hotel and head for the rolling hills of the Scottish Borders, where we visit Dawyck Botanic Gardens.With over 300 years of tree planting Dawyck is a world famous arboretum with mature specimens of Chinese conifers, Japanese maples, and the beech and Sequoiadendrons from North America which are over 45 metres tall.
We continue with a visit to Kailzie Gardens, near Peebles. Kailzie was originally known as West Kelloch and there are remnants of old forts on the hill. The house was in the hands of the Tweedie family for several centuries who at one stage built a keep – the site of this can still be seen.  In 1638 ownership passed to the Earls of Traquair, and then through several owners until 1914, when William Cree, the uncle of the present owner's father in law, took ownership.  In 1962 the Georgian house was demolished and soon after, the current owner, embarked on a plan to develop an almost wild garden.  Standing 700 feet above sea level, facing north and east, the garden has encountered frost in every month of the year, and plant selection is restricted to the most hardy. There is now a semi-formal walled garden with a rose garden, herbaceous borders and old fashioned roses.
Following this we travel to our hotel in Edinburgh.
Day 11 
Our final day begins with a visit to Malleny Garden. Renowned for its peaceful atmosphere, Malleny is the place to come for quiet contemplation in beautiful surroundings. Through a decorated wrought-iron gate the walled garden opens out to the Four Evangelists – huge 400-year-old clipped yew trees. Victorian greenhouses and heritage rose plantings complete the picture of cultivated calm. The garden is a haven for plant lovers thanks to a large variety of colourful and fragrant flowers and shrubs.
We conclude in the regal surroundings of the Royal Botanic Gardens Edinburgh, one of the finest botanic gardens in the world.  A pleasure for all the family, the Garden offers fantastic views of the capital's skyline, featuring Edinburgh Castle, and is located just a mile from the city centre.  Visitors can discover its fascinating history, which dates back 300 years, learn about its plantings and walk around 70 acres of beautiful landscape. The world-famous Rock Garden is a particular highlight. James McNab built the first rock garden at Inverleith in 1871 which comprised of numerous small, straight-sided compartments, each planted and distinctly labelled. In 1914 a new Rock Garden was completed using conglomerate rock from the Callander area in Perthshire, and red sandstone from Dumfries. Today there is approximately 5,000 species planted at any one time in the Rock Garden.
We return to our original departure points.
---
A Grand Tour of the Gardens of Scotland
FROM
£2195.00
Departing From
Edinburgh
Glasgow
Dunfermline
Kinross
Perth