Greek Islands Cruise – an Ionian Odyssey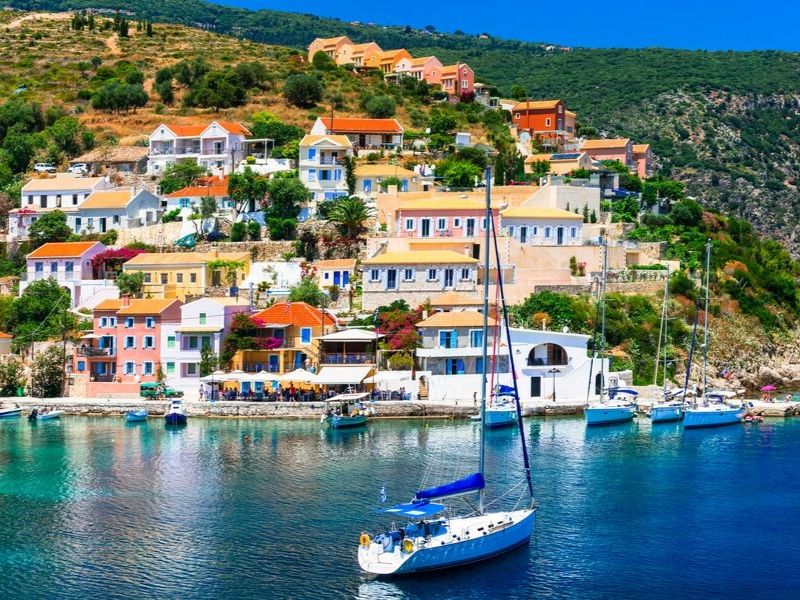 Enjoy sun-kissed days Greek Islands and starlit nights drifting through azure waters and between idyllic isles, aboard a welcoming motor-sailing vessel.
Step aboard intimate MS Hera to spend an unforgettable, relaxed week cruising through the beautiful waters of the sun-kissed archipelago of the Ionian Islands, all rich in legend and raw beauty. Discover still-unspoilt coves, swim or snorkel in the clear waters, enjoying the company of your fellow passengers (you'll be one of just 18 on board) as you sail gently from place to place, or tie up in pretty harbours, perhaps to dine under twinkling lights or stars.
---
Greek Islands Cruise – an Ionian Odyssey Available Departures:
Fly direct from Glasgow in September 2020 – 8 days from £1789pp
Dates and prices on this page are based on departures flying from Glasgow only
---
Greek Islands Cruise – an Ionian Odyssey Tour Highlights:
Sail to six idyllic islands in the sun
Anchor in tiny coves and perfect bays for swimming and snorkelling
Discover unspoilt beaches
Visit Ithaca, Odysseus' long-sought-for home
Explore Kefalonia – the setting for 'Captain Corelli's Mandolin'
Sail past the island resting-place of Aristotle Onassis
Enjoy dining ashore at your leisure in quayside tavernas
The top-deck bar, under the stars, is open each night
Price Includes
Seven nights' half-board accommodation aboard MS Hera
Six freshly prepared lunches and a celebration Captain's Dinner
Return flights to Kefalonia
The services of the captain and crew
Single supplements apply. Offer subject to availability.
Itinerary
Day One – Fly to Kefalonia and transfer to board MS Hera
Upon arrival, meet your host and transfer across to the east side of the island to the port of Agia Effimia. Stow your luggage aboard Hera, then spend some time wandering this delightful port and perhaps stopping at a nearby taverna for your first holiday lunch. This afternoon, relax on board or continue exploring your surroundings. You'll then be free to relax or take an evening stroll under the stars before returning to Hera. Why not to enjoy a nightcap at the top-deck bar before retiring to your cosy, air-conditioned cabin?
Day Two – Kefalonia – overnight in Fiskardo
Enjoy breakfast aboard, and perhaps take an early morning stroll before Hera putters along the coast to Antisamos. One of the locations used in the film version of Captain Corelli's Mandolin, Antisamos is arguably one of Kefalonia's best beaches. Take a dip, and enjoy lunch on board before you cruise north to your overnight port, picture-book Fiskardo. Once there, spend an evening exploring its pretty streets lined with Venetian houses, waterfront tavernas and colourful little bars.
Day Three – Cruise to Lefkada and Nydri
Relax as Hera cruises away from Fiskardo towards your second Ionian idyll – Lefkada (or Lefkas as it's sometimes known). This 'island' is in fact connected to the Greek mainland by a short causeway at its northern point. Take a dip in Sivota Bay, a popular anchorage, and enjoy lunch on board before you head to your overnight port, Nydri. This bustling resort town offers some attractive beaches and plenty of choices for an evening meal.
Day Four – Cruise to Kalamos and Kastos
On a day largely removed from shoreside bustle, you'll head across to the twin islets of Kalamos and Kastos. Each of these pretty islands is covered in dense vegetation, and each has its share of exquisite bays perfect for swimming and snorkelling. As you cruise across to Kalamos, you'll also pass (at a respectable distance) around the island of Skorpios – once owned by Aristotle Onassis, the resting place of the shipping magnate and his children and now the (very) private retreat of a Russian oligarch.
Day Five – Cruise to Meganisi
Spend a lazy day relaxing as Hera heads west towards idyllic Meganisi. Enjoy lunch and the pleasures of life aboard, and perhaps stop for a swim in beautiful Spartochori Bay, before Hera moors in tiny Varthy on the verdant islet of Meganisi. Here several excellent tavernas line the exquisite quayside, offering the possibility of another wonderful evening ashore.
Day Six – Cruise to Atokos and Ithaca
After breakfast, spend the morning cruising south towards Ithaca. Along the way, you'll visit the vast, mysterious sea cave where the submarine Papanikolis was said to have hidden between attacks on Italian shipping during the Second World War, and pause off the remote, uninhabited islet of Atokos, before making Ithacan landfall at the island's exquisite main town, Vathy, where you'll spend the night. Take the opportunity to head ashore and discover what is – for many – one of the Ionian isles' most picturesque ports, with its quayside tavernas and bars.
Day Seven – Included Legend of Odysseus tour
This morning, take in some of the sights associated with the legend of Odysseus and his loyal wife Penelope, who waited 20 years for his return from the Trojan War and resisted the constant attentions of the 108 suitors who competed for her hand in marriage. Highlights might include the Spring of Arethusa, the Cave of the Nymphs and the acropolis at Alalkomenae, the so-called Castle of Odysseus.
After a wonderful morning, you'll return to Hera and cruise back to Agia Effimia, with a swim stop at Assos. Spend an unhurried afternoon relaxing, then crown a memorable week's cruising with this evening's Captain's Dinner, served on board, and perhaps with a last nightcap under the stars.
Day Eight – Disembark Hera and return to UK
Bid farewell to the captain and crew of Hera, and return to the airport to catch your flight home.
---
Greek Islands Cruise – an Ionian Odyssey
FROM
£1789.00
Departing From
Glasgow
Other UK airports also available