Whisky & Wildlife from the Hebrides to the Shetlands – 2023 Scottish Isles Adventure Cruise
INTRODUCTION
Whisky & Wildlife from the Hebrides to the Shetlands – 2023 Scottish Isles Adventure Cruise from Greenock

Discover the rugged and magnificent isles of Scotland as we sail from Glasgow to Bergen, sampling unique malts and viewing some amazing wildlife and birds along the way.
From Glasgow we head over to industrious Belfast and the Isle of Man before turning north to the Inner Hebrides and 'whisky island' Islay, with its nine distilleries. We'll set foot on mystical Iona with its famous Abbey, and wildlife lovers will be amazed at the rich birdlife on the tiny nearby Treshnish Isles
Our next planned destination – Loch Scavaig on the Isle of Skye – is said to be the most evocative Highland scene you can imagine. Peaceful Canna awaits, with its monuments and its enchanting scenery before we journey to the Outer Hebrides.
You'll love remote St Kilda, is a UNESCO World Heritage Site, deserted by humans but rewilded by an astonishing number of birds. On Lewis & Harris, you'll discover pristine beaches, tweed workshops and the mysterious Callanish stone circle.
The next grouping on our expedition voyage is the Orkneys, where we'll find whisky in Kirkwall, which traces its roots back to the Vikings. Finally, we explore the remote Shetland Islands, where archaeological treasures await on lonely Fair Isle, before crossing over to beautiful Bergen in Norway where we end our journey.

What You'll Love
Expedition cruise in a cabin of your choice
Breakfast, lunch and dinner including beverages (house beer and wine, sodas, and mineral water) in restaurant Aune
Complimentary tea and coffee
Complimentary Wi-Fi on board. Be aware that we sail in remote areas with very limited connection. Streaming is not supported.
Complimentary reusable water bottle to use at water refill stations on board
English-speaking Expedition Team who organise and accompany activities on board and ashore
Range of included activities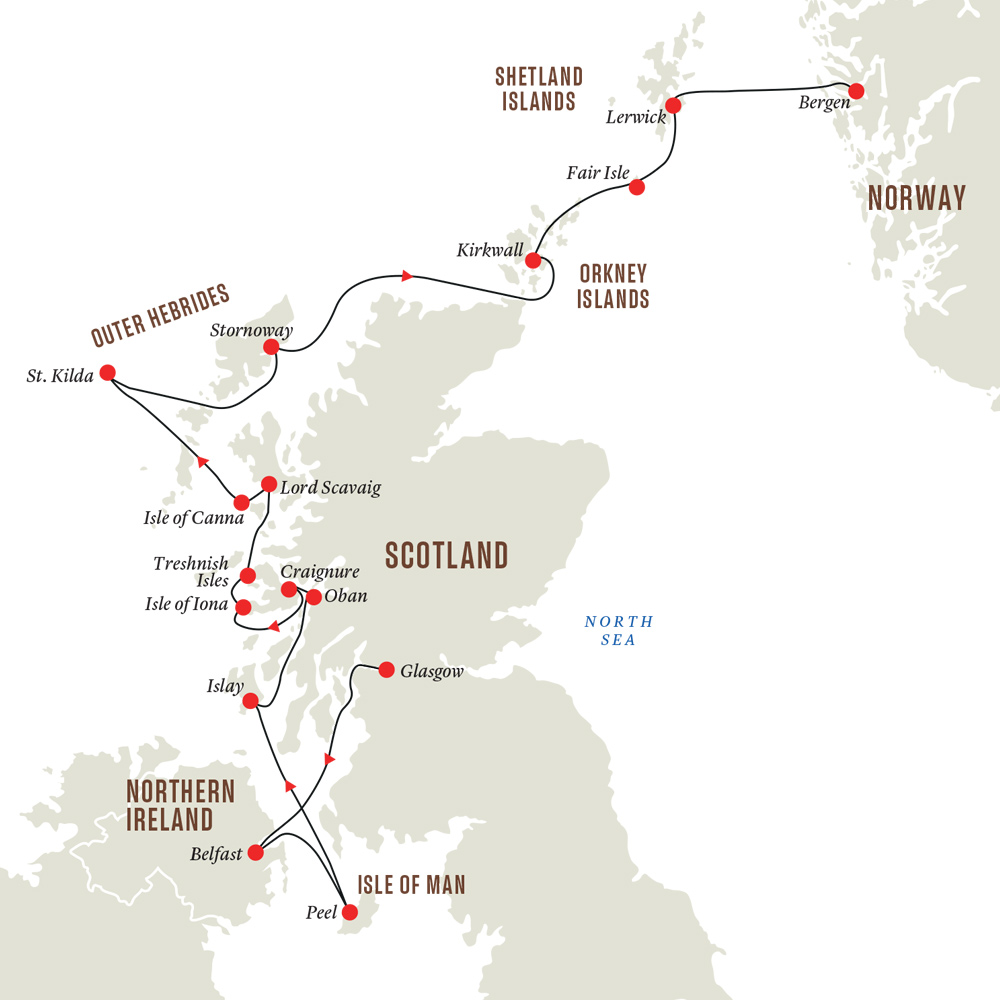 Itinerary
Day 1: Glasgow (Greenock), Scotland
Our cruise starts in Glasgow, famous for its Victorian as well as art nouveau architecture and home to the Scottish Ballet, Opera and National Theatre.
Day 2: Belfast, Northern Ireland
Belfast is the birthplace of the Titanic, as well as being the capital and largest city of Northern Ireland.
Experience Giants Causeway, hike through spectacular scenery or explore what this impressive city has to offer.
Day 3: Peel, Isle of Man
The pretty port of Peel was the 14th century capital of the island and seat to the King of Mann. Winding lanes of merchants' houses, bear witness to the 19th century fishing schooners built here which traded from Ireland to Shetland.
Peel Castle, connected by causeway dates from the 11th century.
Day 4: Islay, Scotland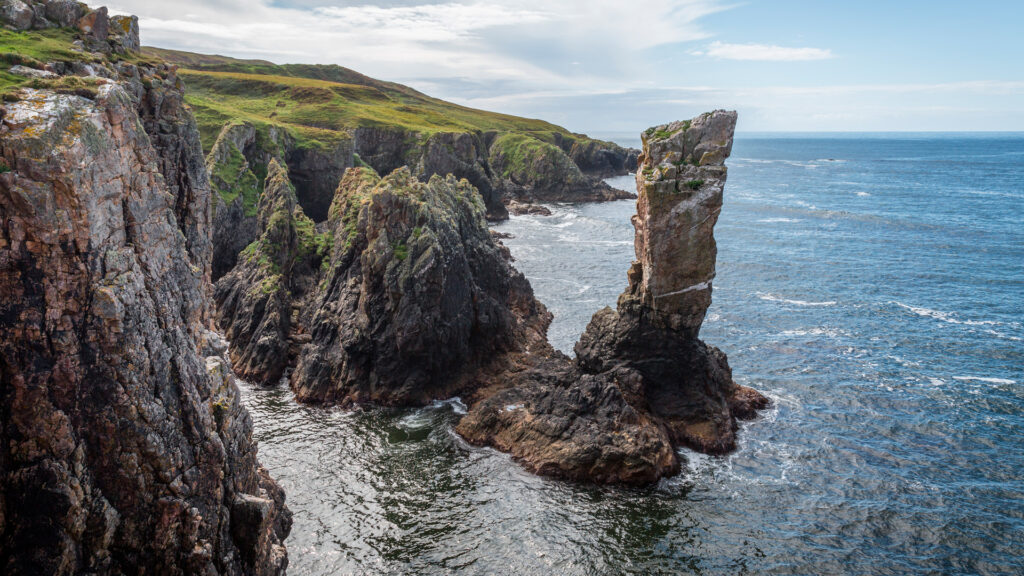 Once the seat of the MacDonalds, Lords of the Isles, Islay is world renowned for its many whisky distilleries. As a stop-off for migrating birds, there is good bird spotting.
Day 5: Oban, Scotland
Known as the 'Gateway to the Isles', Oban reached its heyday when the railway arrived, adding to its life as a busy fishing port. Now a popular holiday spot, the Victorian buildings cluster round the port.
As this expedition voyage is still under development, our stop in Oban may change to another exciting destination in this area of Western Scotland.
Once we have confirmed the final details in the itinerary, we will update this information accordingly.
Day 6: Isle of Iona & Treshnish Isles, Scotland
Iona was settled in 563AD by the Irish missionary, St Colomba. The muchrestored Abbey remains a place of pilgrimage and peace.
We will explore the Treshnish Isles, home to a wealth of wildlife from nesting puffins to kittiwakes, razorbills, guillemots and Atlantic grey seals.
Fingal's Cave, immortalised by Mendelssohn's glorious 'Hebrides Overture', is on island of Staffa. The basalt columns here are a northern extension of the Giant's Causeway.
It is best viewed from the sea where the colour of the waters within the cave and its rising columns are at their most impressive.
Day 7: Loch Scavaig and Isle of Canna, Scotland
Surrounded by the high peaks of then Skye Cullins, Loch Scavaig leads to one of the most romantic and dramatic lochs in Scotland – freshwater Loch Coruisk.
Painted by Turner and a popular destination for the Victorians, this is a powerful landscape promising great hiking and kayaking.
We head to the Isle of Canna, which is the most sheltered of the Small Isles, known as 'the Garden of the Hebrides'.
Linked by causeway to the island Sanday with its puffin colonies, Canna is green and grassy and has delightful flora and butterflies.
Once privately owned by Sir John Lorne Campbell, the island is now the property of The National Trust for Scotland.
Day 8: St. Kilda, Hirta Island, Scotland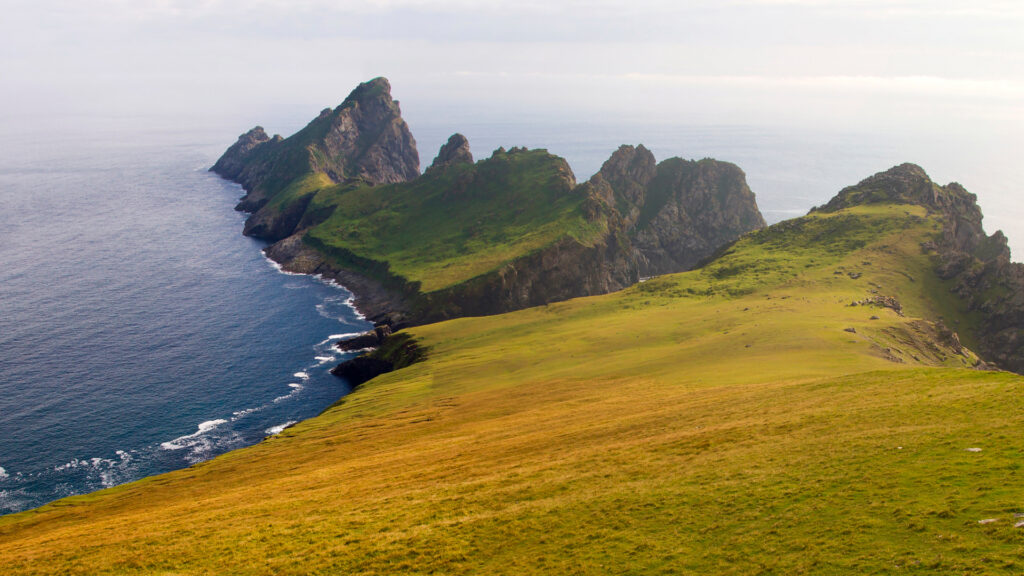 Any visit to this distant and wild archipelago, with its breathtaking sea cliffs, is totally weather-dependent.
As a UNESCO double World Heritage Site and the 'jewel in the crown' of the National Trust for Scotland, it is an unforgettable experience.
Day 9: Stornoway, Lewis & Harris, Scotland
Originally a Viking settlement, Stornoway is the capital of the Isle of Lewis, which is the largest and most northerly of the Outer Hebrides.
A bustling harbour and waterfront with museums and art galleries are overlooked by the handsome Lews Castle which we invite you to explore with us.
Further afield are mills and cottages where hard-wearing Harris Tweed is woven. There are tiny folk museums, the world-famous Callanish Standing Stones, and the mysterious Carloway Broch – the best-preserved fort in Scotland dating back more than 2,000 years.
Day 10: Kirkwall, Orkney
Kirkwall is the capital of the Orkney archipelago. The first mention of a settlement here is in a saga from 1046, and the name Kirkwall derives from the Norse `Kirkjuvagr´ (Church Bay).
Today, Kirkwall is one of the most attractive and well-preserved small towns in Scotland. The community is dominated by the famous St. Magnus Cathedral.
Day 11: Fair Isle, Shetland Islands, Scotland
Lonely Fair Isle with its high red-sandstone cliffs and gentle rolling fields is a vital stop for migrating birds and has had a permanent Bird Observatory since 1948.
Synonymous with unique geometric knitwear possibly of Spanish or Scandinavian origin, the island also boasts a mini 'Lighthouse Keepers' golf course and a friendly, self-sufficient population.
Day 12: Lerwick, Shetland Islands, Scotland
Lerwick is the main port of the Shetland Islands. Founded in the 17th century as a fishing port, today Lerwick is a bustling, cosmopolitan town.
The old waterfront is still active with visiting yachts and working fishing boats.
The area boasts some of Shetland's most attractive scenery and an extraordinary concentration of archaeological sites, including two remarkable Iron Age villages.
Day 13: Bergen, Norway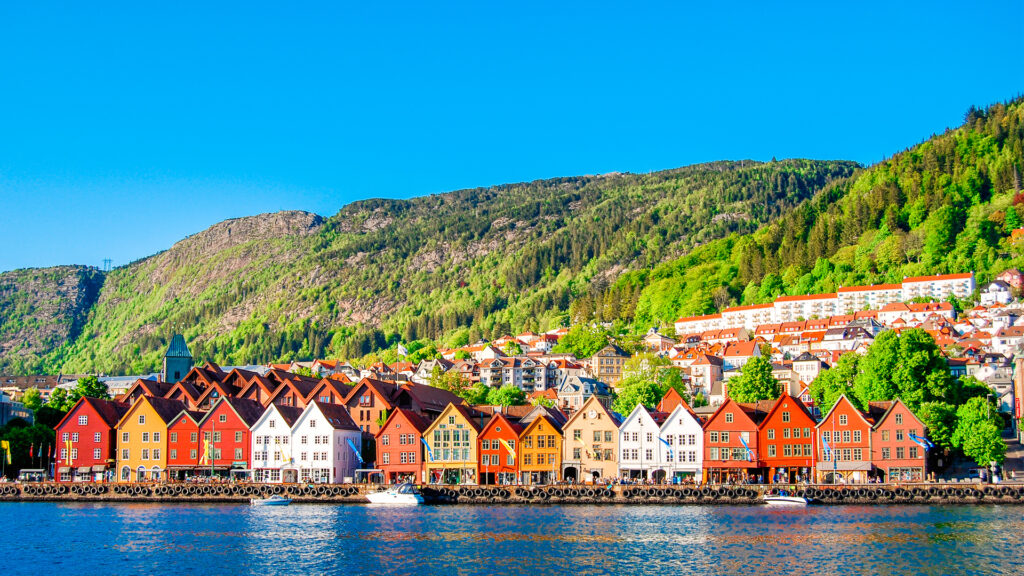 Before heading home, we stroll through Bergen´s historic harbour area, fronted by wooden houses dating back as far as the 1300s. You can also take a trip up to nearby Mount Fløyen via funicular tram for views over the city and surrounding mountains.
MS Spitsbergen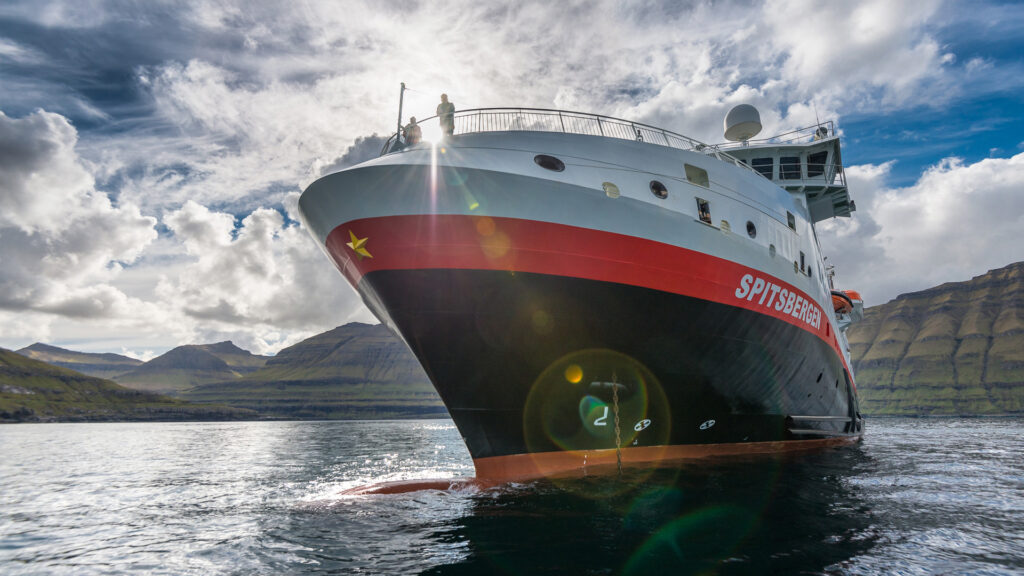 Named after the Crown Jewel of the Arctic Norway – the Svalbard archipelago and its biggest island, MS Spitsbergen is stylish, comfortable, offering morden public areas and cabins.
Environmentally progressive with future plans looking at ways to further reduce emissions and fuel consumption even more, MS Spitsbergen also has its own expedition team on board.
Throughout your journey, the on-board Expedition Team host a lecture programme and evening gatherings daily. Out on deck you can participate in live points of interest to learn more about the nature, culture and other phenomena we encounter during your cruise.
HOW TO BOOK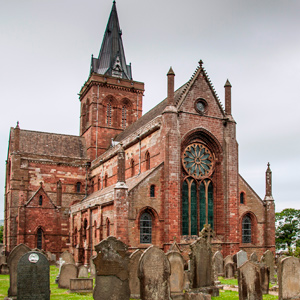 ENQUIRE OR BOOK
Call 0203 808 4029 quoting DCT OFFER
To request a brochure, click below.
Terms & Conditions
Organised by Hurtigruten. From price quoted are in GBP and are per person and based on the Select fare structure, and full occupancy of lowest available grade two-berth cabin, on a full-board basis. Single supplements apply. Cabins and excursions are subject to availability. Hurtigruten operates a flexible pricing system and prices are capacity controlled, correct at time of booking. Not included: travel insurance, luggage handling, optional excursions or gratuities.